Grab some fruit, pour some milk, and get your start button finger ready for an easy weekday breakfast idea your kids will love. Mom's will love this breakfast bar because it takes about 5 minutes to prepare. Kids will love this breakfast bar because it features all of their favorites and they can get it on a weekday.
This post is sponsored by Jimmy Dean® Fully Cooked Pork Sausage Patties. All thoughts and opinions are my own. #JimmyDeanSausage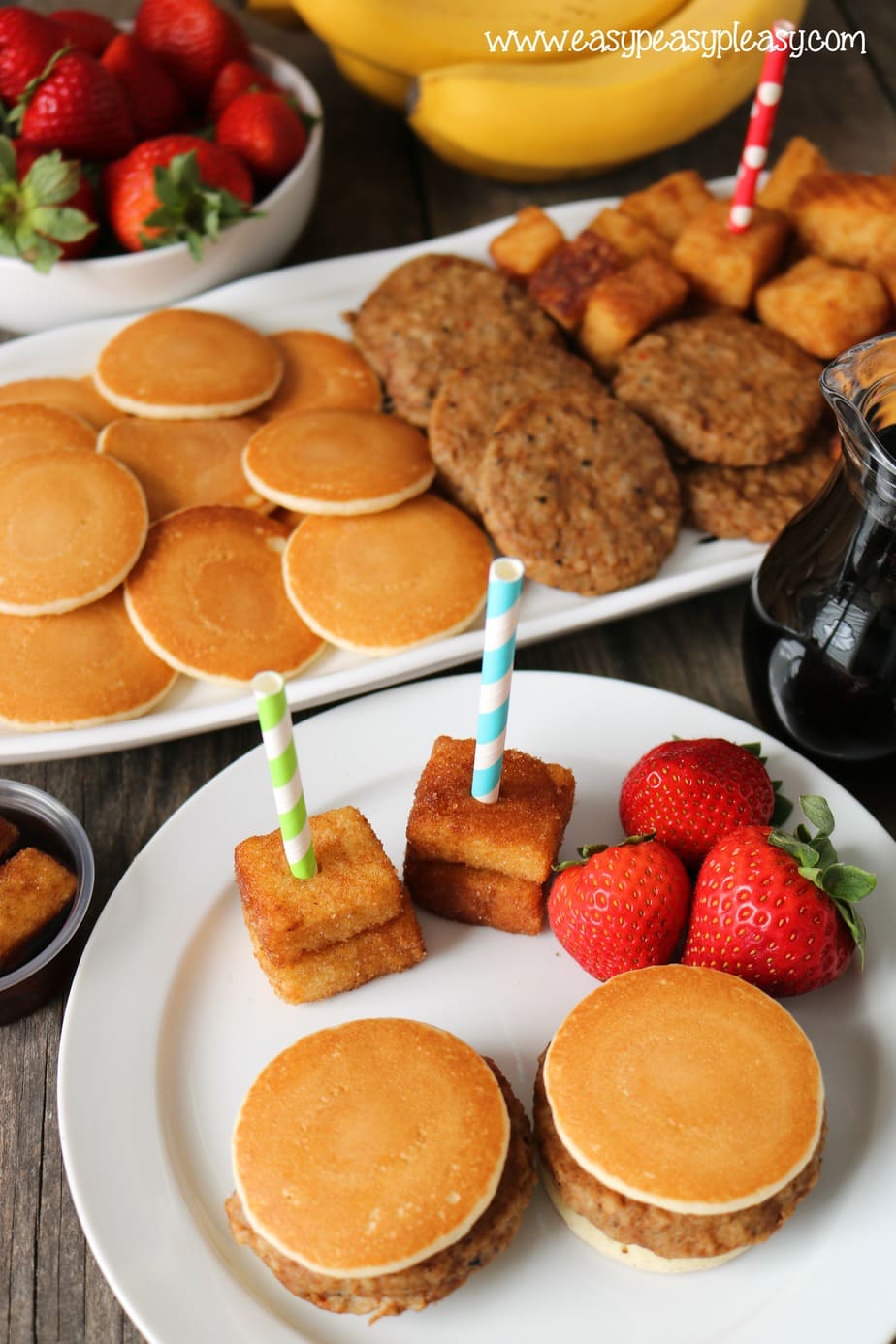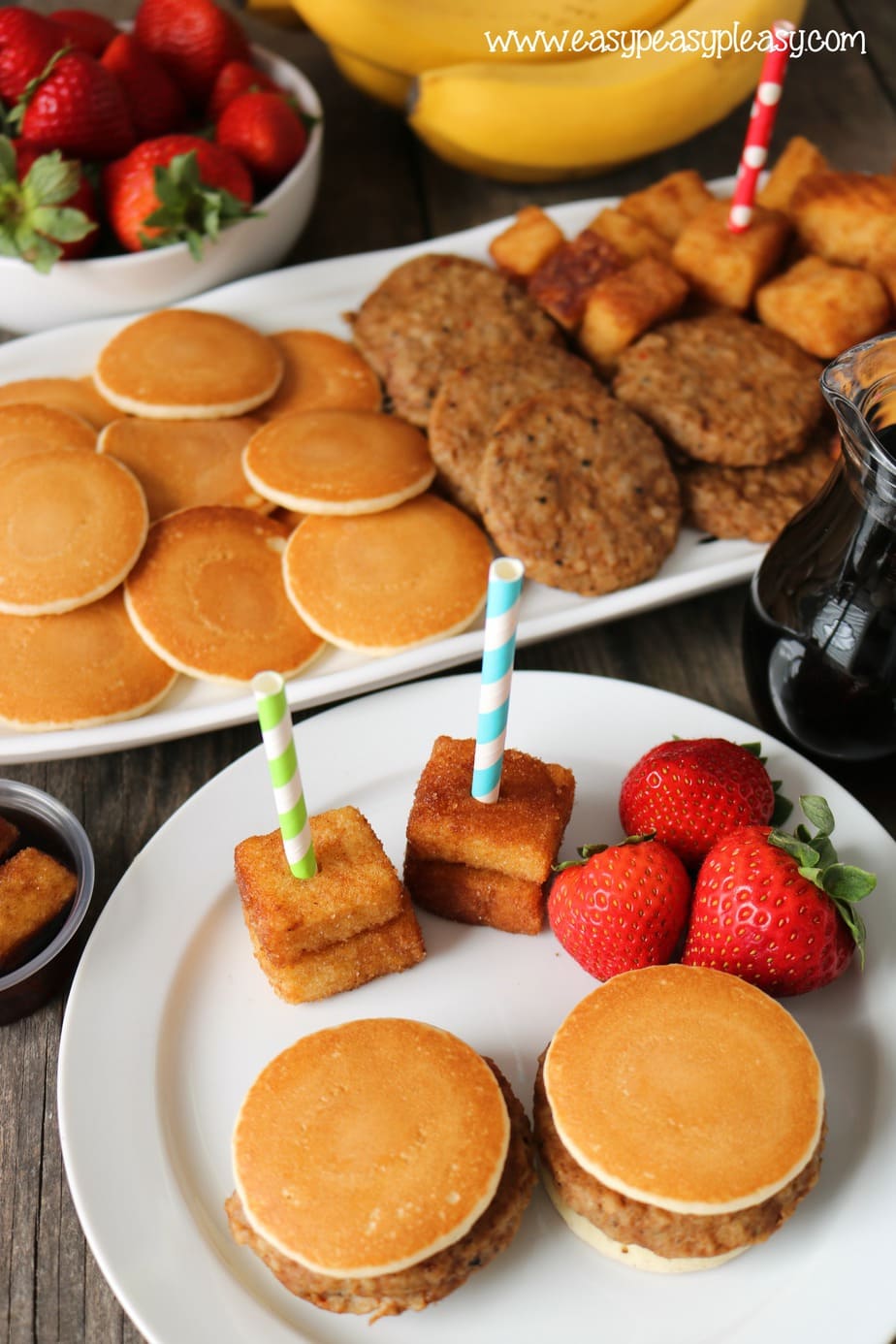 Picture it…The kiddo is brushing his teeth and getting dressed for school and here I am just sitting, relaxing, and flipping through the paper. I'll never forget the hilarious expression on my hubby's face as he rounds the corner. He non-nonchalantly says, "you just sitting looking through the paper?" I just died laughing. As you can see, that's not a normal occurrence.
It was one of those days that I actually took the time to make the kiddo's lunch the night before, therefore giving me an extra 5 minutes. This all got me thinking…maybe I should have skipped that frosted pastry breakfast and spent the spare 5 minutes making a better breakfast. One that my kid would love. I was extremely inspired and created this easy weekday breakfast idea making a breakfast bar that takes about 5 minutes.
Lacie's Easy Peasy Pleasy Tips
Make up the kid's lunch the night before and you will have that extra 5 minutes to get this breakfast on the table.
For easy cleanup, use paper plates to heat food in the microwave and serve breakfast.
Use Jimmy Dean® Fully Cooked Pork Sausage Patties. Not only is it super delicious, it's protein packed and can be easily found at Walmart.
Have a couple extra minutes? Use cute straws or skewers for the french toast bites.
I've got to tell you that my kiddo loves to stack his sausage and pancakes to make little breakfast sandwiches. I love them too!
Easy Weekday Breakfast Bar
Ingredients
assorted fruits
milk and/or juice
mini pancakes (freezer section)
cinnamon french toast bites (freezer section)
syrup
Directions
Place all sausage on a paper or microwave safe plate. Heat according to package directions. While sausage heats, prepare fruit. Place sausage on a platter. Heat mini pancakes according to package directions on a paper or microwave safe plate. In the meantime, pour milk and juice. Place heated pancakes on the platter. Heat cinnamon French toast bites according to package directions. Prepare syrup. Place French toast bites on the platter. You are ready to serve. Call the kids to the table. Sit back like the #1 Mom you are watch the kids devour their breakfast!
www.easypeasypleasy.com
If you are like me, you usually don't have time to get a hot breakfast on the table during the weekdays. With these easy tips, you can give your kids an easy weekday breakfast idea that they will love and ask you for more! Another family favorite is one I can make on the weekend and reheat all week long. It's my Easy Overnight Breakfast Casserole. It's a surefire crowd pleaser.
Subscribe to Blog via Email