Recently, I was sewing up some quick envelope pillow covers and figuring out the measurements for the umpteenth time to cut out the fabric. I thought…boy it sure would be nice if I had made a compiled list of measurements every time I sewed a new pillow cover. Wouldn't it be much easier than figuring out the math again or digging through old notebooks to find measurements to covers I had sewn before. So, to make my job and yours a little easier next time you want to sew an envelope pillow cover, I've made a compiled list. This Envelope Pillow Cover Measurement Guide will be the perfect quick reference tool to save time and brain power. This will save me time and mental energy by being able to take a quick look back on this list. I hope it can save you time too!

The left column shows the size of the pillow form and the right column shows what size you should cut the fabric. There are sizes for rectangle pillows and square pillows.
Envelope Pillow Cover Measurement Guide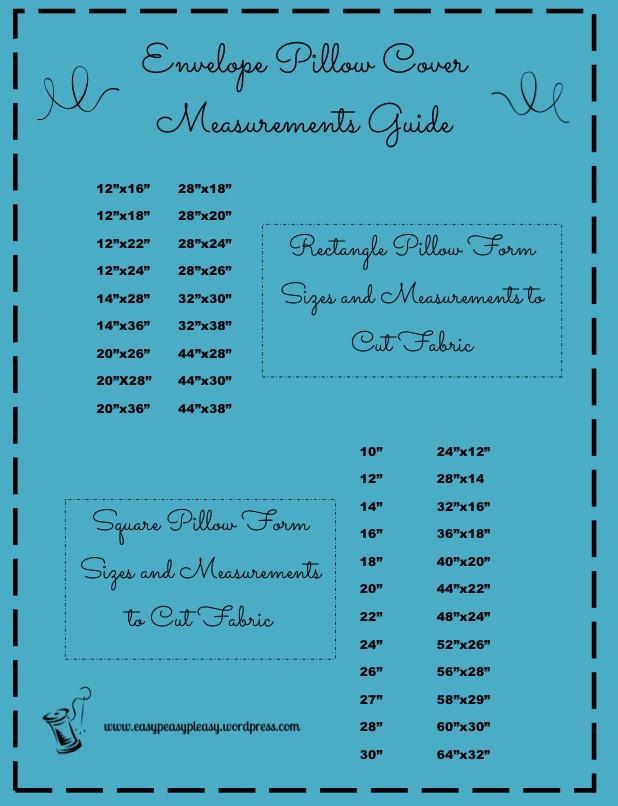 Just in case you want to print this list out, I've made it available here. You can also pin it to Pinterest so you can easily find the guide anytime!
Want to put these measurements to work? You can find my easy to follow Envelope Pillow Cover tutorial here.
You can also find another cute pillow idea using wording printed on burlap here.
I hope this guide can help you take the guesswork out of your next Envelope Pillow Cover!
Subscribe to Blog via Email