Have you ever wanted to buy a whole flat of strawberries but didn't know what you would do with ALL those strawberries? This 3 Ingredient Strawberry Freezer Jam is my go to way to use up some of the strawberries. Besides being absolutely delicious, it's the perfect starter canning idea and there's no need for a pressure cooker. Y'all are going to want to keep reading to find out more.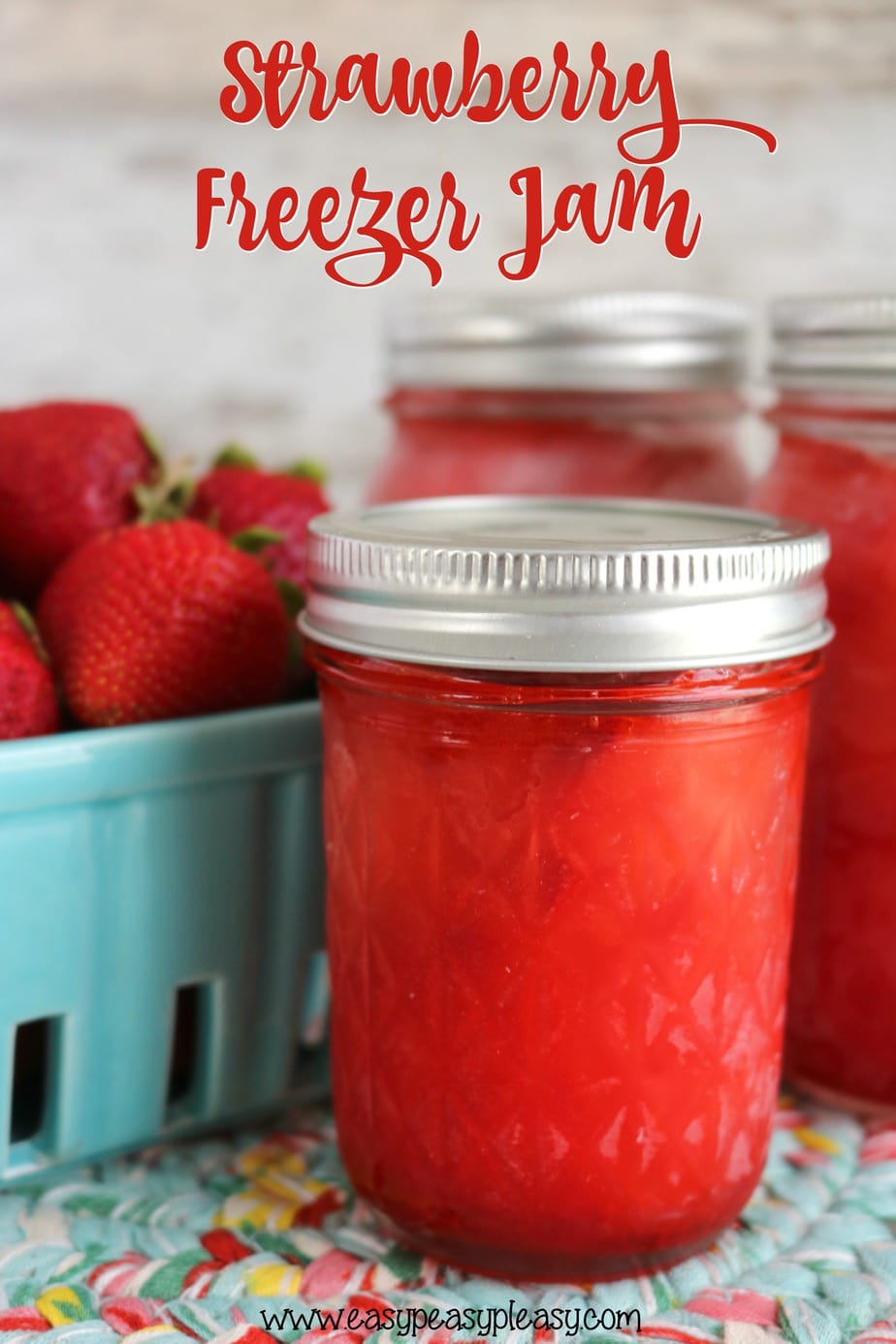 So as I said before, my first thing to do with a flat of strawberries is make a super easy freezer jam. It goes good on so many things.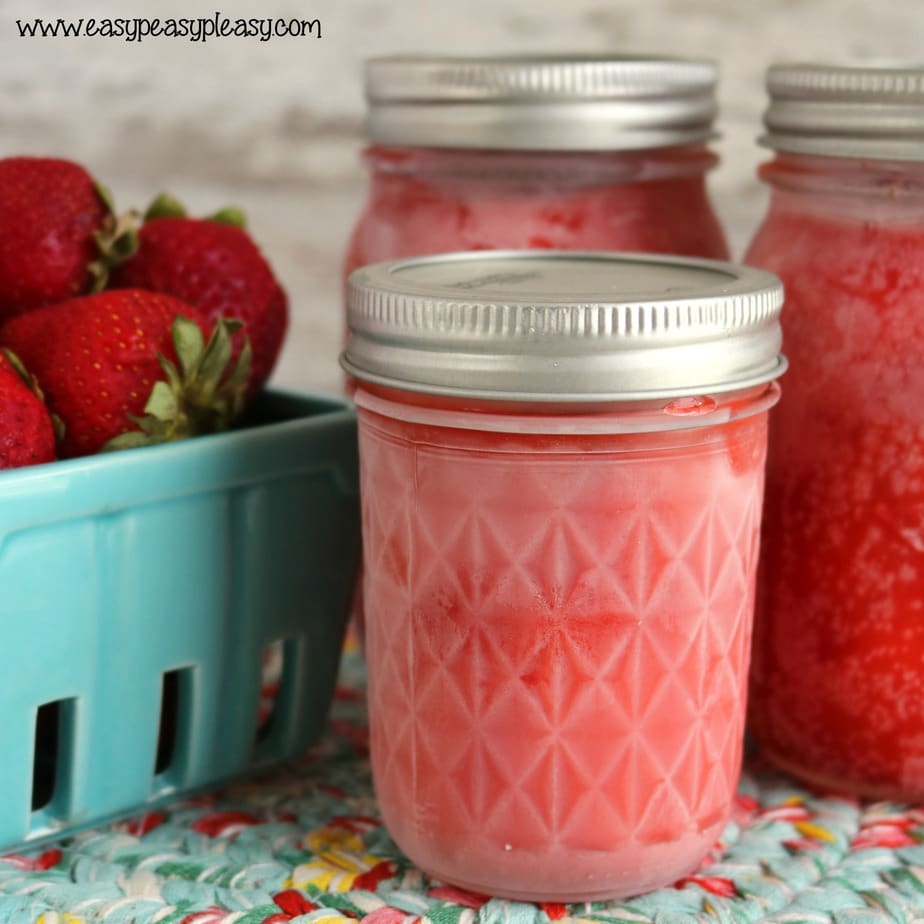 My family's first and foremost way to use Strawberry Freezer Jam is on homemade biscuits. The cold jam melting down a warm biscuit is sinfully delicious.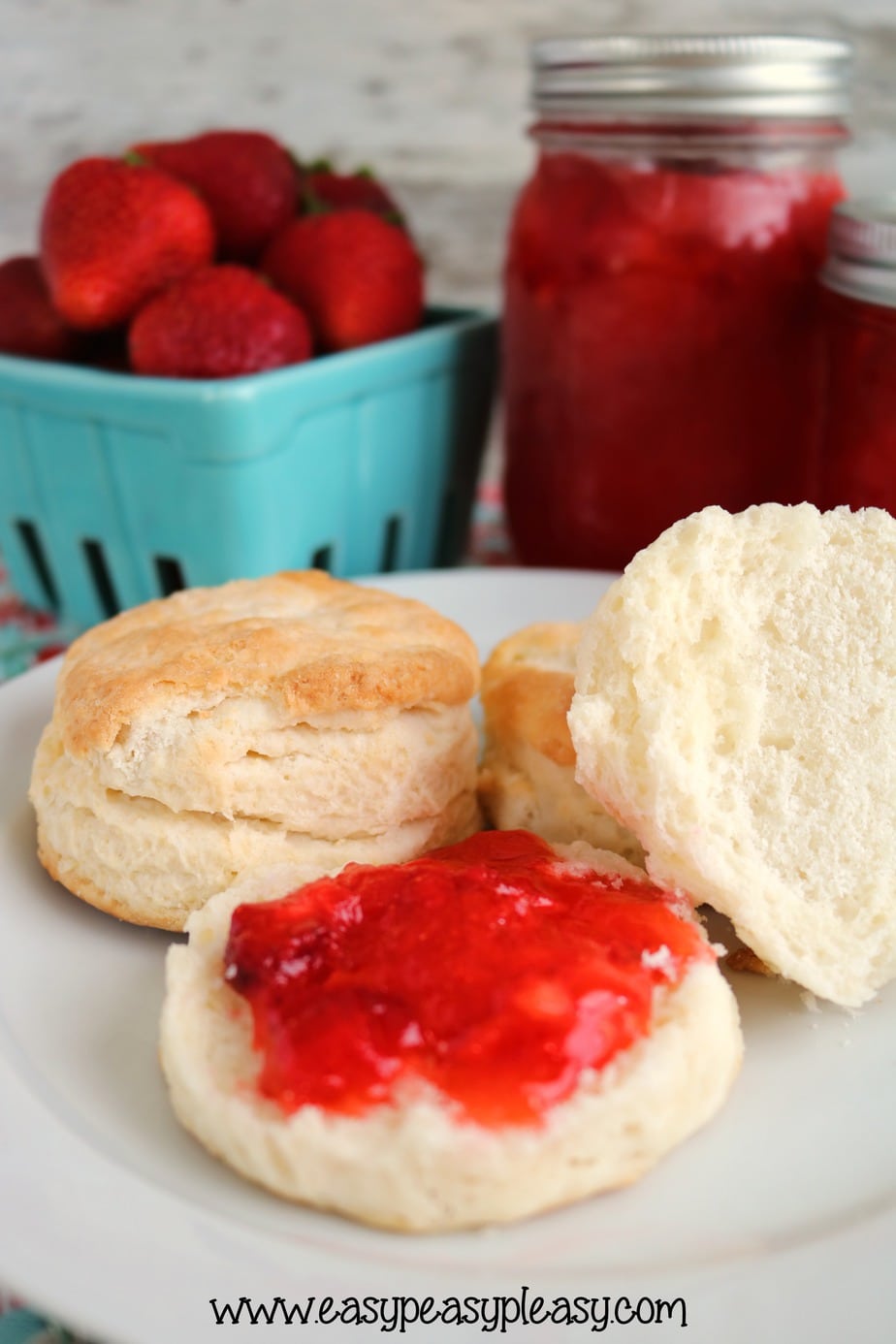 Oure next favortie way to use up strawberry freezer jam is in milkshakes. My Strawberry Freezer Jam Milkshake will have you begging for more.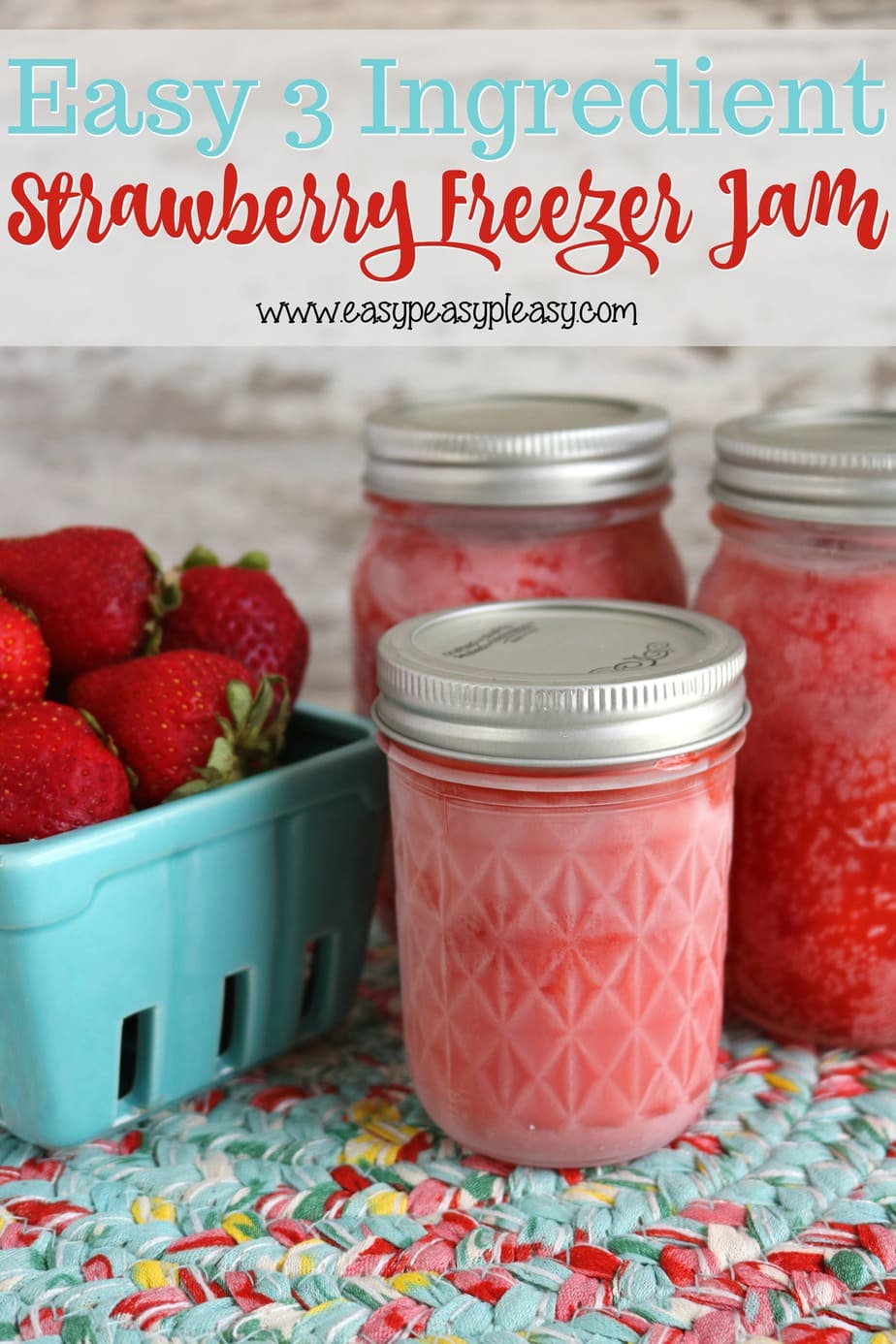 You can spread the jam on toast or use as a topping on ice cream. Don't forget about the waffles and pancakes. Delish!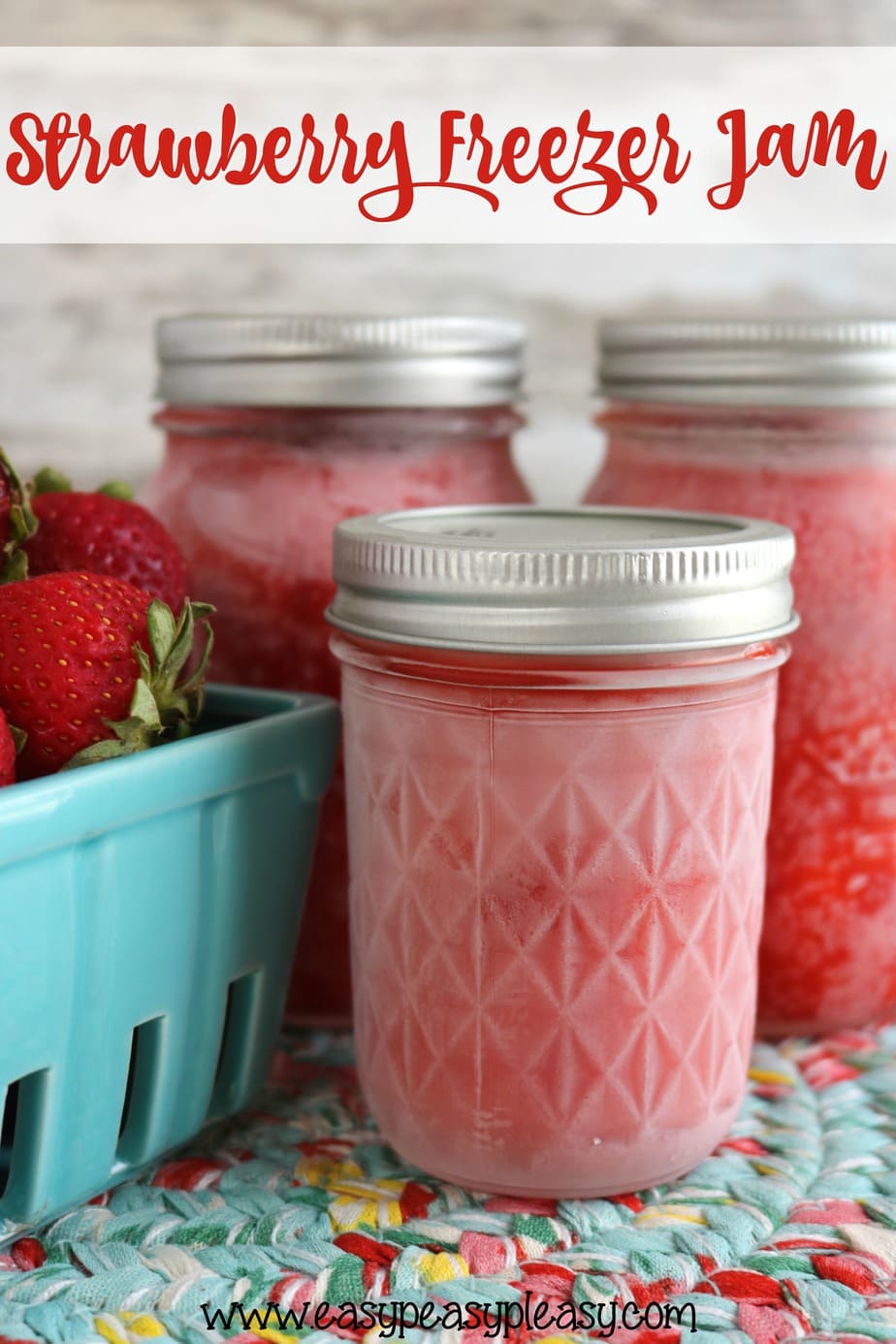 Now that you know some of my favorite ways to use the freezer jam, I have to tell you the ways I use up the flat of strawberries. You should totally try my Strawberry French Toast Casserole. You won't believe how easy it is and most importantly, the decadent flavor.

Don't forget the ever so easy strawberry poke cake. If you love strawberries then you will love poke cake. If you are looking for a lighter way to use up those strawberries, I  have a skinny version of Strawberry Poke Cake that's to die for. You will never miss the sugar. You can also whip up a batch of Deliciously Fruity Sangria. It's the perfect vehicle for strawberries.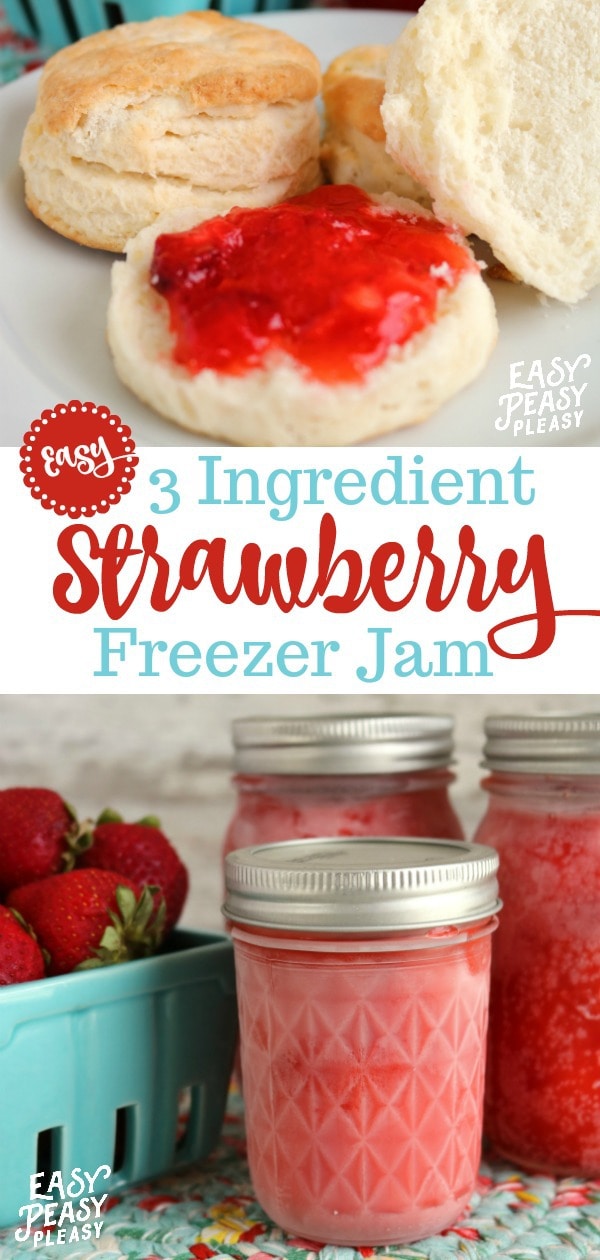 If you still have left over strawberries, you can straight up eat them, put them on a salad, or destem and freeze whole or sliced for smoothies. But my suggestion is to make the freezer jam first. You can even make up 2 batches with a flat of strawberries and see what you have leftover for the other recipes.
Lacie's Easy Peasy Pleasy Tips
Using brand new jars? Sterilize quickly by placing right side up in a large pot. Fill the jars and pot with water. Bring water to a boil for ten minutes. Go ahead and throw in the lids and rings too. Let cool or carefully use a canning tongs/lifter to remove from water.
Use a canning funnel to pour strawberry mixture into jars. This makes things so much easier and keeps cleanup to a minimum.
Use a ladle to pour mixture through the funnel.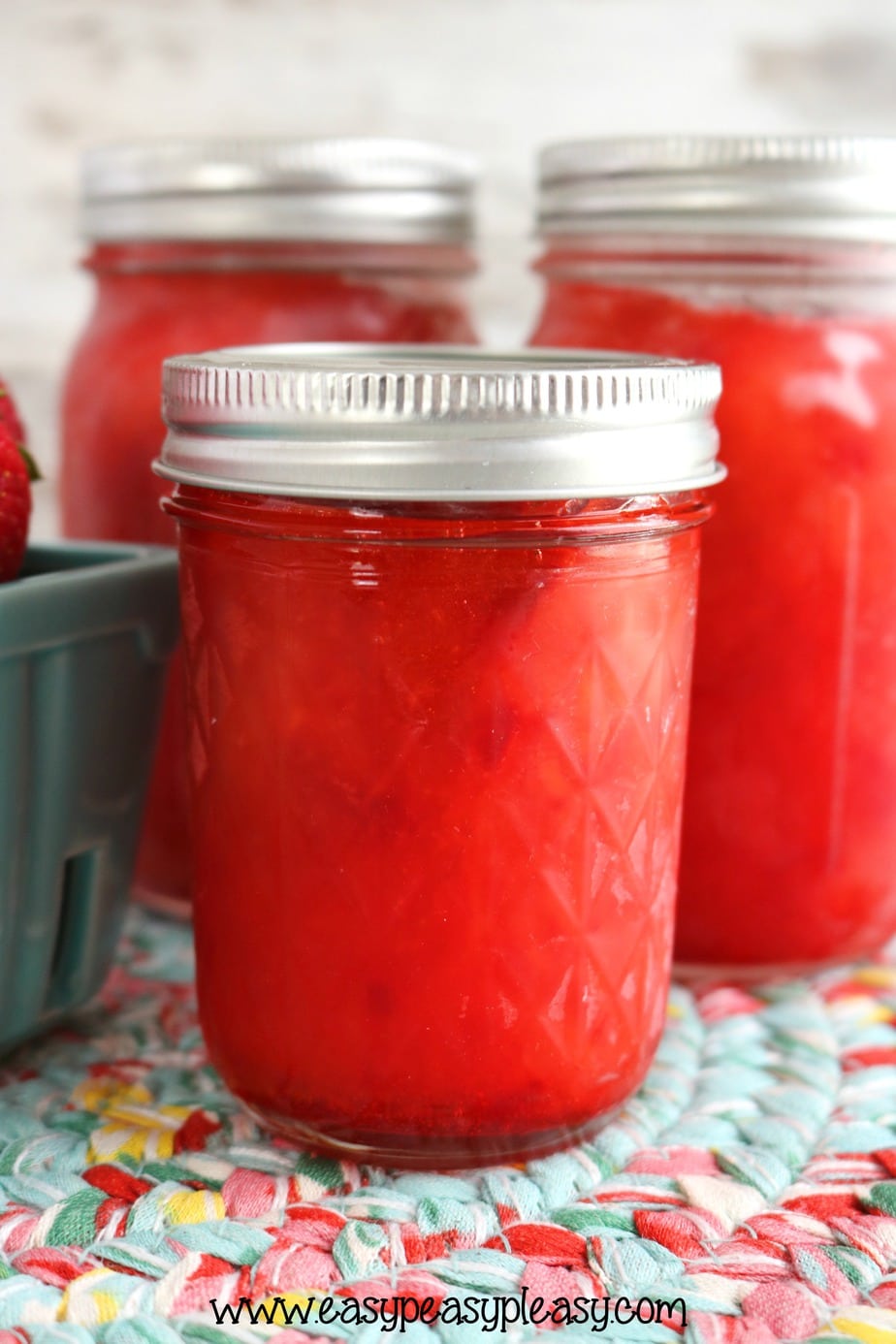 3 Ingredient Strawberry Freezer Jam
Servings: 5 cups
Difficulty: easy
Ingredients
4 cups strawberries
4 cups sugar
1 box fruit pectin, 1.75 ounce
Directions
Remove strawberry stems. Crush strawberries using a fork, potato masher, or a food processor. The strawberries should still remain in small chunks. Add sugar to strawberries, stirring occasionally for 10 minutes. Stir 1 box fruit pectin and 3/4 cups water in a small saucepan. Stirring constantly, bring to a boil and boil for 1 minute. Remove from heat. Add pectin mixture to strawberry mixture. Stir for 3 minutes or until no longer grainy. Fill containers, leaving 1/2 head space. Cover with lids. Let stand at room temperature for 24 hours. Finally place in freezer.  Pull out a jar when ever you want some freezer jam. Eat and enjoy! Place freezer jam back in the freezer until next time.
Subscribe to Blog via Email