Y'all! I finally nailed the best light and fluffy homemade biscuits that are super tasty. I must give all the credit to Pops. He taught me hands on and the biscuits turn out amazing every time. Now I have homemade biscuits to go with my homemade gravy.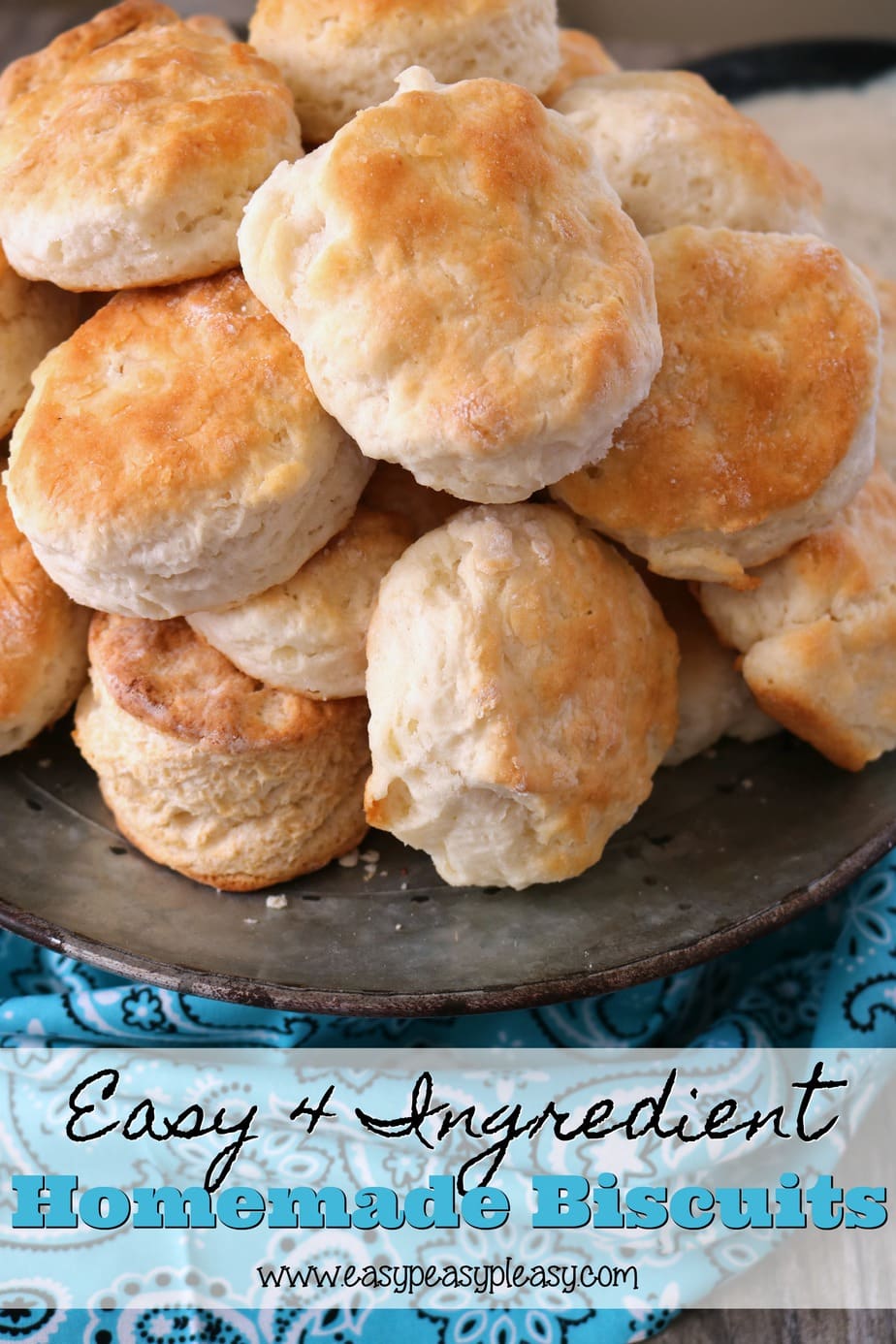 I taught myself how to make gravy years ago. It took me plenty of attempts to get it right but I finally mastered it. (Recipe coming soon.) I've been working on homemade biscuits for just as long. Always unsuccessful of course. They turned out like hockey pucks on most occasions. I almost gave up until Pops showed me the key to success.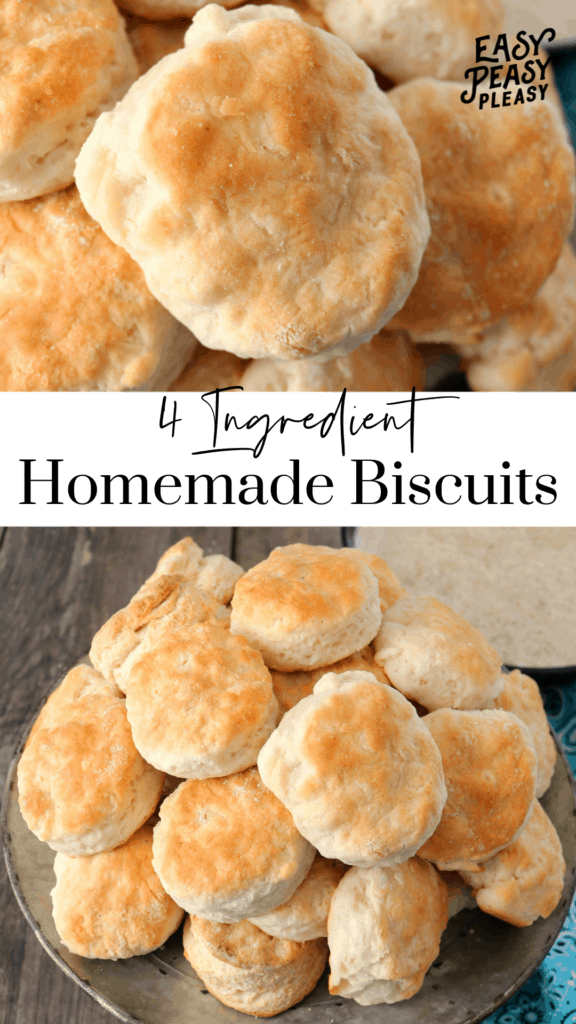 Let me tell you my sister in law makes delicious biscuits and I have watched her make them many times. She never measures anything. I thought baking was a science?? If it is, she has it down. Yep it's totally annoying. She could never give me a recipe. Plus any recipe I ever read has a bunch of ingredients. You won't believe how easy this recipe is and how tasty the biscuits turn out using only 4 ingredients. Let's start with the tips I've learned from Pops.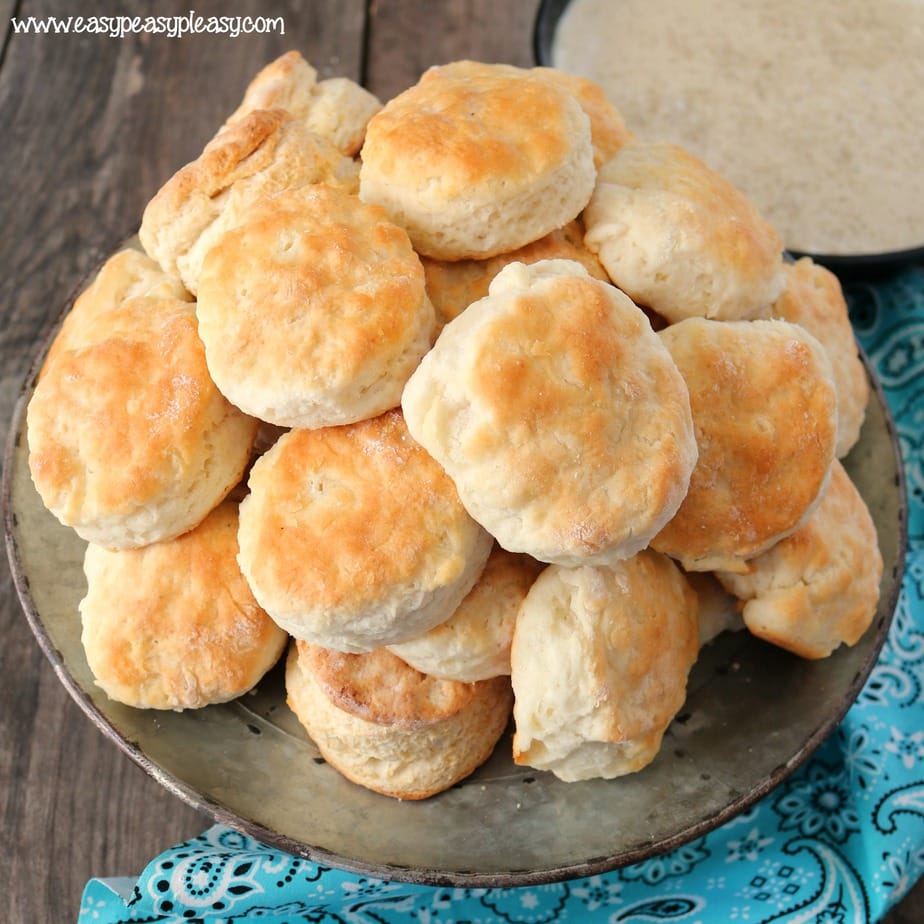 Lacie's Easy Peasy Pleasy Tips
Use really cold butter and cut it first. Once you cut, put it back in the fridge until ready to use.
Flour the pastry cutter and the biscuit cutter.
If you don't have a pastry cutter, use a fork. If you don't have a biscuit cutter use a mason jar.
Do not twist the pastry cutter or biscuit cutter. Twisting will seal the flour and the biscuits won't rise well.
The biscuit dough shouldn't be really wet but it should still be sticky and pull away from the side of the bowl.
If the dough seems dry, add a tablespoon of milk at a time until it gets sticky again.
Do not use a rolling pin on these biscuits. Fold and press with your hands.
Only fold the dough and press 4 to 6 times. Press to 3/4 inch thickness. Get out your measuring tape if you need to.
Now let me tell you the recipe for Pops' famous biscuits….famous in our minds that is.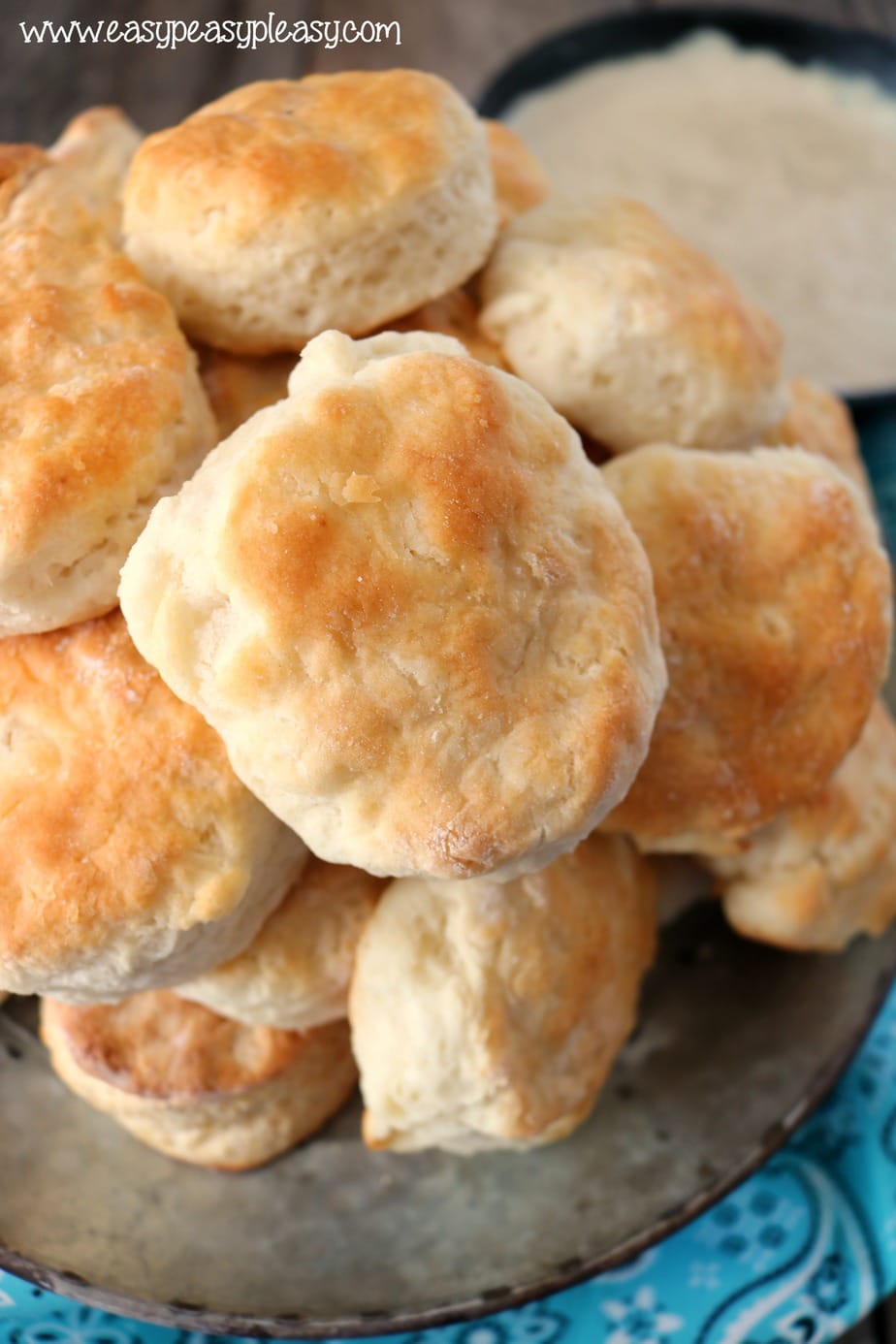 Looking for something fun to do at home and makes a great topping for biscuits? Click here to try this easy 3 Ingredient Strawberry Freezer Jam Recipe. It's so delicious on homemade biscuits and super easy to make.
No self rising flour? No problem! Grab my self rising flour substitute recipe here.
4 Ingredient Homemade Biscuits
Servings: 10-12
Difficulty: easy
Ingredients
4 tablespoons stick butter
2 cups self-rising flour plus additional for surfaces
1 tablespoon sugar
1 cup milk
Directions
Preheat oven to 425 degrees. Slice 4 individual tablespoons of butter according to package markings. Cut each slice into 4. Place back in the fridge to keep cold. Mix 2 cups of flour and sugar in a medium bowl with a whisk until well combined. Using a pastry cutter or fork, cut the butter into the flour mixture until the mixture looks grainy or like bread crumbs. Add milk and mix until dough pulls away from the bowl. The dough should be slightly sticky. If dry, add milk by 1 tablespoon at a time. Flour your surface, hands and biscuit cutter. Place dough on floured surface and fold 4 to 6 times, pressing down each time with your hands to about 3/4 inch thickness. Cut into circles using a biscuit cutter. Bake biscuits on a sheet pan for 14 to 16 minutes , until they are lightly browned. Eat and enjoy!
Check out my Easy Peasy Pleasy Tips for additional help. Drop a comment if you need more assistance.
easypeasypleasy.com
Whatever you do, don't give up. You got this. I'm being totally honest with you…It only took me a couple try's to nail these biscuits. My mistake was cutting the biscuits to thin. Keep in mind they rise. 3/4 inch high is the cut you are going for. Less than that will make the homemade biscuits dense. More than that will require more cooking time and they may stay uncooked in the middle.
Looking for more breakfast recipes? Checkout a few of my favorites…
Easy Overnight Breakfast Casserole
The Best Strawberry French Toast Casserole
Subscribe to Blog via Email