This deliciously sweet Broccoli Cauliflower Salad is the perfect addition to any potluck, holiday, family gathering, or cookout.  You guys are gonna love it. It's a little sweet and a little salty from the bacon and it is oh so good.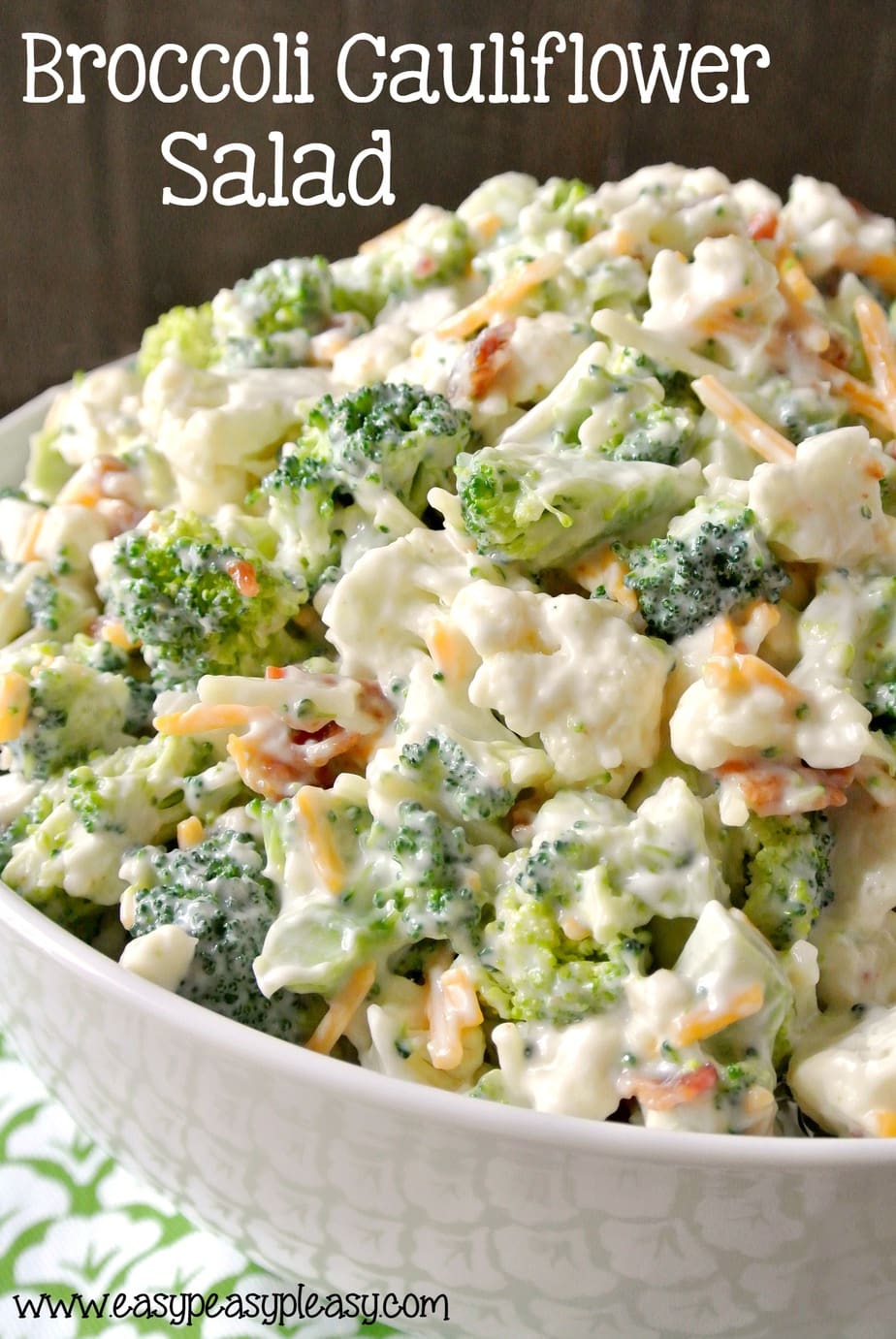 Hey folks! I hope y'all had an amazing holiday weekend. I know I sure did. My family and I got to spend time with my lifelong friend and her family and it was fabulous. (You may recall my dear friend Jessica from a post I wrote last year. We made the cutest sign to announce her pregnancy.) While I was there, I picked up some great new recipes to share with you all. First on the list is this deliciously sweet Broccoli Cauliflower Salad.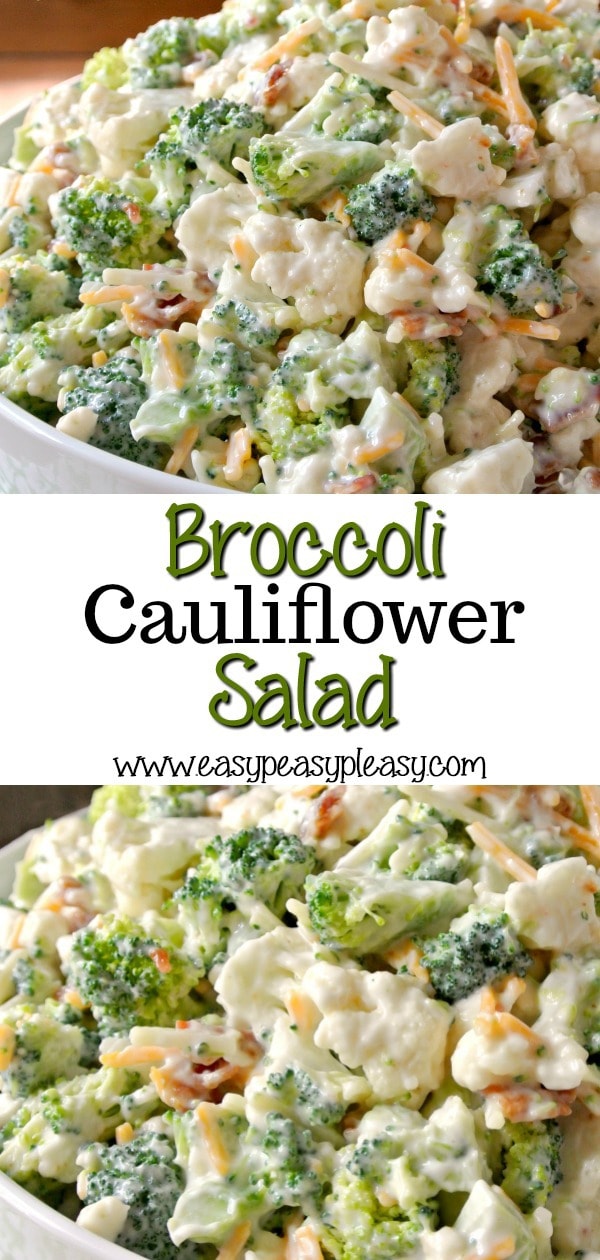 This salad really takes no time to make. I turn the oven to 400 degrees and place the bacon on a foil lined baking sheet. I immediately place the bacon in the oven even while it's preheating. Set the timer for 20 minutes and prepare the rest. I have everything all done and ready to go when the bacon comes out of the oven. Twenty minutes is all it takes.

This Broccoli Cauliflower Salad is super easy, tangy sweet and delicious. Jess and I always swap recipes. I remember her saying, she makes this salad when she wants something sweet and makes my Bacon Cauliflower Salad when she wants something savory. You should try both. They are both equally delicious and totally different!
Lacie's Easy Peasy Pleasy Tips…
You can easily cut this salad in half for a family weeknight dinner.
If you are wanting to make this salad the day before, keep the broccoli mixture separate from the mayo mixture (in the fridge) until you are ready to serve.
I prefer fresh cooked bacon but Jessie says she uses bacon bits in a pinch. The real bacon bits, not those red imitation things.
You can't go wrong getting in those veggies when it's made this way. Big huge thank you to my girlfriend Jessie for letting me share her recipe. I love it! Love you girl!
Broccoli Cauliflower Salad
Servings: 12
Difficulty: easy
Ingredients
1 head broccoli, chopped
1 head cauliflower, chopped
1/2 lb bacon cooked
1 cup shredded cheddar cheese
1 cup mayonnaise
1 cup sour cream
1/2 cup sugar
1/2 teaspoon salt
Directions
Mix broccoli, cauliflower, bacon, and shredded cheese in a large bowl. In a small bowl, mix mayonnaise, sour cream, sugar, and salt until well combined. Pour mayonnaise mixture over broccoli mixture and stir until well incorporated. Eat immediately or chill until ready to serve.
easypeasypleasy.com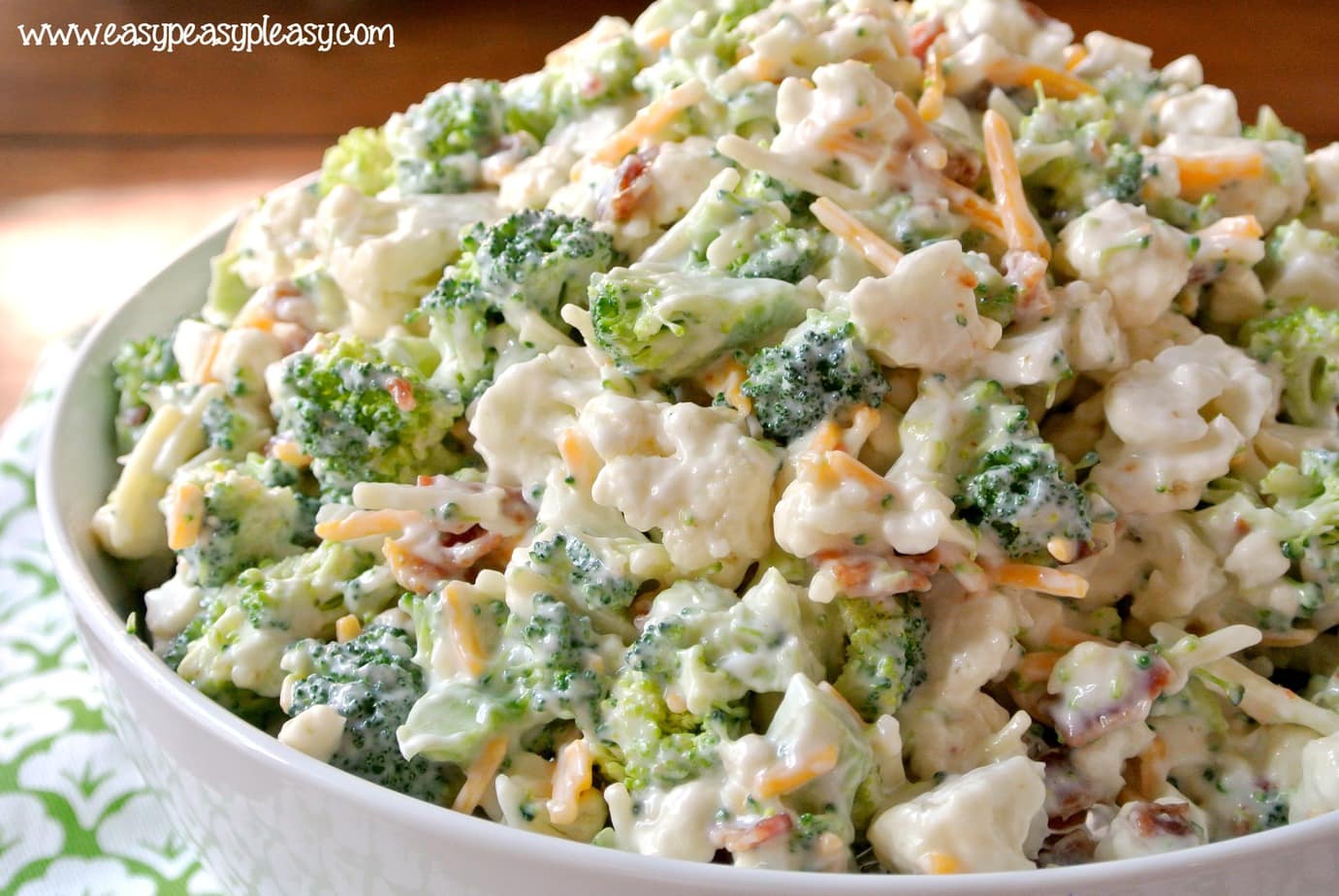 Simplify your life with Easy Peasy Pleasy. Sign up below.
Subscribe to Blog via Email