We are pizza lovers in my household! Whether it's take out, our favorite pizza stop, or homemade, we will eat it! I make all kinds of pizzas from really easy semi homemade to fairly easy from scratch. One of my favorite types of pizza to make is the kind that uses up the leftovers. As you know, I'm all about making my life a little easier. I figure, if I'm cooking up one meal, I might as well cook up a little extra to make it double duty. I just love being able to take something made earlier in the week and transforming it with ease (cause it's already cooked) for a meal later in the week.This recipe is just that! I grill up some BBQ chicken with sides one day and use the leftover grilled chicken to make pizza! It's so easy and comes together fast.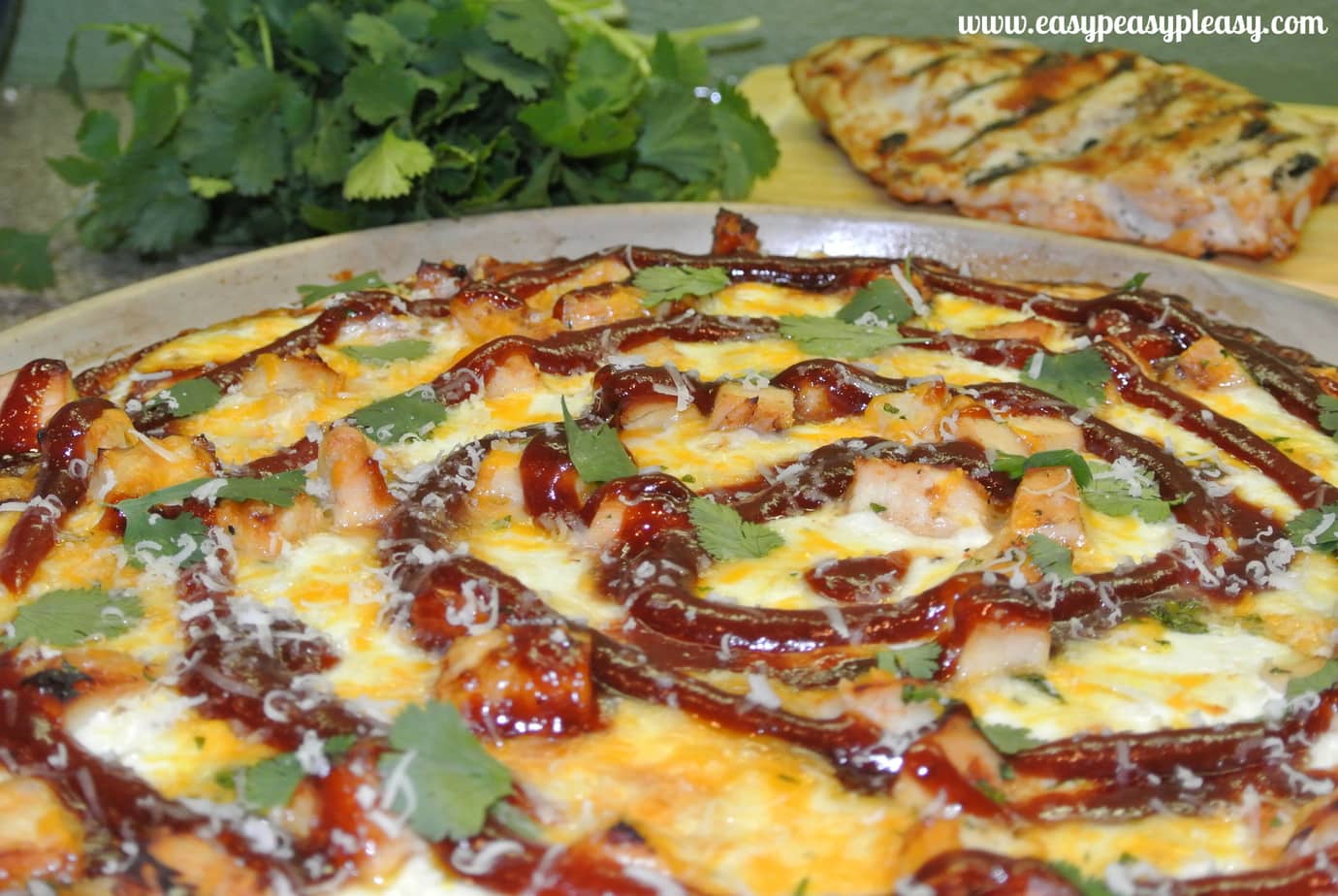 You can either use your favorite pizza crust recipe, a store bought crust, or my favorite whole wheat crust recipe. I found this recipe a few years back when I was searching for clean eating recipes. Melissa over at Bless This Mess has a great recipe for 100% Whole Wheat Pizza Crust. It's a no fail recipe and easy to follow. Click on the links to get my favorite pizza crust recipe.
Now onto the toppings I use to make this delicious pizza…

BBQ Chicken Pizza
Servings: 4-6
Difficulty: easy
Ingredients
prepared pizza dough
BBQ Sauce
7 slices of fresh mozzarella
1 cup shredded cheddar cheese
2 grilled chicken breast, chopped
small red onion, diced
fresh parsley, chopped
fresh cilantro leaves
Directions
Preheat oven to 450 degrees. Place either a store bought crust or your prepared pizza dough onto a pizza stone or baking sheet. Spread 2 heaping tablespoons of BBQ sauce over the crust. Place the mozzarella evenly around the crust. Top with grilled chicken, red onion, cheddar cheese and parsley. Drizzle BBQ sauce in a spiral. Bake for 10 to 15 mins until bubbly. Sprinkle with cilantro leaves and enjoy.
easypeasypleasy.com
You can make this recipe as easy as you want or you can take the extra steps and make a homemade crust. That's totally up to you and your taste preference. The recipe reflects all my favorite toppings for BBQ Chicken Pizza.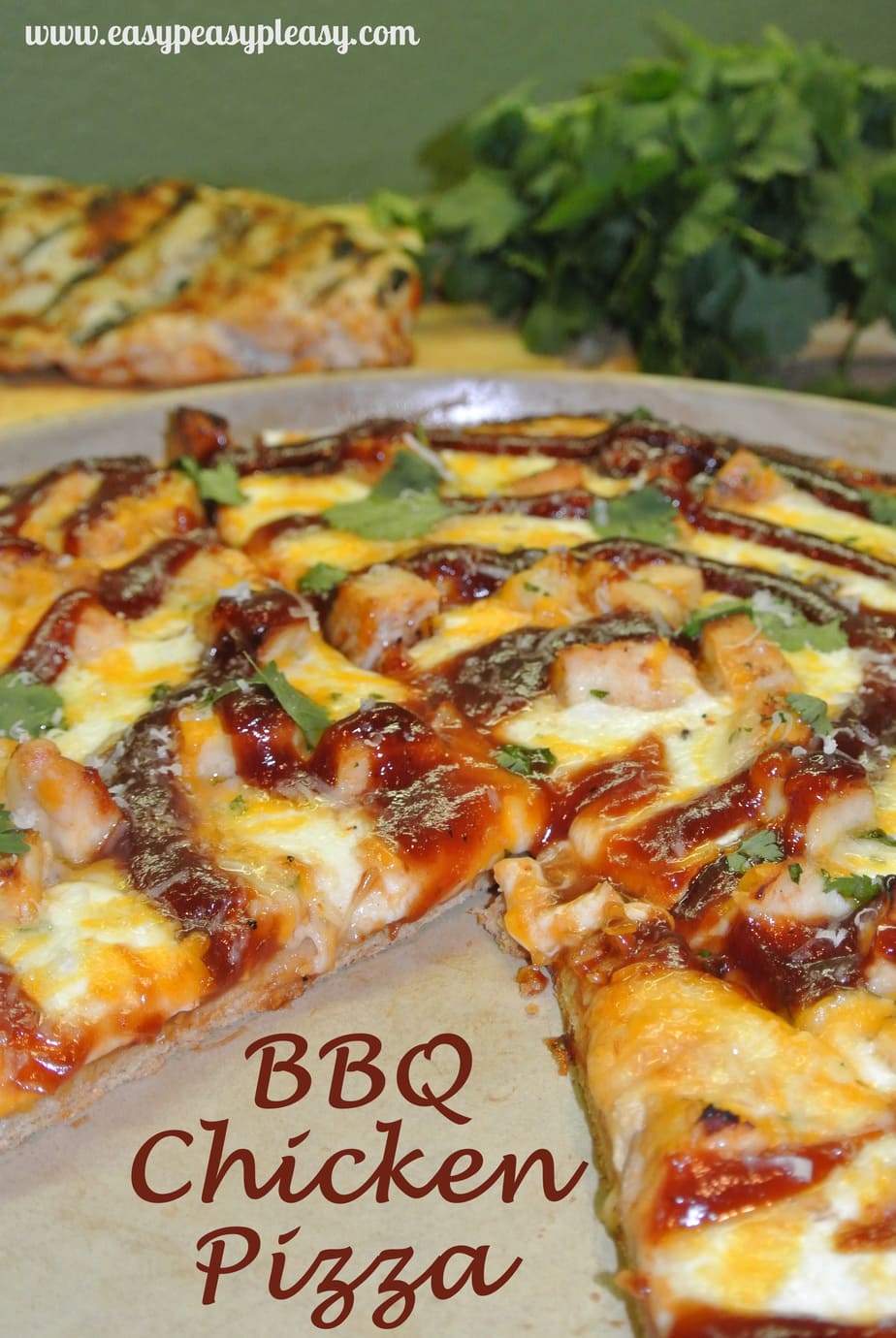 So, the next time you are grilling up some chicken breast, make sure and grill up a couple extra and give this recipe a try. If you love pizza and love BBQ sauce, then you will love this BBQ Chicken Pizza. Tell me, what's your favorite kind of pizza?
If you are looking for more double duty recipe ideas, just type double duty in the search box.
I have another pizza recipe coming up soon that's a little south of the border inspired and you won't want to miss. So, you may want to sign up to get all things Easy Peasy right to your inbox. Feel free to follow me on my favorite social media…Pinterest and Instagram! I'll be chatting with you soon!