Strawberry Poke Cake is an oldie but a goodie! It's an easy delicious cake made with fresh strawberries and cool whip. But…. did you know you can lighten up the traditional recipe and keep all of the wonderful flavors? You definitely can! I make the skinny version even when I'm not trying to be skinny! If you are looking for a delicious dessert that's lightened up, you should try my Strawberry Poke Cake Made Skinny!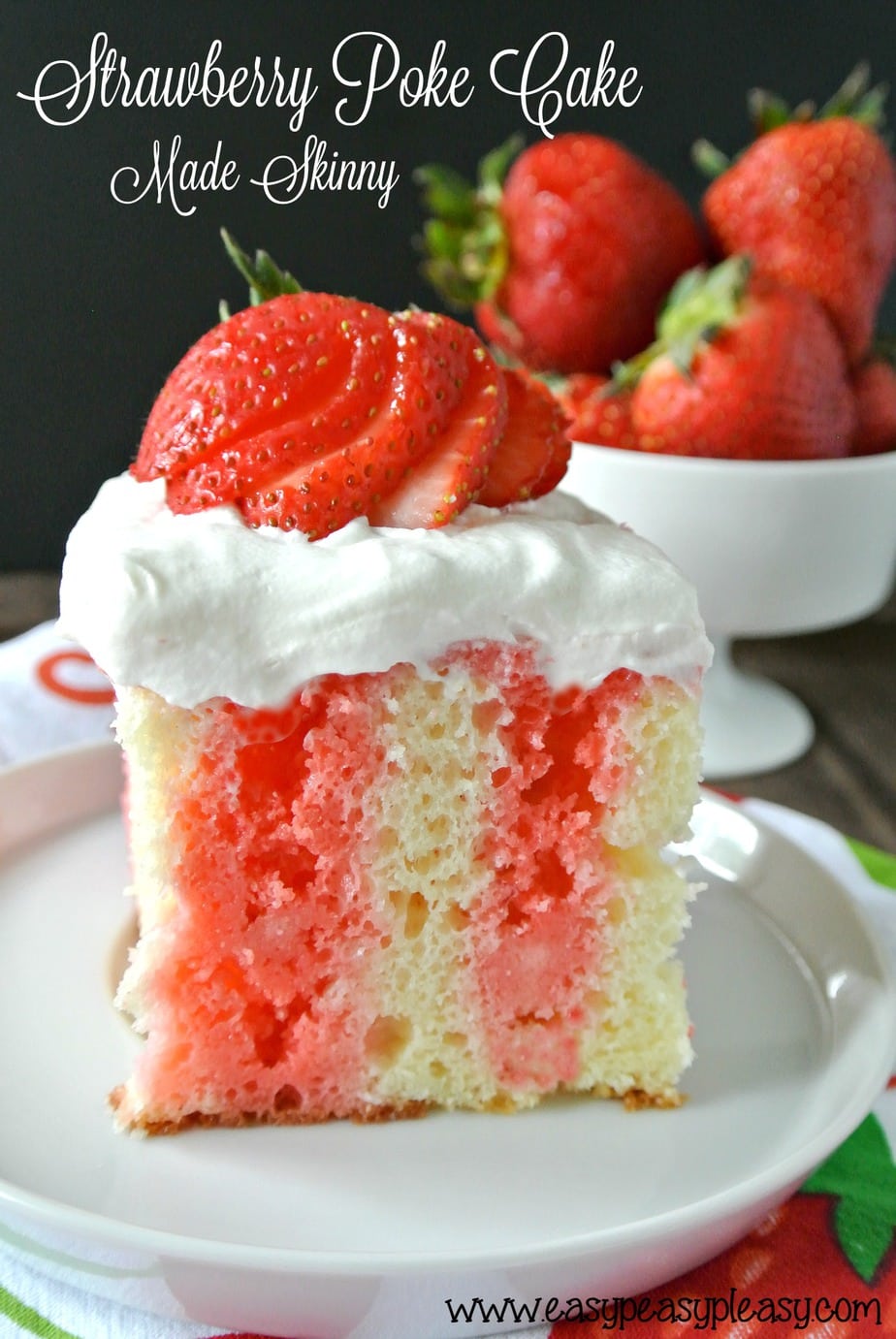 Strawberry Poke Cake Made Skinny!
You won't miss any of the fat in this recipe but I will give you the full on version after the recipe tips and you can decide! This dessert also gets better with time so it makes a perfect make ahead treat!

Strawberry Poke Cake Made Skinny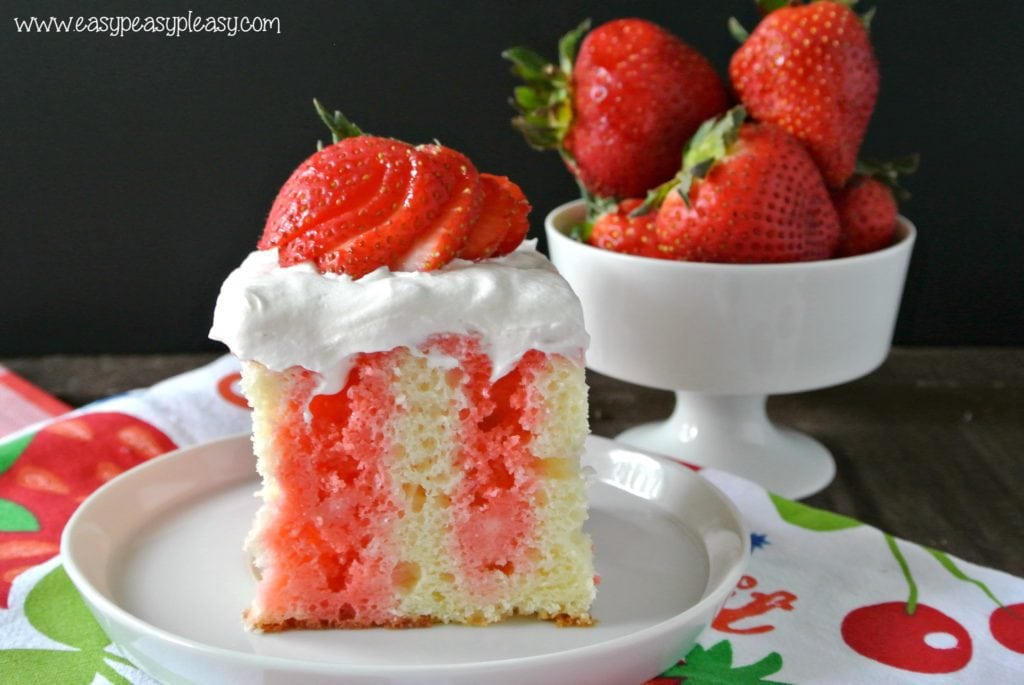 Ingredients
For Cake
1 box white cake mix
4 egg whites
1 1/4 cups water
1/3 cup unsweetened applesauce
For remaining recipe
1 .3 ounce box sugar free strawberry gelatin
1 cup boiling water
1 cup cold water
1 teaspoon strawberry extract
1 8 ounce fat free cool whip
12 ripe strawberries
Directions
Preheat oven according to cake package directions. Spray the bottom of a 13×9 inch pan with non-stick cooking spray. Combine all ingredients for cake in a large bowl and beat on medium for 2 minutes. Pour into pan and bake according to cake package directions. Place cake pan on a wire rack to cool for 20 minutes. Use the handle of a wooden spoon to poke holes in cake 1 inch apart. Bring 1 cup of water to boil. Have 1 cup of cold water ready. Mix the strawberry gelatin in the boiling water for 1 minute and stir in the cold water. Mix in the strawberry extract. Pour the gelatin mixture into the holes of the cake. Spread cool whip all over the top of the cake. Slice the strawberries almost to the core and spread with your fingers. Place strawberries evenly over cake for 12 servings. Refrigerate until ready to serve. Eat and Enjoy!
easypeasypleasy.com
Lacie's Easy Peasy Tips…
Use a toothpick to see if the cake is done. When timer goes off, insert a toothpick in center of cake. If toothpick comes out clean then the cake is done.
To dissolve gelatin, microwave 1 cup of water in microwave safe container for 3 minutes on high.
You can straight up slice the strawberries and sprinkle evenly over the cake then add the cool whip.
To make the full on version… Just follow the regular boxed cake mix ingredients (use oil and whole eggs). Also, use regular strawberry gelatin (not sugar free) and regular cool whip (not fat free).
My family absolutely loves this cake! If you've never tried the Strawberry Poke Cake Made Skinny recipe, you should whip up this skinny version and see what your family thinks! I bet they will love it! If you've made the traditional recipe before, try the skinny version and see if your family notices the difference….mine doesn't!
Subscribe to Blog via Email