Have you forgot about the No Bake Cookie? Did y'all know you can make no bake cookies using the microwave? Yep! No standing over the stove waiting for the ingredients to boil because, ya know, a watched pot never boils. Seriously, though, these are the easiest cookies to make without using the oven and only require 7 ingredients.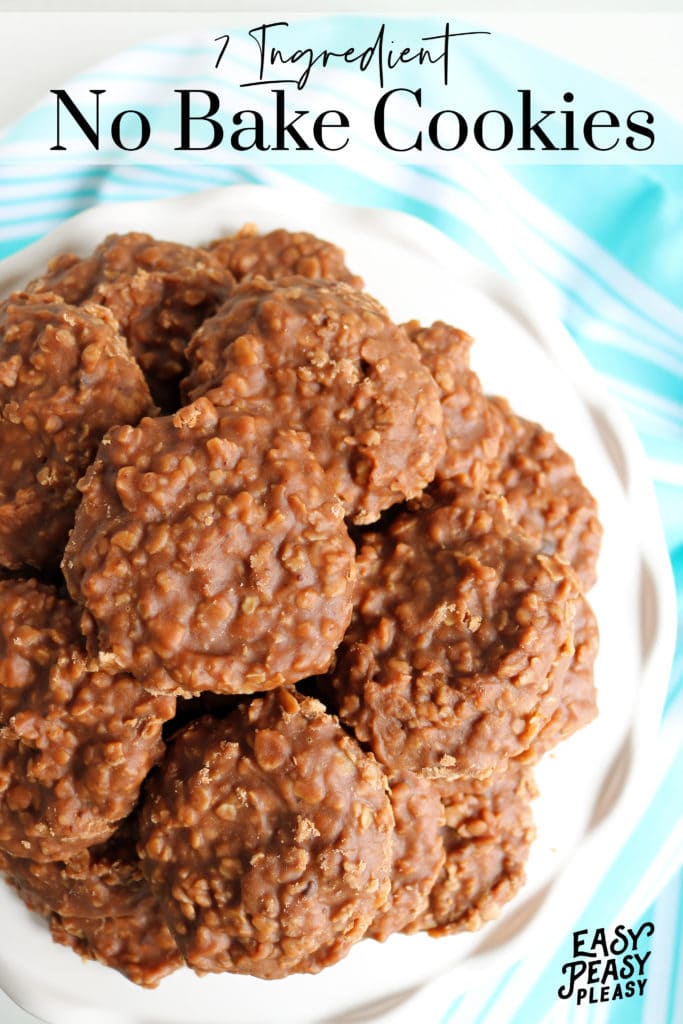 Prep all the ingredients beforehand and it's an even faster and easier recipe to make in just a matter of minutes. When the chocolate urge strikes there is no time to wait around for fresh oven baked cookies.
Make these creamy decadent chocolate No Bake Cookies quickly using the microwave for a super-fast treat that the kids can even help make any time the need for chocolate arises.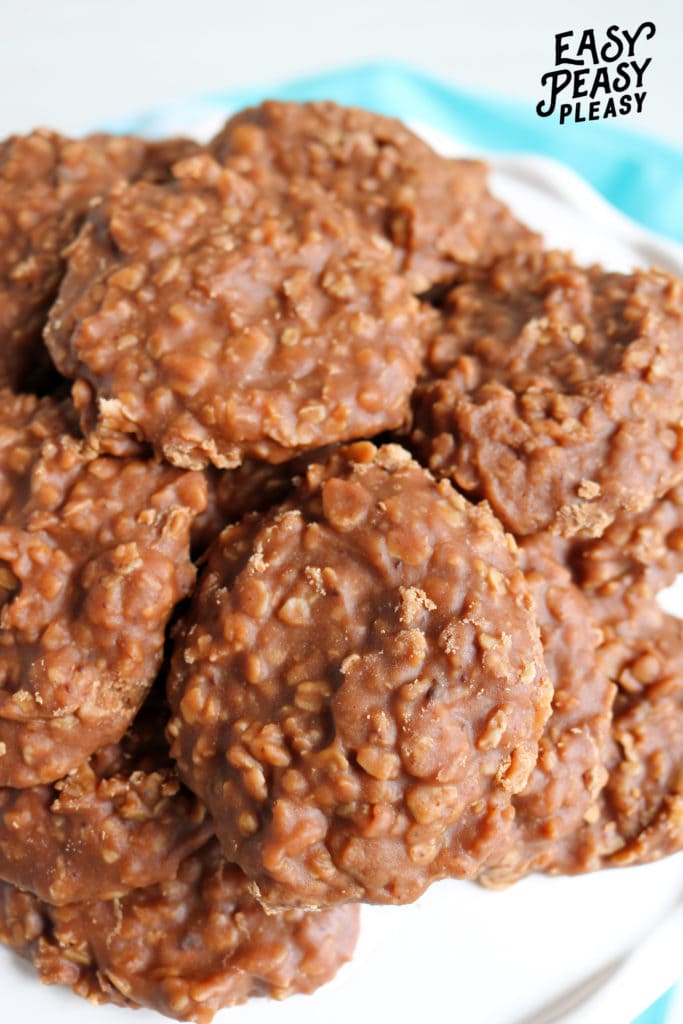 Not only is this easy no bake cookie recipe great for the baker, it is great for the family, too. It's always a hit with my hubby and the kiddo.  Being able to quickly satisfy a sweet tooth with no bake cookies without turning on the oven makes me feel like super mom.
What You'll Need…
Along with a super easy cooking method, this tried-and-true classic cookie recipe uses simple ingredients from the pantry:
Sugar
Cocoa Powder
Butter
Peanut Butter
Milk
Vanilla
Quick Cooking oats
The hardest part of making these delicious no bake cookies is resisting the urge to eat the batter before scooping and cooling. A good baker always samples before serving so go ahead and enjoy a tiny taste! Just make sure and blow on your tiny taste first. The batter is hot.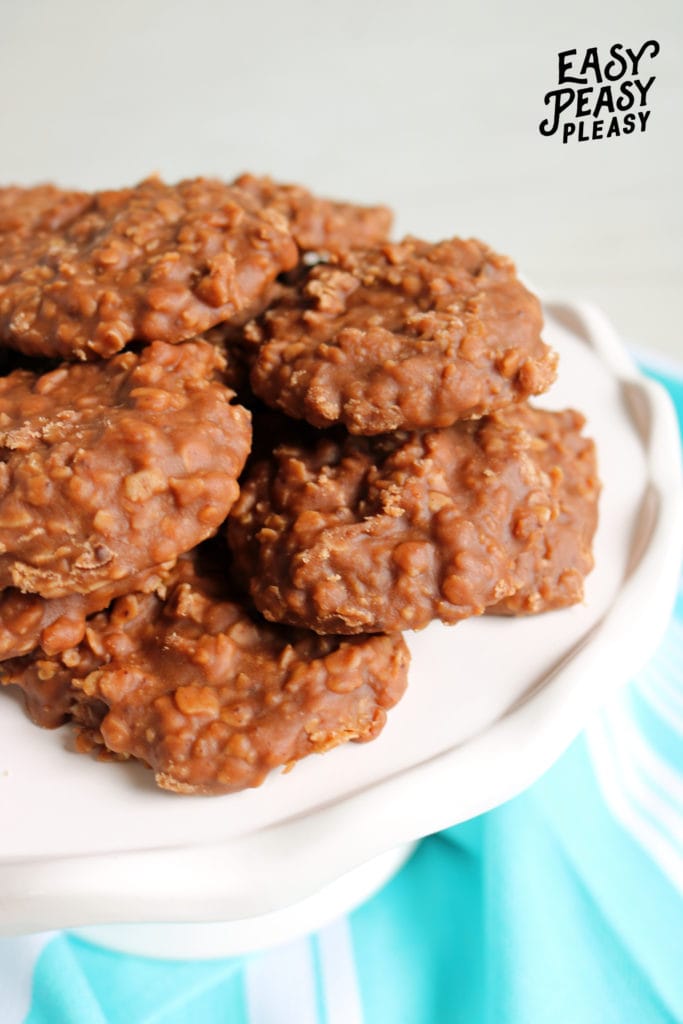 Tips To Make Your Process Easy Peasy Pleasy…
This recipe was tested using a 1000-watt microwave. If you have a lower-wattage microwave, add 30 seconds.
There is no need to melt the butter beforehand.
Have all your ingredients prepped and ready to dump and cook.
Line your counter with wax paper for fast easy scooping and cooling.
Use a small cookie scoop to scoop out the hot batter.
Store leftovers in an airtight container or a zip top bag.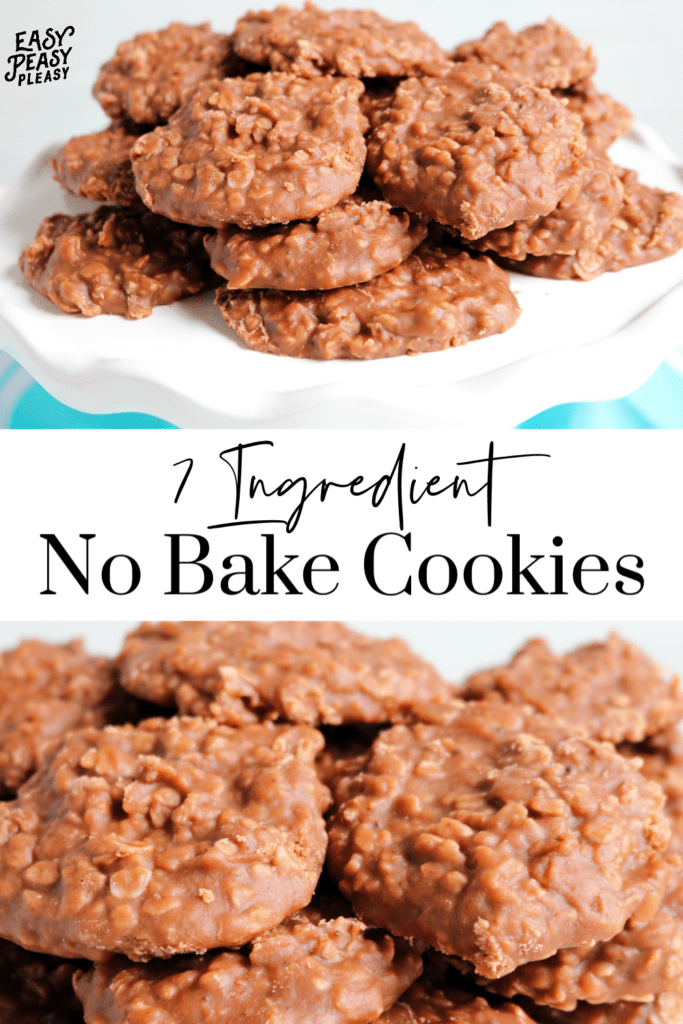 These cookies are sooo good but you may want some other cookie inspiration like these 4 Ingredient Strawberry White Chocolate Chip Cookies that my family love…. or these Chocolate Peanut Butter Cup Cookies that are super easy. Or just a quick 3 Ingredient Peanut Butter Cookie.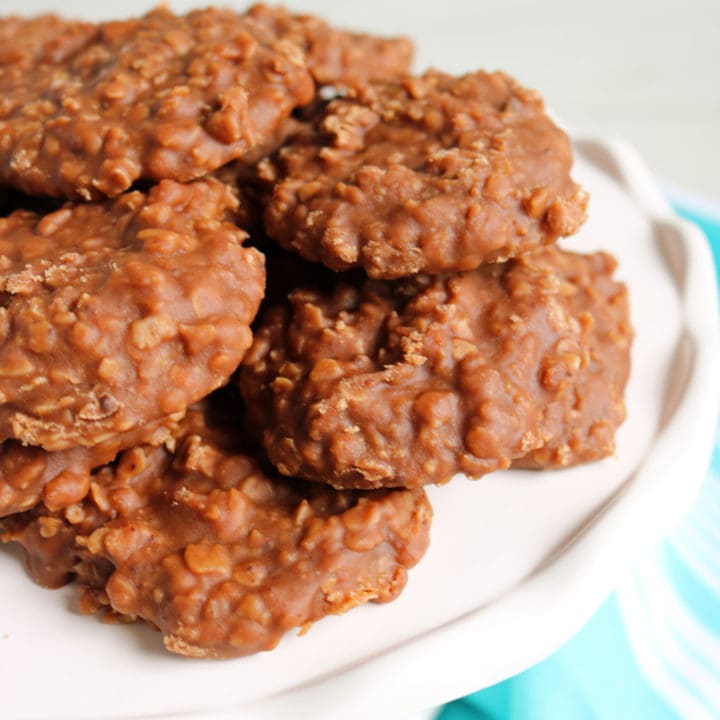 No Bake Cookies
7 Ingredient No Bake Cookies Using The Microwave. Perfect recipe to get the kids involved.
Ingredients
2 cups sugar
3 tablespoons cocoa
4 tablespoons butter
1/2 cup milk
1 cup peanut butter
1 teaspoon vanilla
2 cups quick cooking oats
Instructions
Pour sugar, cocoa, butter and milk in a large microwave safe bowl. Heat for 2 minutes and 45 seconds. Remove and stir. Heat in microwave an additional 2 minutes and 30 seconds. Add in peanut butter, vanilla, and oats. Stir until well combined. Drop by spoonfuls onto wax paper. Let cool. Eat and enjoy!
Subscribe to Blog via Email