You may not want to try these Ooey Gooey Pecan Cheesecake Bars. I'm just giving you fair warning, once you try these ooey gooey bites of heaven, you won't be able to stop. Just a little cake mix, some cream cheese, a pinch of butter(yeah right!) and you got one heck of a dessert!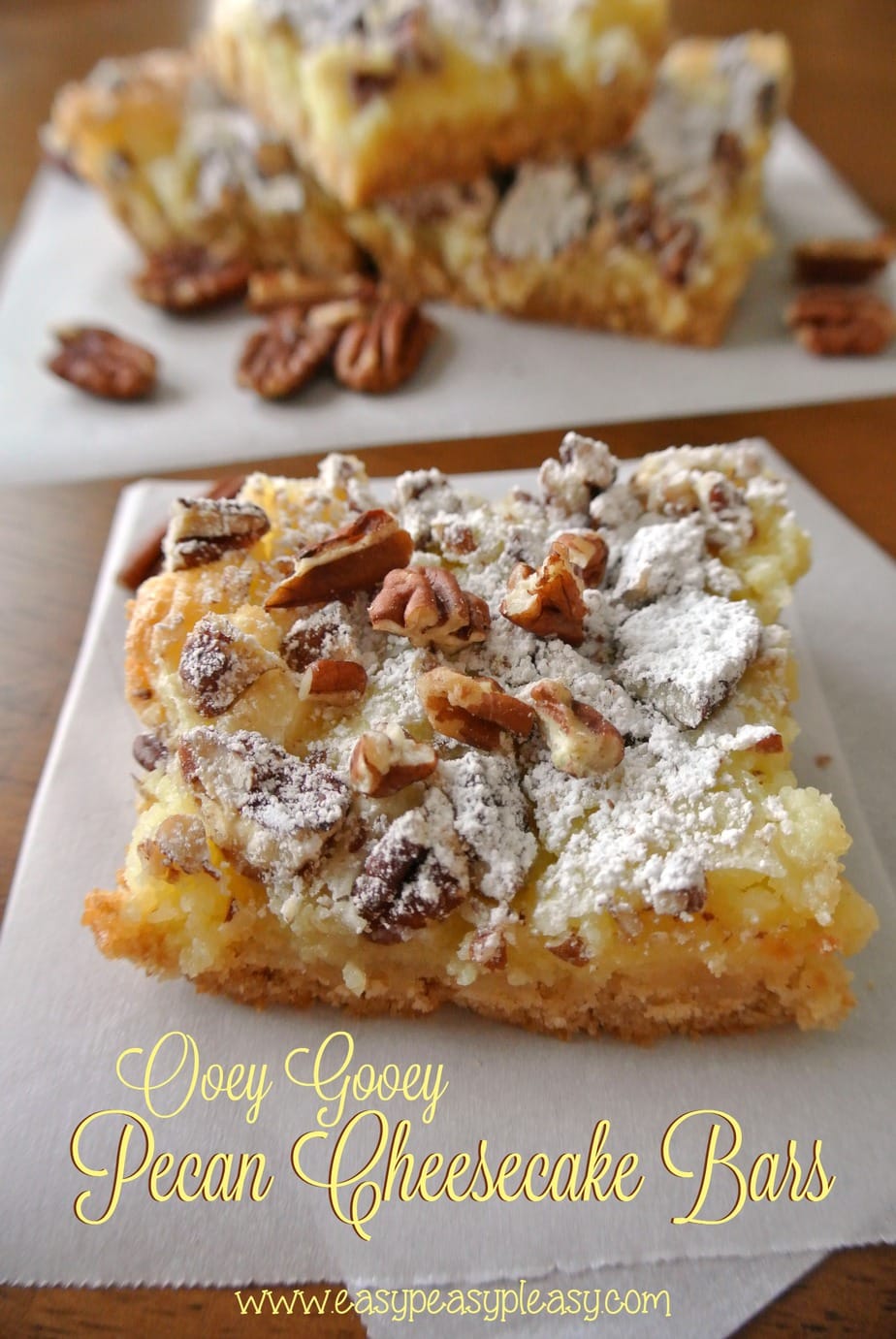 My longtime girl friend, Miss Kenna Jane, brought these Ooey Gooey Pecan Cheesecake Bars to a work potluck many years ago. With one bite, I was hooked. I just had to have the recipe. I actually still have the piece of paper with her half written directions in my recipe book. There may have been a few times in the beginning, that I had to ask her what she meant for me to do when I would read the recipe. That's because she wrote the recipe down from memory. That girl can cook!
The recipe is really simple and I no longer have to ask for clarification. After making this recipe a few times, you don't even need to look at it anymore. That's how easy these bars are to whip up.
These Ooey Gooey Pecan Cheesecake Bars are super easy to make and oh so delicious! We like to dive right in and eat them while still warm and the next day after they have been in the fridge.
Quick tip…if you just can't wait (that's me!) and have to cut while warm, use a plastic knife. It seems to slide through the bars easier than a regular knife.
Looking for another out of the box idea to use cake mix? Try my cake mix cookies! There are only 4 ingredients!
 Ooey Gooey Pecan Cheesecake Bars recipe!
Ooey Gooey Pecan Cheesecake Bars
Ingredients
1 box yellow cake mix, 15.25 ounces
1 stick of butter, melted
3 eggs, divided
1 8 ounce package cream cheese, softened
1 pound box powdered sugar, divided
8 ounces chopped pecans
Directions
Preheat oven to 350 degrees. Mix together cake mix, melted butter and 1 egg until it forms into dough. Press the dough mixture into a 9 x13 baking dish. Using a mixer, combine the cream cheese and remaining egg until smooth. Slowly and in batches, mix in 3/4 of the box of powdered sugar. Pour the cream cheese mixture over the cake dough evenly until completely covered. Sprinkle the pecans and powdered sugar over the top. Bake for 35 to 40 minutes. Let cool before cutting. Eat and Enjoy!
easypeasypleasy.com
Subscribe to Blog via Email