I can picture it now…a virtual high five or maybe a big banging fist bump after you read this recipe! This deliciously easy Salisbury Steak Bake is going to blow your socks off with a comfort food taste explosion. Plus, you are going to absolutely love how easy this delicious recipe is to make. Salisbury steak is one of my childhood comfort foods. It's that one thing my mom always made that carried over into my adult life. (The three ring circus loves it now too!)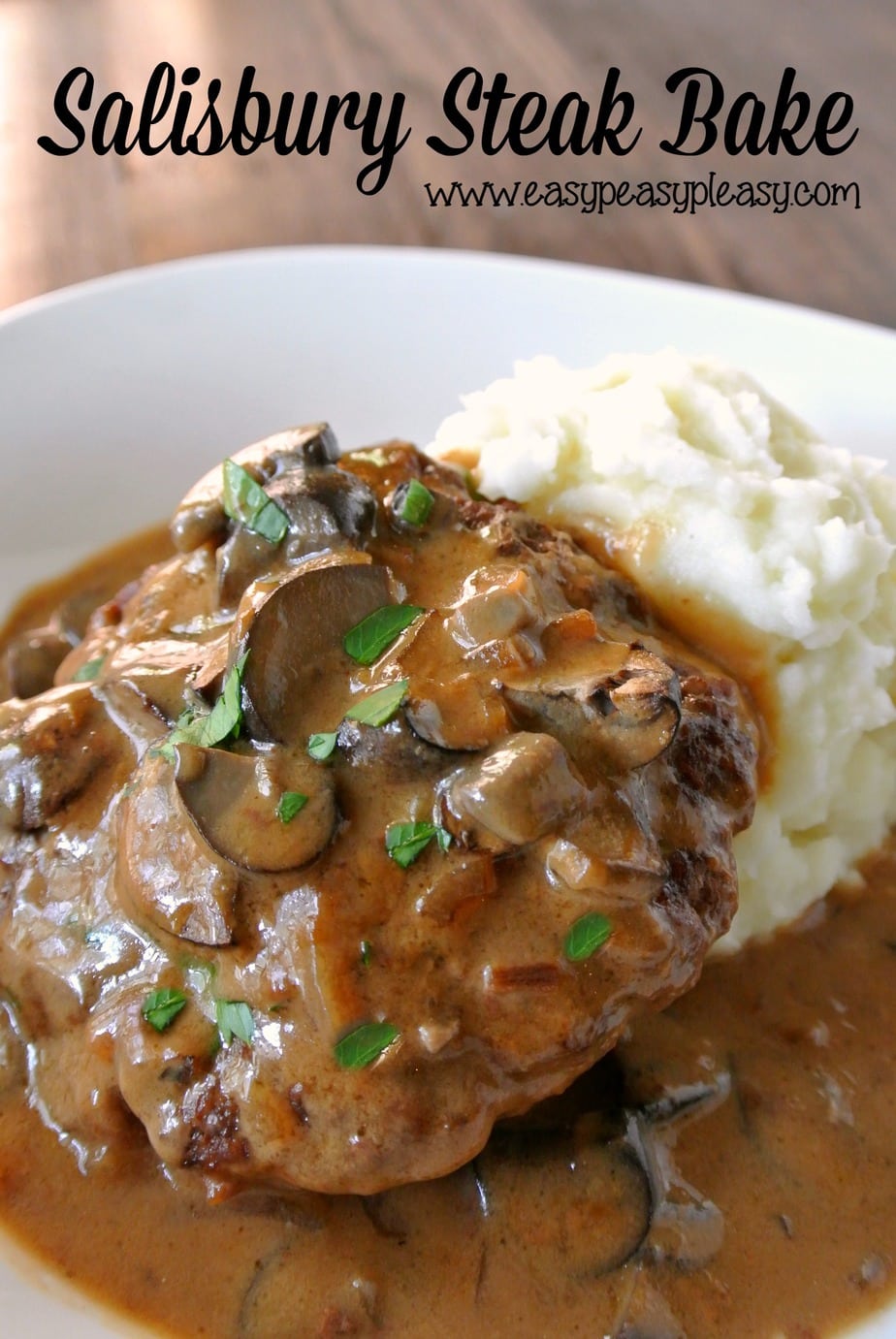 Recently, I had a great friend of mine share, with me, the way she makes this amazing comfort food. I loved the simplicity or should I say…the not having to stand over the stove part. I'm all about being able to prep a meal then throw it in the oven and walk away. This recipe will save you time in the kitchen and the flavor will still be absolutely amazing!

My girlfriend shared this family favorite recipe, with me, that her sister-in-law Stacy gave to her. I took the recipe and made a few modifications to make it even easier. I made this Salisbury Steak Bake and loved it! I had my mom make the modified version too and they loved it as well! Now, this Salisbury Steak bake has earned a permanent spot in my cookbook.
Trending steak recipes on Easy Peasy Pleasy Pleasy….
Cheese Steak Quesadillas & The Hubby's Most Requested Meal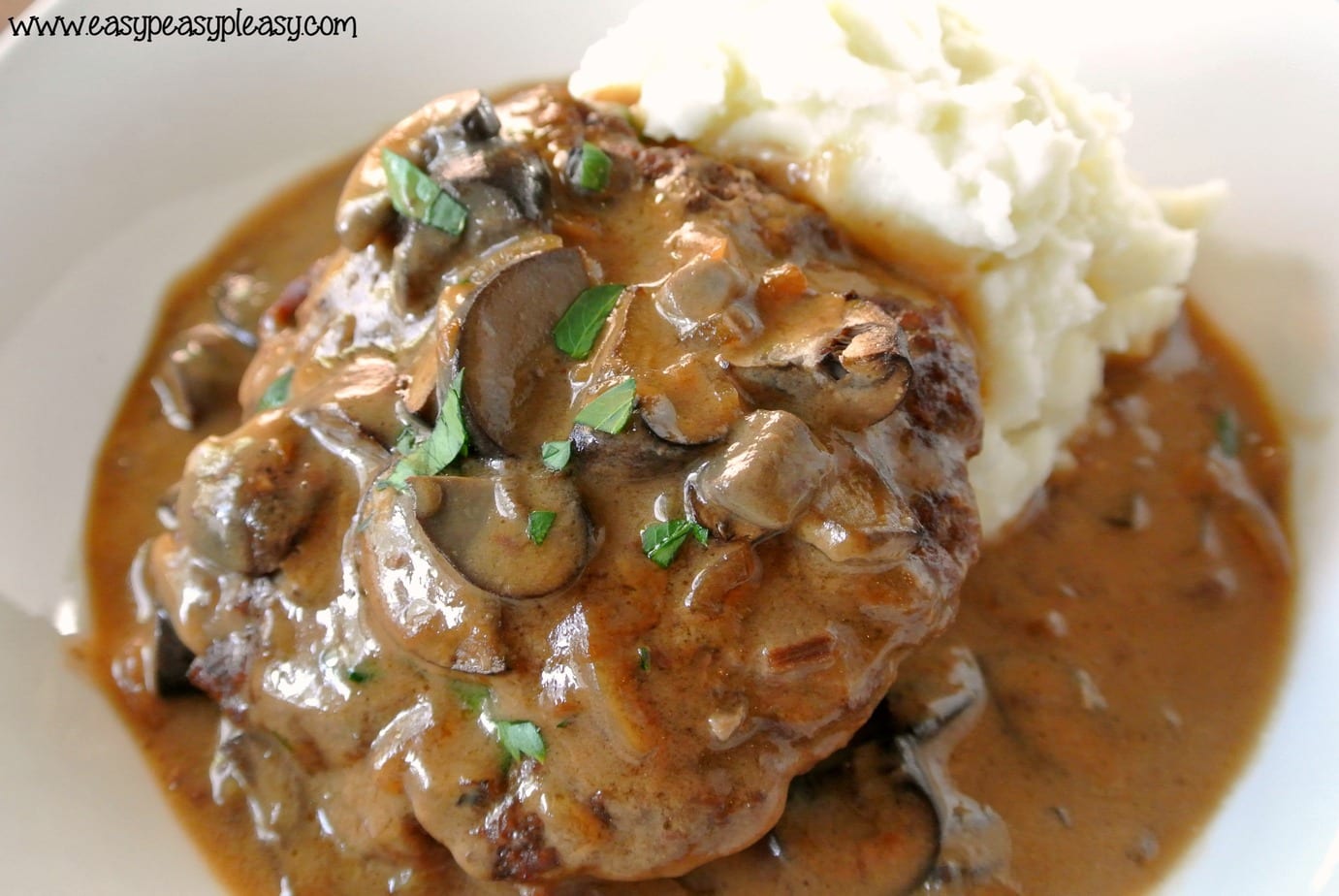 Lacie's Easy Peasy Pleasy Tips
Split the 2 pounds of hamburger meat in half. With each half, divide into thirds to form the hamburger patties.
Pre-form the patties when you bring the ground beef home form the store. Store in the fridge (or freezer) until ready to cook this recipe to save time on a weeknight.
(Add 15 mins cook time to the frozen patties.)
Use the pre-made patties to make this recipe easy for a weeknight. Throw the pre-made patties in a casserole dish, mix up the gravy and pour over patties, chop some mushrooms to add on top and bake. Easy Peasy!
I only have 3 people in my family so this recipe makes the perfect amount for 2 meals (thank you lord for saving me one day of cooking…lol!). For a larger family or say a family of 4…this recipe gives a second helping or 2 leftovers for the next days lunch.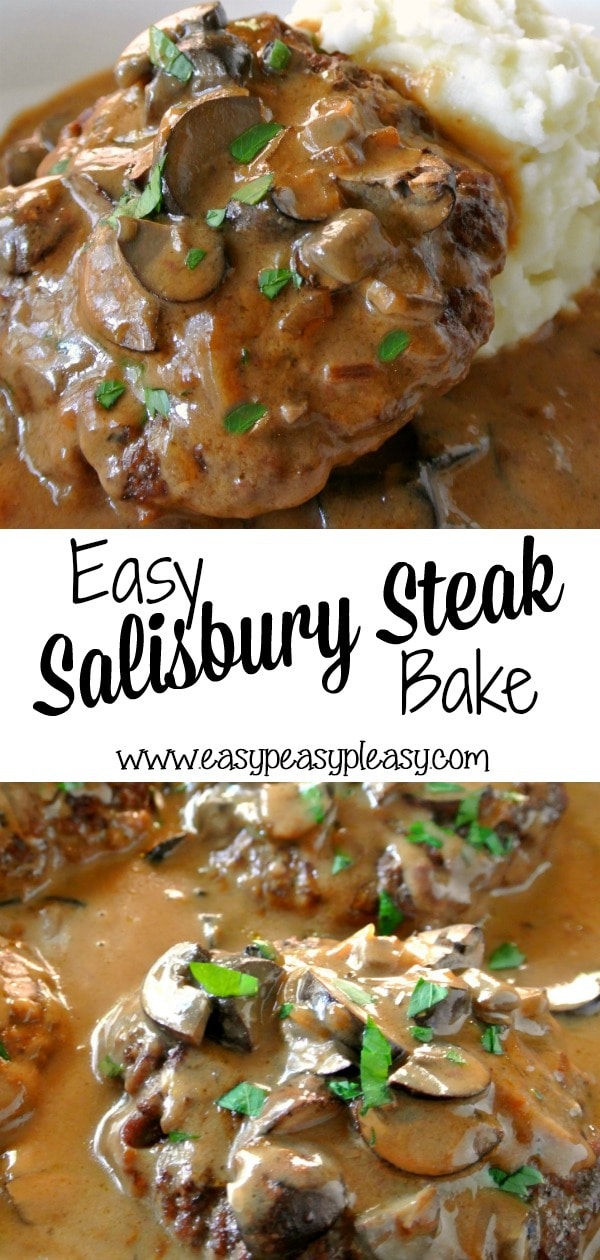 Easy Salisbury Steak Bake
Ingredients
2 pounds ground beef
1 can cream of mushroom
1 can water
1 package brown gravy mix
1 package Lipton Onion Soup mix
8 ounces, sliced baby Bella mushrooms
Directions
Preheat oven to 350 degrees. Form 6 hamburger patties out of the ground meat. Place the 6 patties in a 13×9 casserole dish. In a small pot, combine cream of mushroom, water, gravy mix, and Lipton Onion Soup Mix. Heat on medium low and stir until gravy is formed. Pour gravy mix over patties. Top with sliced mushrooms. Bake uncovered for 45 mins or until patties are cooked to desired temperature. Serve over mashed potatoes or rice.
easypeasypleasy.com
My friends, family, and extended family love this recipe! I hope you give it a try and let me know what you think.
Huge fist bump to Jessie and Stacy for this most amazing comfort food recipe! #childofthe80's
Subscribe to Blog via Email