The only words I need to hear are easy and delicious to know I'm hooked! Y'all my sister in law gave me the easiest sticky Caramel Pecan Rolls recipe and I just have to share it with you. I know y'all will love it as much as I do.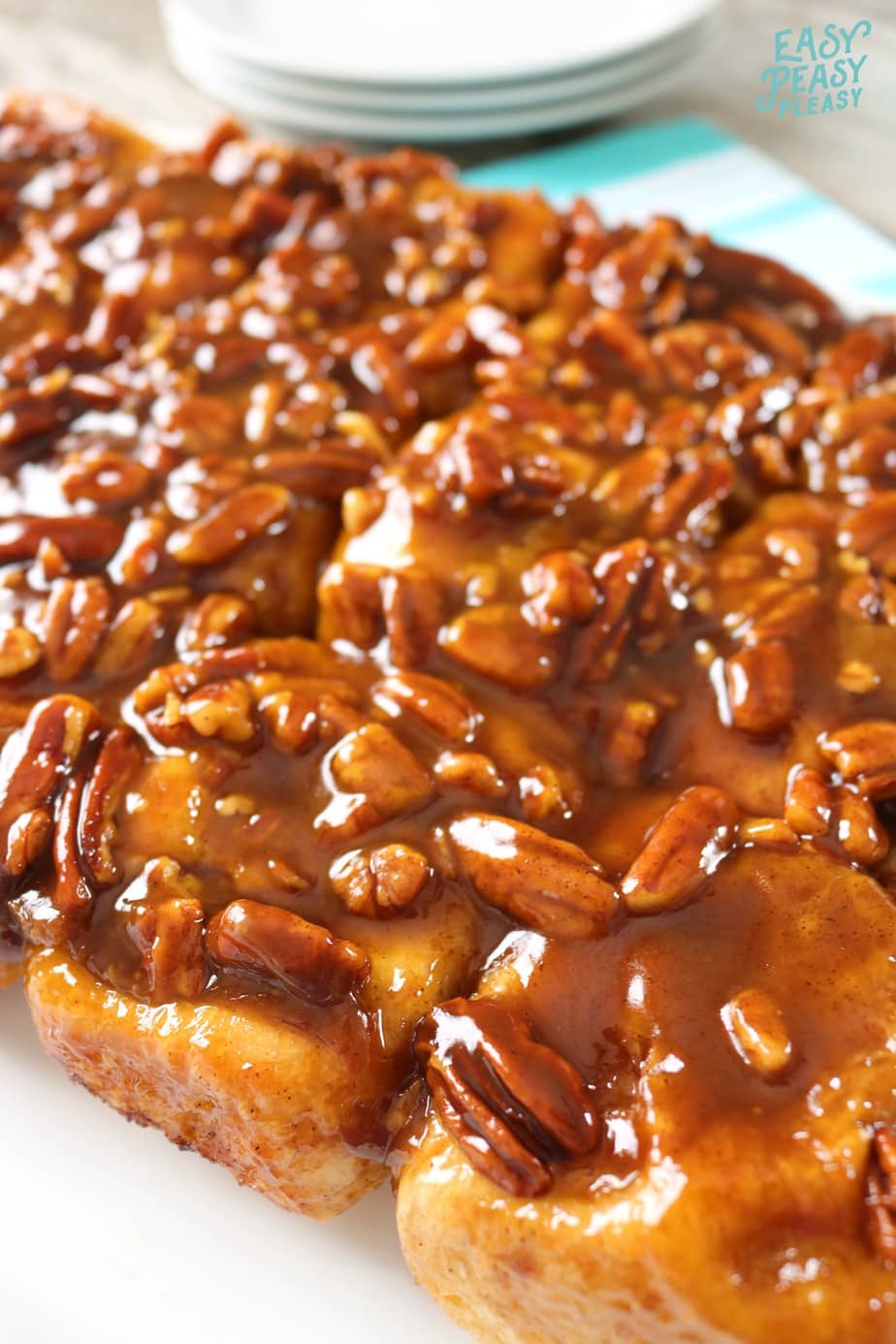 Deb and I were sitting on the back porch drinking sweet tea when my sister in law proceeds to tell me about the most wonderfully easy recipe that will satisfy everybody's sweet tooth!
Guess what?! She was right!!! These Caramel pecan rolls are totally divine. Not to mention, super easy. Turns out…It's the perfect recipe to prep the night before and throw in the oven the next morning.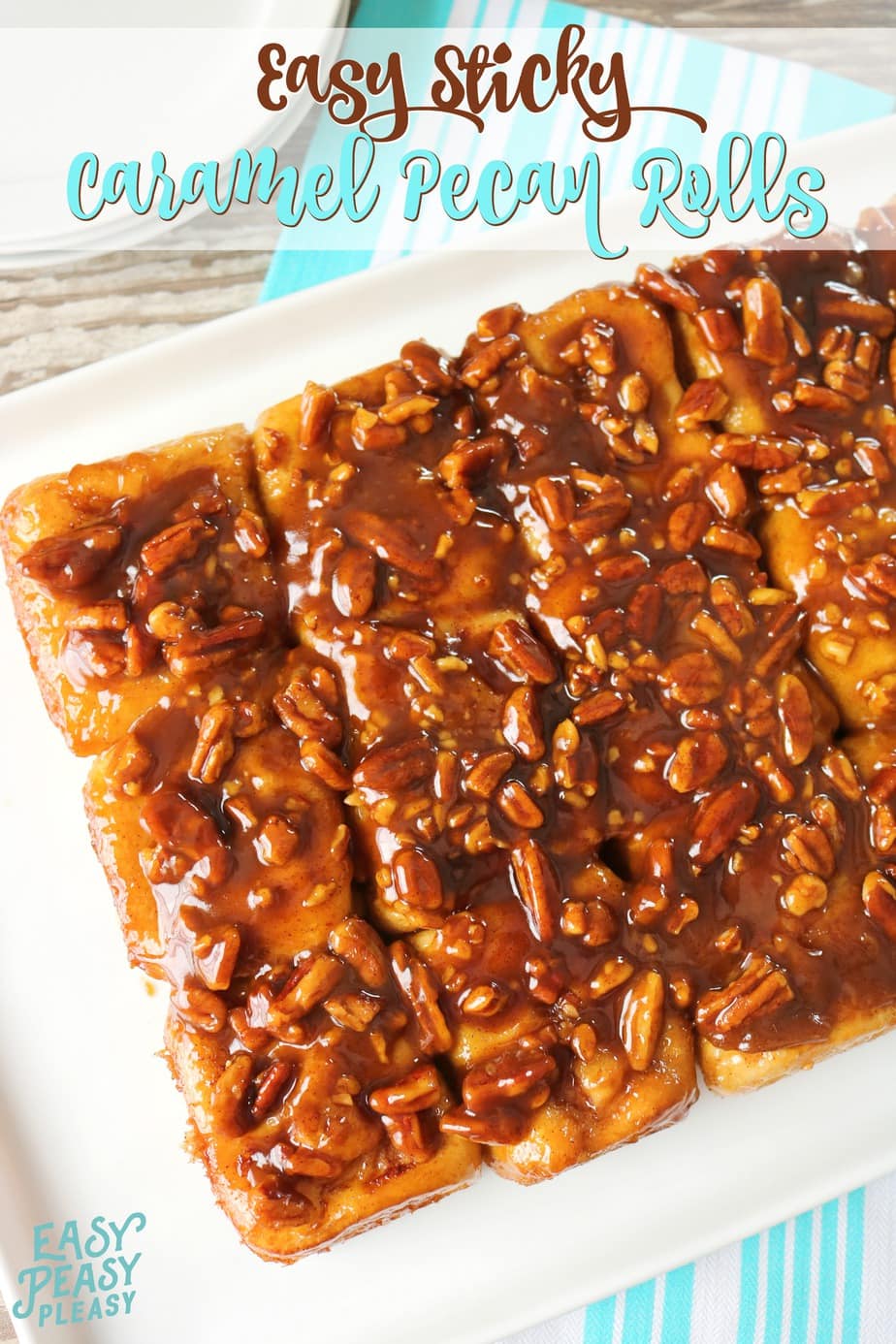 We've already established how much I love easy….it's in my name! Lol! I honestly don't think I've baked anything easier, well my cake mix cookies, than these mouthwatering Caramel Pecan Rolls.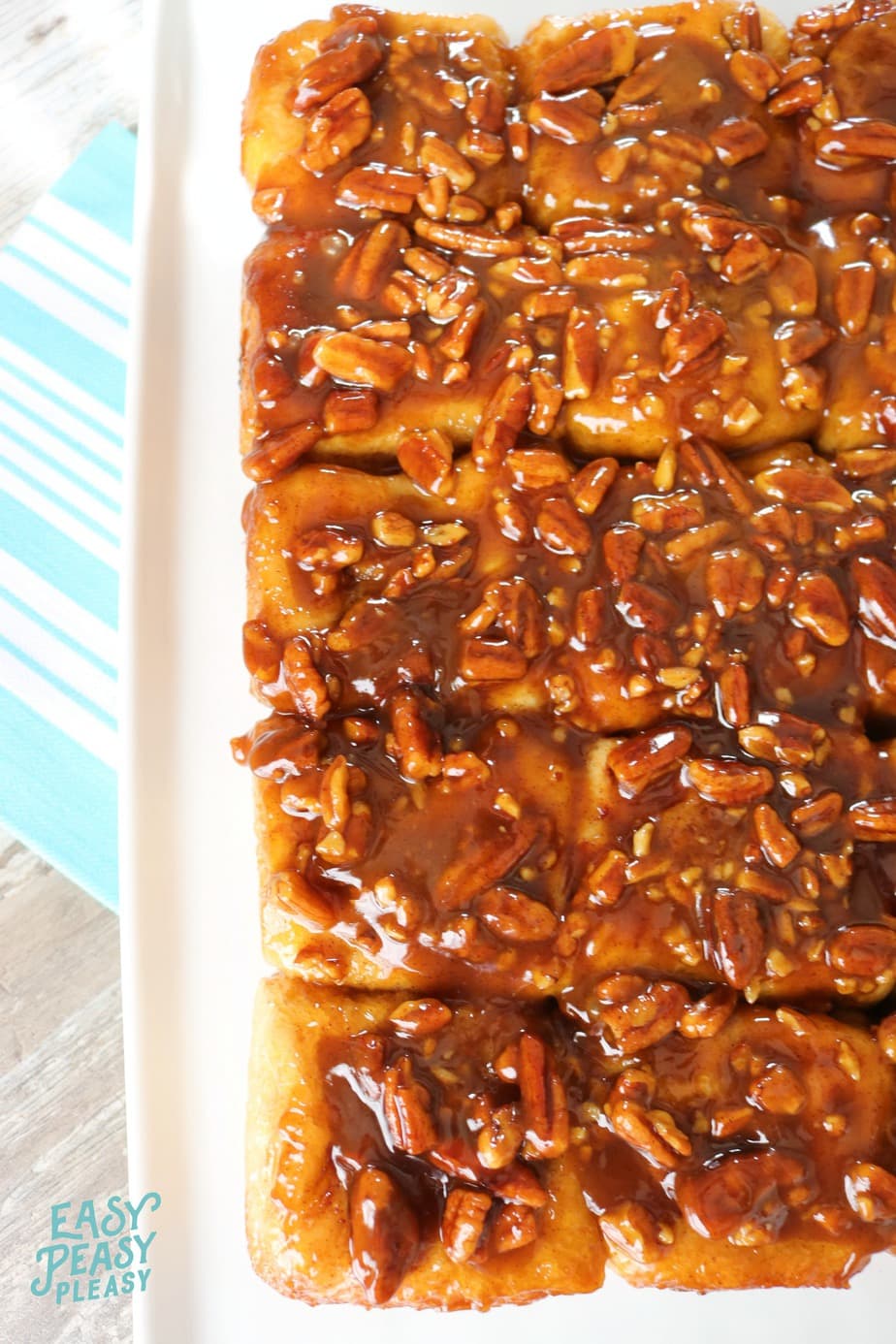 All you need are 6 simple ingredients, 5 minutes prep time, and 20 minutes bake time the next morning. It's a total show stopper!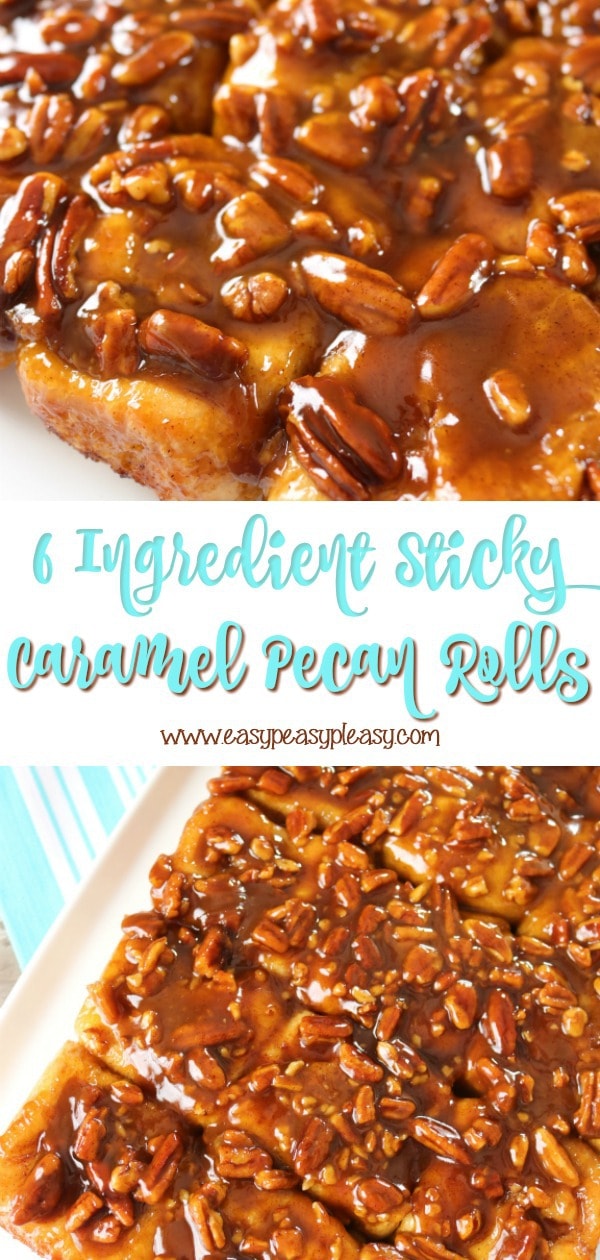 This recipe is perfect for breakfast, brunch, lunch, or an after dinner dessert. It's really all about the timing if you want serve them warm. But they are just as good the next day or the next.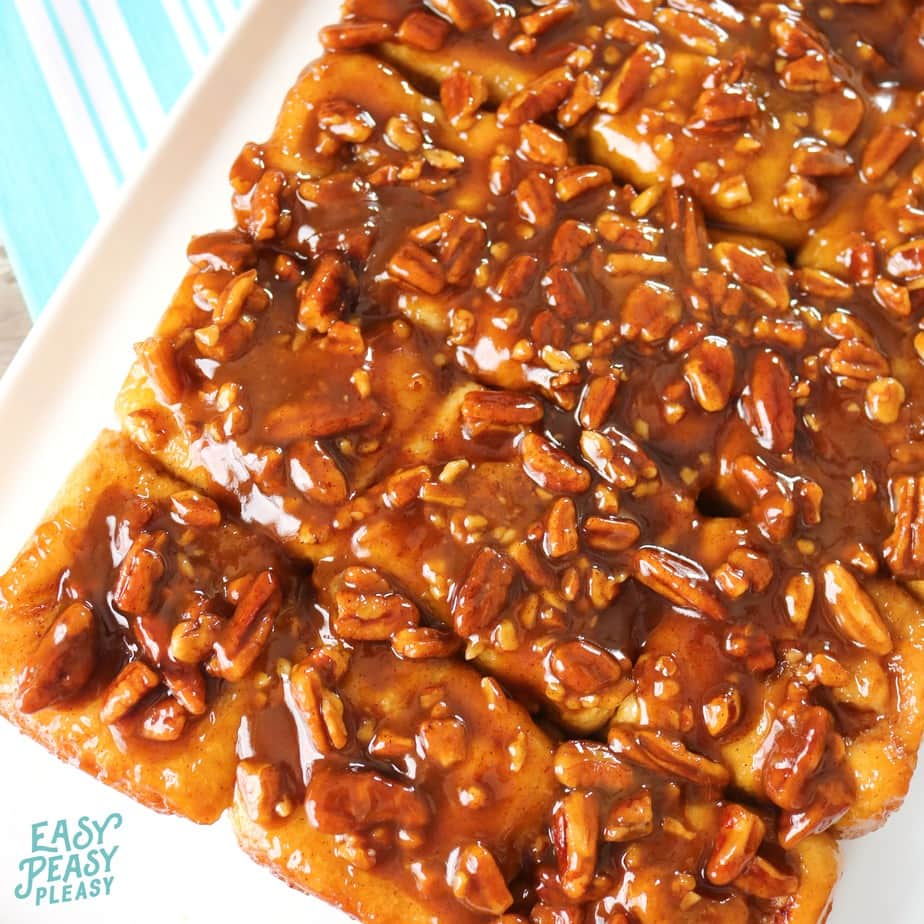 Easy Peasy Pleasy Tips
Prep the recipe the night before for a show stopper at breakfast or brunch.
Prep the recipe in the morning for a show stopper after dinner dessert.
I use Rhodes Rolls in the freezer section for this recipe.
Sprinkle and pour your ingredients all over the rolls. They will slide off as the rolls rise but never fear it will be spectacular.
Make sure those tiny little frozen rolls are 3 or 4 times as big as they were and touching each other before baking.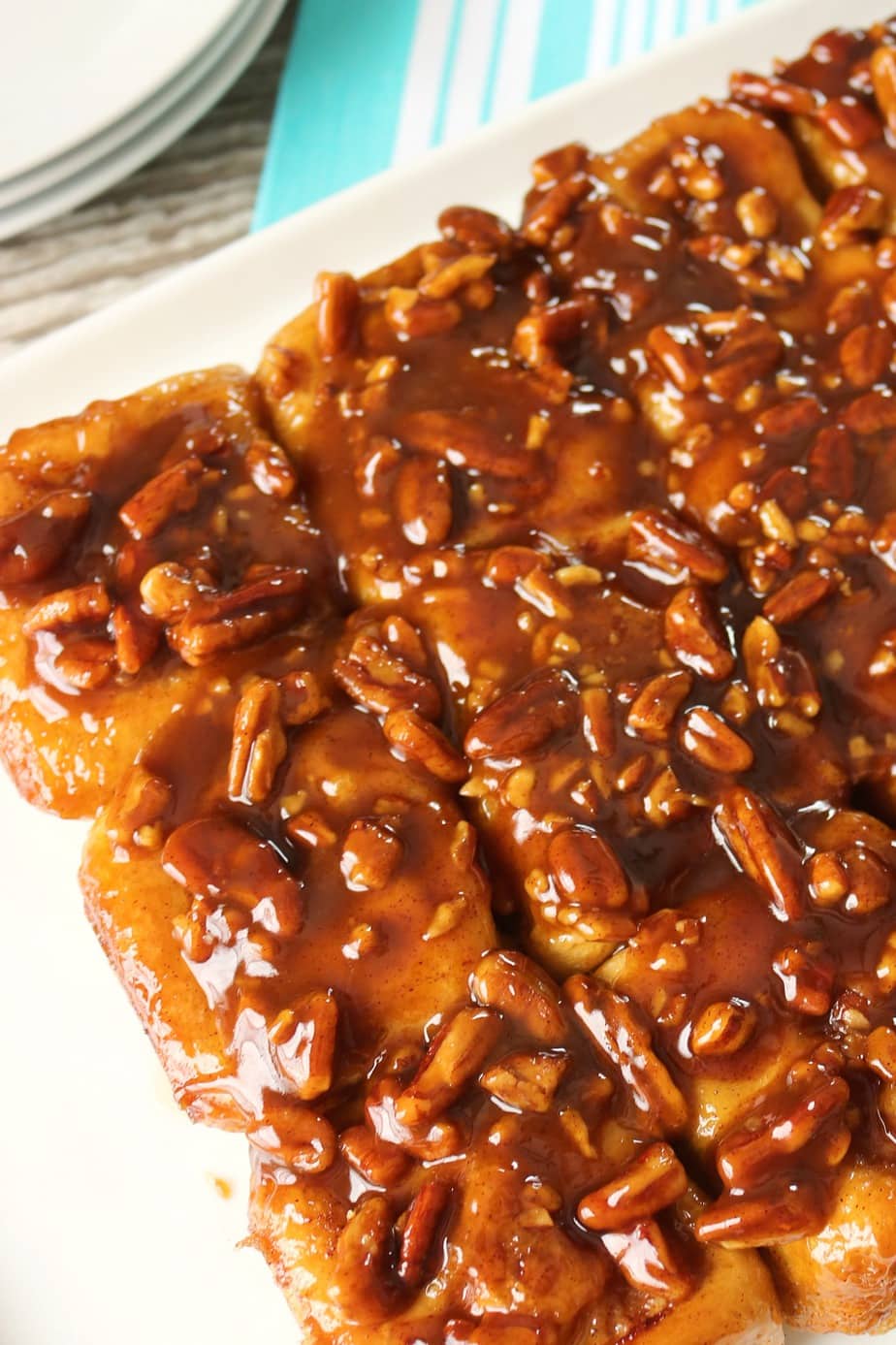 Sticky Caramel Pecan Rolls
Servings: 15
Difficulty: easy
Ingredients
1 cup pecan pieces
15 frozen yeast rolls
1 4.6 ounce box cook and serve vanilla pudding mix
1 stick butter
1 cup brown sugar
Cinnamon
(non-stick spray)
Directions
Heat oven to 350 degrees. Spray the bottom of a 9×13 pan with non-stick spray. Place frozen rolls, equally spaced, in the pan 3 across and 5 down. Sprinkle dry pudding mix all over rolls. Melt butter in the microwave for a minute then heat in 10 second increments until completely melted. Stir brown sugar into melted butter. Continue to stir until brown sugar and butter are fully incorporated. Pour brown sugar mixture over the rolls. Sprinkle cinnamon over rolls. Cover rolls with plastic wrap that has been sprayed with non-stick spray. Let rise overnight. Bake at 350 degrees for 20 to 25 minutes. Remove from oven and let rest for 5 mins. Place a platter or serving tray on top of pan and flip over to turn the Pecan Caramel Rolls out upside down. Now they are actually right side up. Time to dig in! Eat and Enjoy!
Subscribe to Blog via Email