Mmm mmm mmm this cereal snack mix is GOOD! It's extra peanut buttery and extra chocolaty. Seriously, you have to try this snack mix just for your kids. Don't get mad at me if you end up eating half the bag…because it could happen…(I speak from experience!) This recipe takes no more than 10 minutes to mix up and your kids will devour it if you don't first.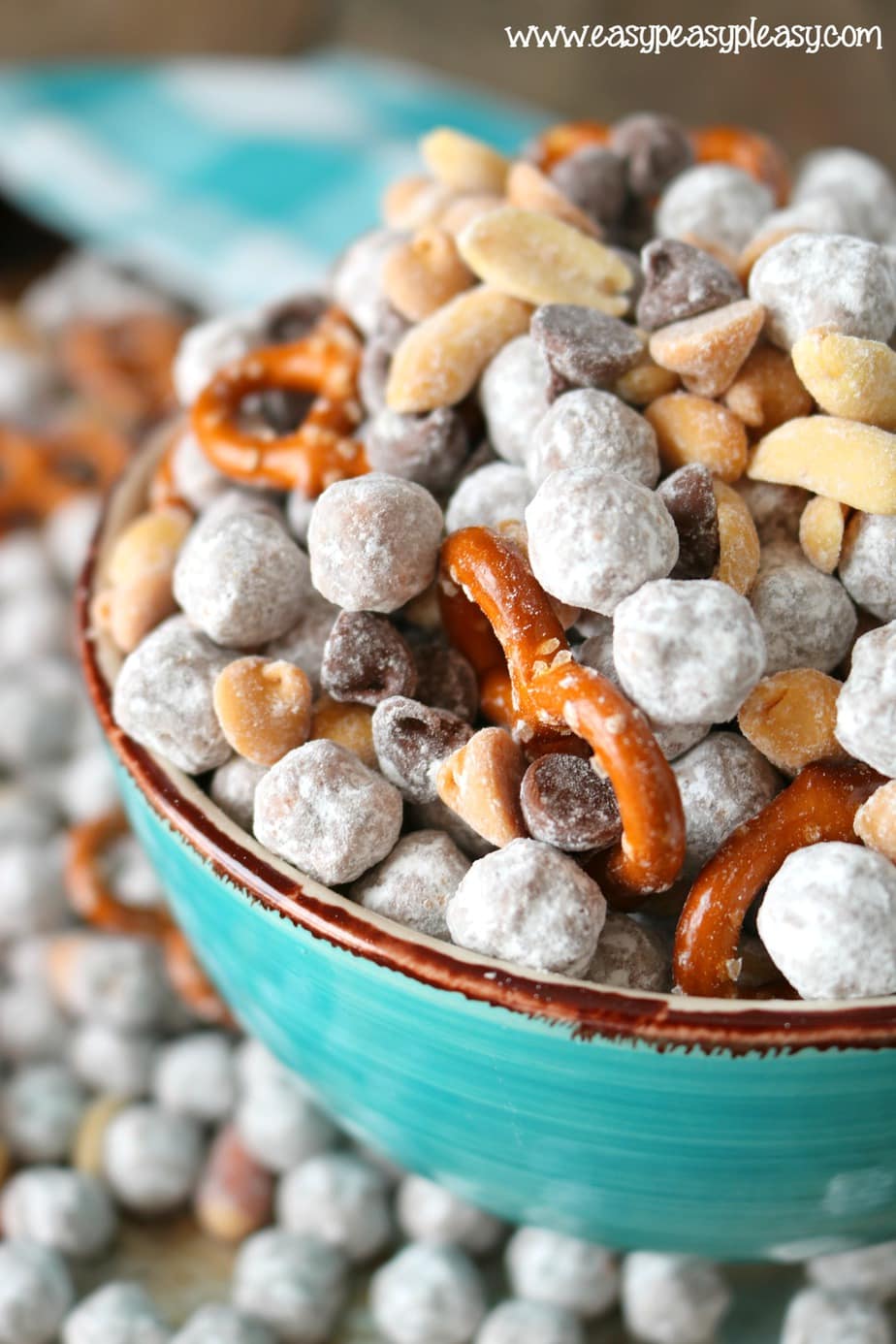 First things first…you grab a Super Size Bag of Peanut Butter Cups Cereal from Walmart. Next you combine it with kid approved additions to make the perfect cereal snack mix. Adding more peanut butter and more chocolate takes this cereal over the top. Finally, you have one Super Sized Snack Idea!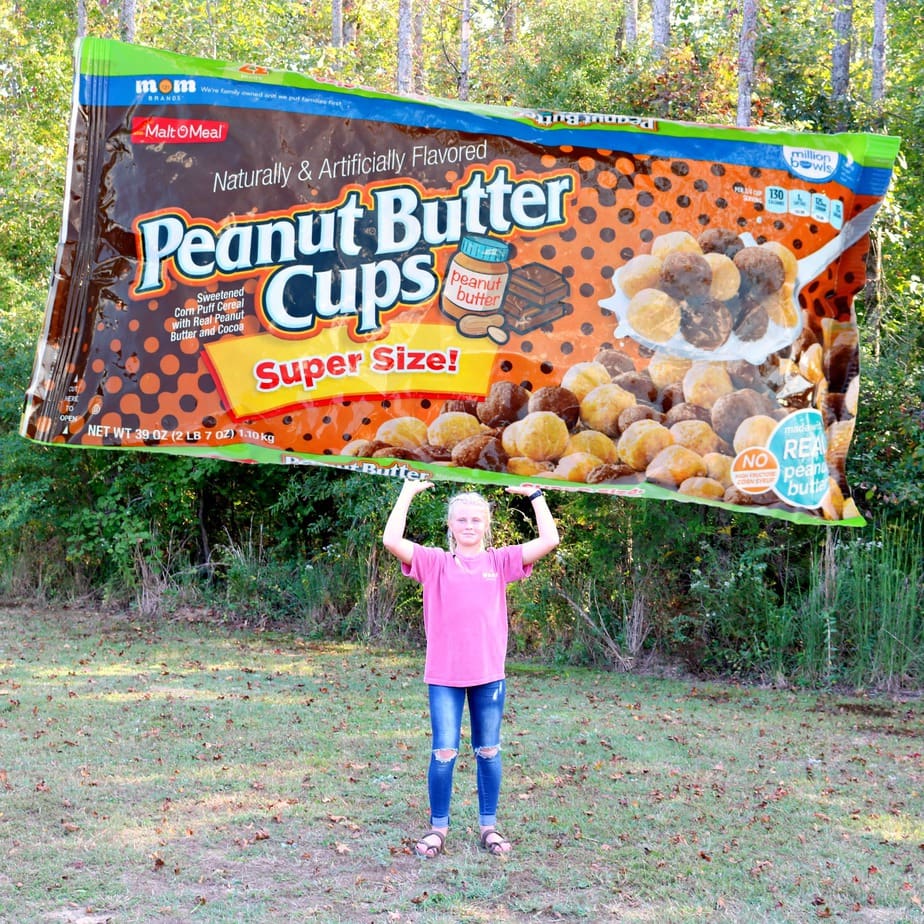 While my kiddo loves to eat this snack, he isn't a fan of being in every photo I take for my blog. But guess who is??
The girl next door! My favorite thing about living in a neighborhood is how much I get to know my neighbors and make amazing connections that will last a lifetime. We come to depend on each other and help each other in regular everyday things like school carpool. But we also come to depend on each other in fun ways too…like this blog post. No matter what, we literally help make each others everyday life easier. When I get to throw in a food idea, it just sweetens the deal.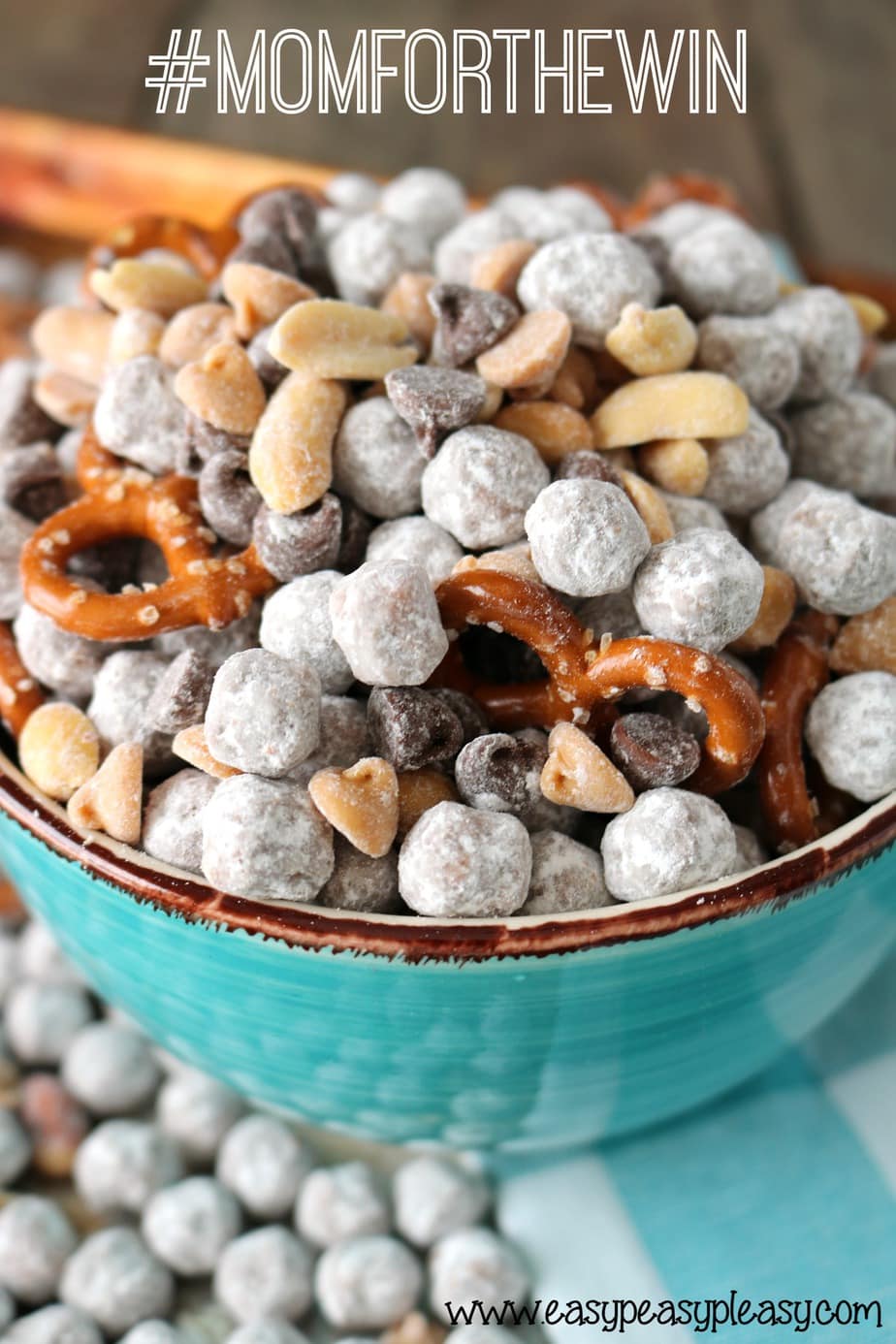 It doesn't get any better than that moment when you pick up the neighborhood kids to take them to school and have a snack to throw their way.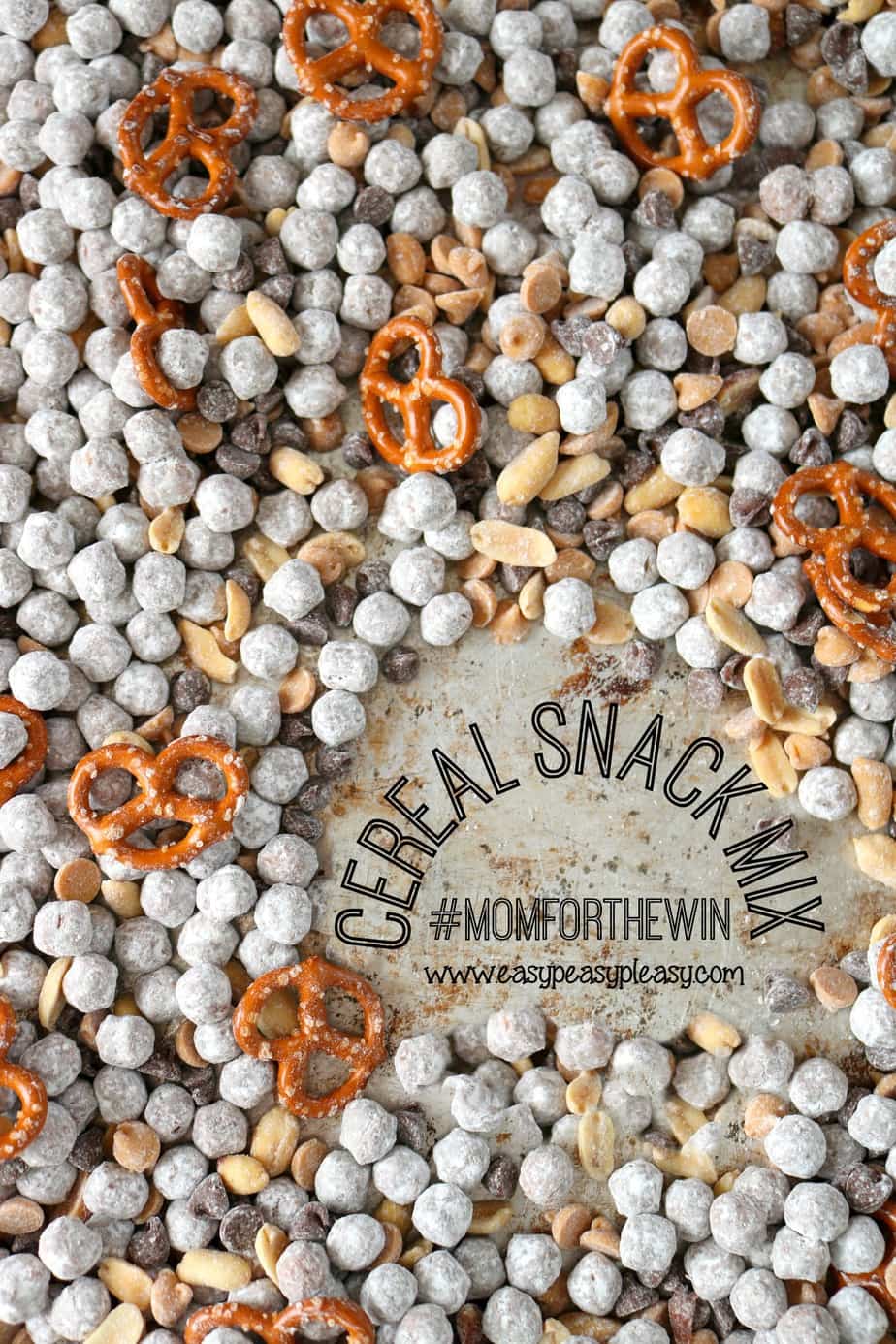 This recipe is a mix it up, bag it up, and toss it up to the amazing kiddos in your life. Whether it's your kiddos or any other other kiddos, you will earn brownie points with this recipe.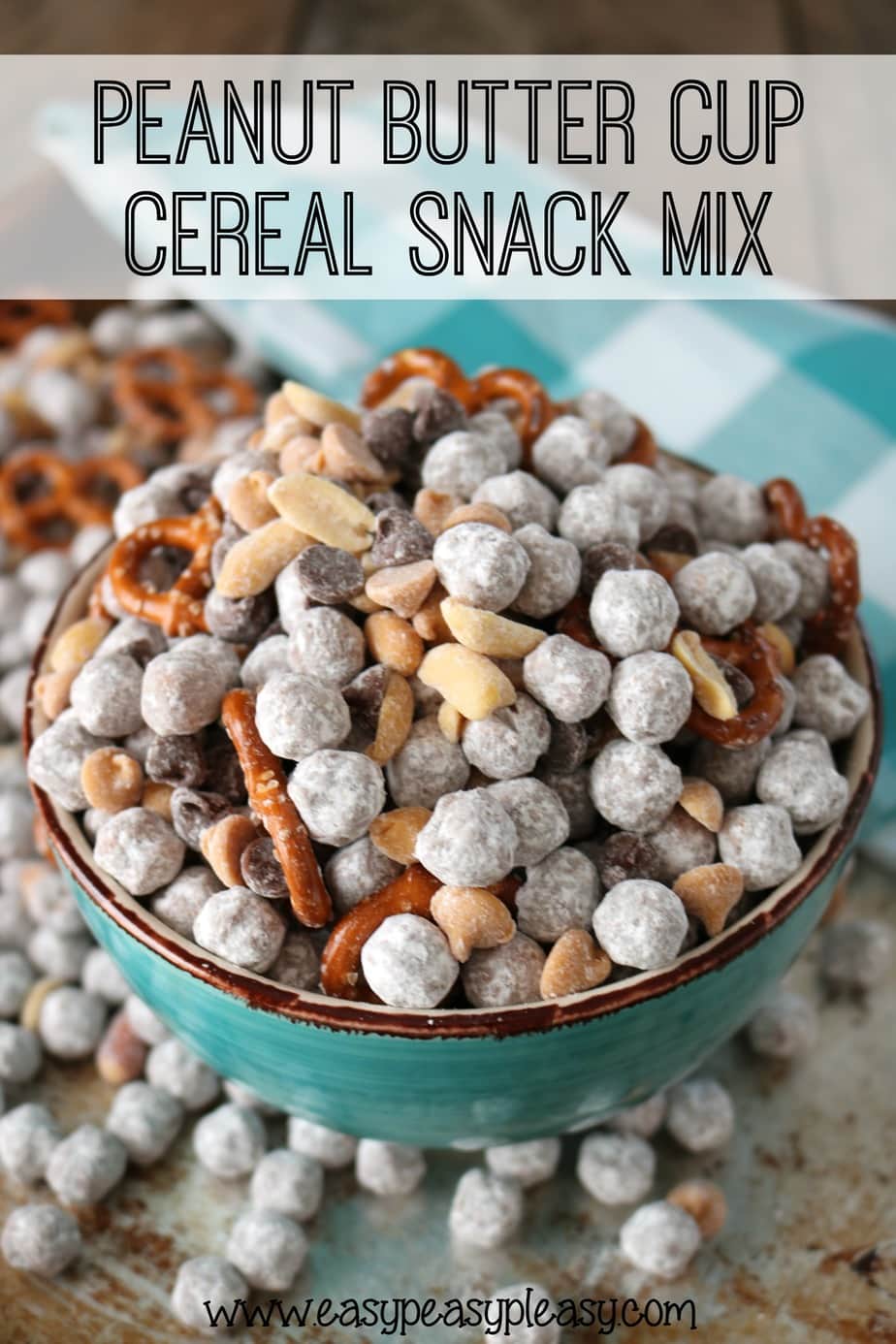 My motto is to always make connections through food and this recipe will make you connections!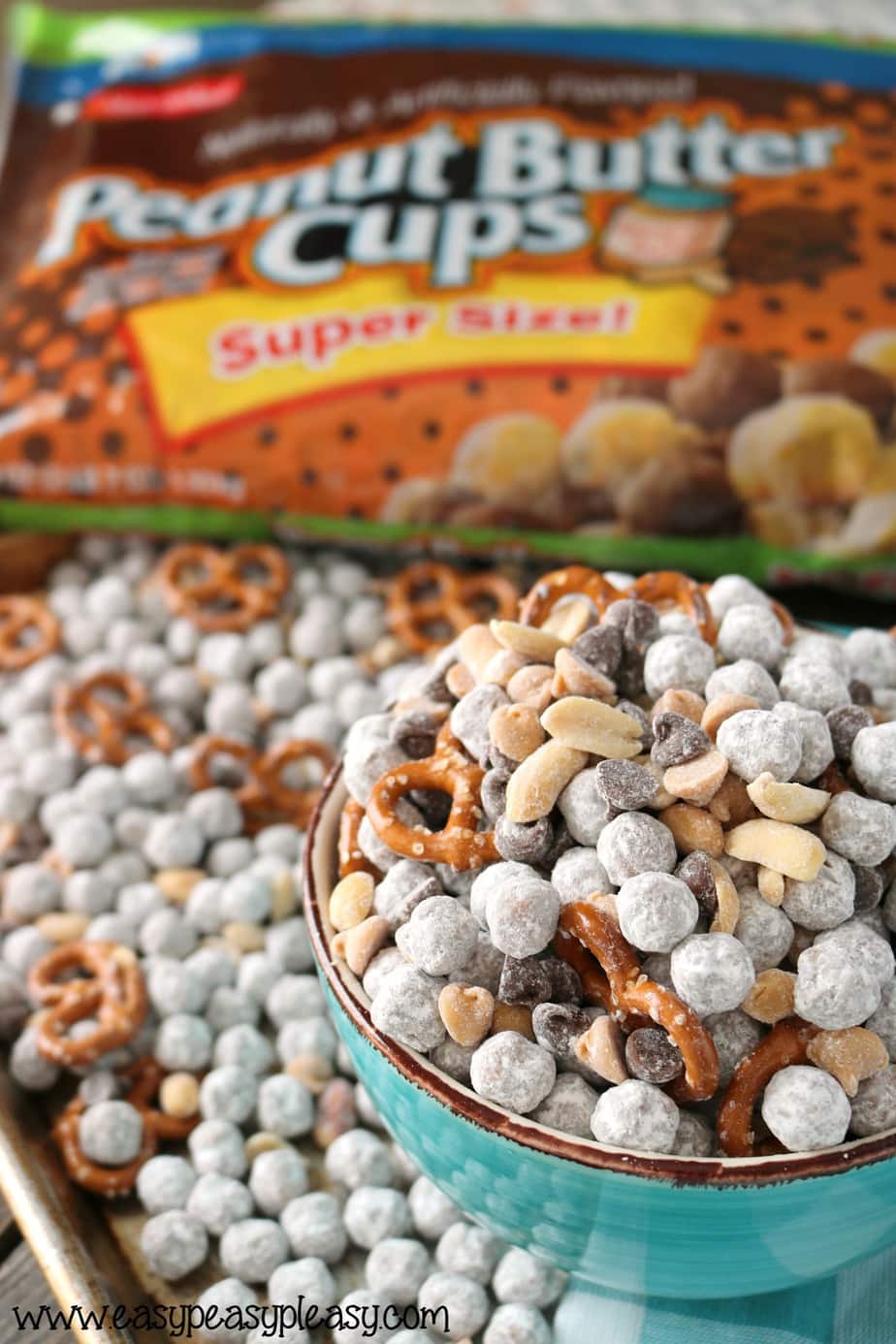 Peanut Butter Cup Cereal Snack Mix
Ingredients
9 cups Peanut Butter Cups Cereal
3 cups milk chocolate chips, divided
1/2 cup peanut butter
1/4 cup butter
1 teaspoon vanilla
1/12 cups powdered sugar, divided
2 cups peanut butter chips
2 cups peanuts
2 cups mini pretzels
Directions
Measure out cereal into a large bowl. Set aside. In a large microwavable bowl, melt 1 cup of chocolate chips, peanut butter, and butter for 1 minute. Stir until well combined. Melt for an additional 15 to 30 seconds until mixture can be stirred smooth. Stir in Vanilla. Pour chocolate peanut butter mixture over cereal and stir until the cereal is evenly coated.
Pour half of the cereal mixture into a gallon bag and add 3/4 cups of powdered sugar. Seal bag and shake until all cereal is coated. Pour powdered sugar coated cereal onto wax paper in a single layer to cool. Repeat this step for the remaining chocolate peanut butter coated cereal.
Using an extra large bowl, combine the coated cereal with the remaining chocolate chips, peanut butter chips, peanuts, and pretzels.
Store the snack mix in air tight containers.
Bag it, toss it, eat and enjoy!
easypeasypleasy.com
Y'all, my family ate the whole super size bag of cereal before I could get my pictures taken. I had to buy another bag…it's that good! Plus it's the price of one of those little boxes pf cereal. I'm pretty much in love with Malt O Meal Bagged Cereal for the taste and the price.
If you're trying to make real mom connections, give this cereal snack mix a try. It will be a little unexpected but have you coming up on the winning side!
Subscribe to Blog via Email