Y'all, I know we've all seen coated pretzel rods but have you ever tried to make them? You can make Valentine Day Special by making these easy homemade candy coated pretzel rods all on your own. It's the perfect easy last minute sweet treat idea.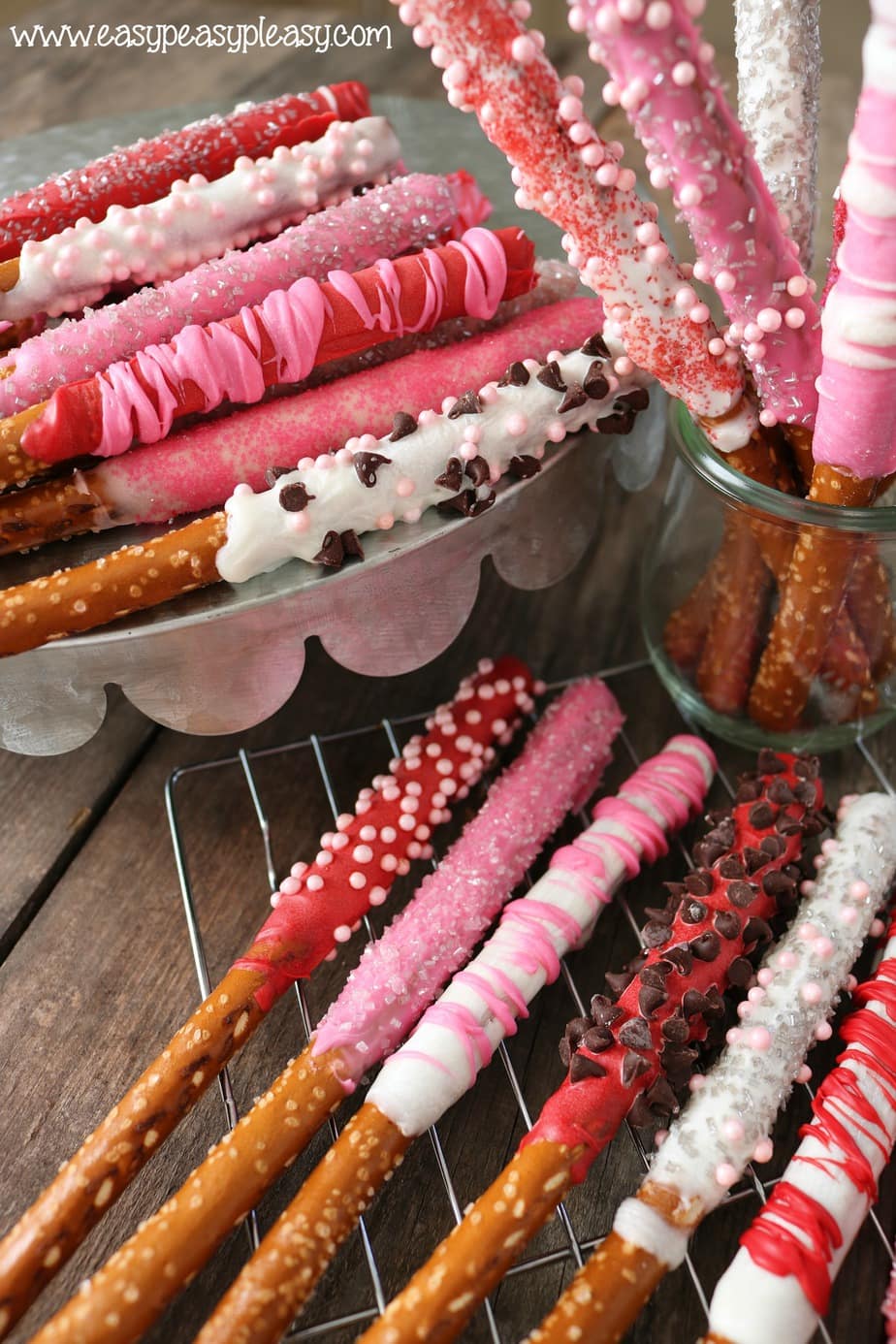 My hubby and kiddo (and myself) love candy coated pretzel rods any which way you make them. I made up a batch and thought to myself that I might as well share them with you. It may be one of those easy sweet treats you've forgotten about. You could also try my easy Cupid Munch for a last minute treat and make Valentine Day Special.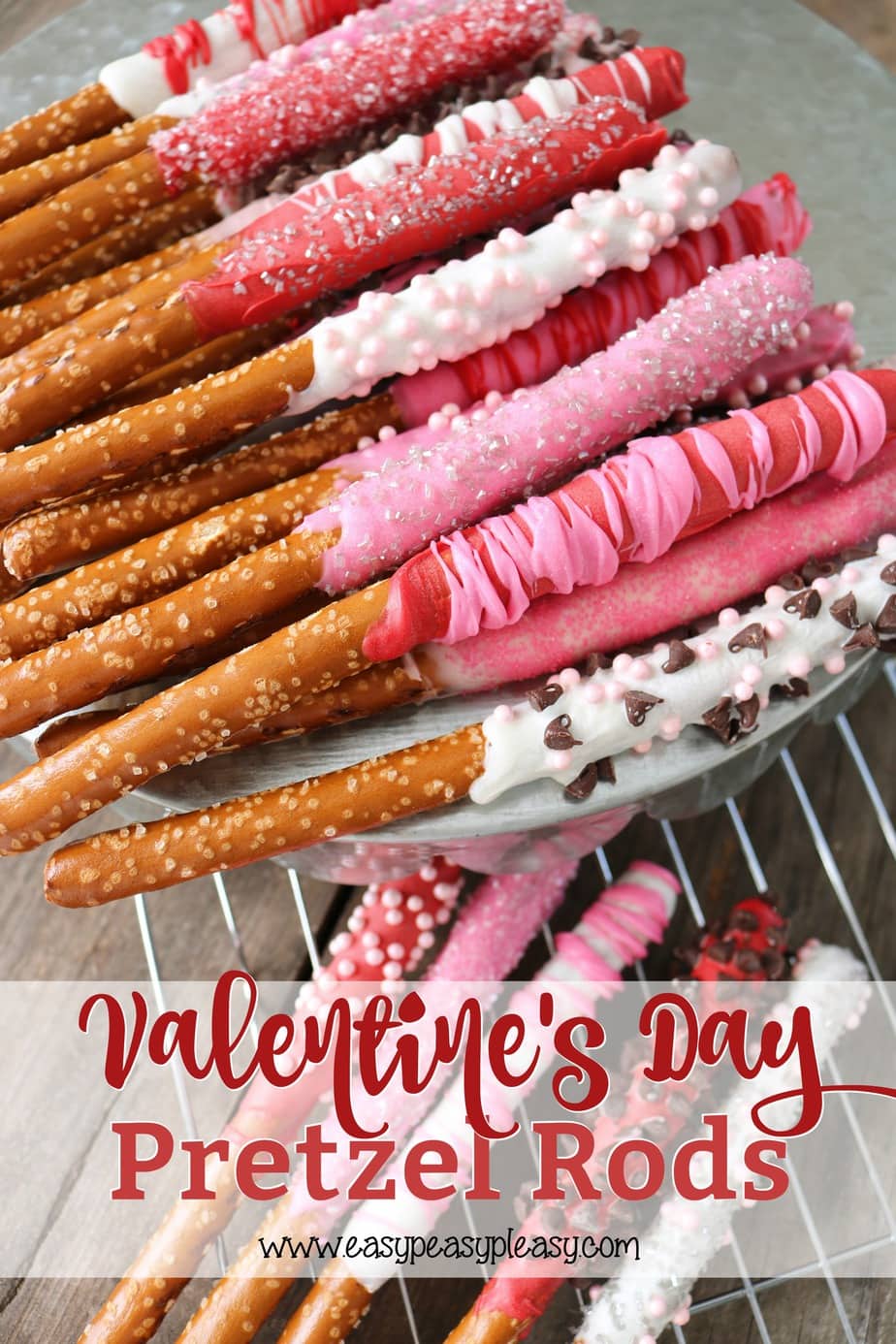 This is a treat where you can get the whole family involved. Kids love to dunk, sprinkle and eat. By the way, the men love it too. As I'm making these pretzel rods, my hubby starts to hover around the kitchen. He tells me he wants to make a candy coated pretzel rod and I'm like…bring it on! I love when he wants to help. Low and behold to my dismay, he wanted to make one…just so he could eat it! I couldn't help but laugh. That man has me in stitches every day. I guess he has my number when he knows I need to take pictures for a blog post.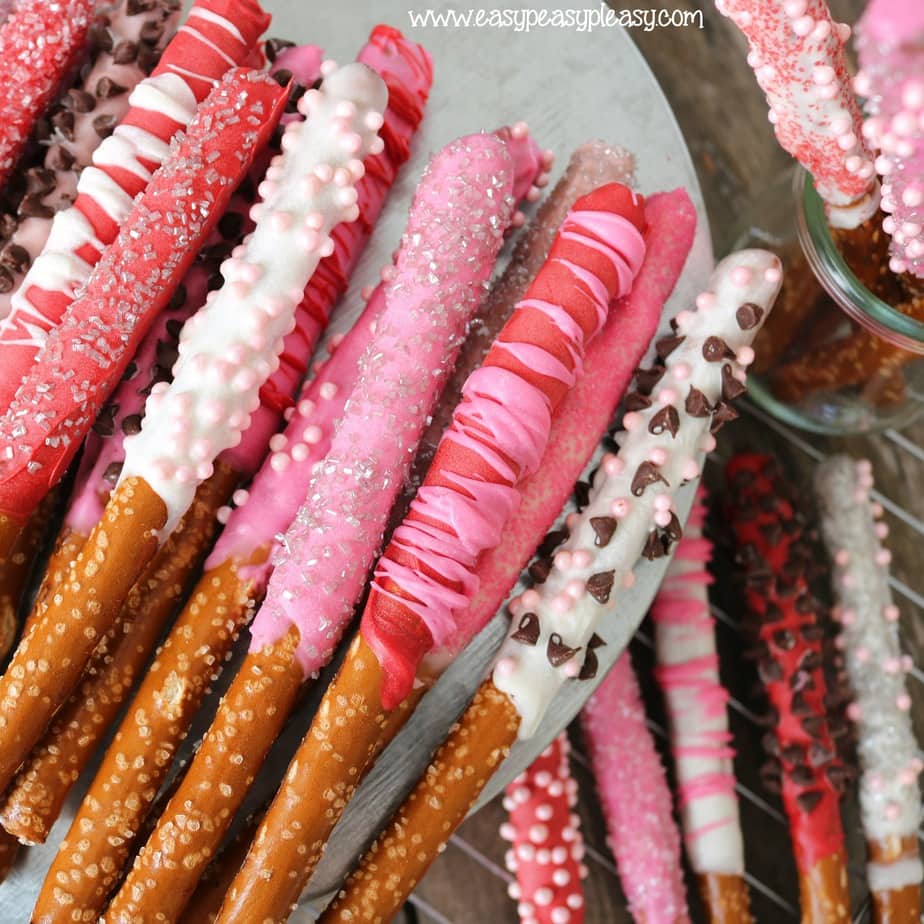 All you need is a bag of pretzel rods, candy melts in Valentine Day colors, and sprinkles galore. Pull out some wax paper, microwavable bowls, and plates for each kind of sprinkle to create a perfect sweet treat for your sweetie this Valentine's Day. Use these easy free printable Valentine's Day Gift Tags for an extra sweet bonus.

Easy Peasy Pleasy Tips
I use glass bowls to melt candy melts in the microwave. Follow package directions.
Lay out paper plates for each type of sprinkle. Using paper plates make it easy to fold to pour leftover sprinkles back into the container. Then it's easy cleanup.
Wax paper is perfect for laying out your coated pretzels rods. They will never stick.
Almond bark is a great substitute if you don't have access to candy melts.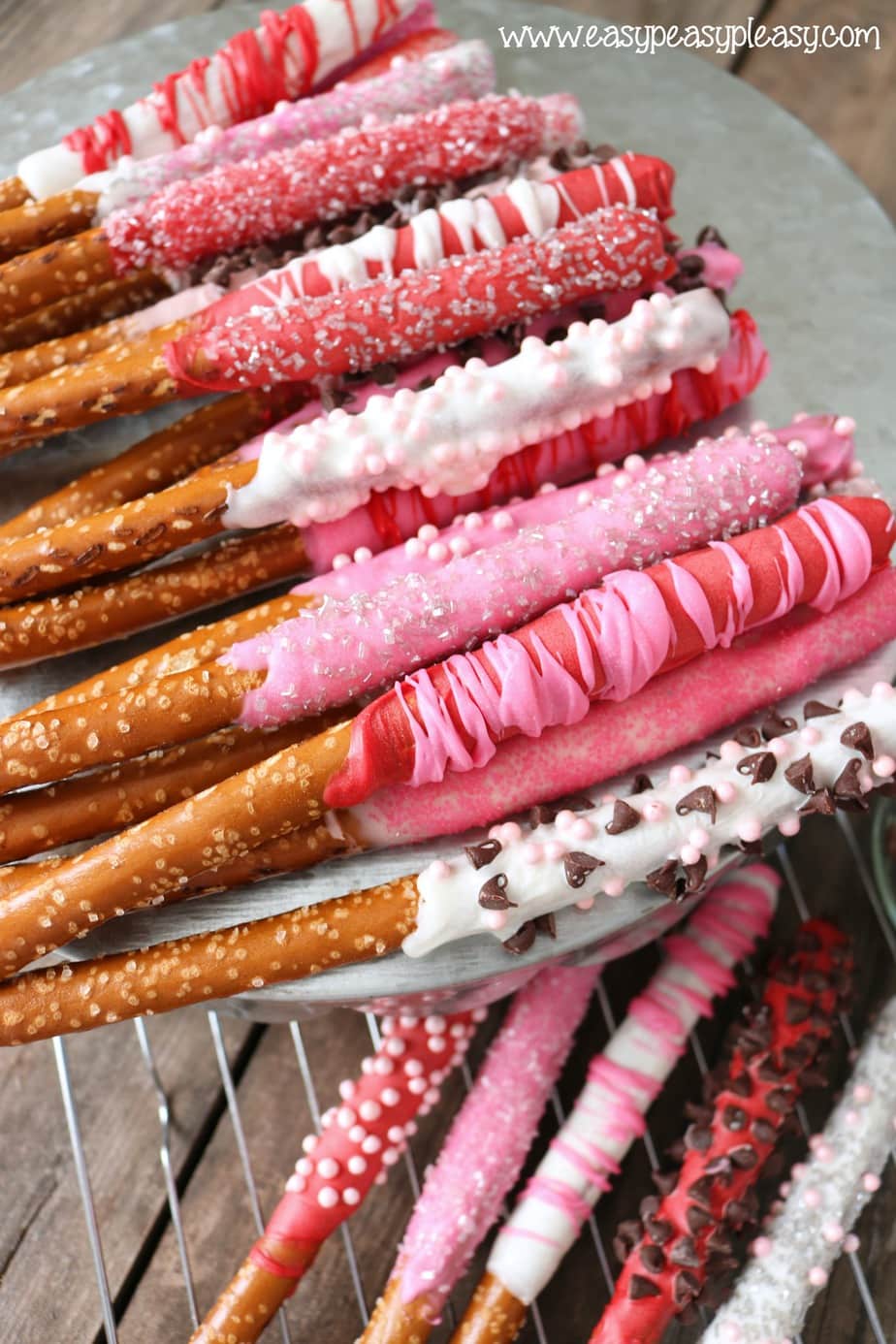 Candy Coated Pretzel Rods
Ingredients
1 bag pretzel rods
candy melts, varying colors
sprinkles
Directions
Lay out wax paper. Lay out plates and one container of sprinkles for each plate. Melt one color candy melt in a bowl according to package directions. Dip one pretzel rod in melted candy melts. Turn the pretzel rod vertical and let excess candy coating drip off. Move the candy coated pretzel rod over the plates and shake on your sprinkles. Place coated pretzel rod on wax paper until firm.  Repeat with remaining pretzel rods. Store in an air tight container until ready to serve. Eat and Enjoy!
easypeasypleasy.com for easy tips.
I hope you make Valentine Day Special for your sweetie! Do you have any easy tips when making candy coated pretzel rods?
Subscribe to Blog via Email