Brr, It's so cold today! I hope everyone is staying warm and cozy on this freezing day! In honor of the glorious winter weather we are receiving in the South, I thought it was only fitting to continue the "Through The Year…A Tale Of A Teachers Lounge" series with the winter theme and a hot chocolate bar! Maybe me writing and you reading this post will help warm us up a bit! Just think happy thoughts…Hot Chocolate, Hot Chocolate, Hot Chocolate!!!
First, I have to start out with the invitation…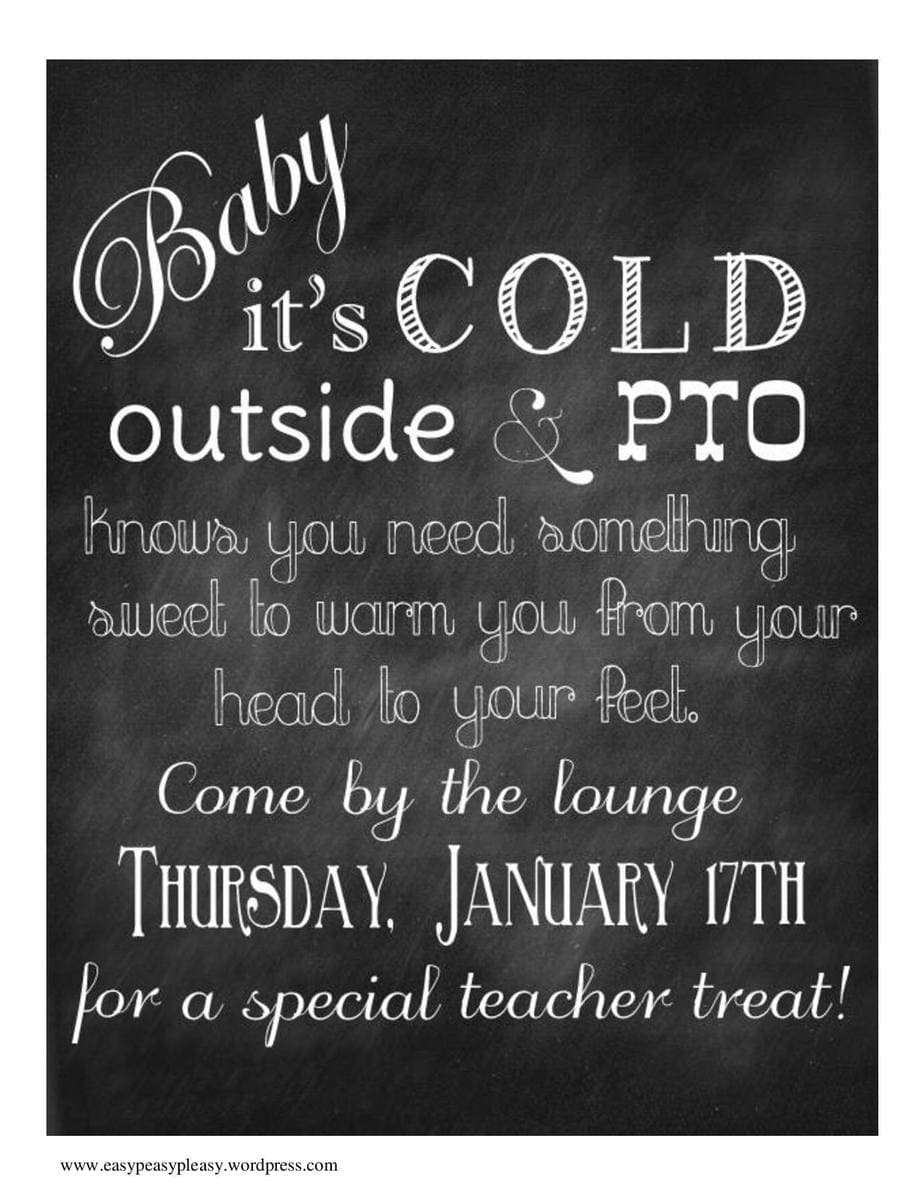 PTO Invite To Hot Chocolate Bar 
I created this invitation and emailed it to the teachers as well as posting a printout in key areas around the school.
If you are following my Teacher's Lounge series, the above pictures give a more detailed view of how the grapevine wreath is reused. I replaced the pink feathers from Valentine's Day with pretty blue feathers. I also made another hot glue masterpiece with snowflake ornaments and coordinating ribbons. The finished project is just wired in with floral wire for easy removal.
Chex Mix comes in many flavors now! I've filled glass jars with Chex Mix Turtle Mix & Cocoa Mix. Then, I've added a pretty ribbon and chalkboard labels to the jars. The chalkboard labels are reusable and were purchased at Hobby Lobby. My mom has way better handwriting than I do and she graciously wrote in all the names. Next, is the marshmallows! Simply stick in a pic, coat in some melted white chocolate, and roll in coordinating sprinkles. Easy Peasy!
If you notice there is a pretty blue runner over a white tablecloth. The runner is actually a scarf! Scarves work amazingly well as table runners and then you can still use them as a scarf! Totally double duty! I then took plastic spoons and dipped them in chocolate and white chocolate and covered them in sprinkles and set on wax paper to harden. Once they have harden you can place them on trays. I filled Dollar Tree glass containers with different toppings such as chocolate chips, chopped cookies and creme candy bars, peppermints, and marshmallows to add to the hot cocoa! All toppings were labeled with the chalkboard labels mentioned above. I did change out the Valentine vase with winter themed pics and stems and added cute snowflake stands!
 You can purchase a huge tub of hot chocolate mix at Walmart! I just emptied the tub of hot chocolate mix in a pretty glass canister. I then added a personal touch with ribbon and a chalkboard label. As always, I searched Pinterest and found a super cute chalkboard printable and framed it up for a little more decor.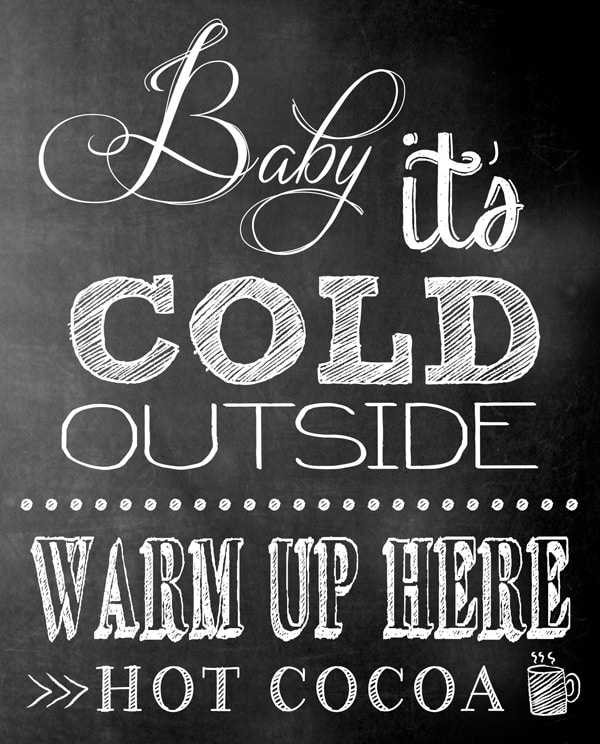 As you can see I changed out the four letter word from LOVE to SNOW. I used my Cricut to make new letters and placed on coordinating scrapbook paper to complete the frames. I repainted the W in the wreath for our school name from pink to white with silver polka dots. I found a couple more super cute printables on Pinterest to add in the existing frames to complete the look. Click on the captions below the pictures to find and use these amazing printables.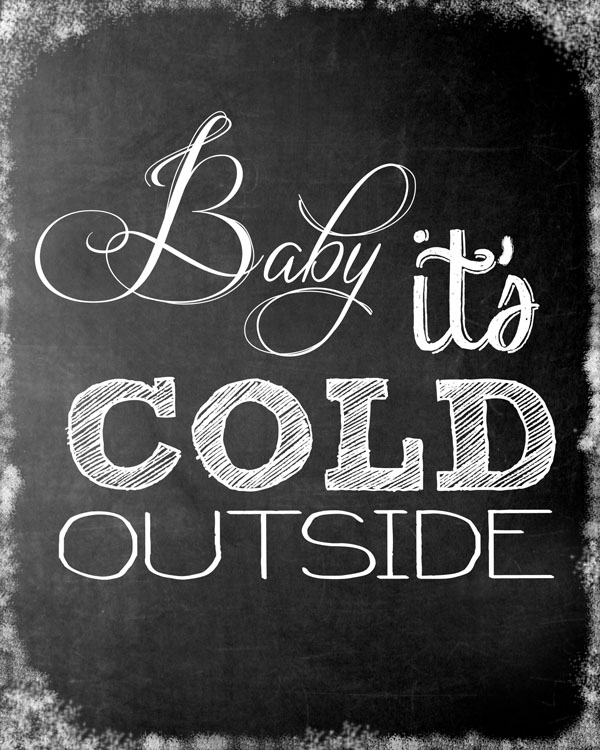 Pen & Paper Flowers                          tatertots & jello
I'll never forget the actual day all these projects were created. I remember the weather got so bad and my mom couldn't get home and got stuck at my house…I absolutely put her to work! I get all my creativity from my mom so she was totally on board! She helped me make everything! The weather was terrible but my mom and I had an amazing time creating all of these projects! Thank you momma! I couldn't have done it without you!
PS…Check out A Teacher's Lounge Decorated With Love & Teacher Appreciation Week for more ideas!