Parents, do you ever rack your brain trying to figure out the perfect gift to give your child's teachers? One they will actually use and enjoy? I know I do and really, who needs that added stress in the midst of all the craziness of everyday life?!
Well, guess what? You never have to rack your brain again. I've taken the guesswork out of the equation with this free printable "We Adore You" teacher questionnaire. You can now get all of the teacher's favorite things listed in one place.
If you are part of a PTO or PTA, I've got you covered too! Keep reading to find out how to combine the whole staff's favorites all in one place with a shareable link that anyone you select can view anywhere at anytime.
*If you are part of the Wooster PTO there is no need for the printable this year. I will be sharing a link of teacher responses with you soon through email and the PTO newsletter! (You can still pin the form on Pinterest for future years.)

First, I have to start with the design. I really wanted all of our PTO forms to coordinate this year. I was hoping if we went trendy and sort of "BRANDED" our theme, it would help the PTO stand out a bit. The bulletin board was the kick off point.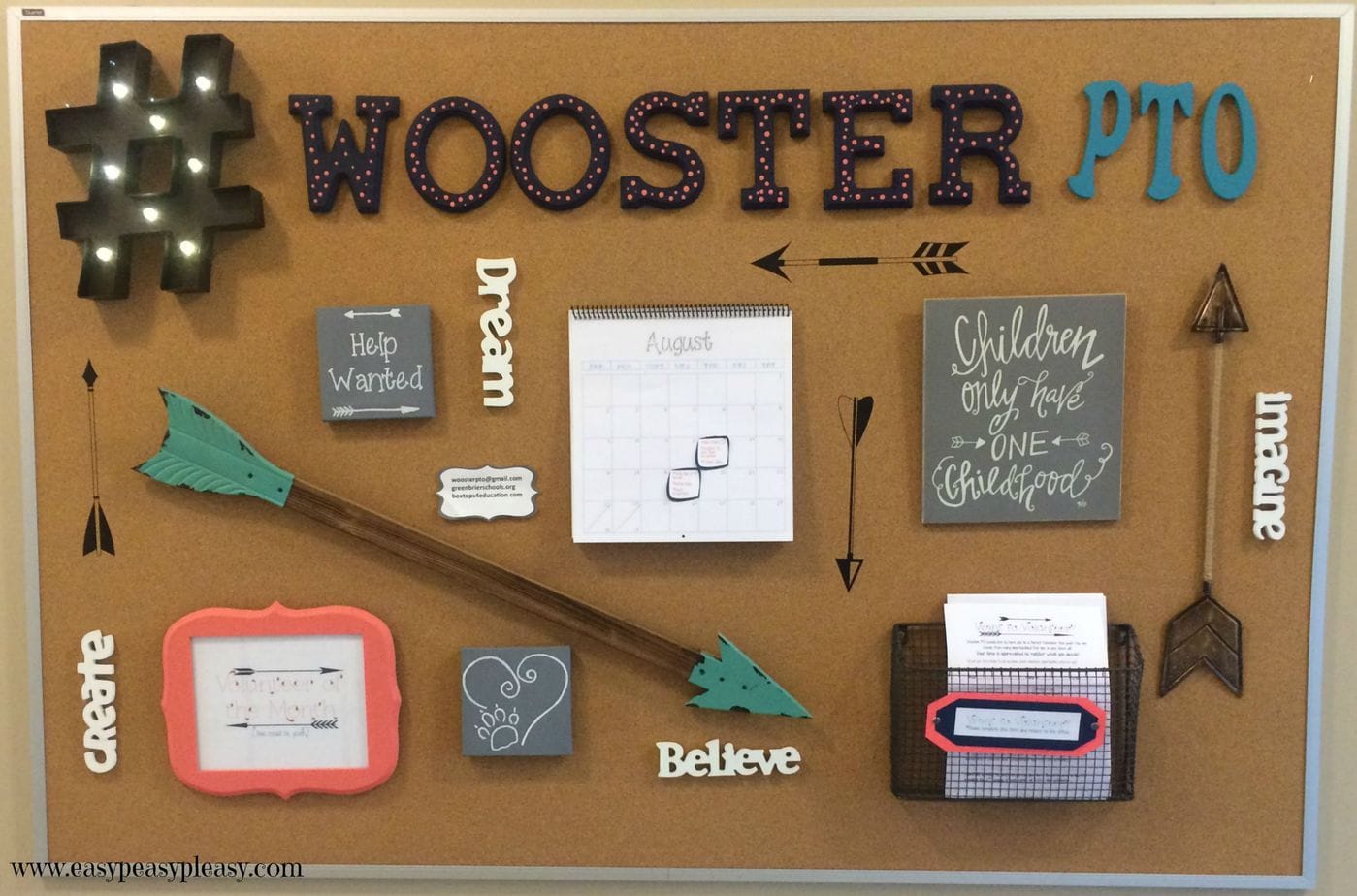 Once the bulletin board was done, I began focusing all of the forms I was making with the same theme. Even our volunteer sign up forms coordinate. Those things gave me great direction in making the teacher questionnaire.
There are so many opportunities to show your kiddo's teacher's some love. With twelve favorites to fill in on this form, you should never be lacking for ideas. All you have to do is print the form and ask your teachers to fill it out. Now the list is yours to make gift giving easy!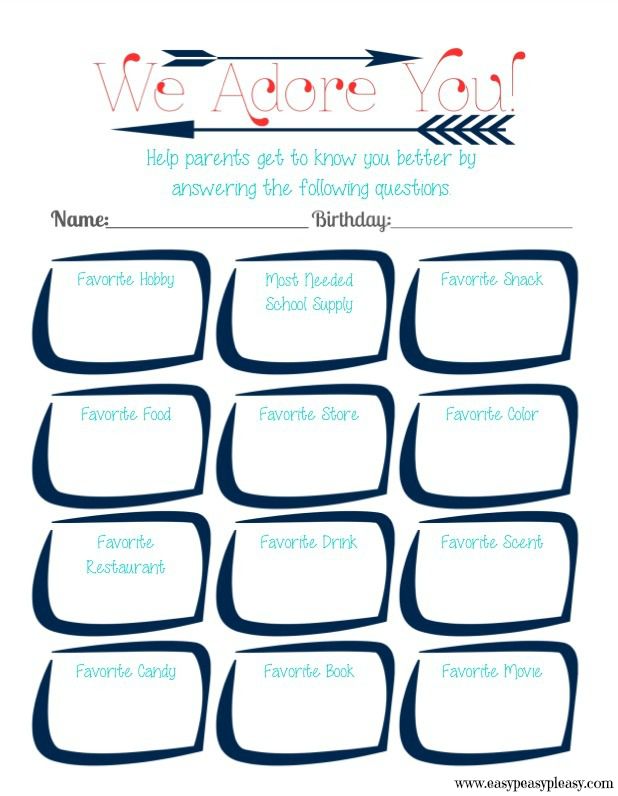 Click here to get this printable.
Now, for all you Parent Teacher Organizations and Parent Teacher Associations, let me show you how you can collect this information on a grander scale and easily share the responses. Plus, make your group the superhero who saves the day!
Just imagine…you are already at the store ready to buy teacher gifts. Christmas music is playing in the background. People are in every aisle of the store and the crowds are a bit overwhelming. Oh great, It's starting to snow. You are thinking…let me get the stuff on my list and get out of this madhouse. That's when you realize…you forgot your list! Pure panic sets in because you know you will have to do this all over again! Hey, it's no problem. I'm betting you didn't forget your phone. You instantly feel this calming sense of ease because you realize…I can look the link up on the school website, or email, or newsletter. You pull up the info you need on your phone and go on about your merry way, all the while thinking we have the best PTO ever and they just saved the day! (LOL! I just had to throw that in for kicks!)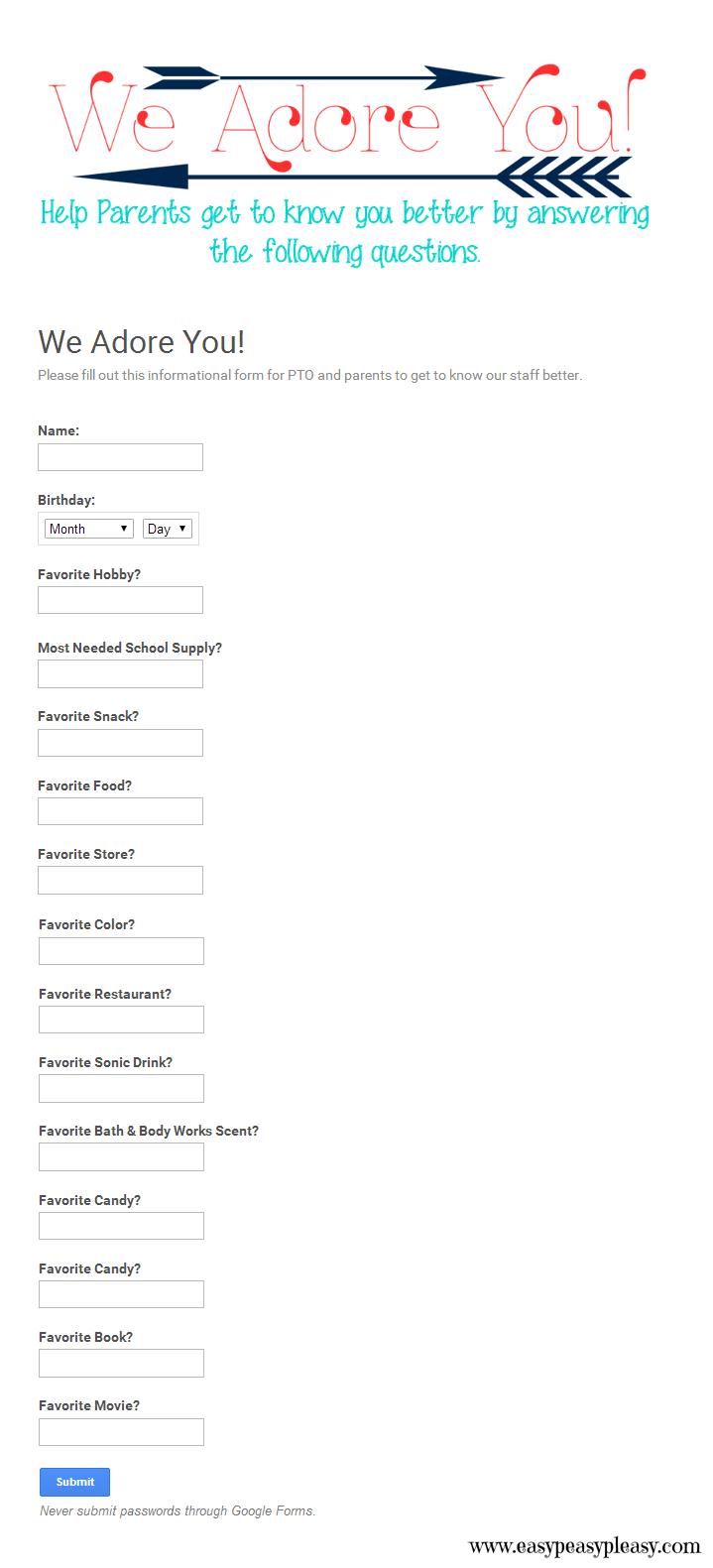 Google Forms is the way to go and It's super simple! This shows the look of the Google form that each teacher received. They filled in the responses and now I can provide a link for all the parents. As you can see, you can even coordinate your Google form to match your Parent Group theme. Need more info on how to make this form?
First, pull up Google Forms then hit Go To Google Forms.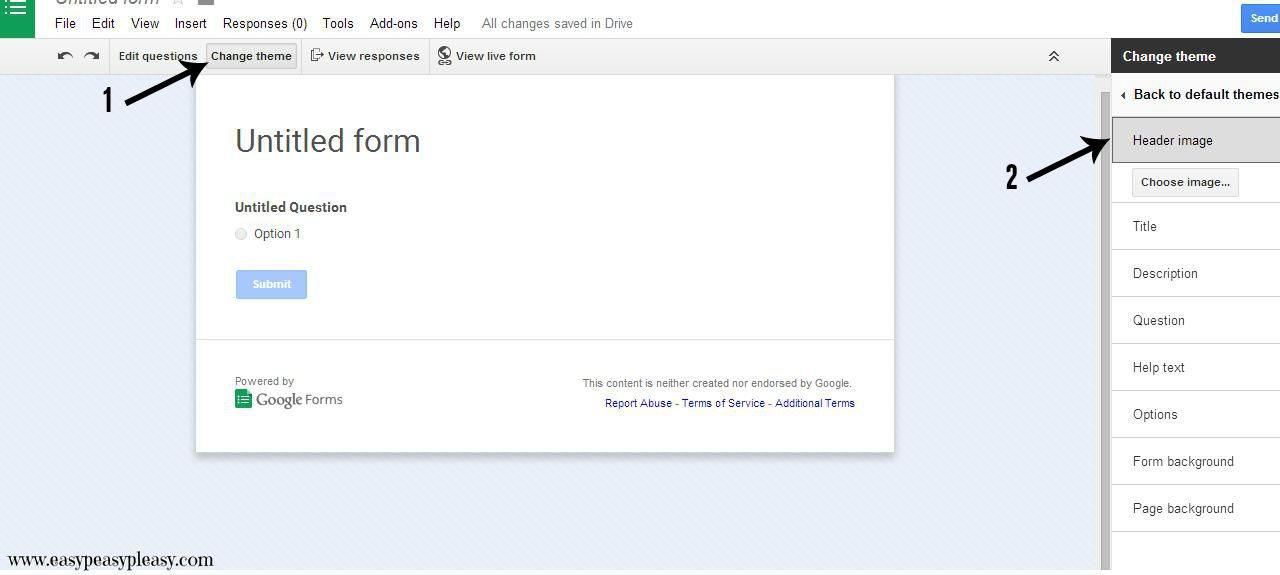 Once you have the form pulled up, hit change theme and click on basic customize. Now select header image. Choose an image from your computer that you have created.
There are many different ways to customize the form. Click around a bit and familiarize yourself with all the different functions. If you hit live view, a new window will open and show you how the form will look to recipients. Hit this button often to check your form.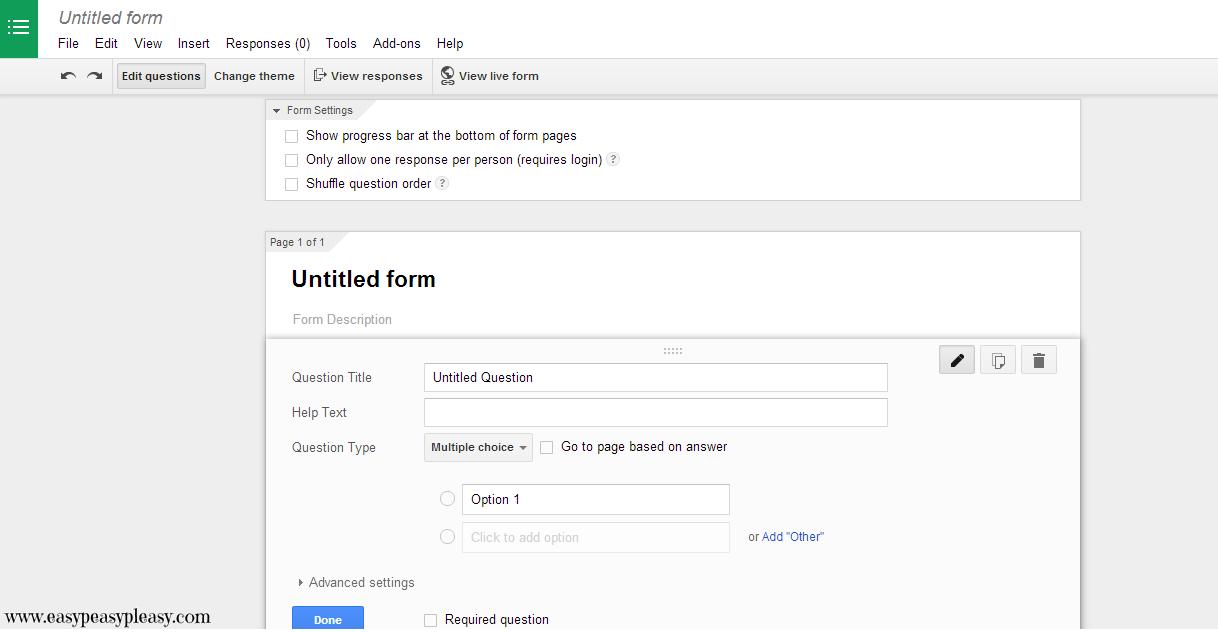 Now you can go in and add your questions. There is a drop down menu that gives the option for multiple choice, text, check boxes, date, time, etc. Pick the one that works best for your questions. Then, continue to add questions until your form is complete.
You can add other editors to the form or you can remain the sole editor. Once your form is complete hit the send button. You can send to a group email list or individuals. Once the respondents start filling in their answers, you can click on view responses and see all the answers.
The responses will show up in a spreadsheet. At this point, you can share the responses by a link or email. I am one of those kinda people who likes all things to look pretty. I wasn't happy with the responses showing up to the viewers in spreadsheet form. (I initially thought the responses would look like the individual forms) Therefore, I decided to fill in the printable with the teachers responses in Google Docs, create a folder to house those docs, and share that folder by link and email. The link will now be added to upcoming newsletters, websites, and emailed to the PTO volunteer email list.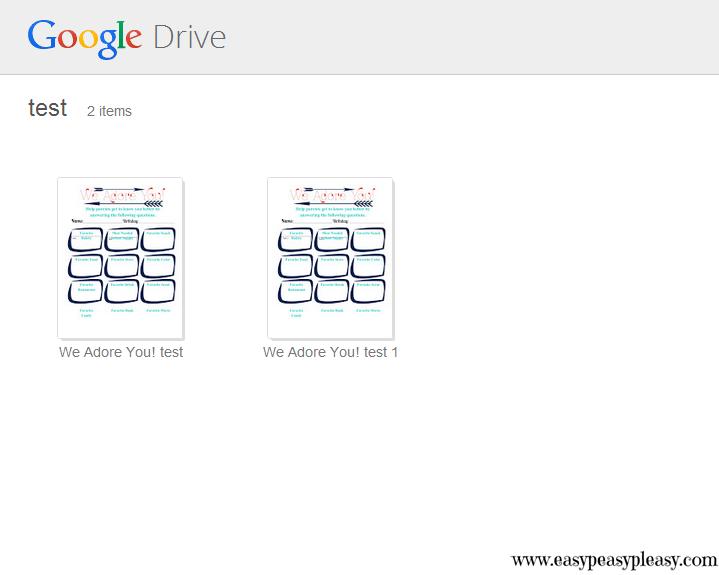 This sample picture gives you an idea of what the viewers will see when clicking on the link. I listed them as test but they will actually show each teacher's name. This will ensure if your child has multiple teacher's, you will be able to access each individual list.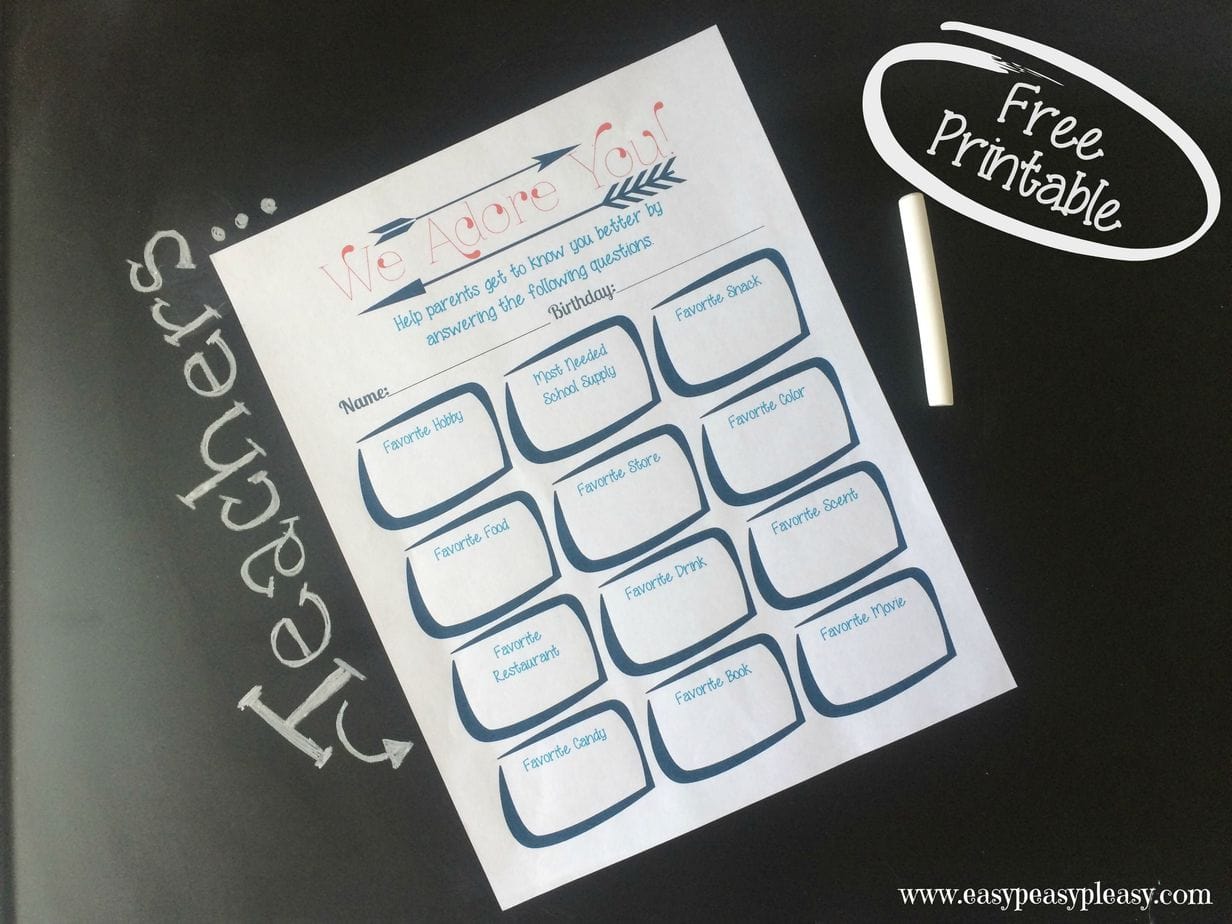 I hope this printable helps you out with the sometimes dreaded stress of gift giving. I just can't see how you can wrong with all the teachers favorites listed in one place.
I have also learned that this list works great for PTO and PTA when trying to decide on what to feed the staff or when buying gift cards. Teachers and staff can also use this list if they do secret Santa or have secret pals.
I must tell you that my idea and inspiration for this form came from Pinterest. The Eighteen25 girls got it going on! Check out their printable Teacher Questionnaire here.
Looking for more Easy Peasy ideas? Sign up with your email and you'll never miss a thing!
If you are looking for PTO and PTA ideas, check out my Pinterest. I have boards dedicated to all things PTO and PTA. Some are just general ideas and inspiration and some are our PTO's actual events. Maybe you too will find some inspiration!