Do you struggle for new easy weeknight meal ideas? Do you cringe every time you start your grocery list? Do you get bored of the same old thing week in and week out? I'm here to tell you, that you are not alone and the struggle is real folks! I think the same things! That's why I'm on a mission to make your weeknight meal ideas a little easier. This Chicken Bacon Ranch Bake is super easy and your family will love you for cooking up this recipe! Then you will love me cause it's so easy and delicious! LOL!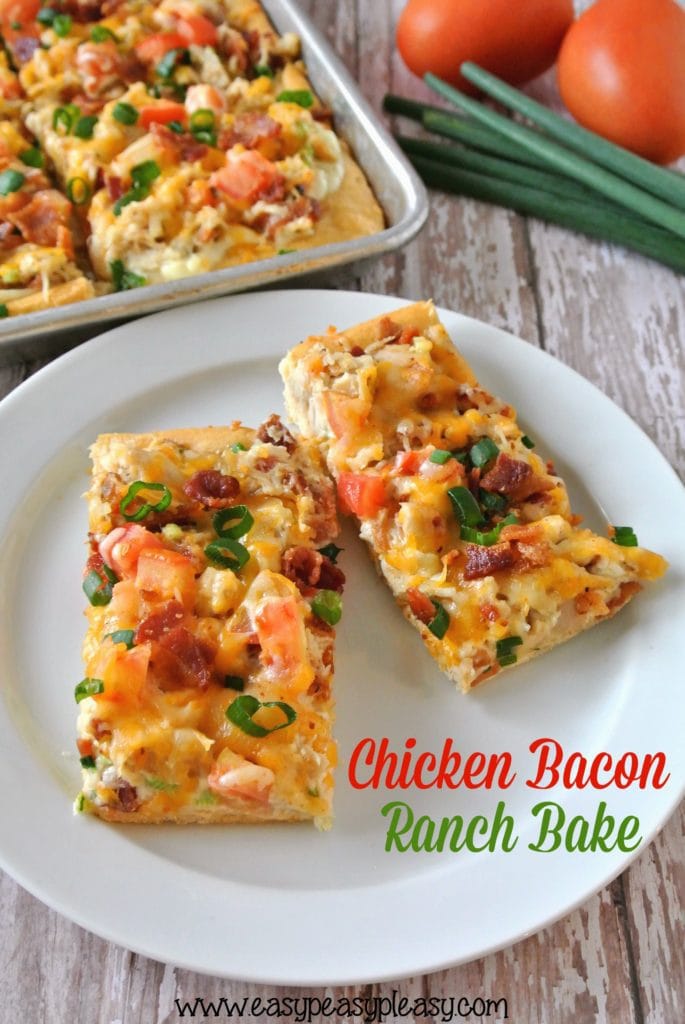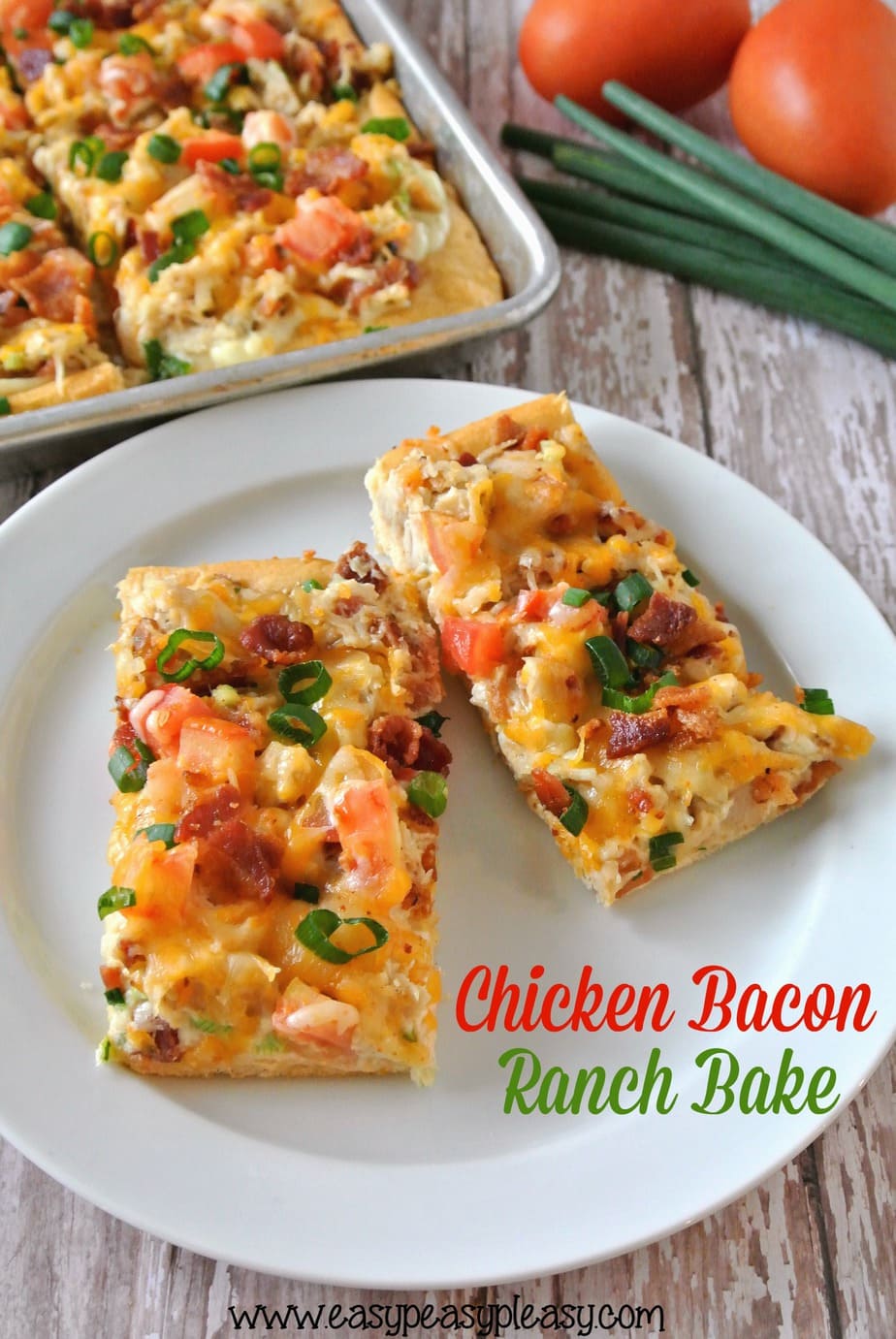 Some times when I go to figure out my meals for the week, I get so discouraged. What what what can I cook this week?! Then I realize…duh, I have a whole blog full of recipes. (Thank you blog! I use you weekly!) When I ask my kiddo what he wants for dinner, he will pick the "chicken with the cheese and ham" every time! I love it too, but I need something new!!! Variety is the spice of life or so I've heard them say. I know I could use a little variety and spice in my life! My easy way to accomplish this is through cooking!

Let's get to cooking some Chicken Bacon Ranch Bake!
Chicken Bacon Ranch Bake
1 can crescent rolls
2 cups shredded rotisserie chicken
8 slices cooked crumbled bacon, divided
1 cup mayonnaise
1 tablespoon dry Ranch seasoning
1 large tomato, chopped
3 medium green onions, chopped
1 cup shredded Cheddar Jack cheese blend
Preheat oven to 400 degrees. Spread crescent rolls onto a 13×9 inch baking pan, sealing perforated edges. Bake 10 minutes. Meanwhile, mix mayo and Ranch seasoning until well combined. In a medium bowl crumble 6 slices of bacon, add shredded chicken, and 1/2 cup of the mayo Ranch mixture. Stir until combined. Remove baked crescent sheet from oven, spread the remaining mayo Ranch mixture over the top within a 1/4 inch of edges. Spread the chicken mixture over the top of the Ranch mixture. Sprinkle with tomato and cheese. Bake 10 to 12 minutes or until cheese is hot and melted. Sprinkle with remaining bacon and green onions. Eat and enjoy!
easypeasypleasy.com
Lacie's Easy Peasy Pleasy Tips!
*I make this Chicken Bacon Ranch Bake recipe for parties too! This recipe serves 6 for a weeknight meal idea when I cut down the middle and and twice across. You can cut each of those six squares into half or 4 times to stretch for party appetizers. You can really easily double the recipe for larger family functions or gatherings.
*The recipe calls for 2 cups of shredded chicken. Use half of a rotisserie chicken (or leftover cooked chicken). Save the other half of the rotisserie chicken for a meal later in the week.
*When I know I'm going to make this recipe, I will cook 8 extra pieces of bacon when I'm cooking up breakfast that week. Then I store in a ziplock bag in the fridge until I'm ready to use the bacon.
*I keep a canister of dry Ranch dressing mix in my pantry at all times…it's basically a staple. If you don't have the dry Ranch mix then you could substitute Ranch Dressing. The flavor will be stronger using the bottled dressing.
My family and friends love this easy Chicken Bacon Ranch Bake and I would love to know if your family loves it too! Don't forget to add this recipe to your Pinterest or Yummly recipe box! Give this recipe a try and use all of my Easy Peasy Pleasy tips! Tell me how it goes!!! I can't wait to hear from you!
Don't want to miss a post?
Subscribe to Blog via Email