Pumpkin spice and everything nice, that's what this recipe is made of. These Cinnamon Roll Pumpkin Turnovers are all the taste you live for in the fall and there are only 5 ingredients. If you love cinnamon rolls and you love pumpkin, you are in for a treat. First of all…delicious! Second of all…super easy!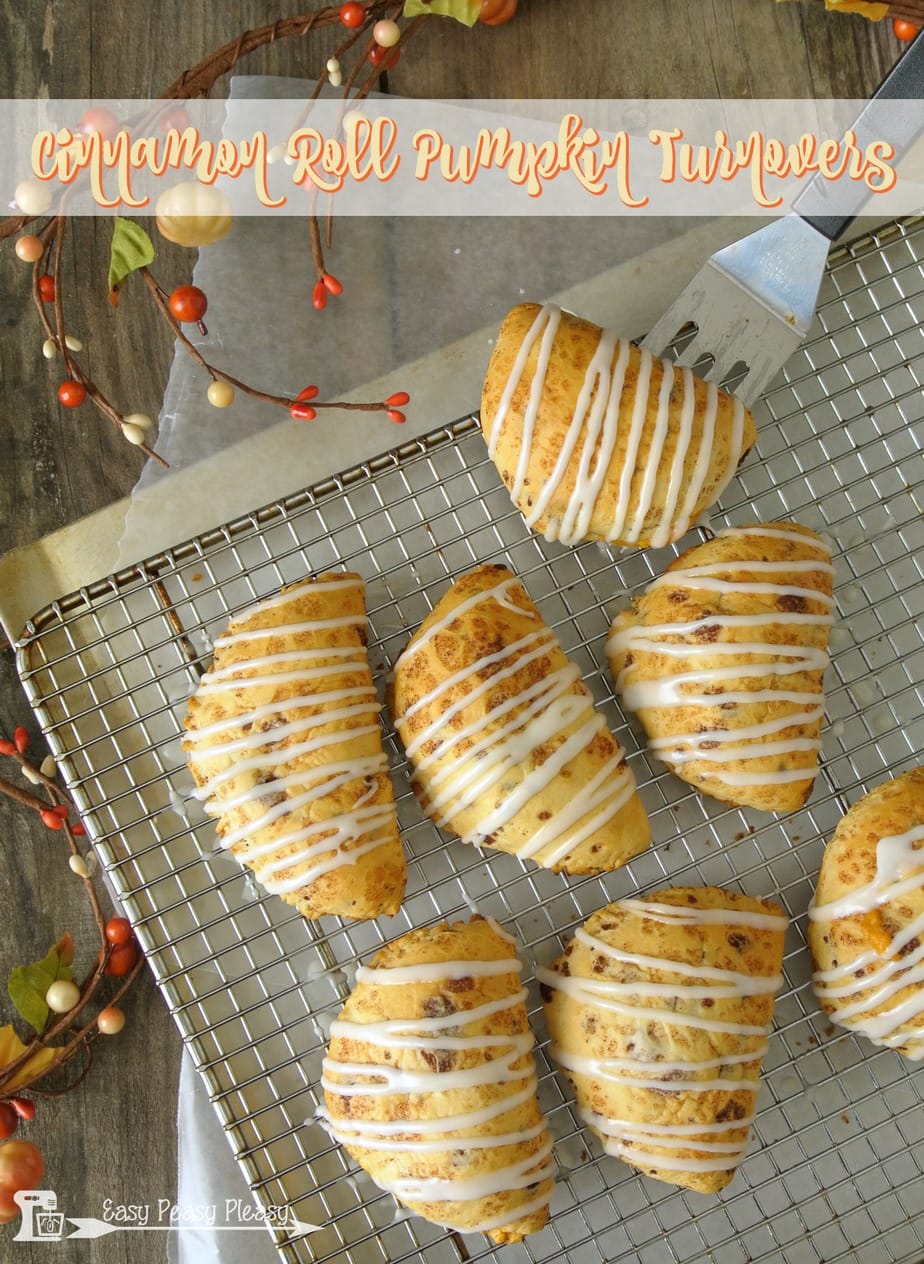 Yep, you heard me right. Just 5 simple ingredients. This recipe was inspired by a recipe I posted way back when I first started blogging and had no idea how to take a picture. Cinnamon Roll Apple Turnovers. There are only 2 ingredients in that recipe. They are delicious but the pics are terrible so that post doesn't get much love. I'm hoping my picture taking skills have evolved overtime. They say we eat with our eyes first, after all.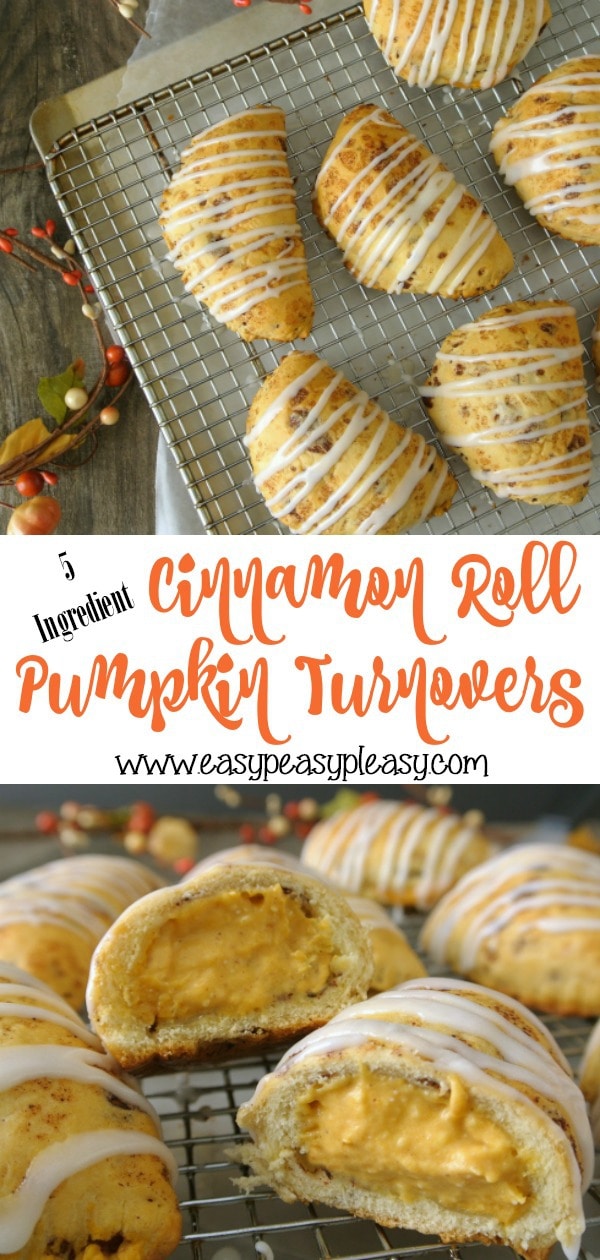 There is no easier way to combine to fall favorite flavors like cinnamon rolls and pumpkin, than these Cinnamon Roll Pumpkin Turnovers. Although, you may still be wondering what to do with that leftover pumpkin?
Make a pumpkin smoothie, add a spoonful to your latte, or make a dip. Pumpkin is also a great addition to oatmeal and yogurt. A tiny sprinkle of pumpkin pie spice would go just nice. lol!
What you'll need…
Canned Cinnamon Rolls
Cream Cheese
Pumpkin Puree
Powdered Sugar
Pumpkin Pie Spice

Cinnamon Roll Pumpkin Turnovers
Servings: 16
Difficulty: easy
Ingredients
2 cans Pillsbury Cinnamon Rolls, 8 count
4 ounces Philadelphia Cream Cheese, softened
1/2 cup Libby's Pumpkin Puree
1/3 cup powdered sugar
1/2 teaspoon pumpkin pie spice
Directions
Preheat oven to 400 degrees. Layout a piece of wax paper. Place each cinnamon roll from 1 can spread out evenly on the wax paper. Leave plenty of room between them. Place another piece of wax paper over the top of the cinnamon rolls. This step prevents you from having to use flour. Using a rolling pin, roll the cinnamon rolls flat. Repeat these steps for the second can of cinnamon rolls.
Mix softened cream cheese, pumpkin, powdered sugar, and pumpkin pie spice in a medium sized bowl with a mixer.
Now, add a heaping spoonful of the pumpkin mixture to one side of the flattened cinnamon roll. Fold over cinnamon roll and pinch together sides. Using a fork, crimp the edges.
Place on a baking sheet and bake for 12 minutes. Remove from oven and let cool. Finally, take the icing from the canned cinnamon rolls and scoop into a zip top or sandwich bag. Make a small snip in the corner. Pipe the icing across the Turnovers. Eat and enjoy. This recipe contains cream cheese so store leftovers in the refrigerator.
easypeasypleasy.com
What's your favorite way to enjoy pumpkin?
Subscribe to Blog via Email