These Chocolate Peanut Butter Cup Cookies are by far the best cookies I've ever made. That's what I told my husband when I sent him this picture. Too bad he wasn't home to taste them. But don't feel bad for the hubby, I've made these cookies twice since I tested the first batch and he has eaten his fair share. The best part…there are only 5 ingredients and one of those is a devils food cake mix.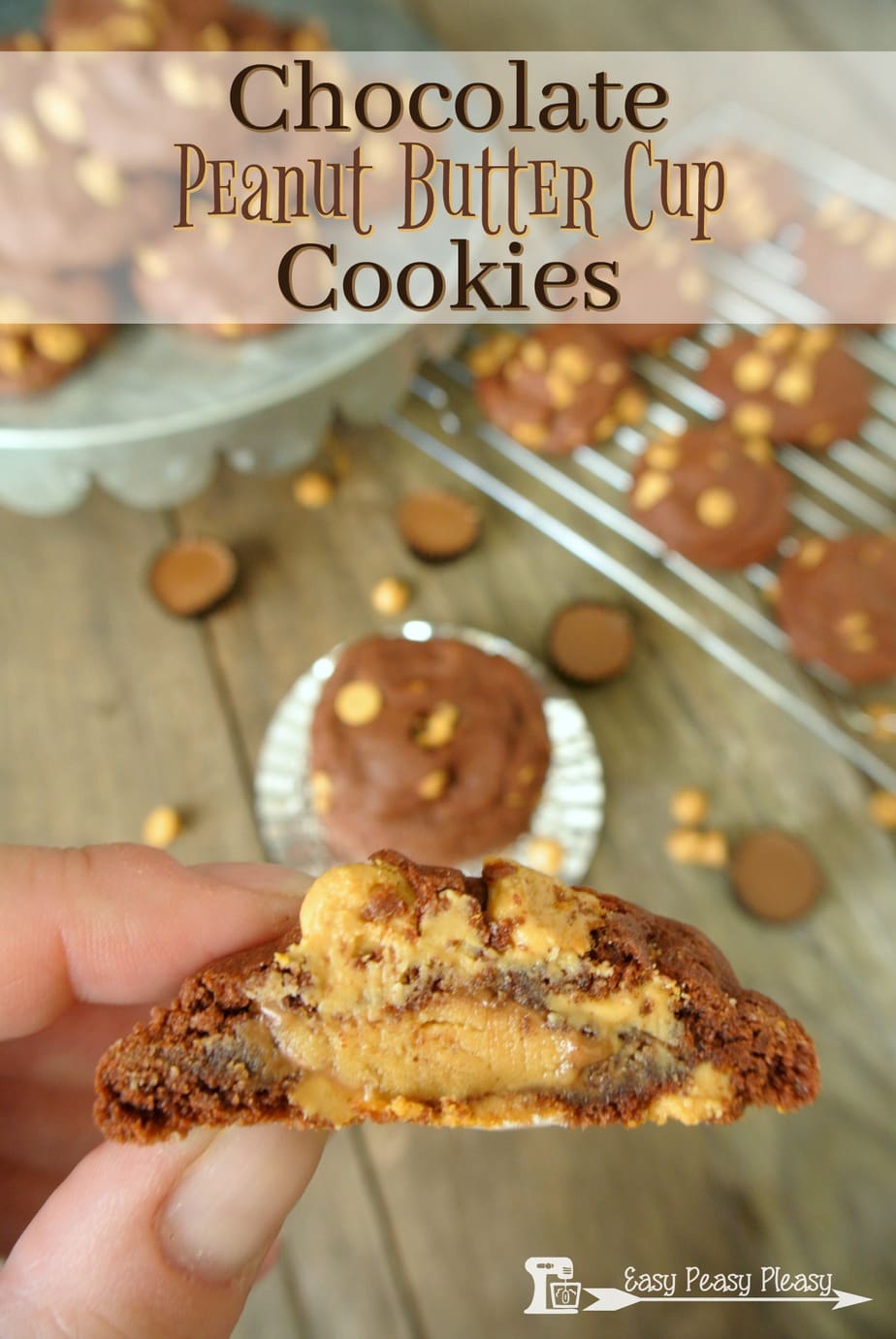 As you may know, I love cake mix cookies. I might have posted a few different variations on the blog over time. (These 4 Ingredient Strawberry White Chip Chocolate Cookies are widely popular. You can also find an easy way to glaze 4 Ingredient Pumpkin Cookies here. Cinnamon Bun Cake Mix Cookies are delicious and you don't want you to miss out on the original Chocolate Chip Cookies using a Cake Mix.)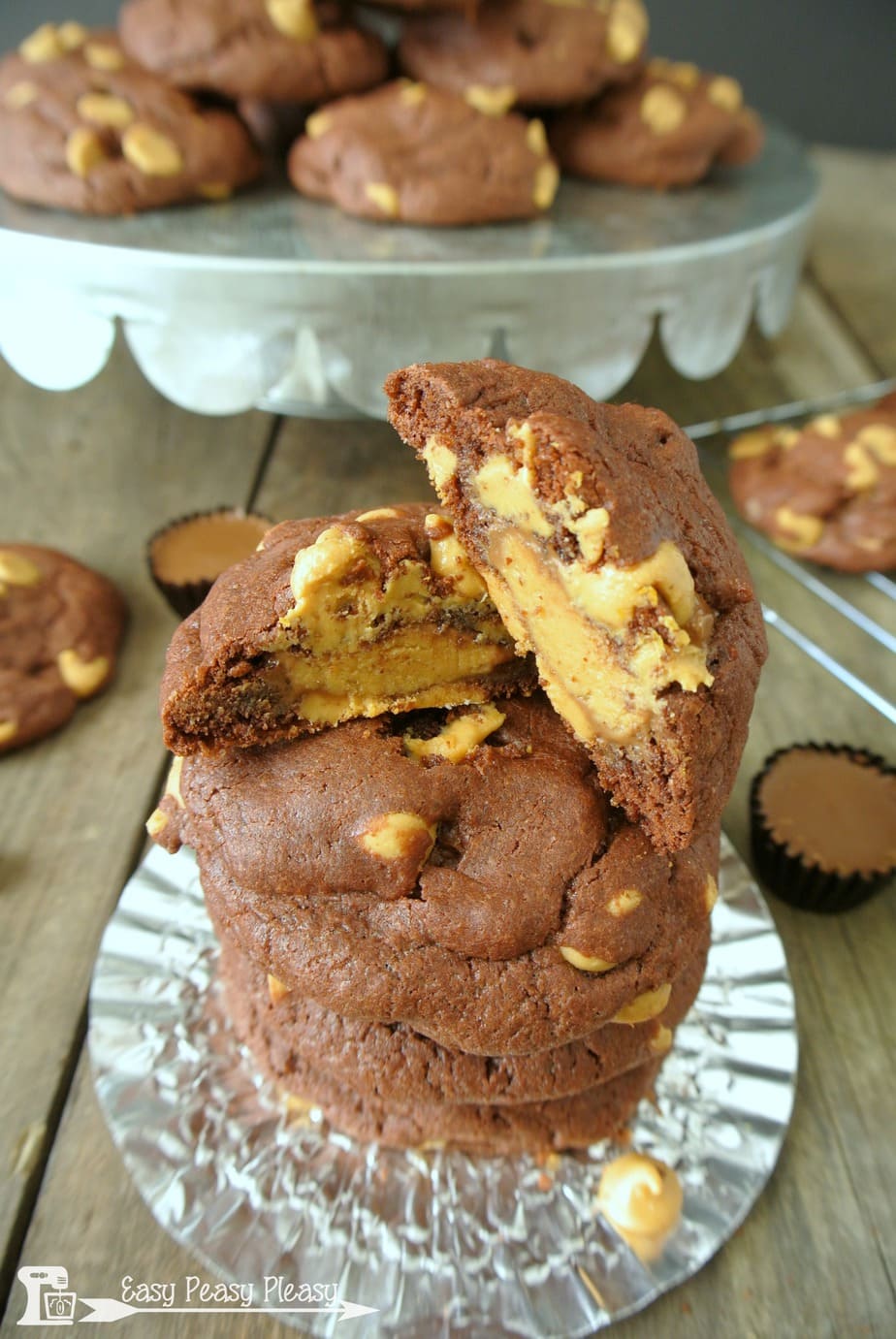 Cake mix cookies are super easy without a ton of measuring. Every variation I come up with works like a charm. Adding a peanut butter cup to a cake mix cookie makes this variation heavenly!
If you've never given cookies made with a cake mix a try, your missing out. You don't even need a mixer. A good size spoon and a tiny bit of arm power will do the trick. Honestly, this variation takes a little bit of time to make compared to the others I've posted. It's not bad though and they are so delicious it won't even matter. Unwrapping 32 miniature peanut butter cups takes up most of the time. Grab a little helper to make quick work of those little yummy morsels and you'll have cookies in no time.
Chocolate Peanut Butter Cup Cookies

Chocolate Peanut Butter Cup Cookies
Servings: 32
Difficulty: easy
Ingredients
Devils Food Cake Mix
2 eggs
1/2 cup vegetable oil
1 bag Reese's Peanut Butter Chips
32 Reese's Miniature Peanut Butter Cups
Directions
Preheat the oven to 350 degrees. Combine the cake mix, eggs, and oil together. Mix in the peanut butter chips until well combined. Scoop 1 tablespoon of cookie mix onto a cookie sheet. Top with 1 peanut butter cup then add another tablespoon of cookie mix. Form cookie dough into a ball around the peanut butter cup. Spacing should be 1 inch apart on a cookie sheet. Bake for 12 minutes. Let cool for 2 minutes on pan then transfer to a wire rack. Cool completely. Eat and enjoy!
Get tips to make this recipe super easy at easypeasypleasy.com.
Lacie's Easy Peasy Pleasy Tips 
My favorite cake mix to use is Pillsbury Moist Supreme.
Make sure and use a measuring cup for wet ingredients when adding your oil.
I mix up the cookie mixture then get one pan ready and put in the oven while I get the next pan ready.
There are a ton of peanut butter chips in this recipe so make sure cookie batter surrounds the whole peanut butter cup.
I drop 1 tablespoon of mixture twelve times on the pan then go back and add the peanut butter cups. Next, I top off each peanut butter cup with 1 tablespoon of dough. I finish up by forming all the dough balls at once.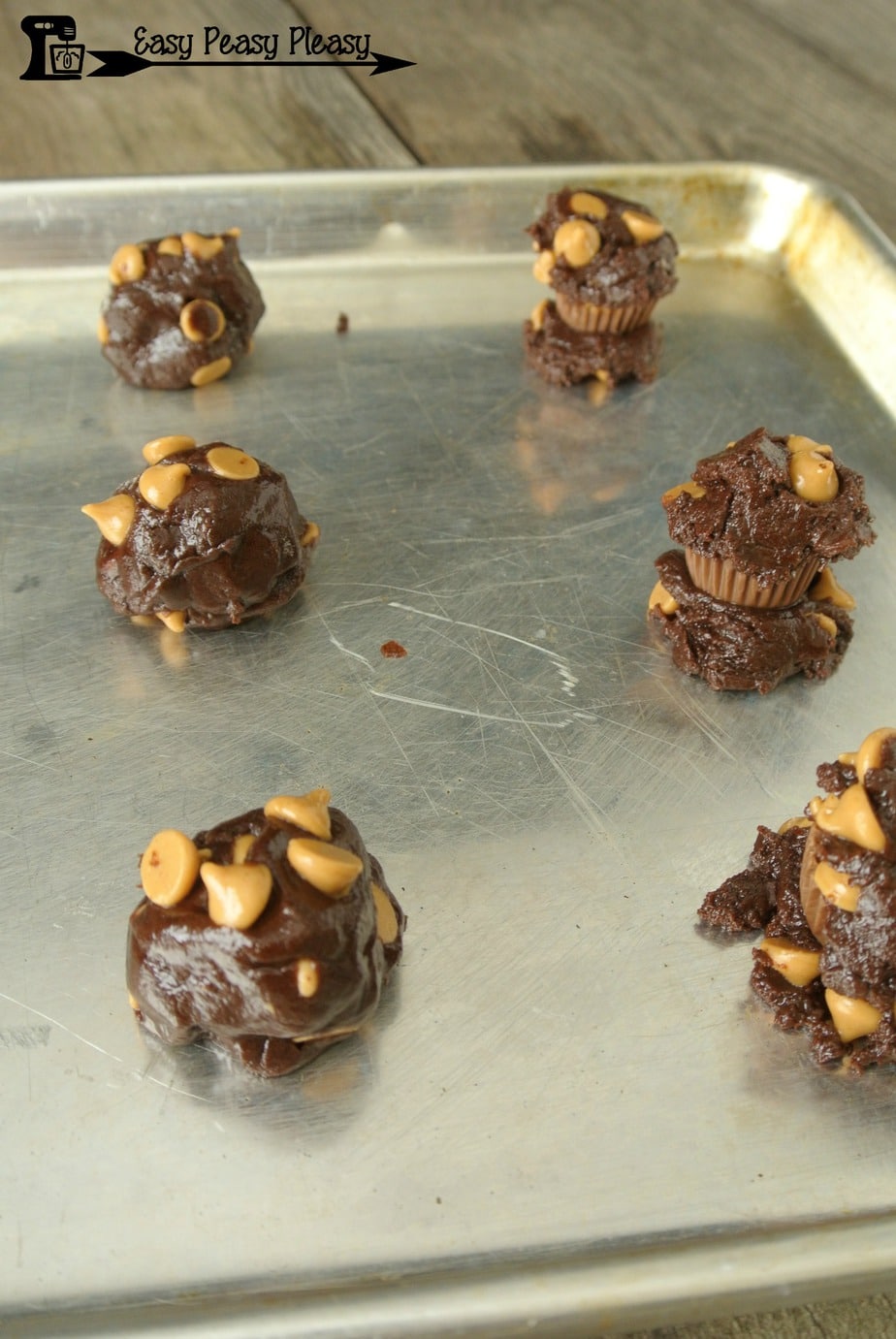 Y'all should seriously give these Easy 5 Ingredient Chocolate Peanut Butter Cup Cookies a try. They will change your life with how easy they are. I promise your taste buds will thank you later. This recipe is my new favorite way to eat a Reese's Peanut Butter Cup. What's your favorite way?
Subscribe to Blog via Email