Join me in my truth circle and let's get real here… Who has the time to make homemade pasta sauce? If "I'M" being honest, I NEVER make my own pasta sauce. We are all way too busy and there's no need when we can find amazing jarred pasta sauces, with no preservatives or high fructose corn syrup, we can easily buy. I've got a delicious twist on a classic, using RAGÚ® Homestyle Sauce, you are going to want to try. Check out how I transformed the traditional Chicken Parmesan Recipe into a meal your kids will love….pizza!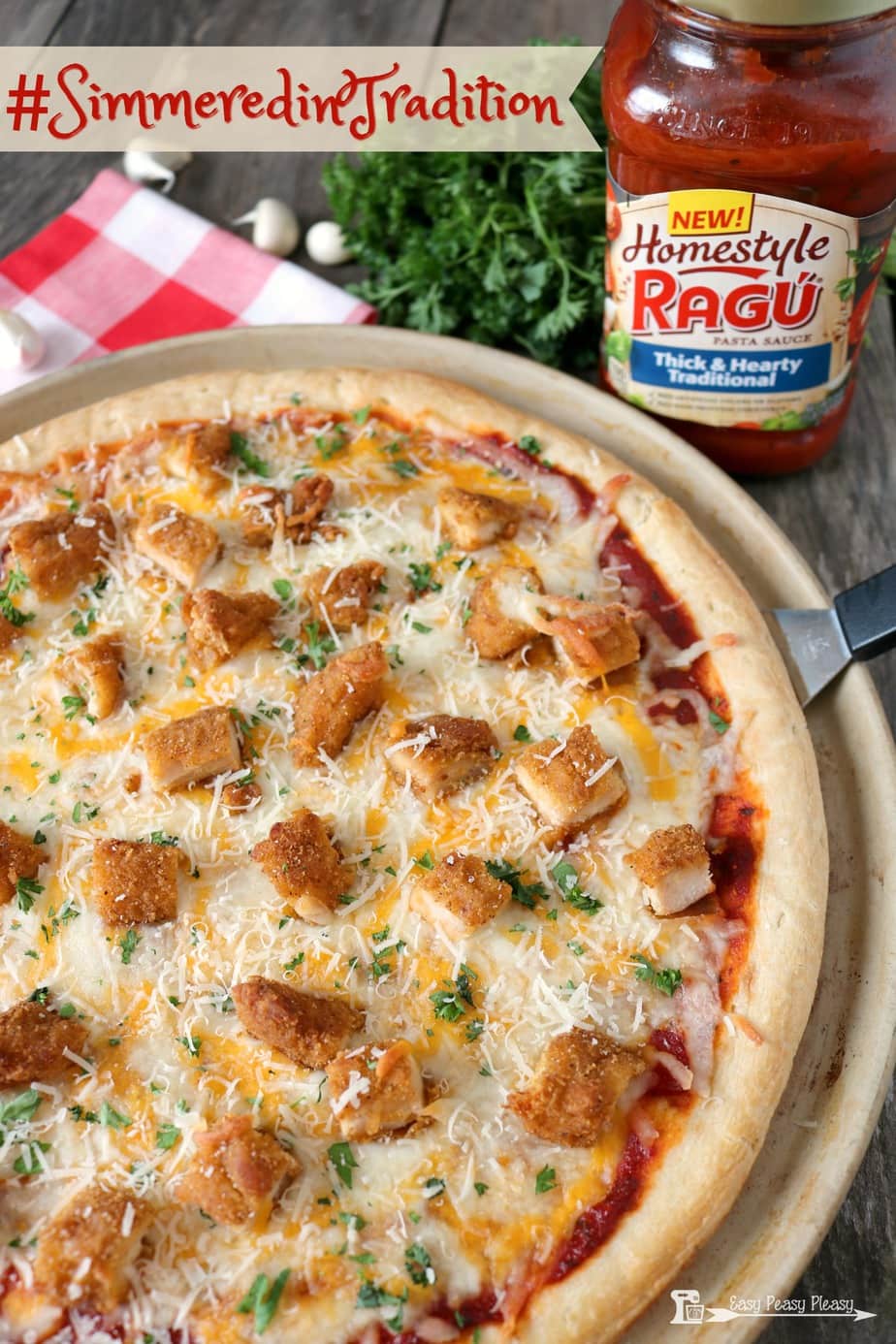 I remember growing up and being a child of a working mother. She was squeezing in everything she could and dinner was one of those things. She worked and toted my sister and I back and forth to every activity. My mom made life so much easier with a jarred pasta sauce. It's now become a staple in my house. If I run out of a jar of sauce, it immediately goes on the grocery list. I just can't live without it! I not only use pasta sauce for pasta but I use it for many other recipes such as my Chicken Parmesan Recipe or in this case…Pizza!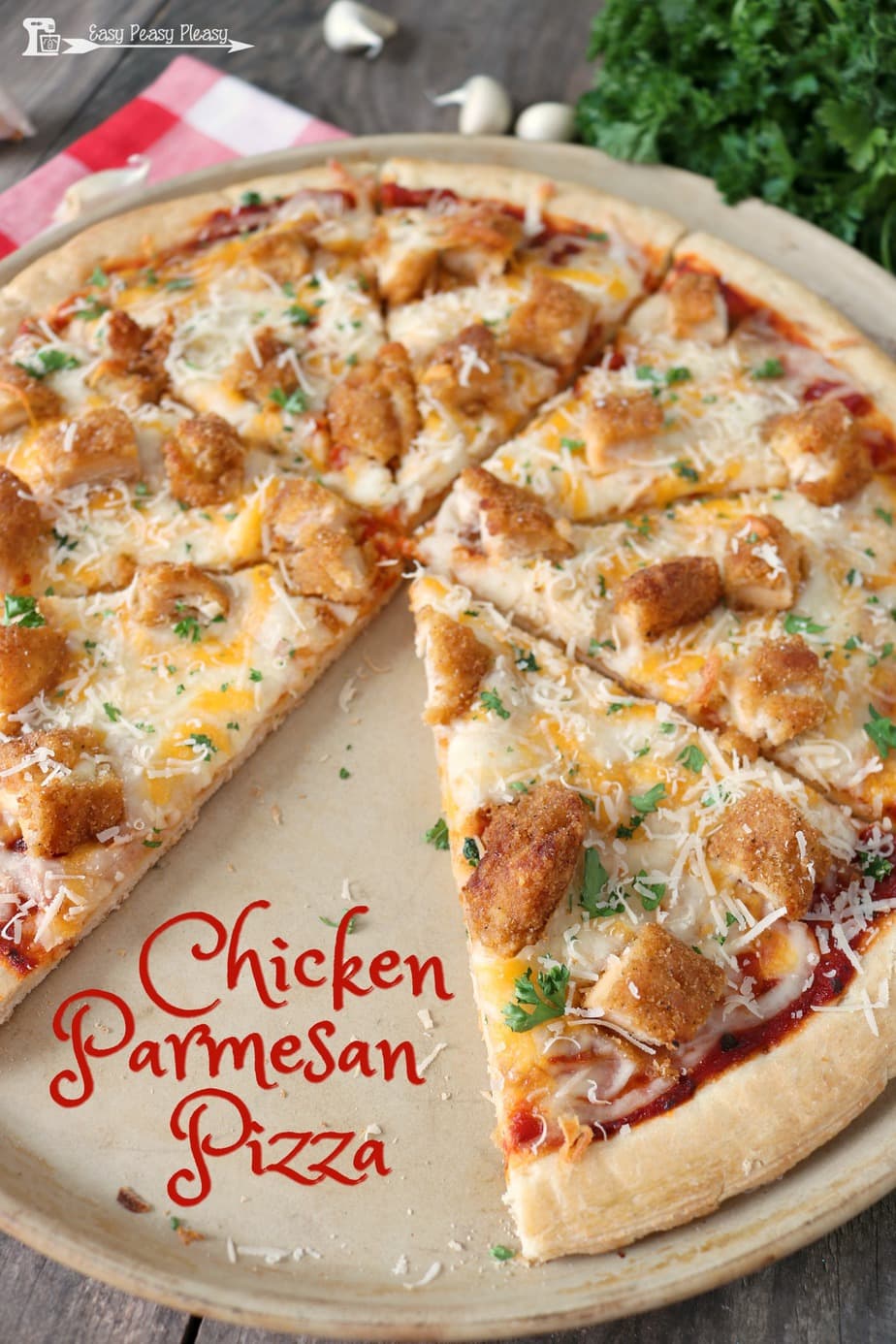 My kiddo loves my Chicken Parmesan Recipe. It's a semi-homemade recipe. I say semi-homemade because I use my favorite jarred sauce by Ragu. (By favorite, I mean RAGÚ® Homestyle Sauce) But, for this twist, I've cut the steps way down from my traditional Chicken Parmesan Recipe to make this meal even easier. Gotta make it easy for my peeps…lol! Heck, who am I kidding??? I gotta make it easy for myself! Hola! or Yolo…which ever one works for you. Bottom line…the taste of this sauce by Ragu reminds me of a hearty marinara and it works perfect for a pizza. Guess what? I can get two meals out of this one jar of sauce, even if I make 2 pizzas! Hola for real this time y'all!

Chicken Parmesan Pizza
Servings: 4
Difficulty: easy
Ingredients
2 frozen breaded chicken breasts
1 pre-made pizza crust
1/2 cup RAGÚ® Homestyle Sauce
2 cups shredded pizza cheese blend
1/2 cup shredded Parmesan
1 tablespoon fresh chopped parsley
Directions
Preheat oven and cook chicken according to package directions. While chicken is cooking, spread RAGÚ® Homestyle Sauce over the pre-made pizza crust to within 1 inch of edge. Sprinkle shredded cheese over the sauce. Remove chicken from oven and cut into 1 inch cubes. Sprinkle cubed chicken over the cheese. Bake at 425 degrees for 15 to 20 mins or until warm and bubbly. Liberally, sprinkle Parmesan and parsley over entire pizza. Eat and enjoy.
easypeasypleasy.com
Lacie's Easy Peasy Pleasy Tips
Y'all, the sauce is the bomb in this recipe! Use your favorite pre-made pizza crust and favorite frozen breaded chicken breasts to take this recipe to the next level for a winning dish with your family!
You can easily double this recipe for 2 pizzas.
Use any leftover sauce with some pasta the next night or within the week.
You can also lighten this pizza up with a rotisserie chicken instead of breaded chicken.
The sky's the limit on what you can create when it comes to a pizza and some great sauce. What are your family traditions or shortcuts using a jarred pasta sauce?
Learn more great ways to use Ragu and get amazing dinner inspiration here.
Subscribe to Blog via Email