I love cheese tortellini! I mean…love, love, love! I could literally eat it with a little melted butter and be a happy camper. It's all about taking that first bite into the al dente pasta and getting the flavor of that little nugget of cheese for me. Yuummmmy. It's pure heaven in my book. If you love cheese tortellini like I do then you will LOVE this Chicken Tortellini Soup. I make it even easier by using a rotisserie chicken.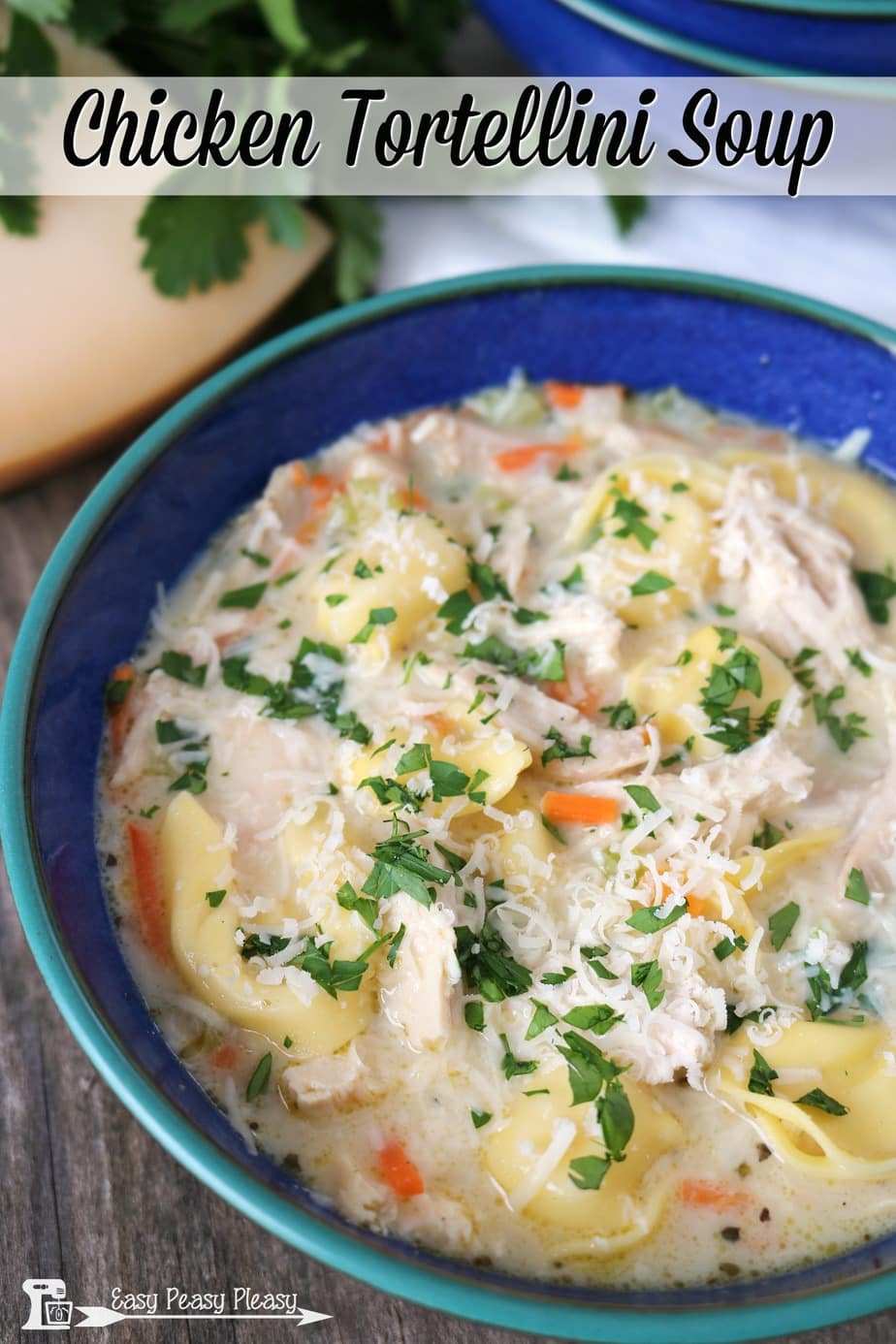 Let me just tell you, when I made this Chicken Tortellini Soup it was 40 degrees and windy. I really wanted something to warm up my tummy and feed my soul. It's now a couple of days later (keep in mind, it's still February) and I'm writing this post, while I'm watching the kids. I'm watching the kids play kickball in the backyard while wearing shorts. Did I mention it's still February?! LOL! In Arkansas, we always tell folks to give it a minute and the weather will change. When it gets cold again (5 mins from now) this soup is a must try.

Y'all, it's so easy and so delicious! It will make your mouth water for more. Thank goodness for leftovers!
Chicken Tortellini Soup
Servings: 8-10
Difficulty: easy
Ingredients
2 tablespoons olive oil
1 cup carrots, diced
1 cup celery, diced
1 small onion, diced
3 teaspoons garlic, minced
1 cup milk
4 cups chicken broth
1 can cream of chicken soup
1/2 teaspoon oregano
1 rotisserie chicken, shredded
salt and pepper
1 package (9 ounces) refrigerated cheese tortellini
chopped fresh parsley, for garnish
grated fresh Parmesan, for garnish
Directions
Heat a large pot to medium and add the oil. Saute carrots and celery in oil for 5 minutes. Add onions and saute for an additional 10 minutes. Add garlic and saute for an additional 2 minutes. Once all vegetables are tender, add milk, soup, and chicken broth. Bring to a low simmer for 20 minutes.
Meanwhile, bring a large pot of salted water to a boil. Cook the tortellini in the salted water until al dente or according to package directions. Drain.
After soup has simmered, add chicken and seasoning into the soup pot and heat until warmed through. Taste to see if the salt and pepper is to your liking and adjust.
Put some tortellini in a bowl and add ladle soup over the top. Serve immediately and garnish with fresh Parmesan and parsley. Eat and Enjoy!
easypeasypleasy.com
How mouthwatering delicious does this soup sound?
Lacie's Easy Peasy Pleasy Tips
You CAN cook the tortellini right in the soup if you are serving a big crowd.
If you plan on having soup leftovers, I would recommend cooking the tortellini separate. You can heat up your soup the next day and once warm, add in your cooked tortellini. This way the tortellini never gets overcooked and won't turn into mush.
Fresh pasta cooks faster than dried pasta.
I so hope y'all give this recipe a try. I am in love with the flavors of this soup and the nice bit of cheese the tortellini adds as a little surprise.
Subscribe to Blog via Email