OOH…have I got a sinfully delicious recipe for you! You are going to want to try these Oreo Rice Krispie Treats for sure.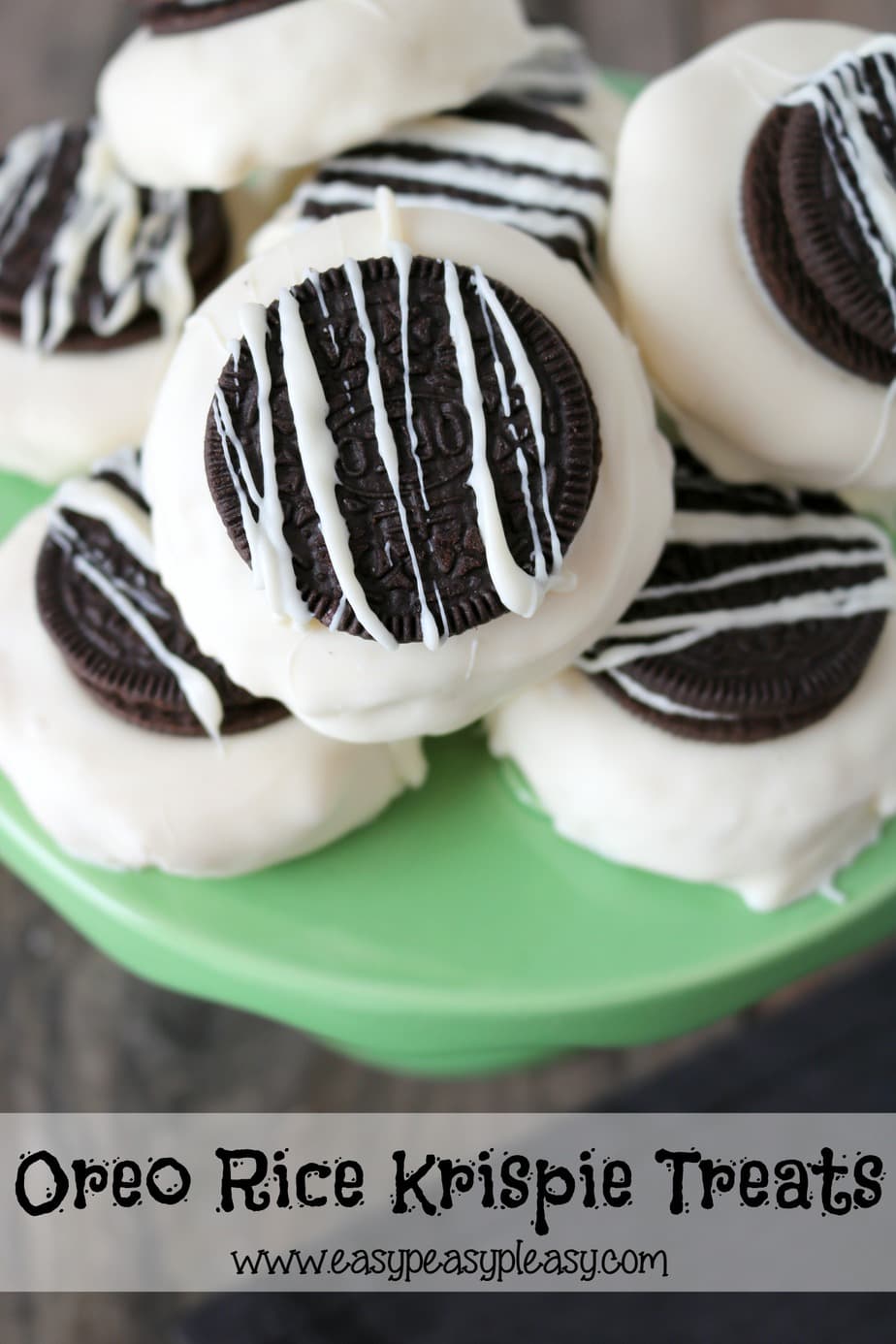 Recently, the hubby and I slipped away on a weekend getaway for our 19 year wedding anniversary. We popped into this gourmet candy shop and I went crazy. There was a glass case that housed many different delicious looking sweet treats. One that really caught my eye, were these white chocolate covered rice krispie treats that had Oreo's on top. All I could think is…You are speaking my language big glass case! The only draw back…they were soooo expensive. It's a good thing I knew immediately how I could recreate this recipe at home and for half of the cost.

Now I want to share this super easy recipe idea with you. Hands down, you will get 28 Sinfully Delicious Oreo Rice Krispie Treats out of this recipe with a few bites of rice krispie treats to snack on while you make these bad boys up. You don't even need a round cookie cutter as long as you have a small mouth mason jar. I wanted to make this recipe as easy as possible for you.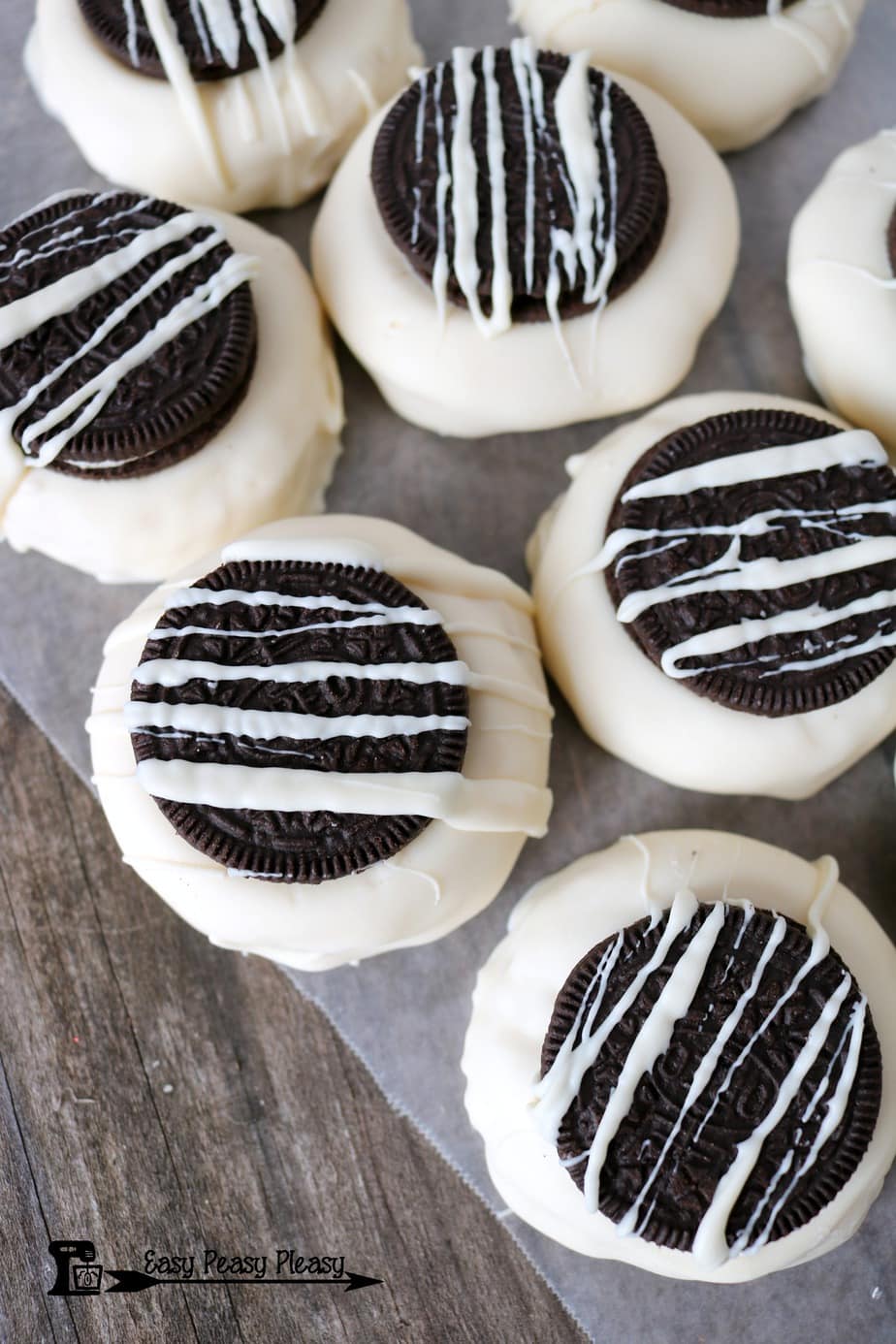 Sinfully Delicious Oreo Rice Krispie Treats
Servings: 28
Difficulty: easy
Ingredients
3 tablespoons butter
40 marshmallows or 10 ounces
6 cups rice krispies cereal
2-24 ounce Almond Bark, vanilla
28 Oreo Cookies
Directions
Place a sheet of wax paper in a 18 x 13 sheet pan. In a large pot, melt butter over low heat. Add marshmallows and stir until completely melted. Add rice krispies cereal to marshmallow mixture and stir until well coated.
Using a buttered spatula or your buttered fingers, spread and press rice krispie mixture onto wax paper covered pan until even. (Optional…Place an additional piece of wax paper over the mixture. Use another 18 x 13 pan to press down on top of the mixture.)
Using a small mouth mason jar or equivalent sized round cookie cutter, cut out rounds of the rice krispies mixture. Press any left over mixture together and cut out circles until you have 28.
Melt almond bark according to package directions until smooth. Lay out an additional sheet of wax paper. Place one round rice krispie treat on a fork and dip into the melted almond bark. Once the rice krispie treat is completely covered, pull up and use a butter knife to rake off any excess from under the fork. Place on wax paper and add an Oreo with gentle pressure. Continue this process until all 28 are done.
Use your leftover almond bark to add stripes across the top. Let the almond bark harden then store in airtight containers or under plastic wrap. Eat and Enjoy!
*Tips
You may need to reheat your almond bark periodically to keep it thin.
This recipe can be easily split in half if you only need 14.
Add your top stripes using a fork or by adding almond bark to a zip top bag and snipping off a corner.
easypeasypleasy.com
I hope you enjoy this sinfully delicious Oreo Rice Krispie Treats recipe. Do you have any tips that could make this recipe easier?
Subscribe to Blog via Email