Who can't use another casserole recipe? This Creamy Chicken Broccoli Casserole recipe will hit the spot and feed the masses. You will want to delve into this casserole. It's a mixture of chicken and vegetables mixed with pasta and covered in a creamy rich sauce. It's perfect for potlucks, family gatherings, Sunday dinner, and even reheated on a weeknight.
With everyone having busy lives and a need to feed more and more people, casseroles are key. Especially when the ingredients can all be stirred together, then baked up warm and bubbly with an added crunch from the topping. That's what makes this Creamy Chicken Broccoli Casserole absolutely delicious!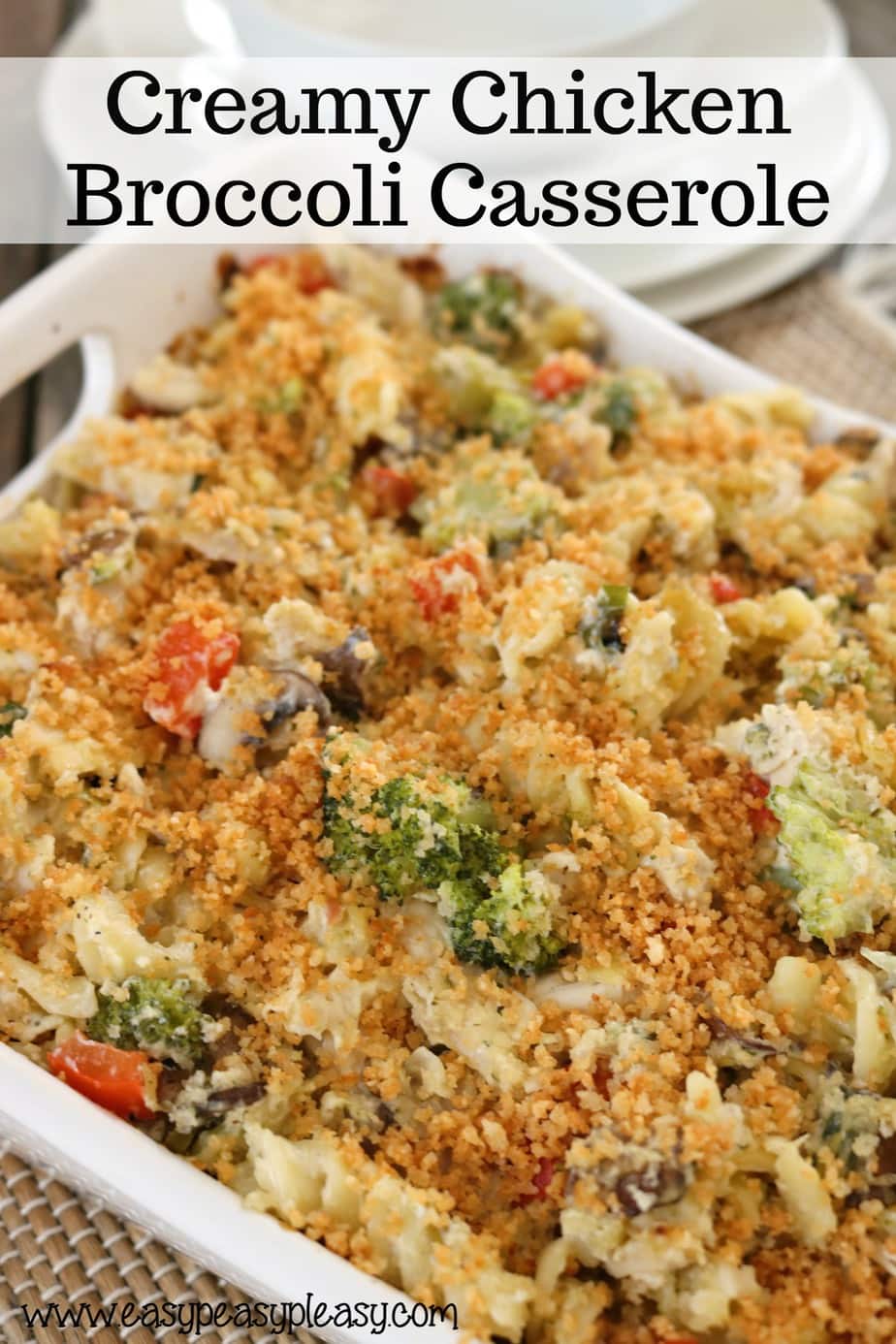 As you may know, I love to feed people. I always say, the way to a person's heart is through their stomach. I'm always on a quest to make sure my guests, or when feeding people at a potluck, have plenty to eat. Sometimes I make many dishes so I can feed many people but often overlook the ease of 1 dish…the casserole. One casserole can accomplish the same thing as making many different dishes.

We are a broccoli loving family. It's one of the first green vegetables I got my kiddo to eat. You know how it goes…make them try a bite every time it's cooked, by the tenth try they will like it. It may have taken me more than ten tries to get the kiddo on board with broccoli but now he's a fan. If you love broccoli, you will love this casserole!
Easy Peasy Pleasy TIPS for Creamy Chicken Broccoli Casserole
Rotisserie chicken will save you time. Shred the chicken while the pasta cooks. If you don't have access to a rotisserie chicken (which is a crying shame), cook and shred three chicken breasts.
Prep ingredients first. Do all of your slicing, cutting, chopping, and measuring first. This will make your cooking process a breeze.
Freeze your leftover chicken broth. Put your leftover chicken broth in a zip top bag or ice cube tray and freeze for a later recipe.
Add salt to taste. Salt content is your preference. There are no raw ingredients to deal with when using a rotisserie chicken so you can taste test before you place the ingredients in a casserole dish. Start with a teaspoon of salt while the ingredients are still in the bowl. Add more to your liking.
Browning Bread Crumb Mixture. If you like just a little color on your bread crumb topping follow recipe directions. I love for my bread crumbs to be golden brown but at the same time, I don't want to over bake my casserole. Heat a small pan or skillet to medium high. Add in your bread crumb mixture and stir constantly for 3 minutes or so until the bread crumb mixture is golden brown. Be ready for it, because it pops around like popcorn. Then you can bake the casserole covered for the whole 45 mins and add your toasted bread crumb topping after you pull it from the oven.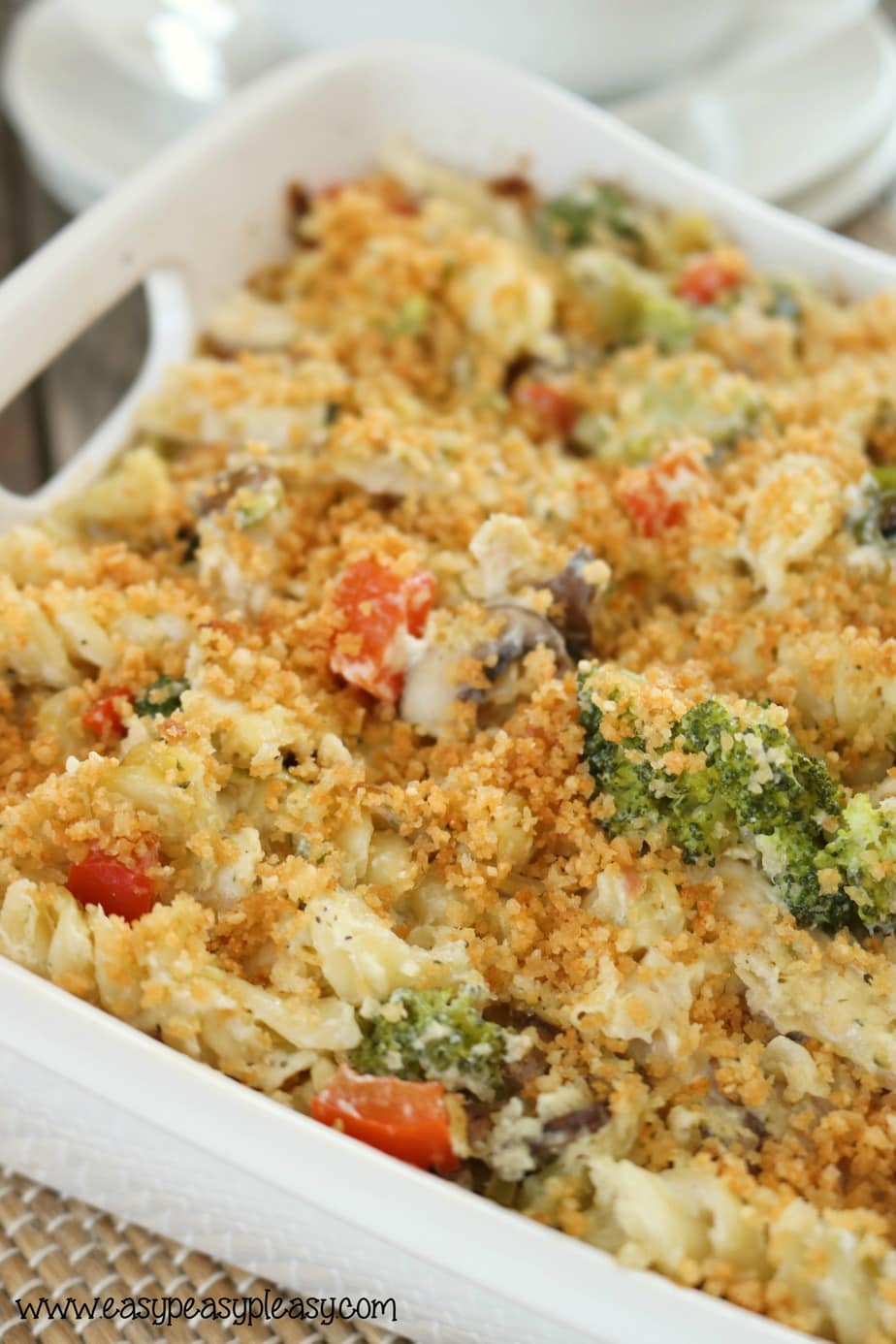 Creamy Chicken Broccoli Casserole
Servings: 12
Difficulty: easy
Ingredients
non-stick cooking spray
4 cups dried Rotini noodles
1 tablespoon oil
3 cups fresh baby Portabella mushrooms, sliced
8 green onions, chopped
1 red sweet pepper, seeded and chopped
1 rotisserie chicken, shredded
2 10 1/2 ounce cans cream of chicken soup
1 16 ounce container sour cream
1/3 cup chicken broth
2 teaspoons Cavenders seasoning
1/4 teaspoon pepper
1 12 ounce package frozen broccoli florets, thawed and coarsely chopped
salt to taste
1/2 cup Panko bread crumbs
1/4 cup Parmesan cheese, grated
2 tablespoons butter, melted
Directions
Coat a 9×13 inch casserole dish with non-stick cooking spray. Preheat oven to 375 degrees. Cook pasta according to package directions and drain.
Heat oil in large skillet over medium high heat. Add mushrooms, green onions, and peppers. Cook and stir vegetables until tender about 5 to 8 minutes.
In a large bowl, mix cream of chicken soup, sour cream, broth, Cavenders seasoning, and black pepper until well combined. Stir in shredded chicken and vegetables. Gently stir in cooked pasta and broccoli.  Add salt to taste.
Spoon the chicken broccoli mixture into your prepared casserole dish. In a small bowl combine bread crumbs, grated Parmesan cheese, and melted butter. Sprinkle over the chicken mixture.
Cover with foil and bake for 25 minutes. Uncover and bake for an additional 20 minutes or until casserole is heated through.
Eat and Enjoy!
easypeasypleasy.com
I hope this casserole fits your potluck needs!
Subscribe to Blog via Email