It's officially Fall which means it officially Chili season. This chicken chili will usher fall right through your front door. First of all the smell will get you then the taste will have you scooping up more. You can pack the dinner table with this recipe.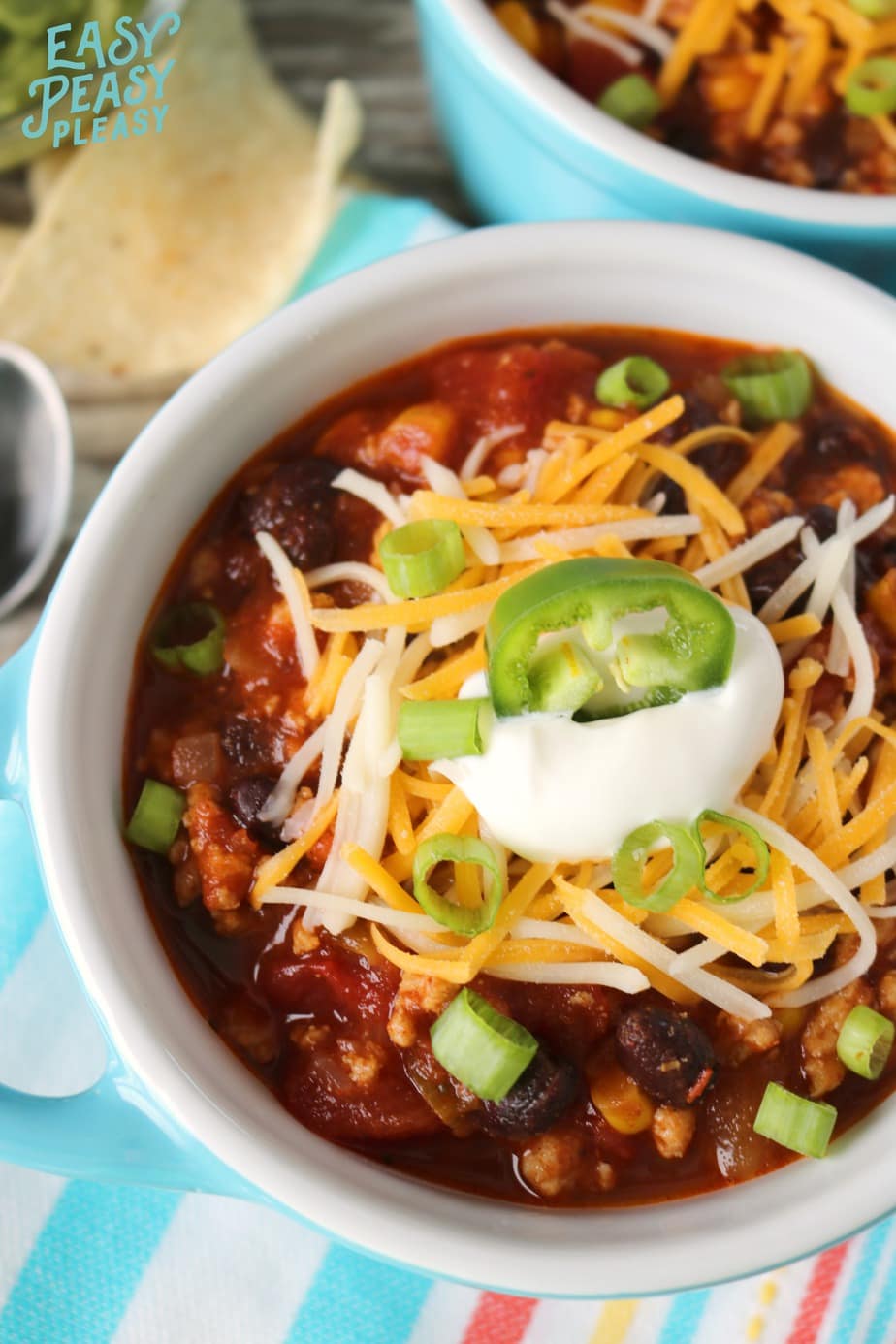 Y'all know I live in the south and the weather is super temperamental but the first signs of cool weather makes my brain change its focus on dinner.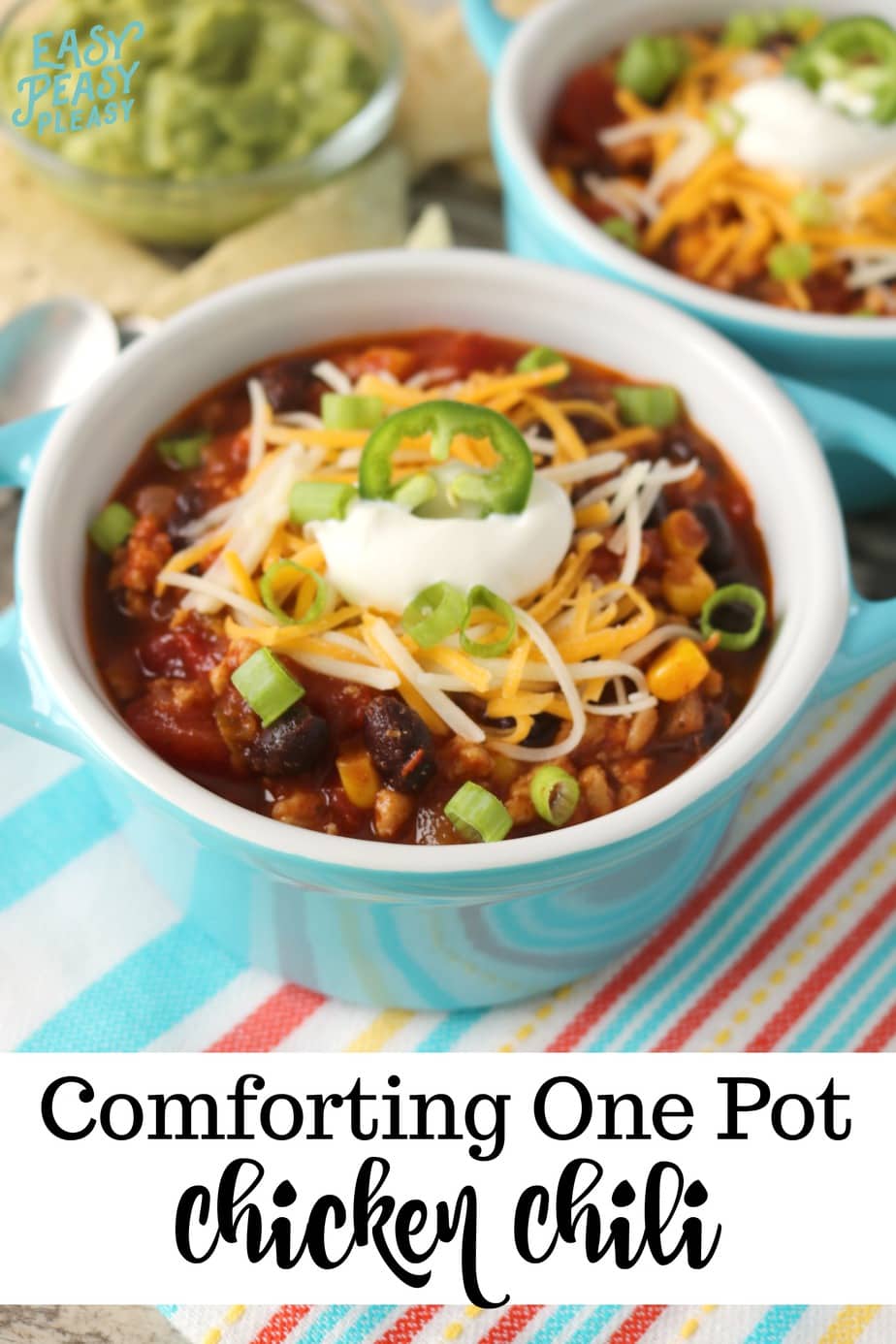 We could have a cold snap one day then hot as ever the next. Doesn't even matter…once I feel a tiny bit of cool weather, I'm reaching for the chili.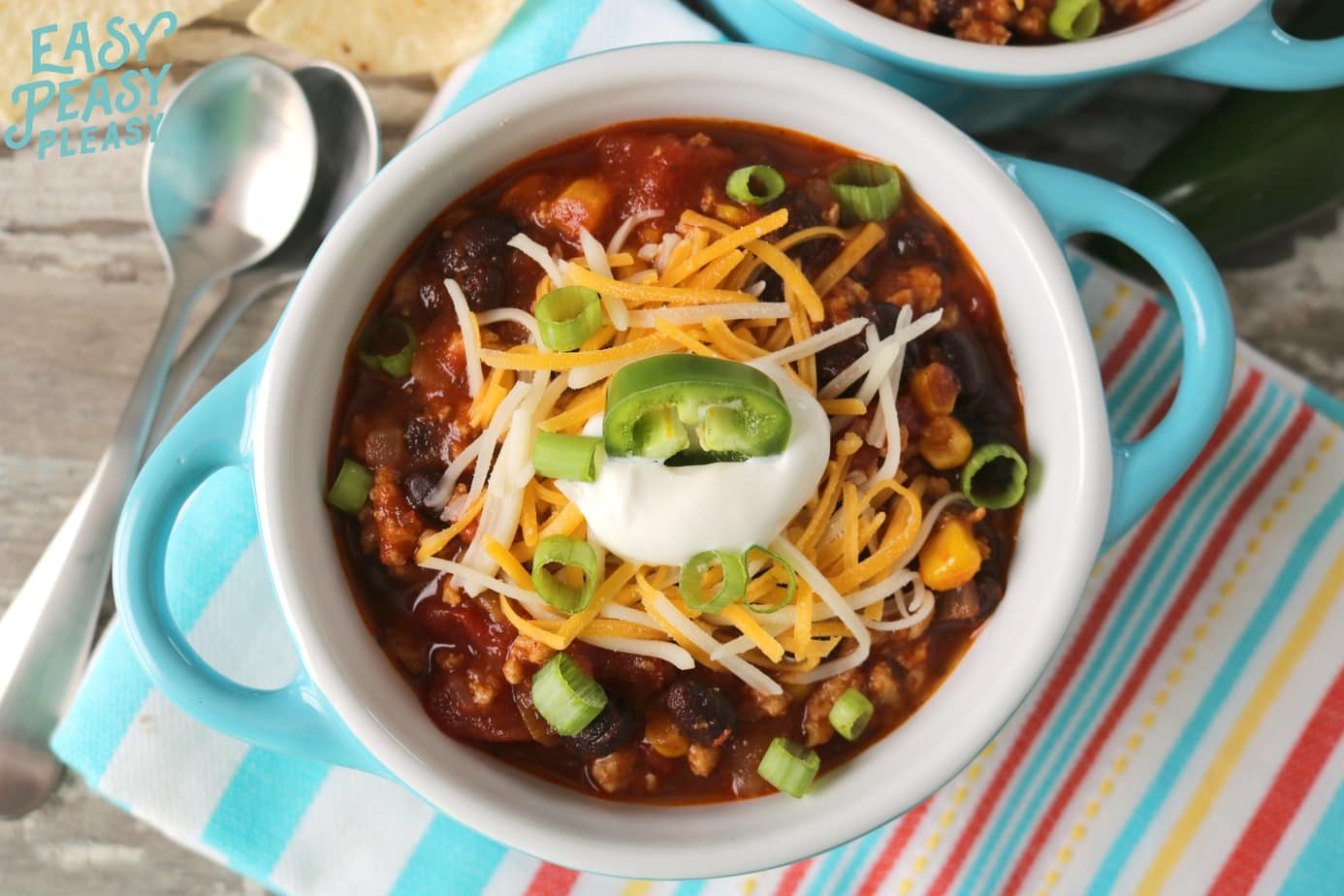 I gotta say…when my kiddo spots a bag of corn chips or tortilla chips in the pantry he's asking me what dip I'm making or (when it's cool weather) what kinda chili is for dinner. He literally spotted the chips in the pantry and asked, "when are we having chili?" The kiddo is as ready as we all are for chili and cooler temps.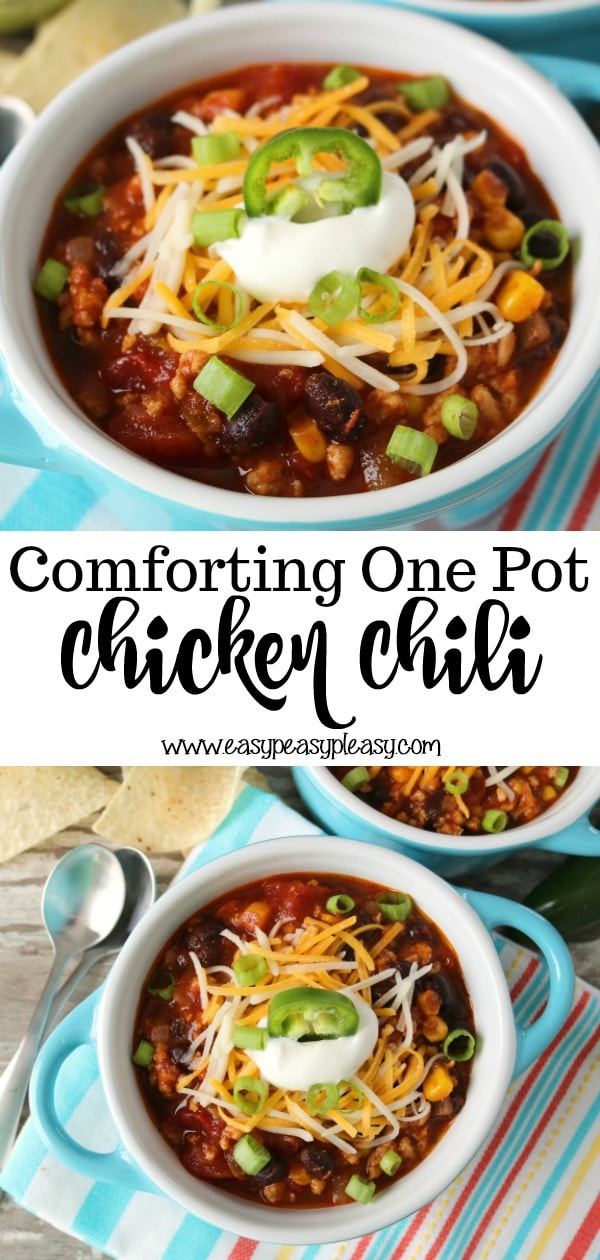 Chili is one of the easiest meals to throw together and it's oh so satisfying.
We make all kinds of chili at my house. Sometimes it's deer chili, sometimes, it's regular chili, and sometimes it's chicken chili.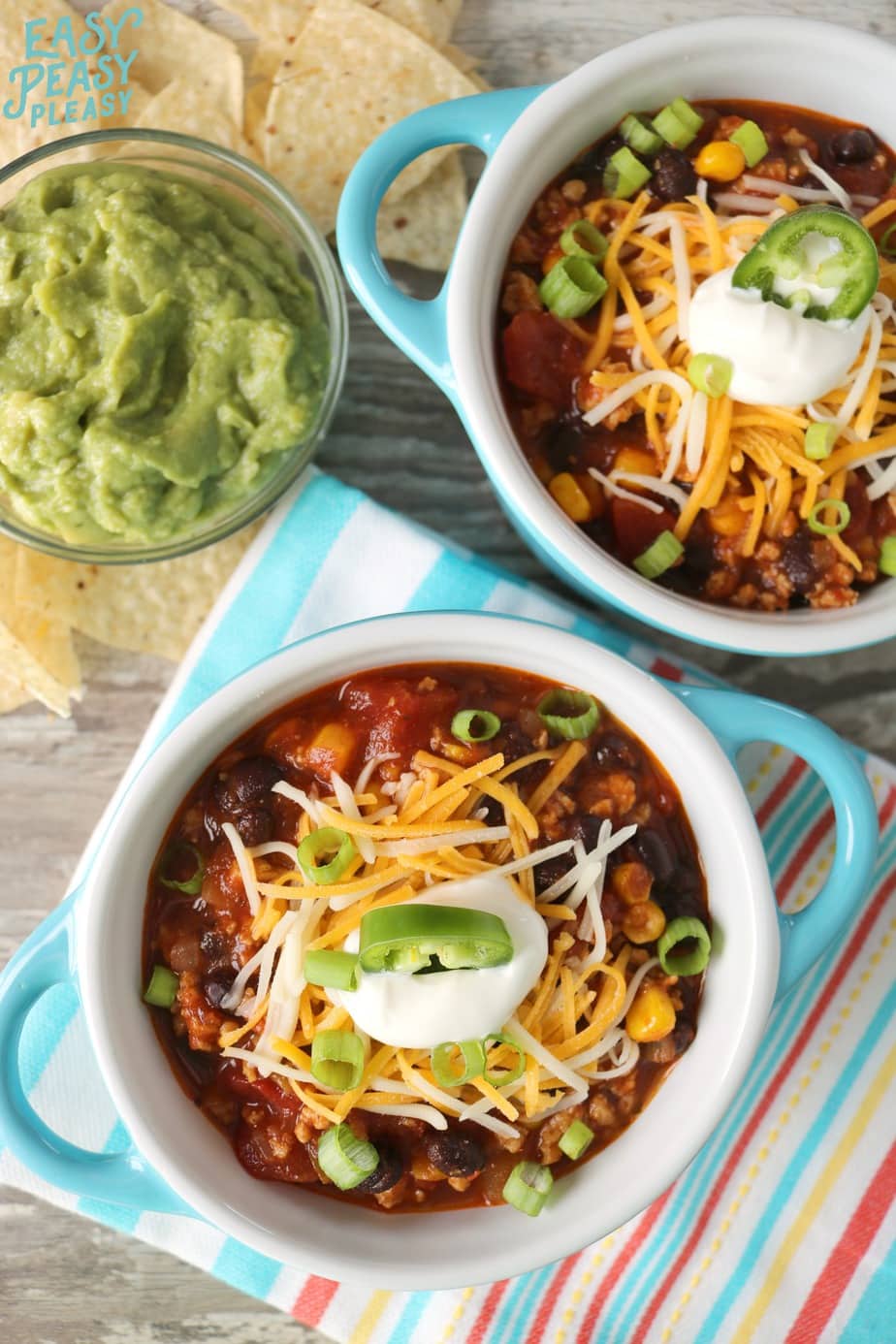 This chicken chili is a favorite go to on a busy weeknight. It's all about cooking some ground chicken and adding your everyday pantry items.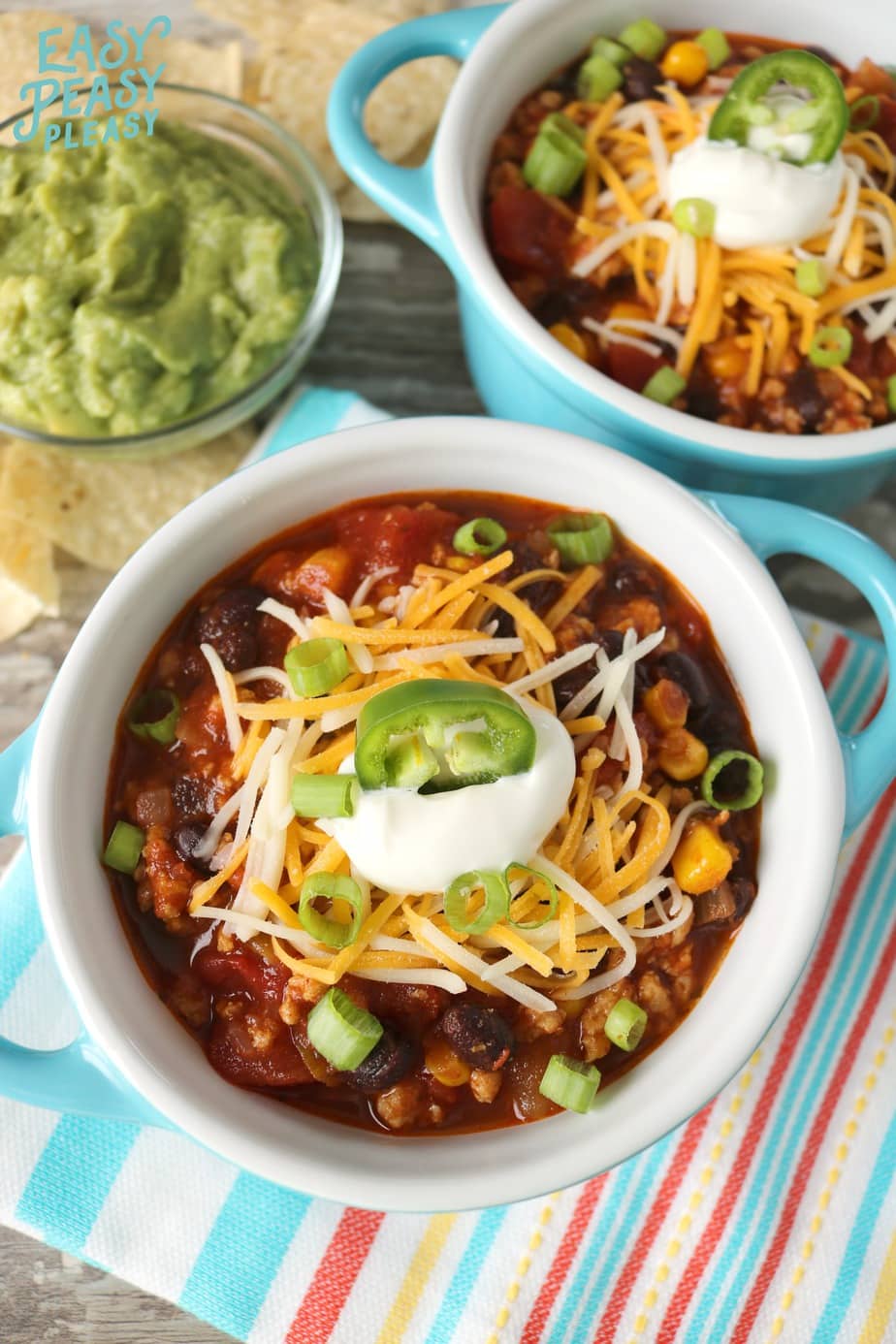 I have a feeling you will only have to run in the store for the meat with this recipe.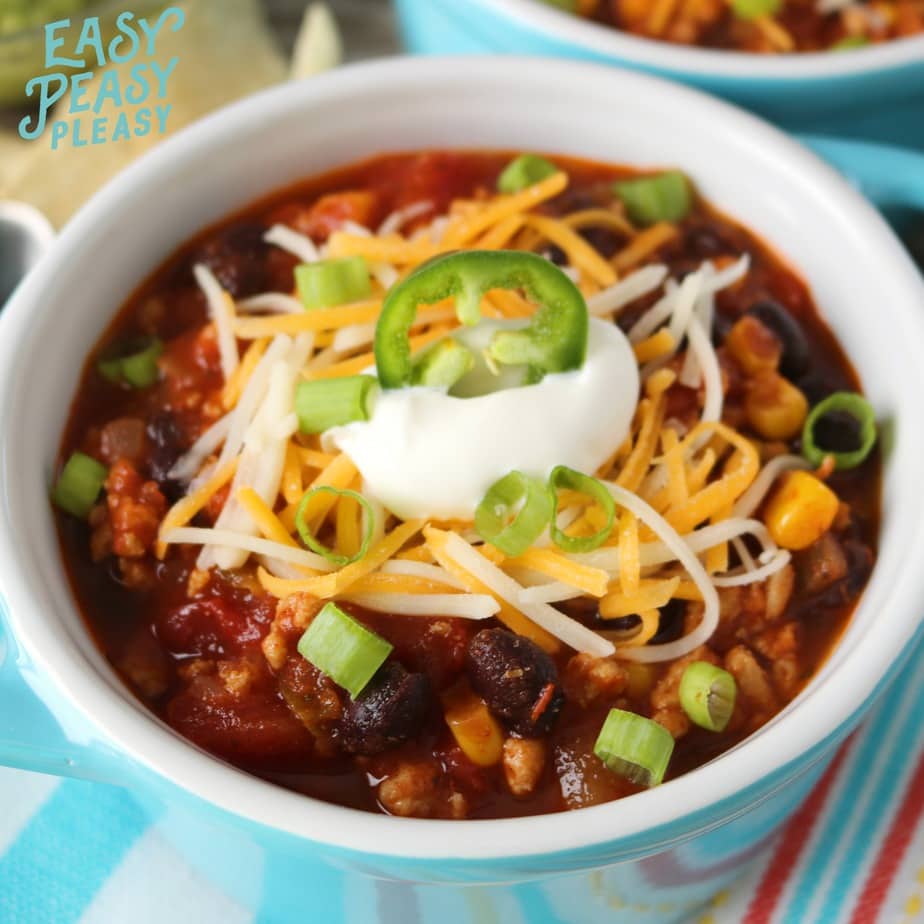 Easy Peasy Pleasy Tips!
One pot is all you need. Literally, you can cook up your meat in one pot and add in all the other ingredients which means super easy cleanup.
Add a little pinch of salt and pepper to your onions while sauteing. It will add flavor and help pull out moisture to get that translucent look you're going for.
Once you saute your veggies and get your meat cooking, that's the time to open the cans and drain the beans.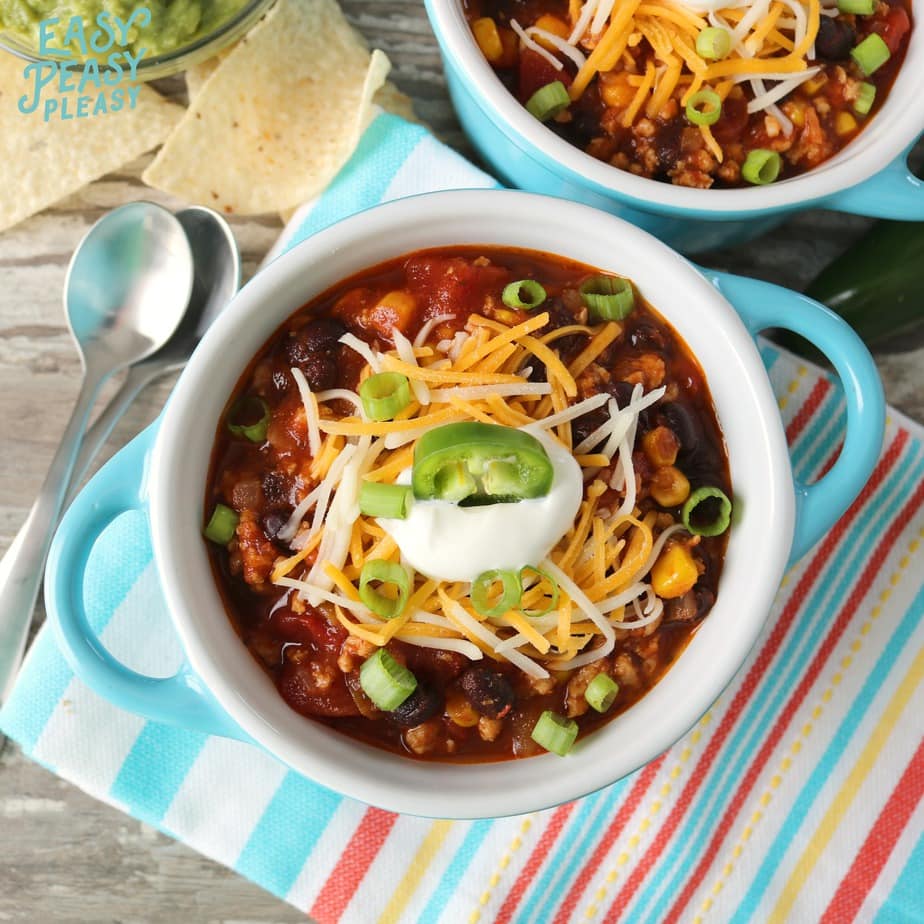 One Pot Chicken Chili
Ingredients
2 tablespoons olive oil
1 medium onion, diced
1 clove garlic, minced
1 pound ground chicken
1 teaspoon cumin
1 packet taco seasoning
2/3 cups water
1 10 ounce can diced tomatoes and green chilis
1 cup chicken broth
1 16 ounce can black beans, drained and rinsed
1 cup frozen corn
2 teaspoons salt
½ teaspoon pepper
Optional-Shredded cheese, sour cream, jalapenos, guacamole and your favorites.
Directions
Heat the olive oil in a large pot over medium heat. Add the onion and cook for 5 to 6 minutes or translucent. Add garlic and saute for 2 more minutes. Add ground chicken and break up while cooking. Let cook until chicken turns white. Mix in cumin, taco seasoning, and water until well combined. Cook down for 5 minutes. Add the diced tomatoes, chicken broth, beans, corn, and salt and pepper. Bring to simmer, cover and reduce the heat to low for about 20 minutes. Load chili in your bowl with your favorite toppings. Eat and enjoy!
Subscribe to Blog via Email