Y'all it's turned cold outside and this Bacon Cheeseburger Soup will keep you warm all month long. With my meal prep tips and a few variations on ways to serve up this cheesy bowl of goodness, your future self will thank you!
This post is sponsored by Ricos. #RicosCheesePlease. All thoughts and opinions are my own.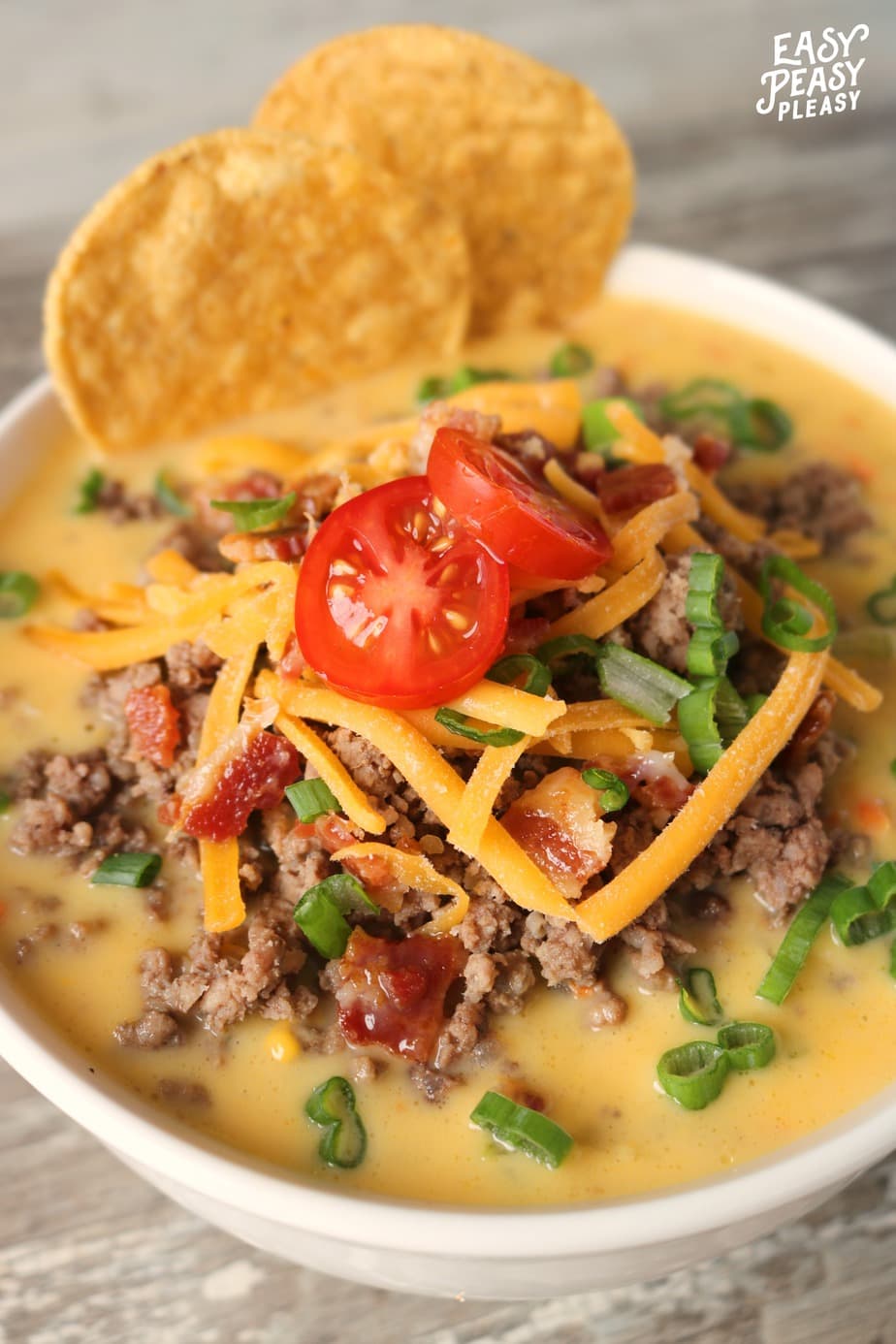 My love of this recipe is 2 fold (besides the deliciousness). There are 2 easy ways to meal prep! One way of meal prepping is on the front end of this recipe and the second way is on the back end. Let me tell you how I get it done.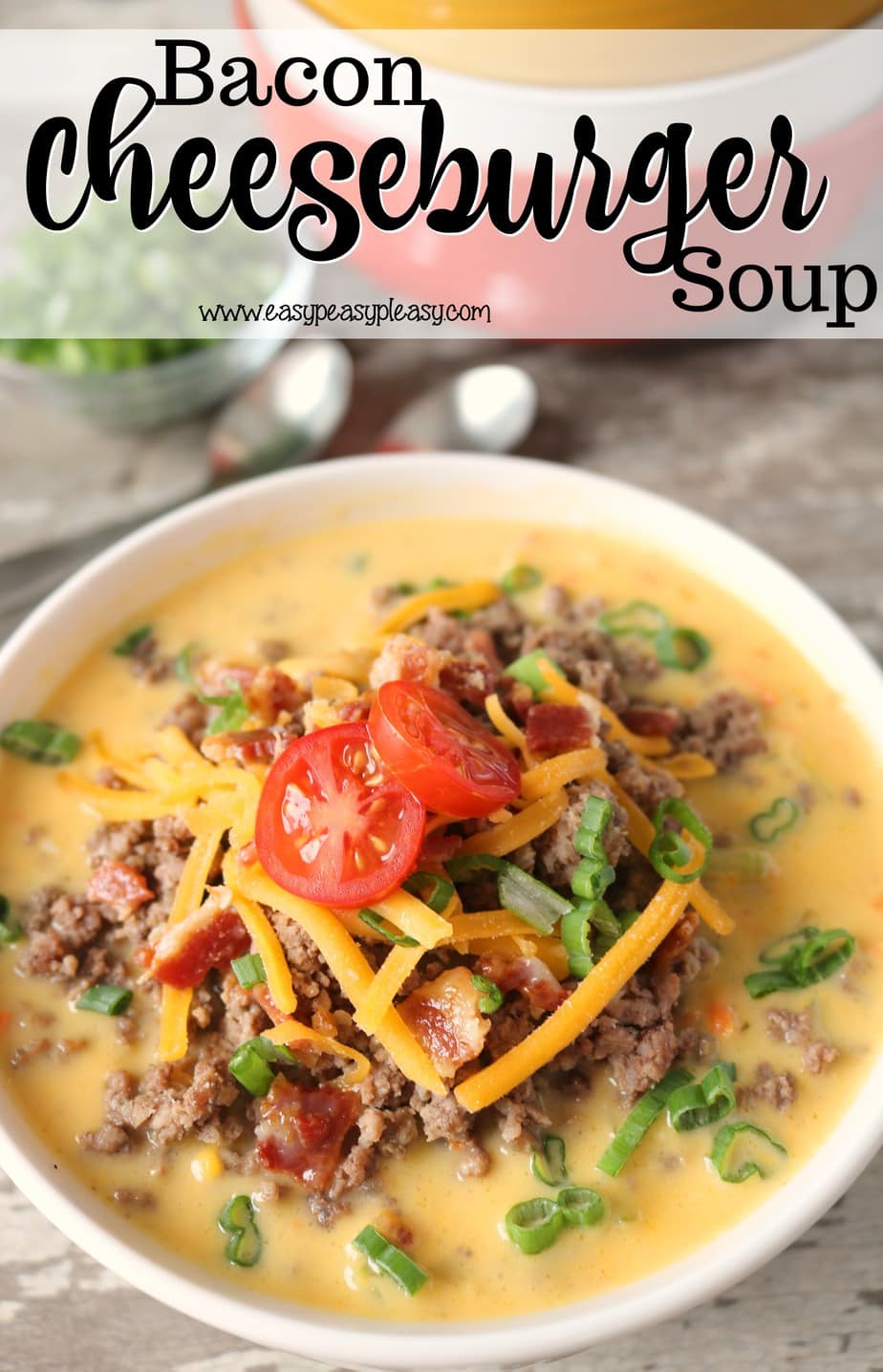 First things first. When I shop for ingredients at my local small town Walmart Neighborhood market, I try to use the same ingredients for meals all week long and the same when working on freezer meals.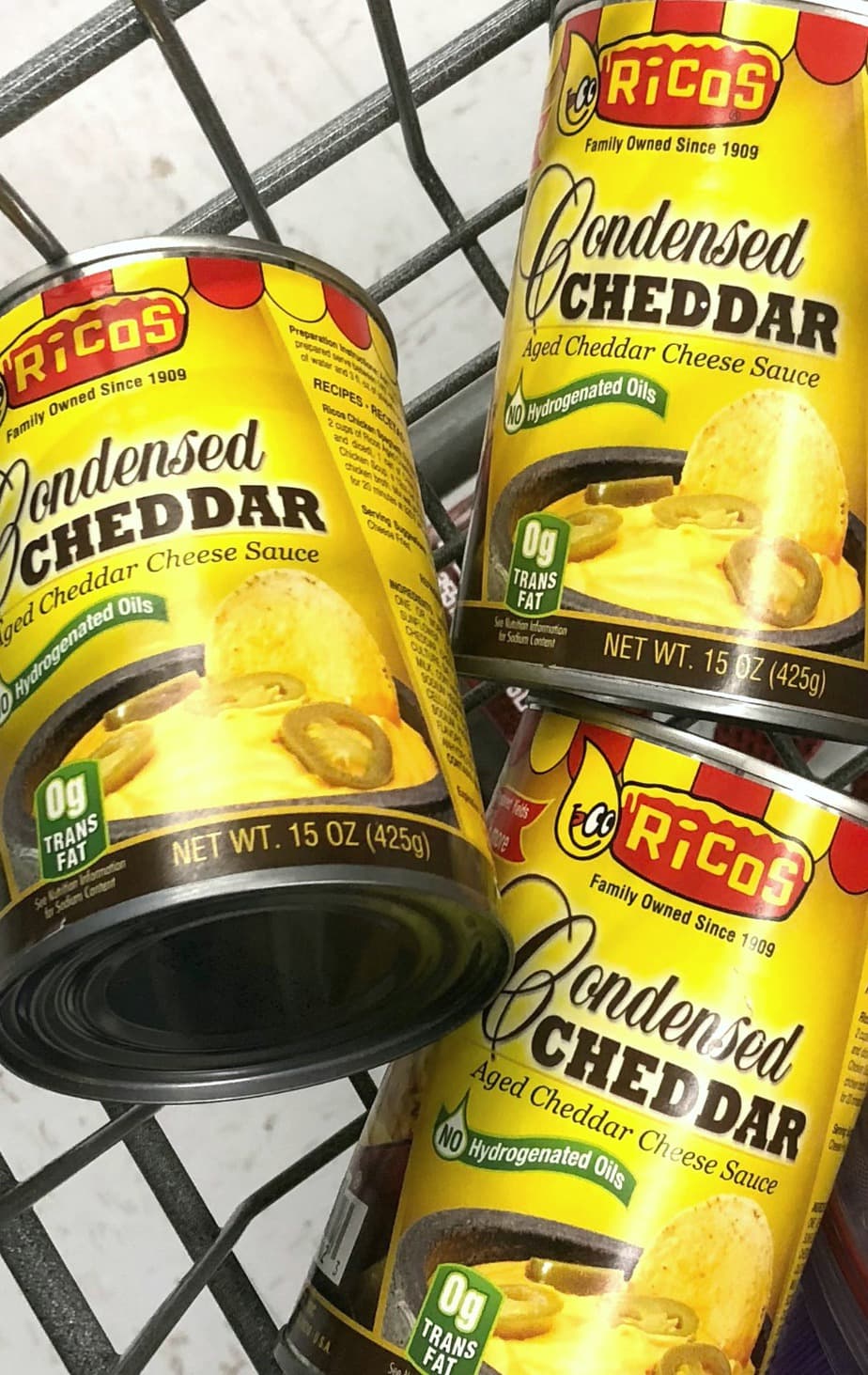 For instance I knew I needed carrots, celery, and onions for multiple meals I was prepping. I chopped and diced everything I needed and stored them in the fridge in individual bags. (I store what I don't need for the week in the freezer.)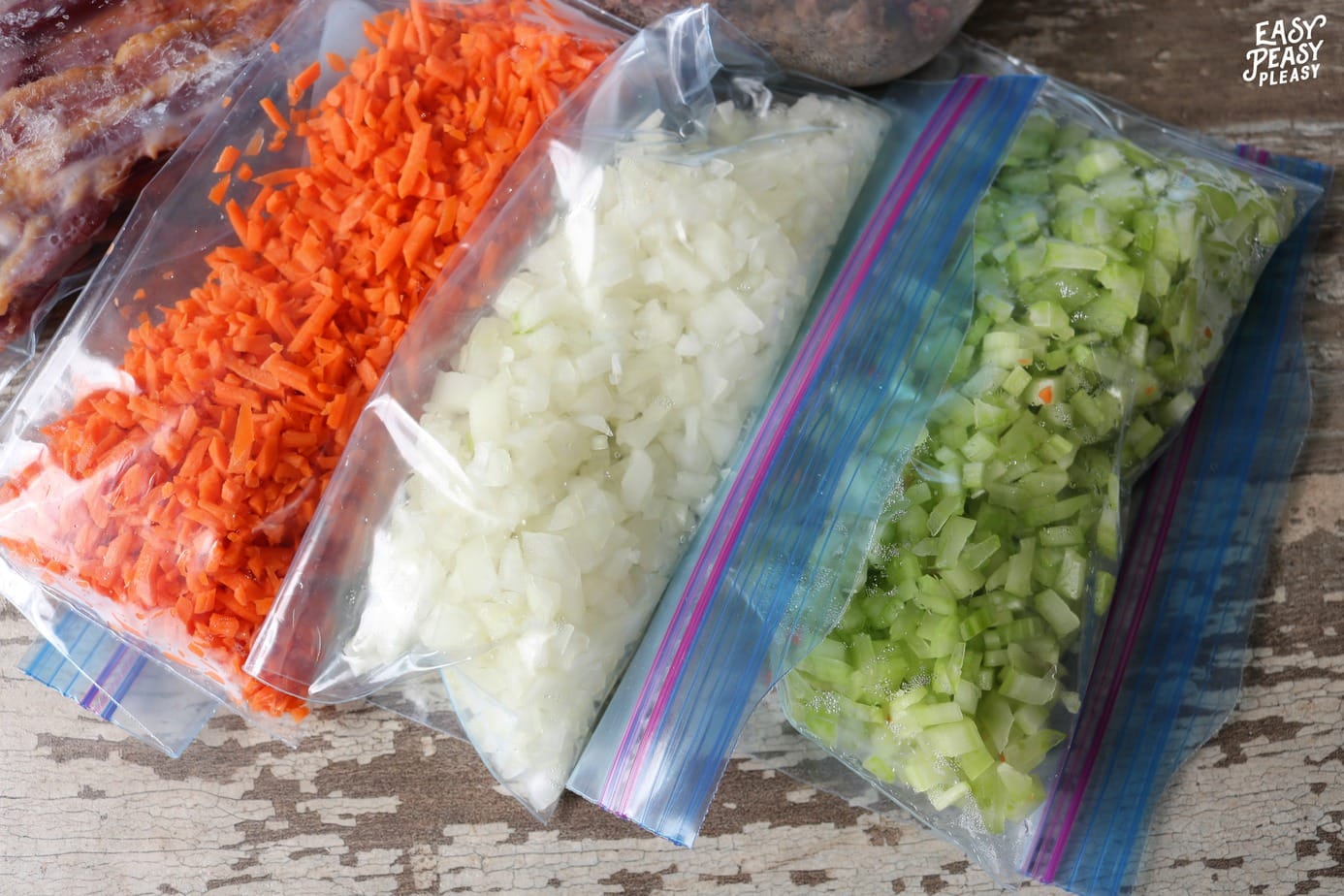 I also knew I needed 4 lbs of cooked hamburger meat for the week and my freezer meals. Some for this recipe and some for another recipe or two. Knowing I needed cooked ground meat, I browned all I bought for multiple recipes. I even precooked my bacon.
With everything prepped the cooking process is so much faster for this Bacon Cheeseburger Soup. Not to mention I have meat and veggies ready for a meal later in the week and ready for other freezer meals.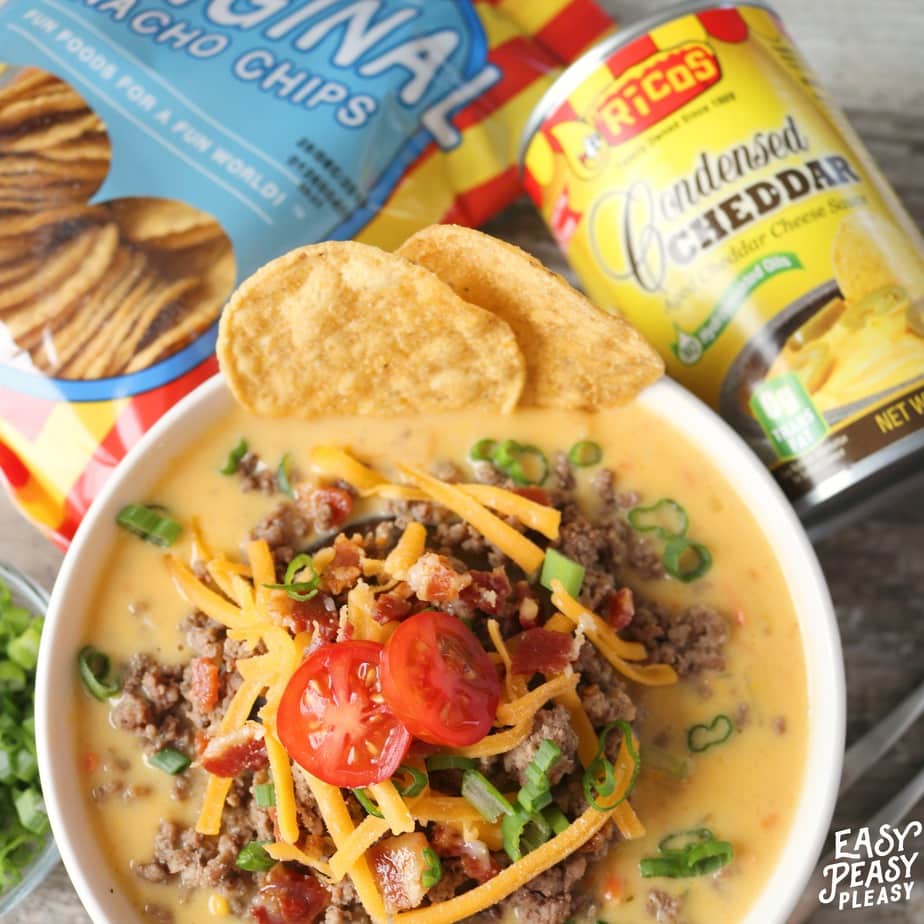 So now you've seen the front side of meal prep, let me tell you about the back side.
If you double the recipe then you can eat it as soup that night with chips or crackers. Then you can freeze the rest in 3 freezer bags for some tummy warming dinners later. It's the perfect make ahead recipe for a crazy month.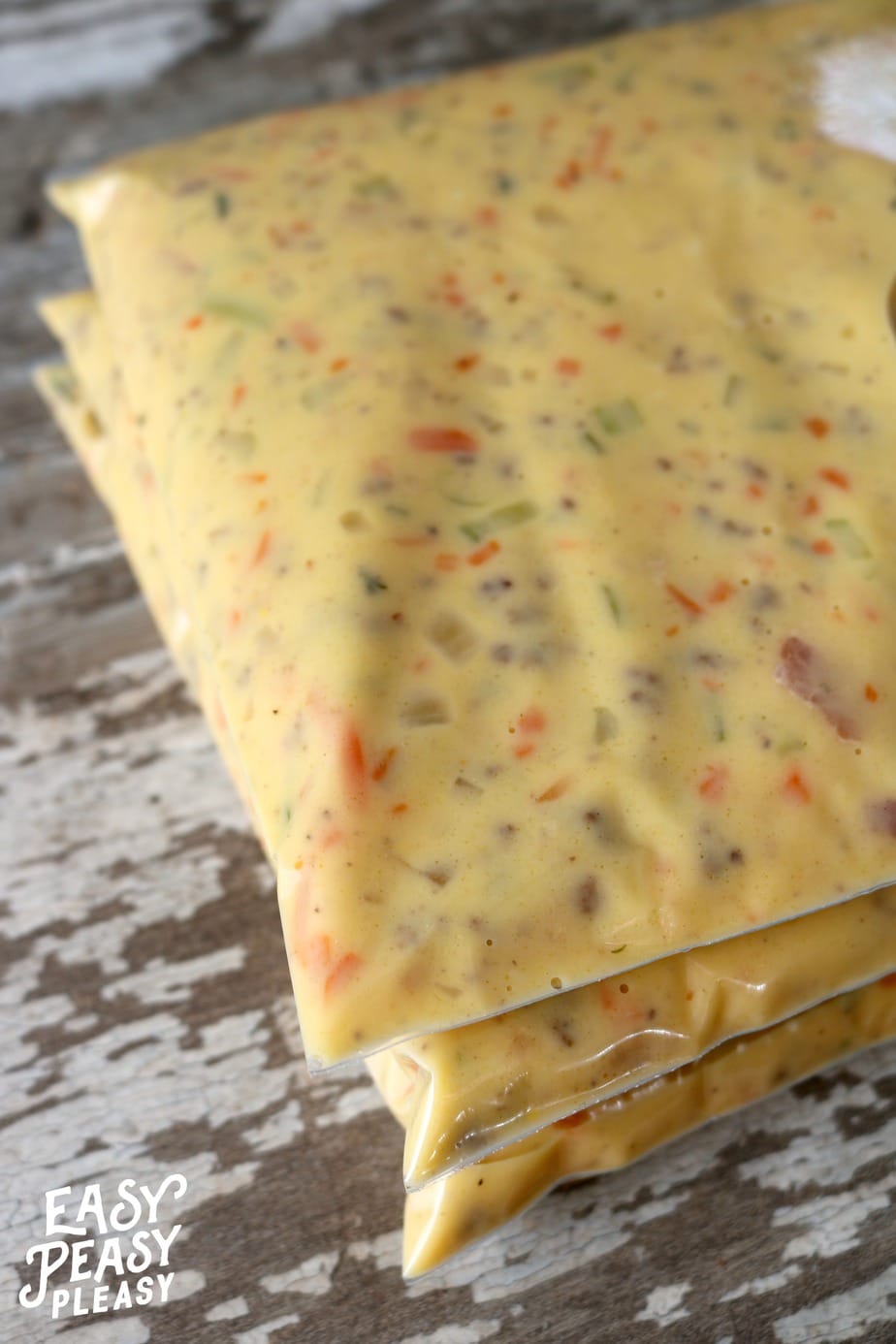 These are some of my favorite ways to eat this soup! I like to make my baked potatoes tastier and a full meal by topping with the cheesy bacon goodness of this soup. This Bacon Cheeseburger Soup is the winning ingredient to an easy weeknight casserole. Thaw in fridge overnight, then mix with cooked macaroni. Place in a casserole dish and cover with shredded cheddar. Bake at 350 degrees for 30 mins or until heated through. Have leftover cooked rice? Pour warmed soup over cooked rice and serve with a side of broccoli.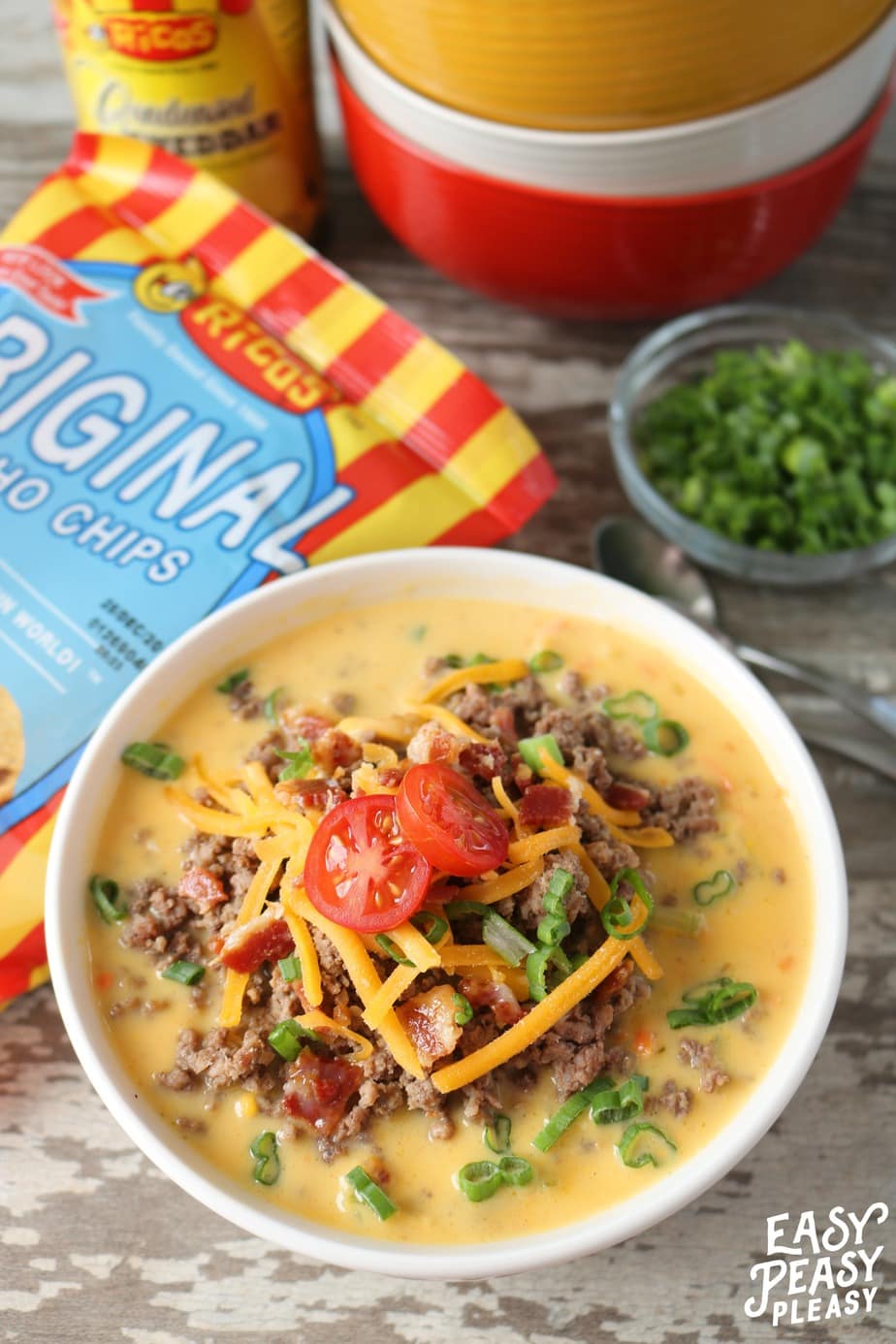 Easy Peasy Pleasy Tips
Fill freezer bags and lay them flat when freezing.
As soon as you get home, chop up the veggies you are going to need for the week. Individually bag and label each amount you need for each meal. Freeze the rest for later.
Cook your ground meat as soon as you bring it home for multiple meals later in the week or month.
Go ahead and fry up your bacon. You'll easily find uses for it later in the week.
If you don't have time to cook your ground beef and bacon ahead of time. Get those items started first.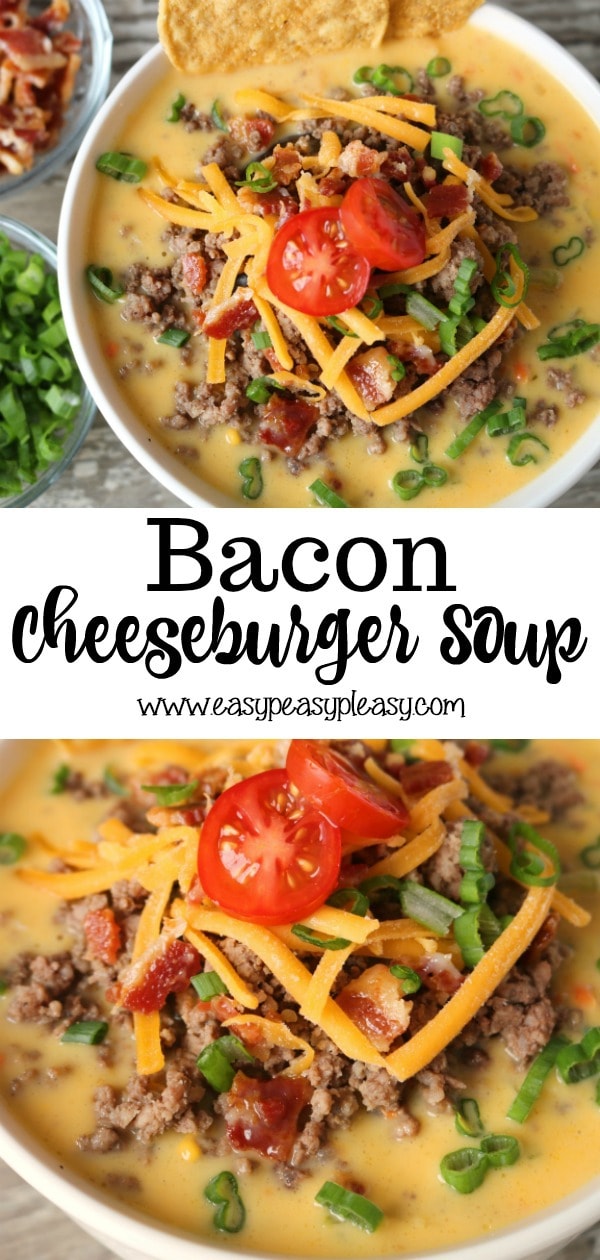 Bacon Cheeseburger Soup
Servings: 8
Difficulty: easy
Ingredients
1 tablespoon olive oil
2 tablespoons butter
1 cup carrots, diced
1 cup celery, diced
1 small onion, diced
3 teaspoons garlic, minced
3 tablespoons flour
2 cups milk
2 cups chicken broth
1/2 pound cooked bacon, crumbled
1 pound cooked ground beef
1 teaspoon dried parsley
1 teaspoon Worcestershire sauce
1 15 ounce can Ricos Condensed Cheddar Cheese
Salt and pepper to taste
Shredded cheddar, green onions,sliced tomatoes, sliced dill pickles for garnish, optional
Directions
In a large pot heat olive oil and melt butter. Once butter is melted add carrots, celery, onion, and garlic. Cook over medium high heat, stirring frequently for 5 minutes or until onions are translucent. Mix in flour. Stir for an additional 2 to 3 minutes. Slowly whisk in milk and broth until slightly thickened. Bring to boil and let simmer for 10 minutes. Add in cheese and whisk until velvety smooth. Add in parsley, Worcestershire sauce, cooked hamburger meat, and cooked bacon. Heat until warm. Sprinkle with cheese and green onions. Add your favorite toppings. Serve with chips or crackers. Eat and enjoy!
www.easypeasypleasy.com
If this recipe is what you've been looking for, check out this amazing Mouthwatering Rotisserie Chicken Tortellini Soup and don't forget to check out another delicious way I use Rico's Cheese on this Ultimate Sheet Pan Taco Pizza.
Subscribe to Blog via Email