Are you hustling to get dinner on the table? I have the perfect idea for your dinner time struggles. This Texas Toast Garlic Bread Pizza for busy weeknights is the solution. If you have 15 to 20 minutes, then you have dinner served. Plus your family will devour them. Check out my tips to make up these personal pizzas fast, super fast, and even quick and easy for a party.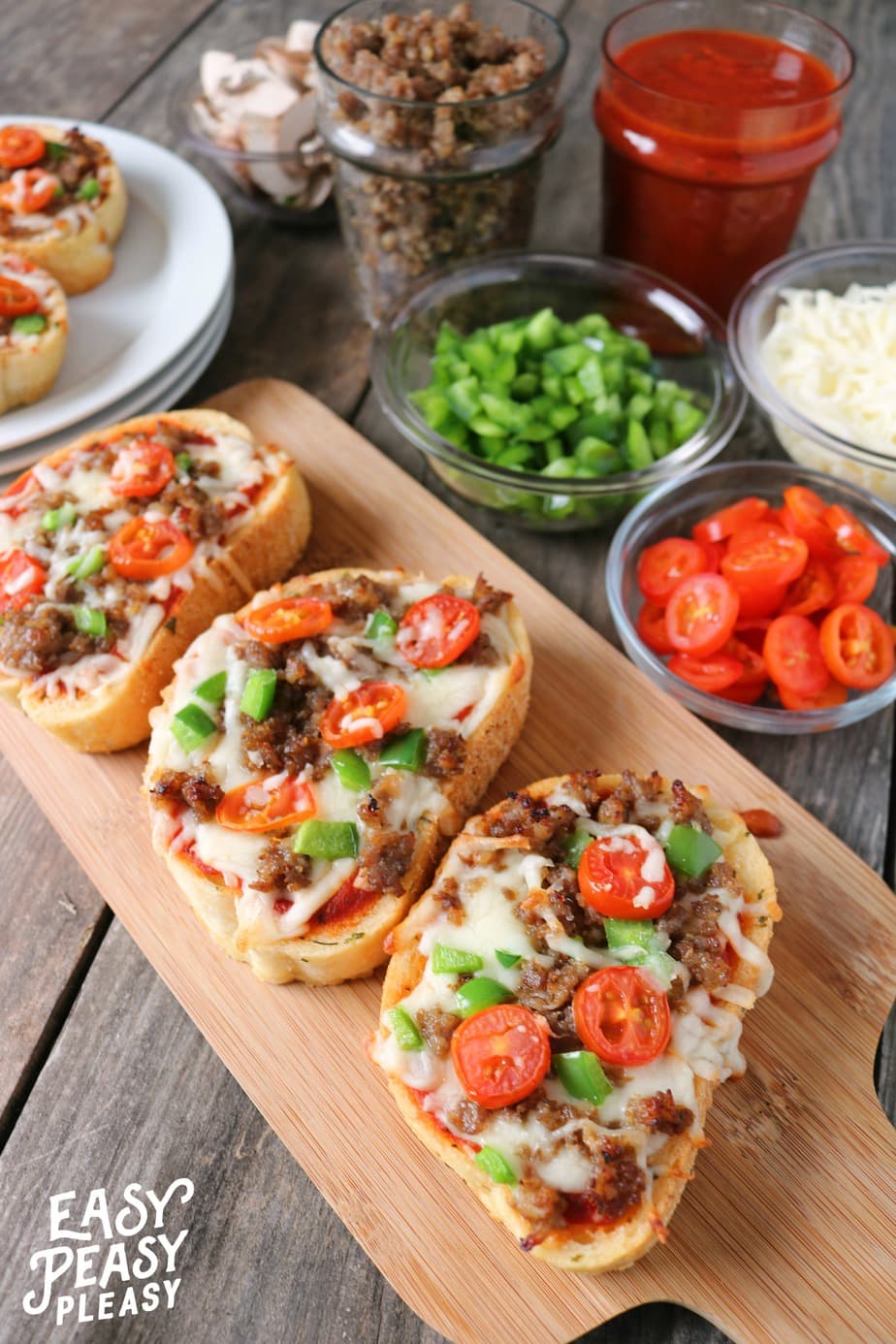 With our busy lifestyles we need recipes that really help us get dinner on the table with ease. Fast and easy recipes are a staple in my house. Let me tell you how I make this recipe easy then I'll tell you how I make it even easier. You will be thinking outside the pizza box, plus it's actually faster than delivery.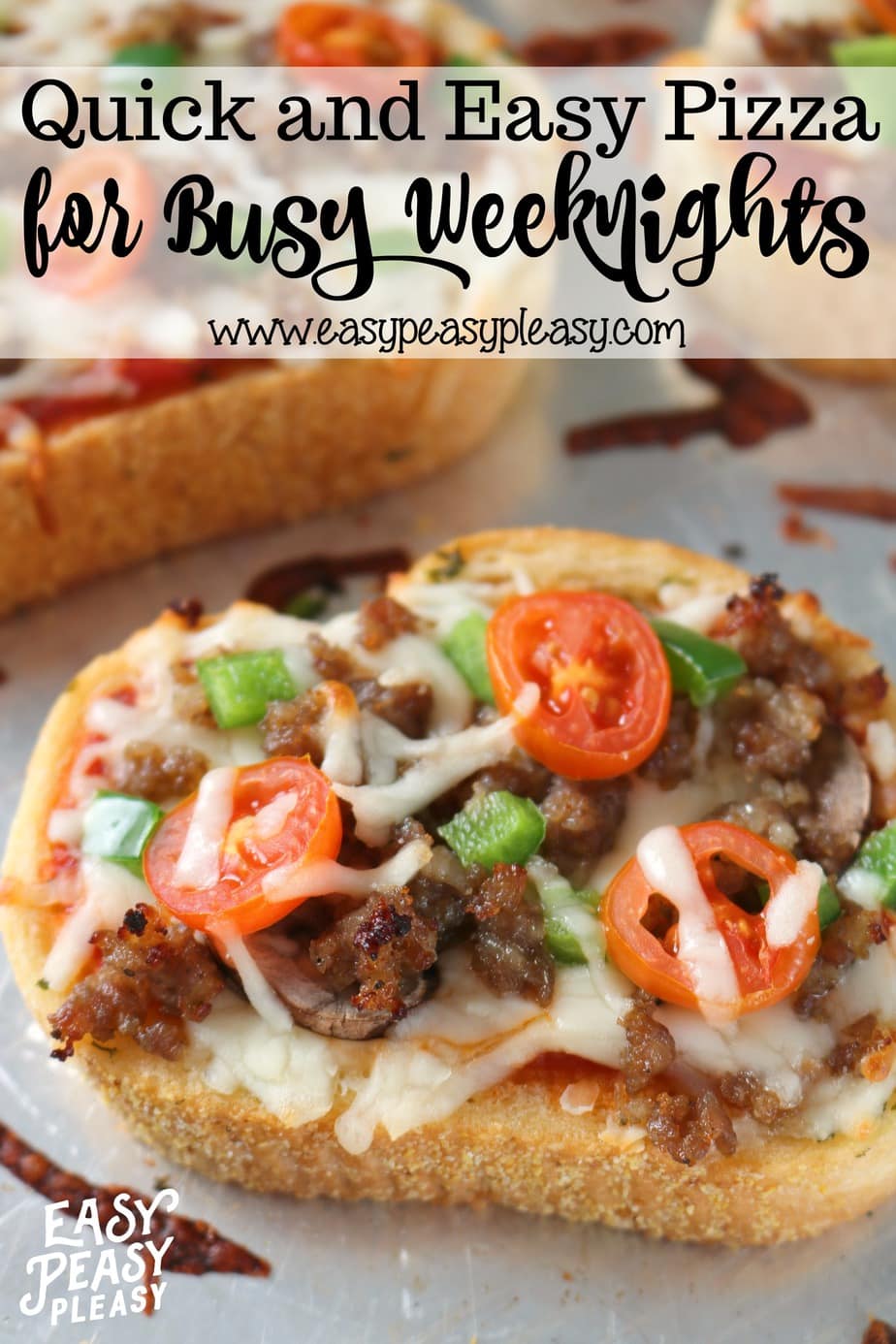 If you've read any of my previous blog posts like this one for Bacon Cheeseburger Soup, you will see I prep as many ingredients for the week as possible. Having chopped veggies such as bell pepper and onion and the meat precooked is a real time saver.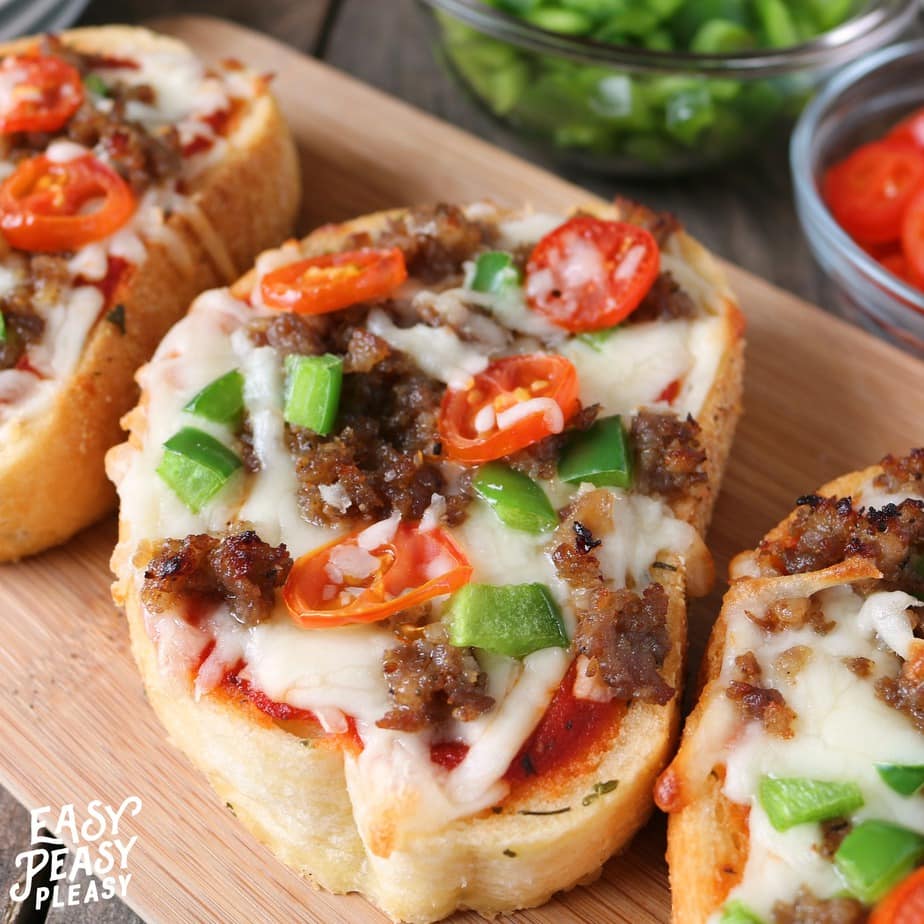 Still if you haven't prepped your ingredients ahead of time, this Texas toast garlic bread pizza will only take about 20 minutes. Cook the sausage. While the sausage cooks, chop the veggies and pre-bake the Texas toast. Less than 10 minutes and those steps are done. Top toast with your toppings and finish baking for 5 more minutes. Dinner done. But…
No Prep Time
Sometimes there's no time to cook meat. If you're in a pinch and time is of the essence, skip cooking the meat and use ham or pepperoni. You can have the pizzas ready in about 15 minutes using just pepperoni and cheese or ham and pineapple. Make sure and chop your veggies (if you want the veggies) during the 5 minute pre-bake. Add your toppings and finish baking. Less than 15 minutes and dinner is done.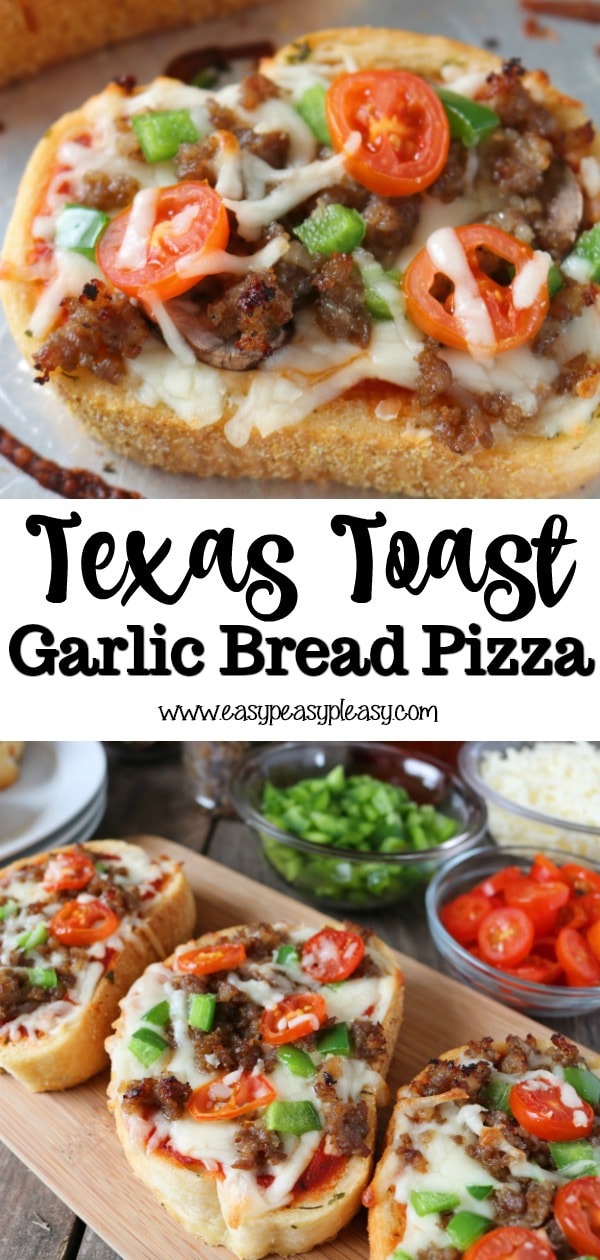 The sky is the limit when making Texas toast garlic bread pizza. You can lay out the toppings and let your family add their favorites then pop in the oven to heat and melt the cheese. It's all about what your family likes on a pizza and how much time you have.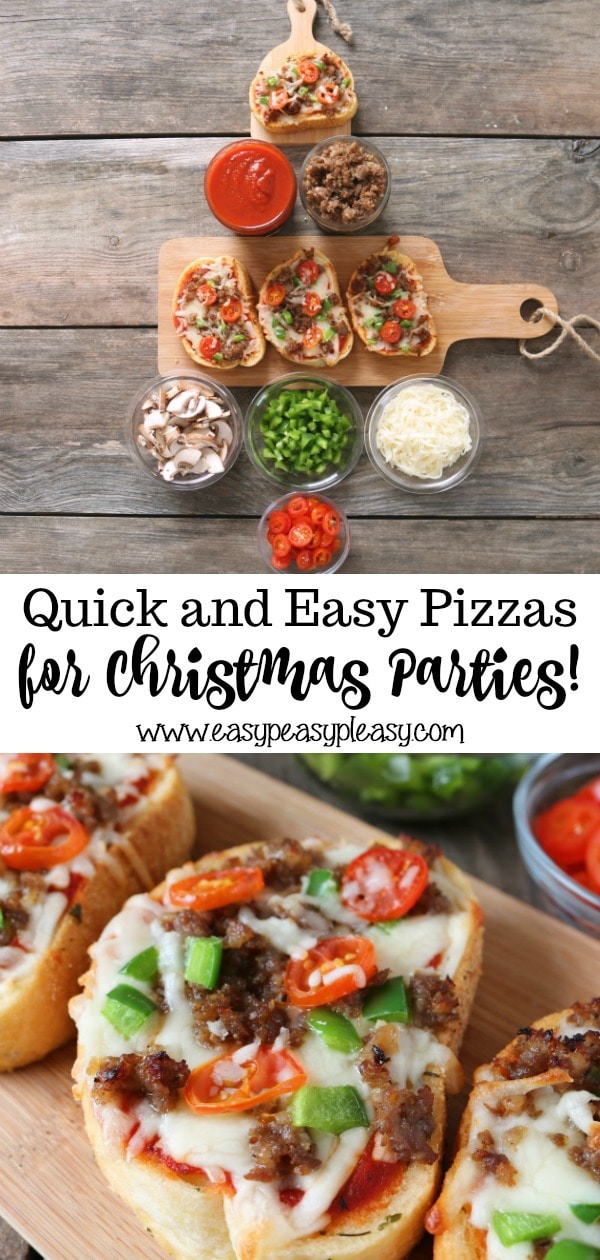 This recipe works equally well for an impromptu get together or even a planned get together with family or friends. I love doing this around the holidays. Pre-bake the garlic toast for 5 minutes. Lay out all the toppings then let everyone assemble their own pizza. Place on a baking sheet and pop in the oven for 5 minutes…voila! Crowd pleasing food is ready. Let's not forget to mention how easy it was to prep the ingredients for this gathering….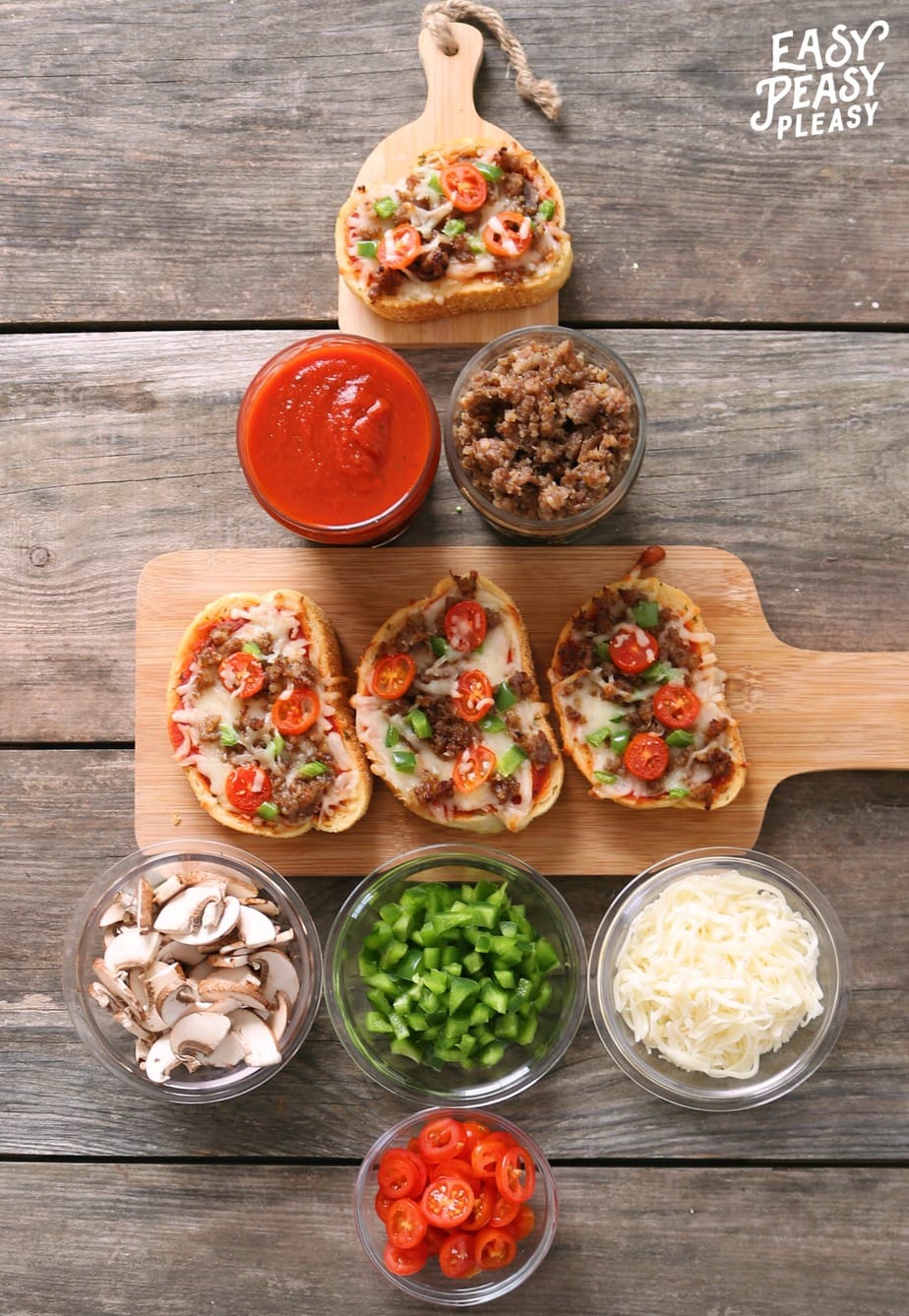 If you chop your veggies and cook any meats you want as toppings ahead of time, you get more time to hang out with your family and friends. Plus everyone can tailor their personal pizzas to what they like.
Looking for other yummy pizza ideas? Try this Ultimate Sheet Pan Taco Pizza or this BBQ Chicken Pizza.
I'm giving you the directions for the personal pizzas you see pictured. Feel free to customize to what you like. Don't forget to Pin this recipe idea for later.
Texas Toast Garlic Bread Pizza
Servings: 8
Difficulty: easy
Ingredients
Texas Toast Garlic Bread, servings 8
pizza sauce
shredded mozzarella cheese
cooked sausage
chopped bell pepper
chopped onion
sliced grape tomatoes
Optional topping ideas
pepperoni
ham
pineapple
mushrooms
other favorite pizza toppings
Directions
Preheat oven to 425 degrees. Place Texas Toast Garlic Bread on a baking sheet in a single layer. Once oven is preheated, bake garlic bread for 5 minutes. While oven preheats and bread bakes, cook sausage until done and chop your veggies. Pull garlic bread from oven and add your favorite toppings. Sprinkle with shredded mozzarella cheese and bake for and additional 5 minutes or until cheese is melted. Eat and Enjoy!
www.easypeasypleasy.com
Subscribe to Blog via Email