Hey y'all! Have I got a recipe you will love. These Green Chili Chicken Enchiladas will have your family and friends begging for more! Y'all this dish is perfect as a freezer meal to help tame those busy weeknights. It's perfect to make ahead and bake for a potluck. It's even more perfect because a rotisserie chicken works great and takes the time and extra cooking out of the meal.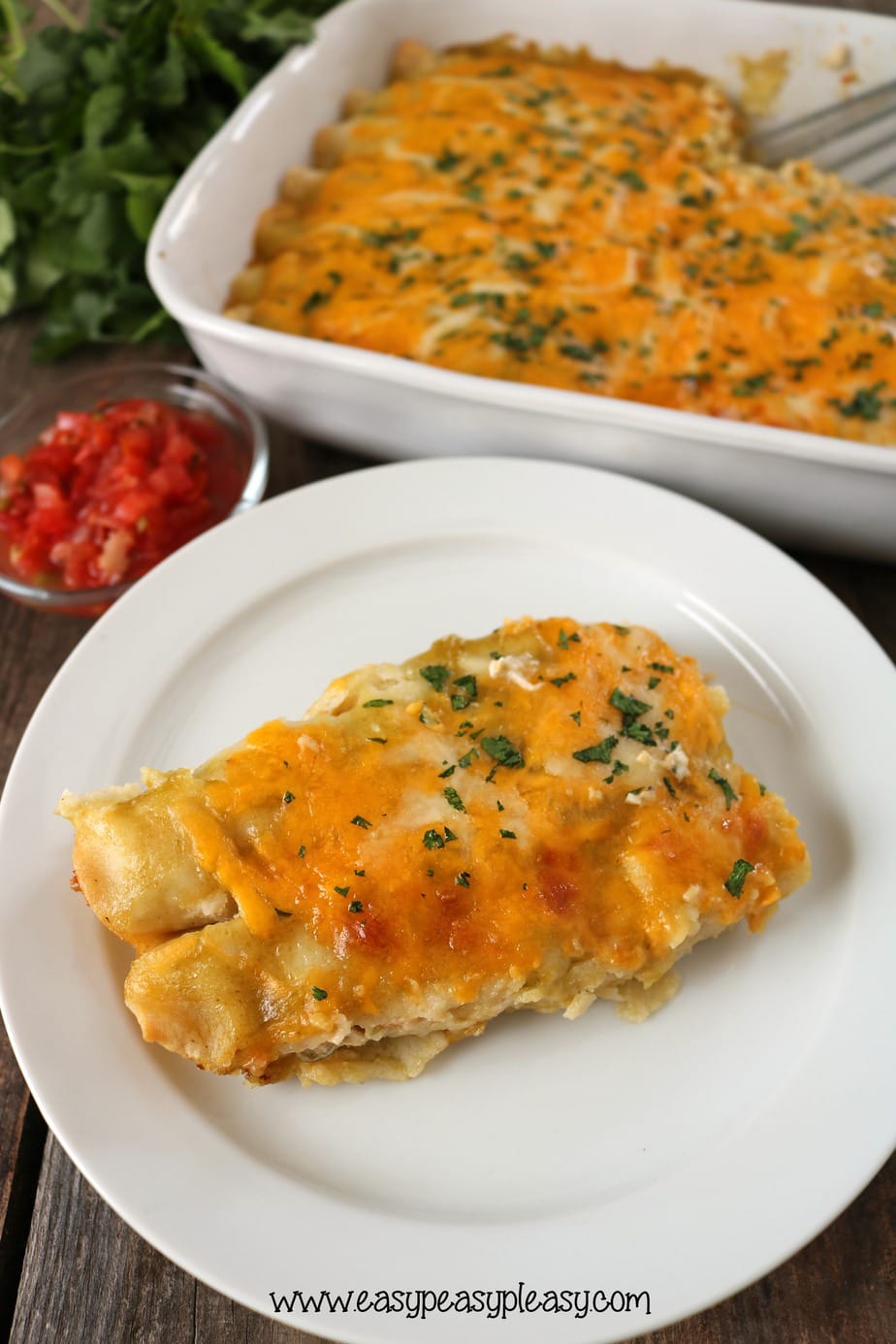 This easy cheesy Green Chili Chicken Enchiladas Casserole is so delicious, even the leftovers will be gobbled up.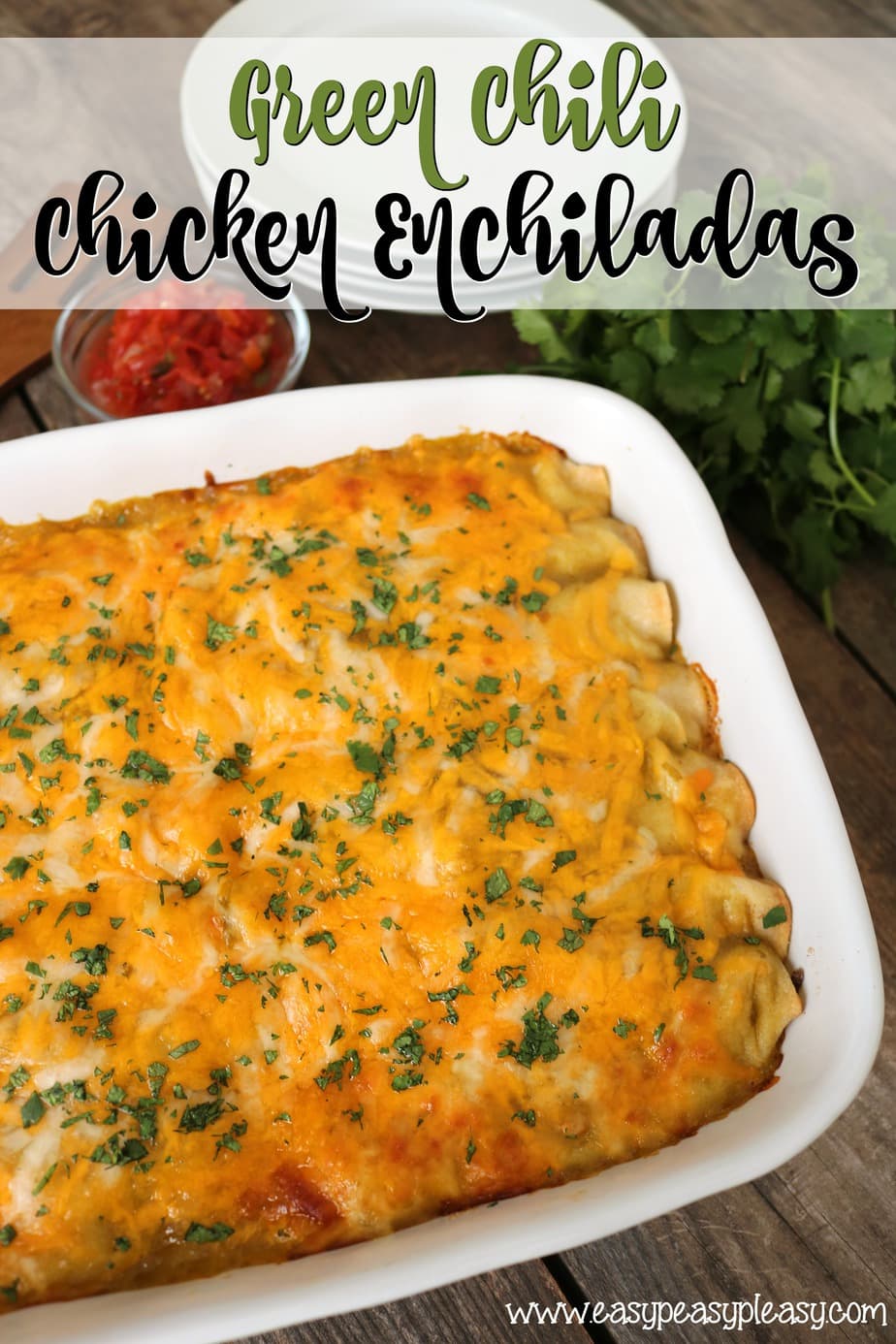 You might have some leftovers but they won't last long. This is a recipe where the casserole dish looks licked clean with my family and friends.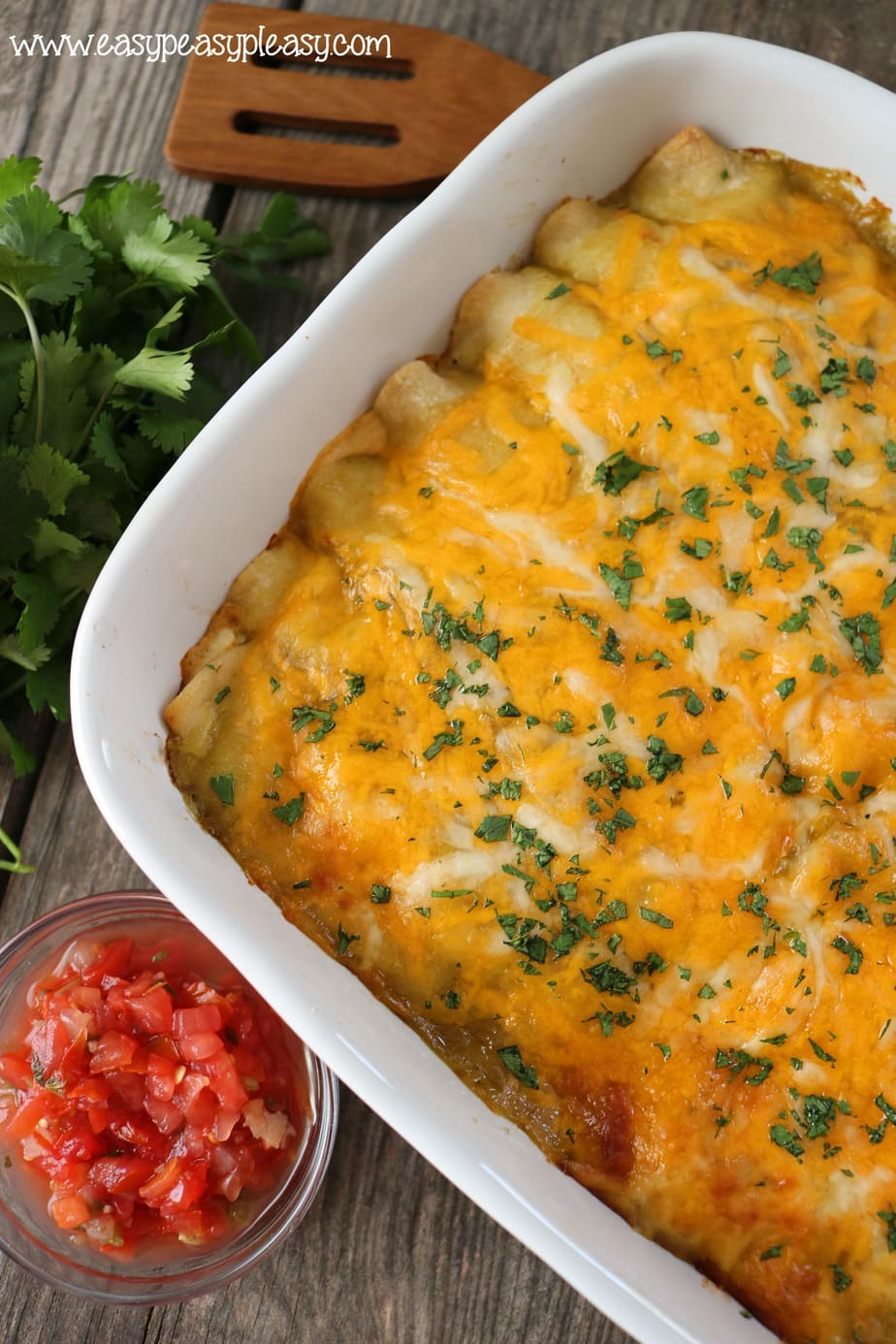 If you know me, you know I live and die by a rotisserie chicken. I purchase at least one a week. This is one of those recipes I love to use that chicken. But, did know you can totally skip the chicken and make this dish vegetarian? Well you can. No chicken required equals Green Chili Enchiladas. Guess what? That are just as good! The cheesy filling is the key.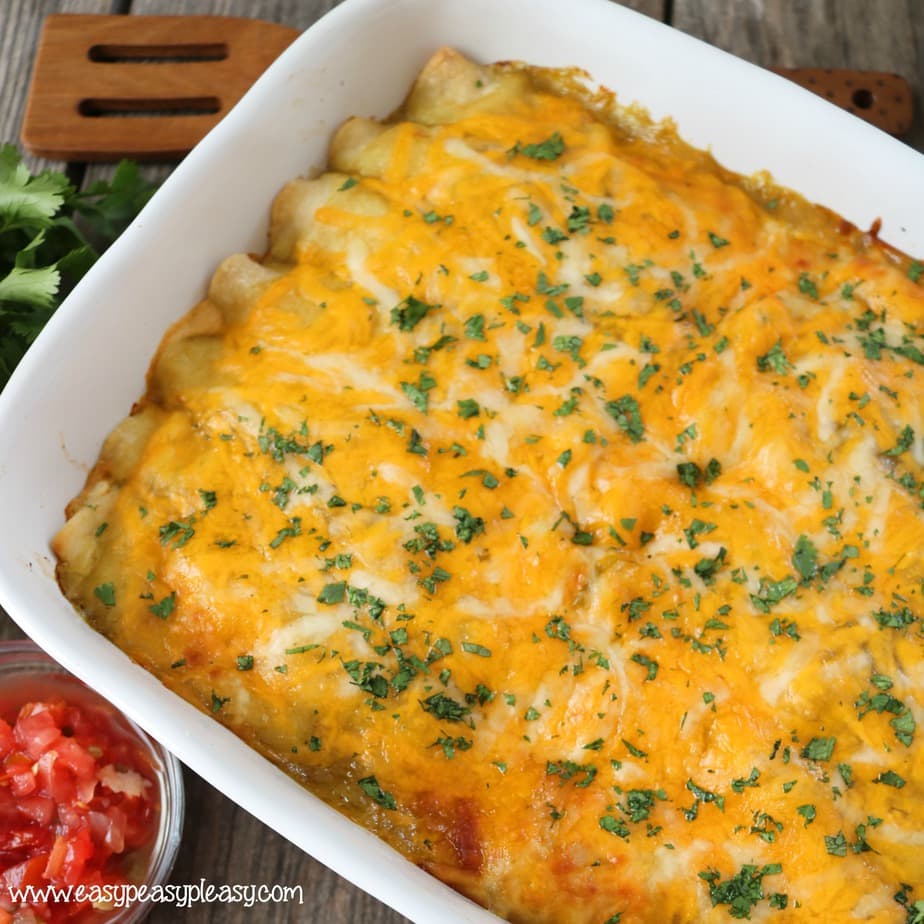 Lacie's Easy Peasy Pleasy Tips
My favorite use for this recipe is to mix up the whole batch, then fill the corn tortillas and place half in a casserole dish for tonight and half in a dish that I can freeze to bake a few weeks later for an easy weeknight meal.
I use an aluminum 8×8 pan or even a glass casserole dish for the freezer.
Use a layer of plastic wrap then a layer of foil to seal before freezing.
Get your paper towels ready early to layer between cooked corn tortillas.
Rotisserie chicken all day with this recipe
Green Chili Chicken Enchiladas
Ingredients
1 whole rotisserie chicken, shredded
2 cups shredded cheese, divided
2 cans diced green chilis
1 onion, diced
2 cloves garlic, finely chopped
2 teaspoons cumin
1/2 cup sour cream
1 pkg cream cheese, softened
salt & pepper to taste
1 can green chili enchilada sauce
oil
14 to 18 corn tortillas
cilantro, jalapenos, or pico for toppings, optional
Directions
Pre-heat oven to 400 degrees. In a bowl combine shredded chicken, 1 cup of shredded cheese, green chilis, onion, garlic, cumin, sour cream, cream cheese, salt, and pepper.
Heat oil in a small pan over medium heat. Add 1 tortilla turning until softened (this happens quick) and drain on paper towel. Spoon chicken mixture onto tortilla and roll up, placing seam side down in a baking dish. Continue assembling until all of the chicken mixture is gone. Pour green chili enchilada sauce over the top and sprinkle with the remaining cup of shredded cheese. Bake 20 mins or until golden. Top with cilantro, jalapenos, or pico. Eat and enjoy!
www.easypeasypleasy.com
Go ahead and give these Green Chili Chicken Enchiladas a try! I promise, you will love them!
If you love Mexican food like me then you should check out my Mexican Brown Rice Cantina Bowl
or my Ultimate Sheet Pan Taco Pizza.
Subscribe to Blog via Email