I am a very busy momma right now! With school starting, pee-wee football, and PTO….I need some super easy dishes to get on the table in no time. This dish is one of my all time favorites! The alfredo sauce is super simple and taste fabulous over these four cheese stuffed shells. There is some prep work involved but the best part…this recipe is a perfect addition to your freezer meals! Who couldn't take a little help from a homemade meal straight from your own freezer?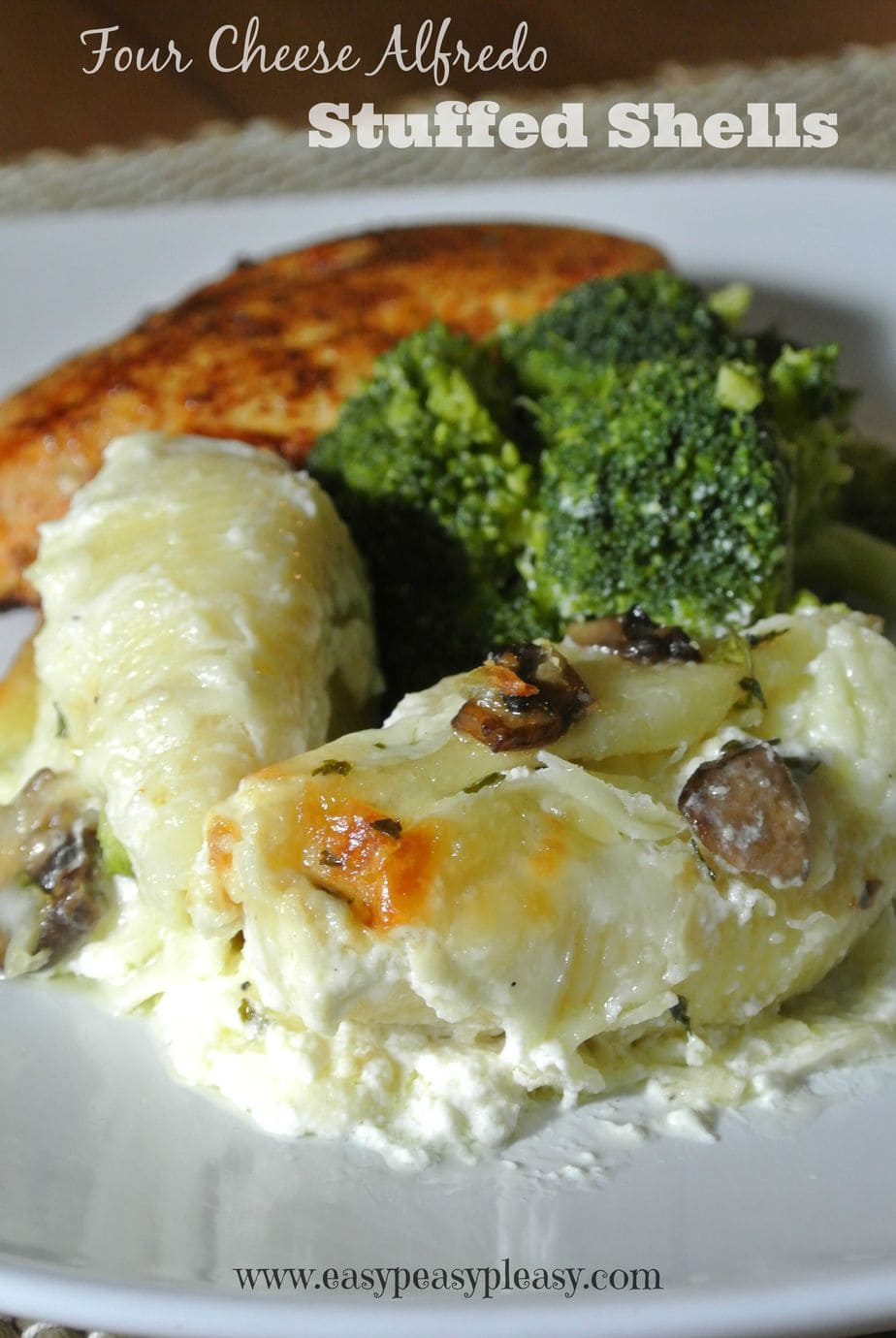 When I feel like I'm getting bogged down with too many projects, I love not having to think very hard about what's for dinner. A nice stash of dishes in the deep freezer are calling my name and just begging to come out. Now, that is one kind of begging I can get behind. This dish is by no means low fat, but boy is it ever so delicious. Really who needs to worry about the calories…we are all running around like crazy with all our activities that we will burn those calories off in no time.

Four Cheese Alfredo Stuffed Shells
Servings: 4-8
Difficulty: easy
Ingredients
24 jumbo pasta shells
15 ounces ricotta cheese
1 cup shredded Parmesan cheese
1 teaspoon garlic powder
6 slices provolone cheese
2 tablespoons olive oil
8 oz sliced portobello mushrooms
1 teaspoon chopped garlic
chopped fresh parsley
Alfredo Sauce
1 stick butter
2 cups heavy cream
1 cup shredded Parmesan cheese
1 cup shredded mozzarella cheese, divided
1/2 teaspoon garlic salt
1/4 teaspoon pepper
Directions
Heat oven to 350 degrees. Spray a 9×13 baking dish with non-stick spray. Bring water to a boil and cook Jumbo Shells according to package directions. In the meantime, heat olive oil over medium heat in a skillet and saute mushrooms for 5 minutes. Add chopped garlic and saute an additional 2 minutes. Set aside. In a large bowl, mix ricotta, 1 cup Parmesan cheese, and garlic powder. Add 1/2 of the mushrooms to the cheese mixture. Stuff each shell with a heaping tablespoon of cheese mixture. Place evenly in baking dish. Layer Provolone slices evenly over the shells. In a medium sauce pan melt butter, then add cream, garlic salt, and pepper. Stir until hot and add 1 cup Parmesan cheese and 1/2 cup mozzarella cheese. Stir until smooth and remove from heat. Pour Alfredo sauce over the shells. Top with remaining mushrooms, mozzarella cheese, and parsley. Bake for 30 minutes or until cheese is golden and bubbly.
Freezer meal tip…Use two 8×8 pans and divide the stuffed shells and sauce evenly between both. Before the baking step, let all ingredients cool. Cover tightly and freeze. You can always double the recipe and freeze one 9×13 and cook the other.
easypeasypleasy.com
I love this recipe with grilled blackened chicken and a good green veggie for a side. See, if you keep the other parts of the meal super lean the whole meal won't be so fattening. When I want to make more of a meal out of the pasta shells, I add shredded rotisserie chicken to the cheese mixture. Also, for you folks out there who don't like mushrooms, you can totally omit them altogether.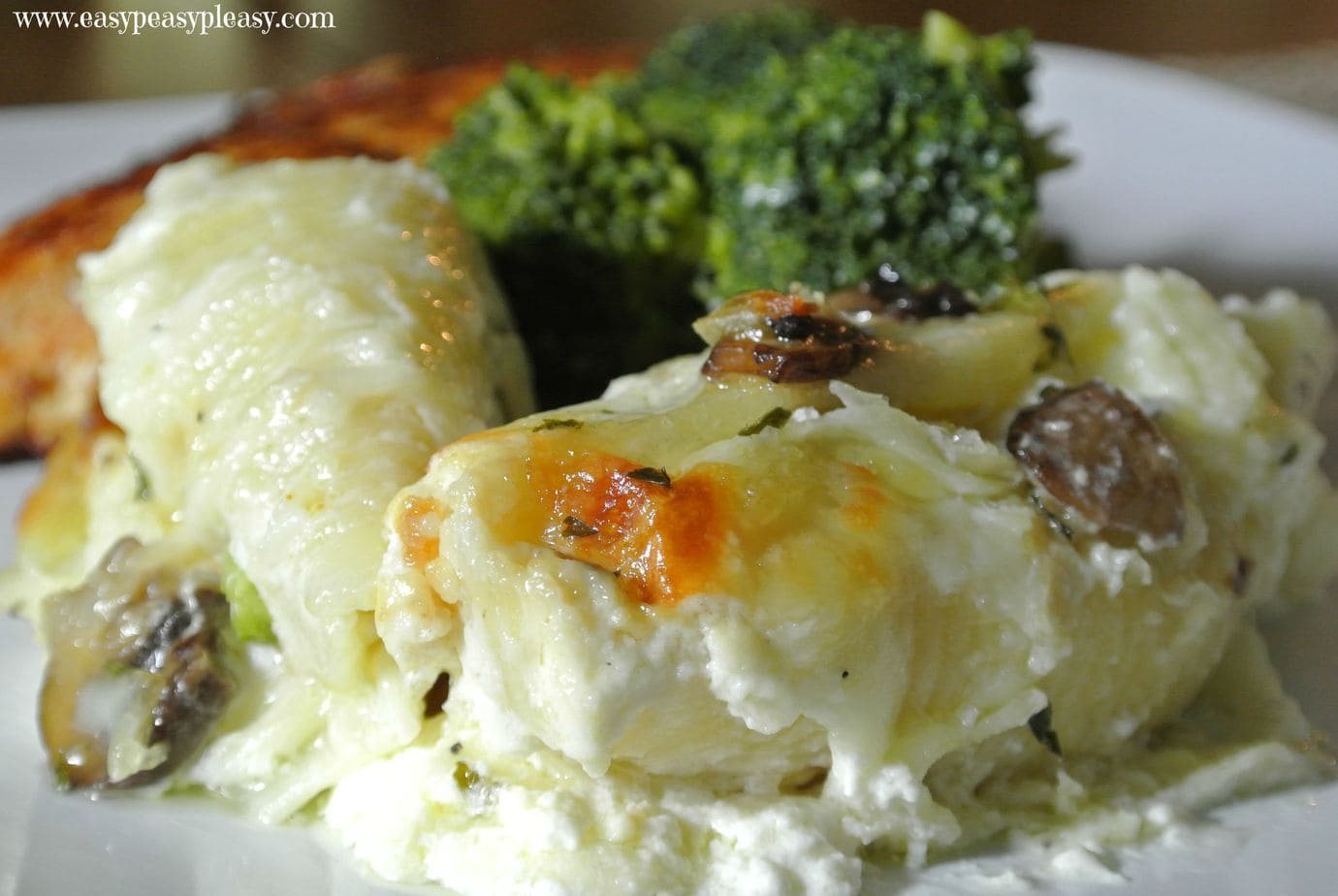 You will love this recipe, I promise! You don't have to take my word for it…get in the kitchen and give it a try. Looking for more easy recipes…sign up with your email address and I'll send them right to your inbox!