This story starts with my granny. The woman meant the world to me in more ways than one. In this particular case her Cornbread Dressing reigns supreme. This dressing is the one food that stood out to me, right behind the fried sweet potatoes, in all my childhood years during the holidays.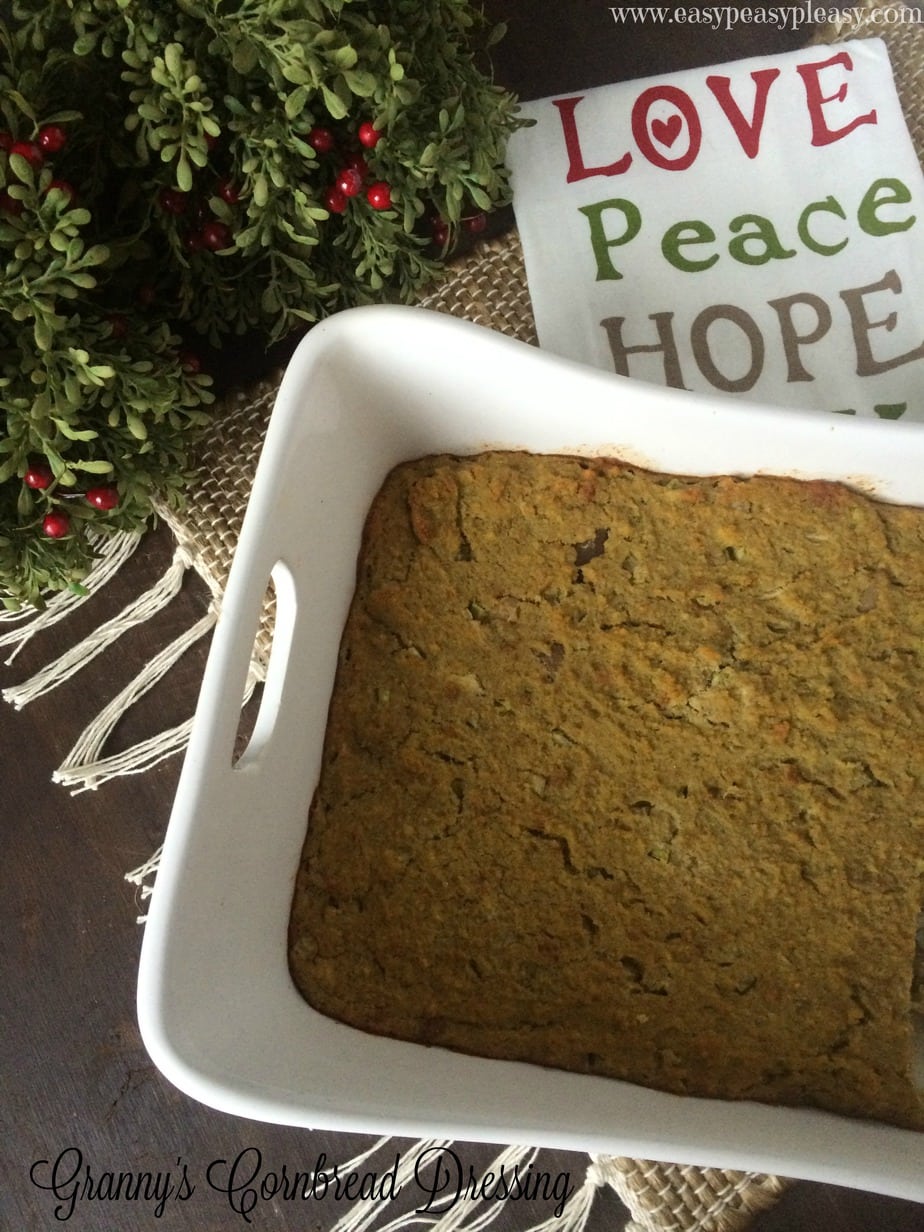 When my husband asked me to marry him which included moving across the world to Germany for 3 whole years, one of the biggest things I knew I would miss was holidays with my family. My granny's dressing was a # 1 must have on my recipe list to take along for the journey. It's the one thing I knew I couldn't live without and at the same time would give me that feeling of home even though I was so far away. Mind you, at the time I was only 20 yrs old and hadn't cooked much of anything elaborate, ramen noodles being a college student's staple. She wrote the recipe down on the little scratch pad she could find just days before we were to fly away. She said it would make enough for us and a few friends. The first few years I was nervous it wouldn't turn out as good but it has never failed me.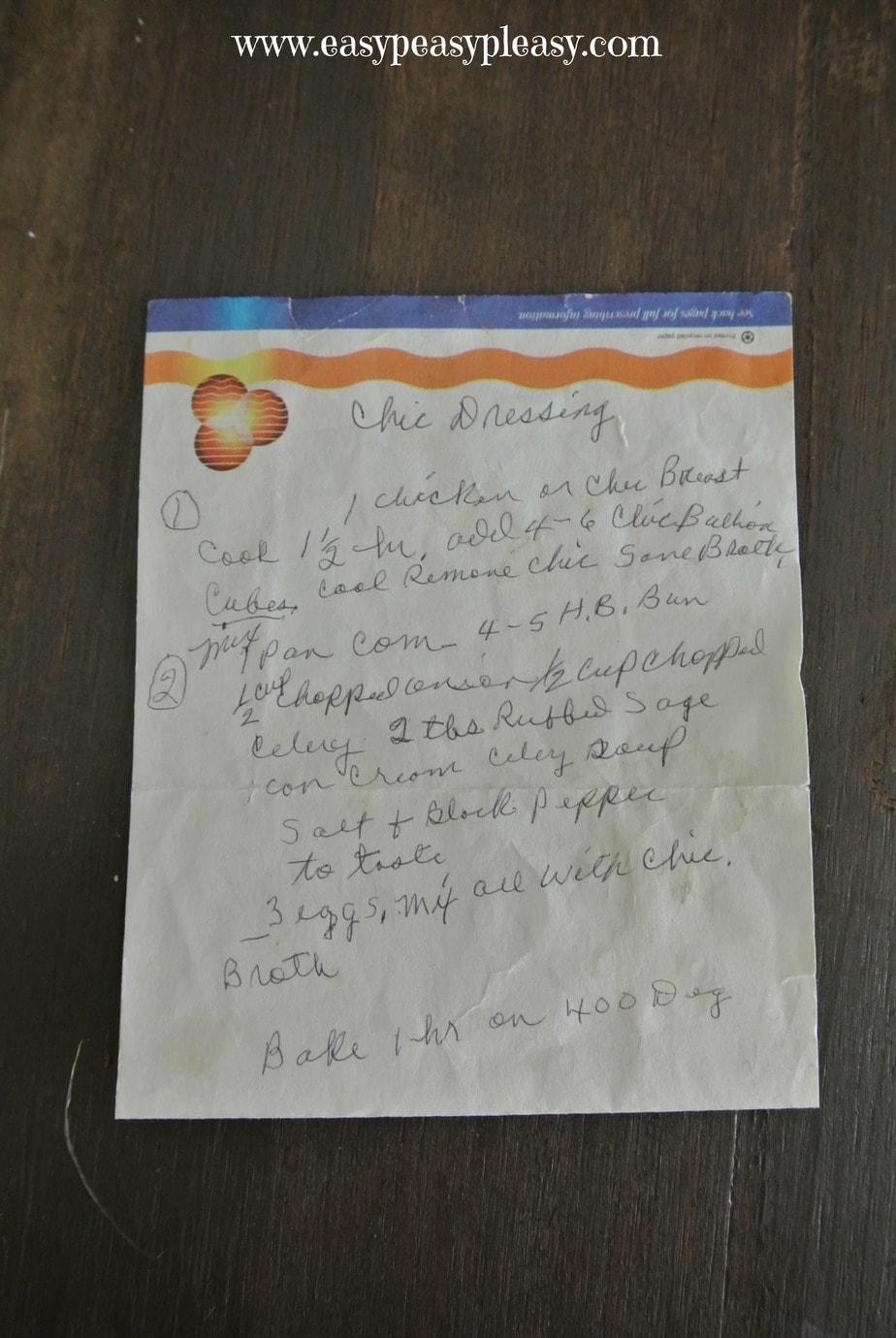 As you can see, I still have that piece of paper. Even though my granny is gone she is never forgotten and that dressing recipe on that scratch piece of paper will always stay near and dear to my heart and always hold a spot in my recipe book. I have modified a few items over the years. One was to double the recipe to feed more people. Another was to use a rotisserie chicken to save myself some work.
Let me back up just a little and tell you a story that my mom will probably want to kick my butt over. What's a girl to do with such a funny story?…Obviously, fill in everyone on the hilarious details. As you know by now, my granny's dressing is the bomb diggity! Love Love Love it! One time when I was a child, my granny made a ton of dressing as usual for Thanksgiving but this time, while she mixed it up she decided to poor some in ziploc bags and freeze it. The reason she froze part of the non baked dressing was to send it home with me for my mom to bake on Christmas. (my mom's dressing never compared to my granny's dressing! sorry mom!) All my mom would have to do is thaw it, pour it in a pan, and bake. Picture this….it's Christmas day and my mom has been slaving away in the kitchen. It's finally time to eat and we all dive in. I fill my plate and I'm especially excited about the dressing. Stick my fork in, take a bite, and dun dun dun…I'm immediately disappointed. This was not my granny's dressing. I'll have you know that my mom didn't think there would be enough dressing to feed everyone so she "decided" to add a box of Stovetop to my granny's heavenly, oh so good dressing then baked it. What in the world was she thinking?! Needless to say, all my dressing dreams were crushed. Being a child, I thought it was the end of the world and I may have even had a meltdown. I was so dramatic. The funny thing…I was going to my granny's house the very next day and would have her delicious cornbread dressing and all would be right with the world again. My mother has since adopted my granny's dressing recipe and she will never live down the dressing debacle of my childhood.

Granny's Cornbread Dressing
Ingredients
1 whole Rotisserie Chicken
2 pans of cornbread, prepared according to package directions
6 large hamburger buns
1 cup onion, diced
1 cup celery, diced
.6 oz container, ground sage
2 cans cream of celery soup
48 oz chicken broth
salt and pepper
6 eggs
Directions
Bake cornbread according to package directions or use your own cornbread recipe. The cornbread and buns can sit out for a couple days before preparing. Crumble cornbread into a really large bowl. Run the buns through a food processor until you have fine bread crumbs.  Mix the bread crumbs and cornbread until well combined. Add your onions, celery, ground sage, cream of celery soup, and salt & pepper to taste. Add chicken broth and stir until everything is well combined. Last chance to take a taste…so take a little taste and make sure all seasonings are right. Finally, add your eggs. Your dressing should be a very wet in consistency but not soupy. It should have movement when you shake the bowl. Spray a large roasting pan with non stick spray. Pour mixture in the pan and bake uncovered at 400 degrees for 1 hour or until dressing is set and golden brown.
easypeasypleasy.com
If you are nervous about the amount of sage, give the dressing a little taste. I would always walk away for a bit and come back and smell the dressing. If I could smell the sage then I knew it was the right amount. I've made this dressing so many times over the years that I don't even have to question the amount of sage anymore.
This dressing recipe will feed a crowd and even leave you some leftovers. You could easily cut this recipe in half. Another thing I have learned over time is that the dressing will hold it's heat. If you need to make room in the oven you can get this started ahead of your other dishes and let it rest on the counter while you are finishing up the meal.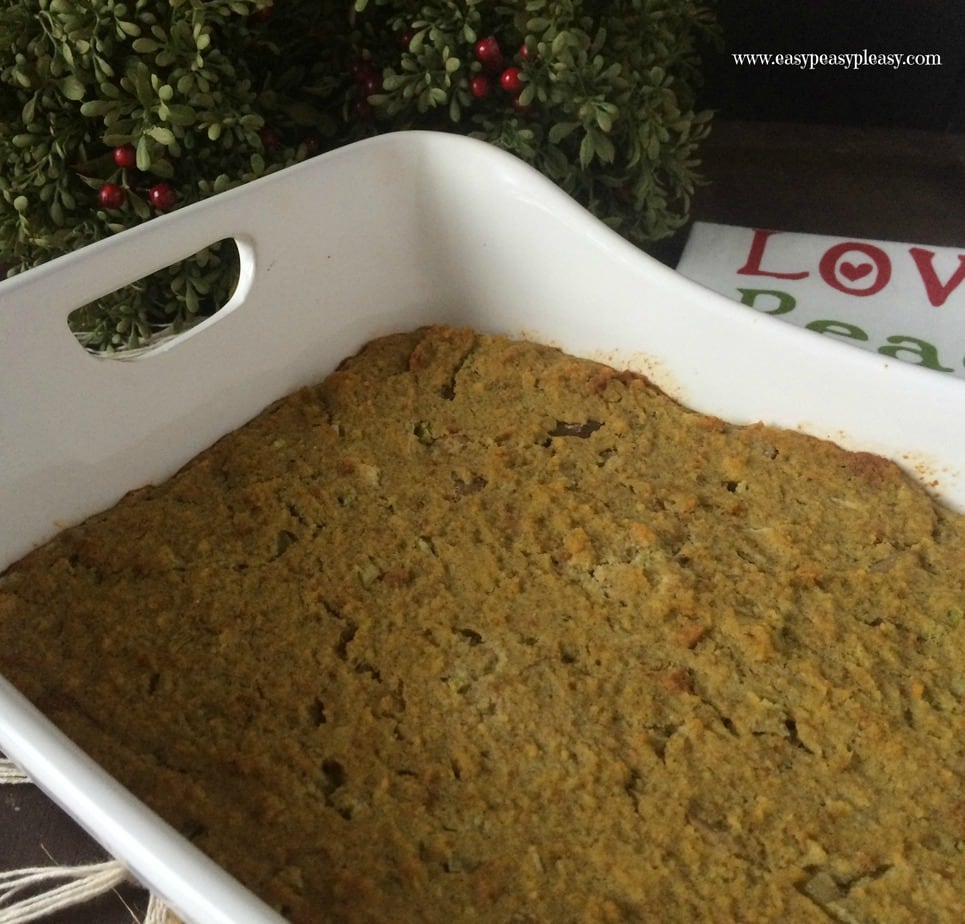 I've really enjoyed reminiscing and sharing my family stories with you! Thank you for letting me do so! If you've never tried a southern dressing, you really should. Granny's Cornbread Dressing is the epitome of southern cornbread dressing. I know you will love it!
Make sure and sign up with your email to get all things Easy Peasy sent right to your inbox. I've got some great holiday recipes coming your way up until Christmas and you won't want to miss a minute!