The countdown is on and Christmas is almost here! With all the hustle and bustle, it seems we just never have enough time. Time isn't an issue with this twist on a classic dessert. There is nothing to making this tart. With only 5 ingredients, this Caramel Apple Streusel Tart comes together super fast.
If you are like me and have no idea how to make a pie crust look pretty then this recipe is one you should try. There is no fluting and no top crust. The streusel topping replaces the top crust and makes this tart look pretty with no effort.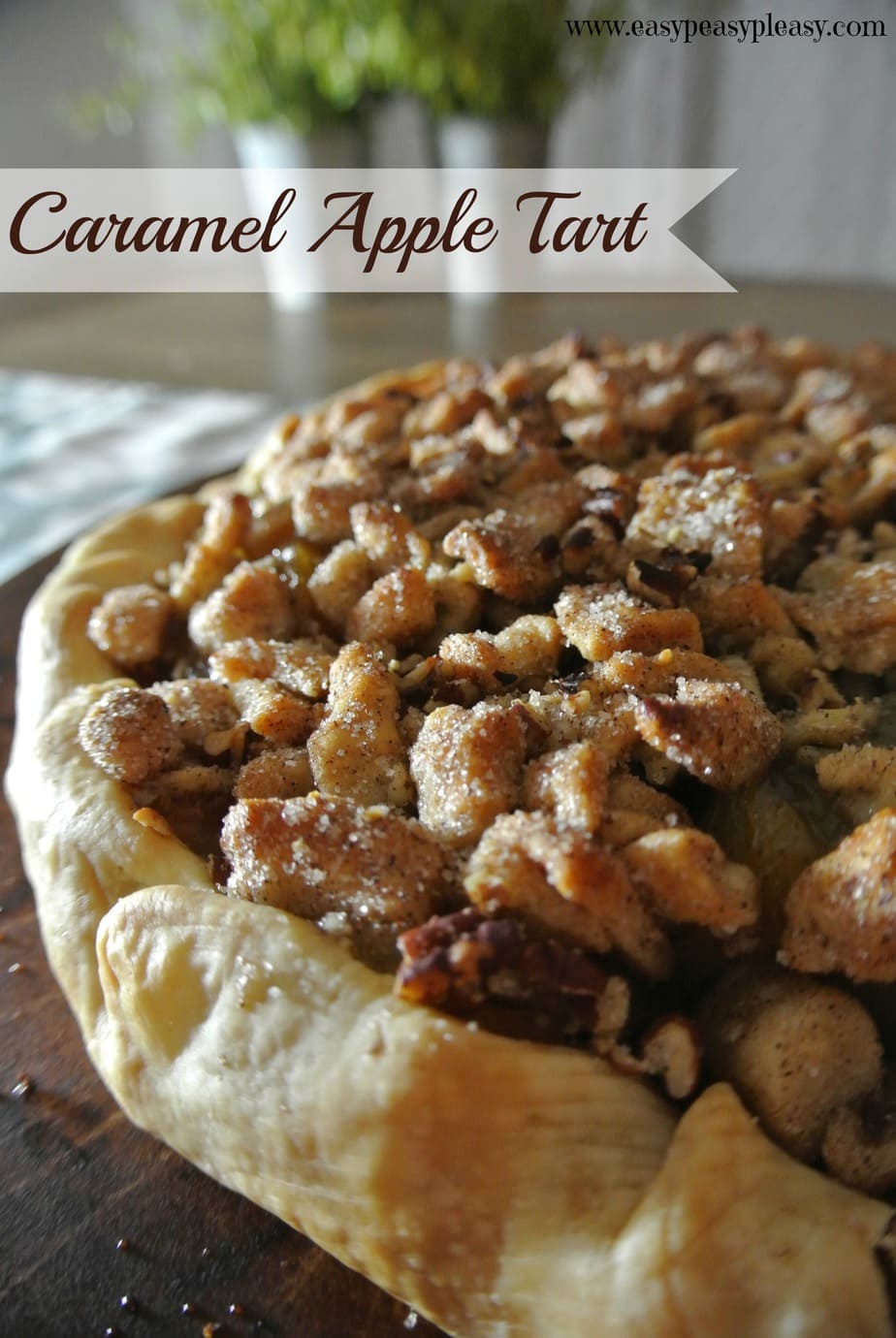 Seriously, if you are running low on time give this tart a try. It has all the taste of an homemade apple pie with less effort and less time.
Caramel Apple Streusel Tart
Ingredients
1 pkg refrigerated pie crust, softened
1/2 cup chopped pecans, divided
2 tablespoons sugar
1/4 teaspoon ground cinnamon
1 (21 ounce) can caramel apple pie filling
Directions
Preheat oven to 400 degrees. Unroll 1 pie crust on a pizza stone. Using a pizza cutter, cut into 1/2 inch pieces. Place in a bowl and set aside. Unroll remaining pie crust on the pizza stone. Roll to within 1 inch of edge of pizza stone. Sprinkle 1/4 cup of chopped pecans evenly over crust. Spoon caramel apple pie filling evenly over the crust to within 1 1/2 inches of edge. Mix the remaining chopped pecans with the sugar and cinnamon. Add the pecan mixture to the cut pie crust and mix well. Sprinkle the streusel mixture over the top of the pie filling. Fold outer edge of pastry up and over the filling to to form a rim. Bake 30-35 minutes or until crust is golden brown. Remove from oven. Serve warm and enjoy!
easypeasypleasy.com
You can add a scoop of vanilla ice cream to take this Caramel Apple Streusel Tart over the top!
You should give this easy 5 Ingredient Caramel Apple Streusel Tart a try. It's just as good as a homemade Apple Pie.
If you are in need of more pie recipes you can find my Easy No Bake Make Ahead Peanut Butter Pie here. I have a Caramel Pecan Cheesecake Pie here, that is the best of both worlds…Cheesecake plus Pecan Pie equals deliciousness!
Don't want to miss out on any Easy Peasy Pleasy posts? Sign up with your email to never miss a thing! You can also follow along on my favorite social media by clicking the icons below. I've got more Easy Peasy ideas coming your way soon!