Hi All!! I hope you all had a wonderful Christmas! I am about to begin the process of changing my blog from one platform to another. I'm nervous about the change so let's keep our fingers crossed that the switch over goes smoothly. I've got my email list all ready to go to make sure I don't lose a single follower. If you don't hear from Easy Peasy Pleasy after a week, please let me know. But, before I start this en-devour I want to share a quick and easy recipe. This is the perfect way to use up those holiday leftovers!
After Thanksgiving and Christmas we always have a ton of leftovers…intentionally. One of my favorite ways to use up those leftovers is with these super easy and delicious Ham and Cheddar Melt Rolls.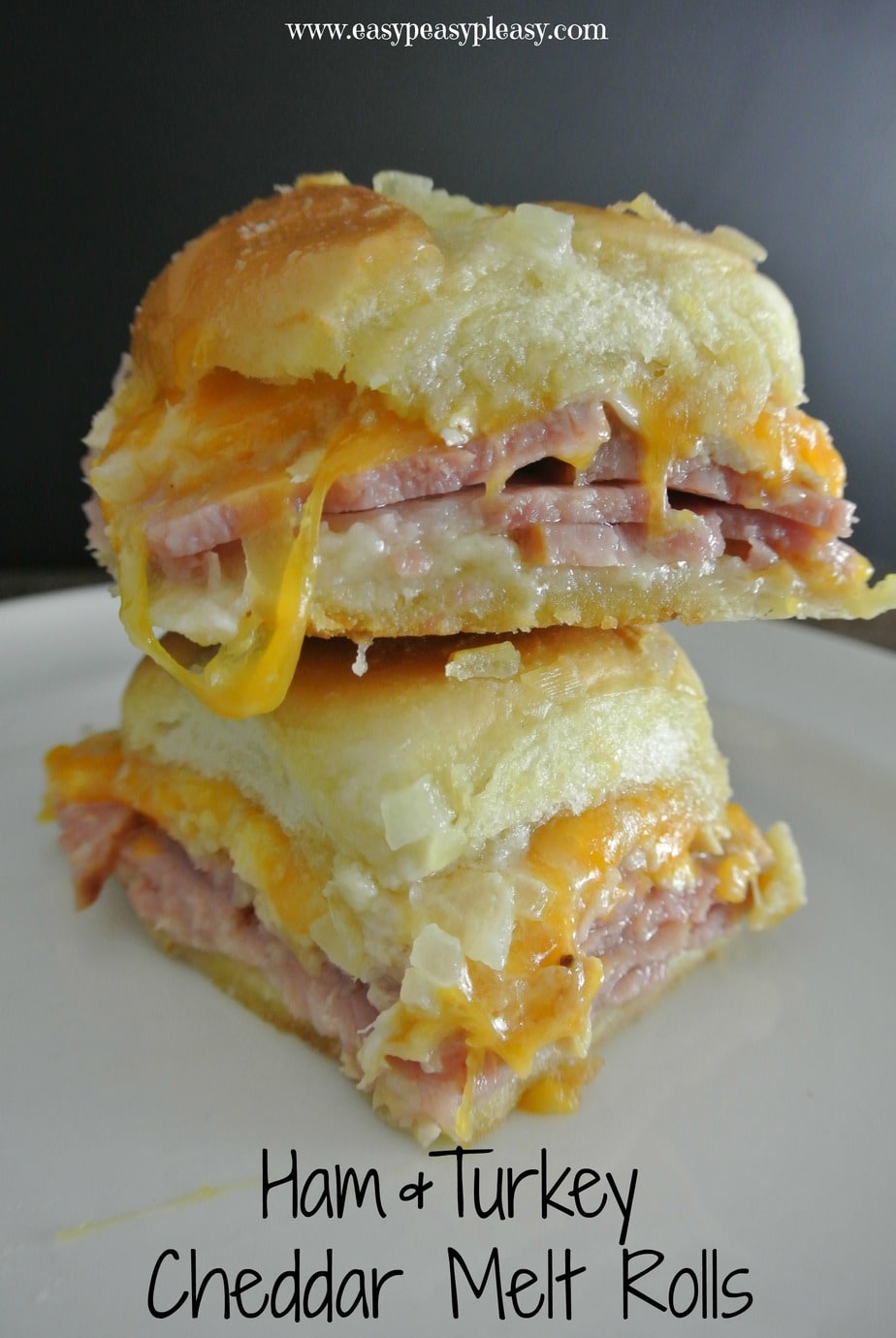 The steps to these rolls are really very simple as you can see in the slideshow below.
This slideshow requires JavaScript.
Don't worry if you need written instructions, I will share a printable recipe below. This recipe is the perfect way to use up those holiday leftovers but you can make them anytime. Sometimes, I buy deli ham and turkey and make these little sandwiches up for an easy weeknight meal. I also love to use these as appetizers for parties.

Ham And Turkey Cheddar Melt Rolls
Ingredients
sliced ham
sliced or shredded turkey
12 rolls
1 cup shredded cheese
1 stick butter
1/2 1 small onion, diced
Directions
Preheat oven to 350 degrees. In a small skillet, melt butter with diced onion on medium heat. Cut rolls in half and place the bottoms in the bottom of a baking dish. Place a layer of ham on top of the roll bottoms. Now place a layer of turkey on top of the ham. Add a layer of shredded cheese evenly over the top of the meat. Top with the roll tops. Give a little push down on the rolls. Take the melted butter and brush all over the rolls. Pour the rest of the butter and onions on top of the rolls. Bake for 20 to 25 mins or until cheese is melted and rolls are golden brown. Eat and Enjoy!
easypeasypleasy.com
Remember you can use up your leftover ham, turkey and rolls from the holidays or if I'm totally honest…we never have enough leftover rolls so I buy a package and hide it just for these Ham and Turkey Cheddar Melt Rolls.
I hope you give these holiday leftover rolls a try. They are delicious! My kiddo devours them. I have to physically stop him from eating the whole pan…lol! I have a great recipe that would be perfect for using up your leftover turkey too. My Rotisserie Chicken Salad Croissant Sandwiches use a rotisserie chicken but the chicken could be easily substituted with turkey.
If you don't want to miss any Easy Peasy ideas that could help make life just a little easier then sign up with your email. You can also follow along on my favorite social media by clicking the icons below.