Y'all this easy 4 ingredient cheeseball pumpkin is the perfect appetizer for Fall! It's my always requested cheeseball recipe turned into a pumpkin just perfect for Halloween and Thanksgiving.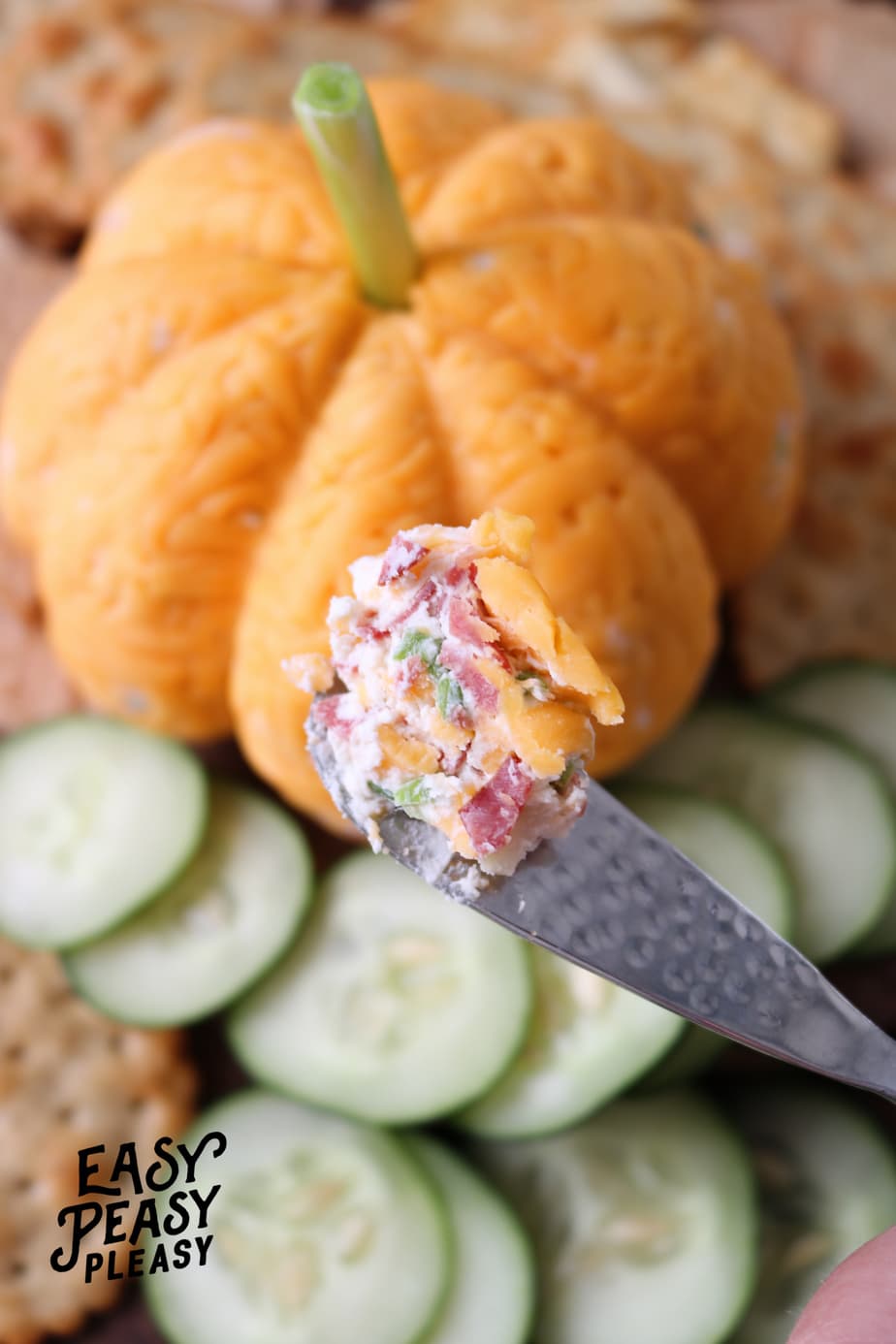 This cheeseball kinda reminds me of Cinderella. You know how her carriage starts off as a pumpkin then turns into a beautiful carriage and at midnight it turns back into a pumpkin? It's basically the same concept except we start with my classic cheeseball then transform it into a pumpkin and back to the classic after Thanksgiving. The Cinderella of a cheeseball.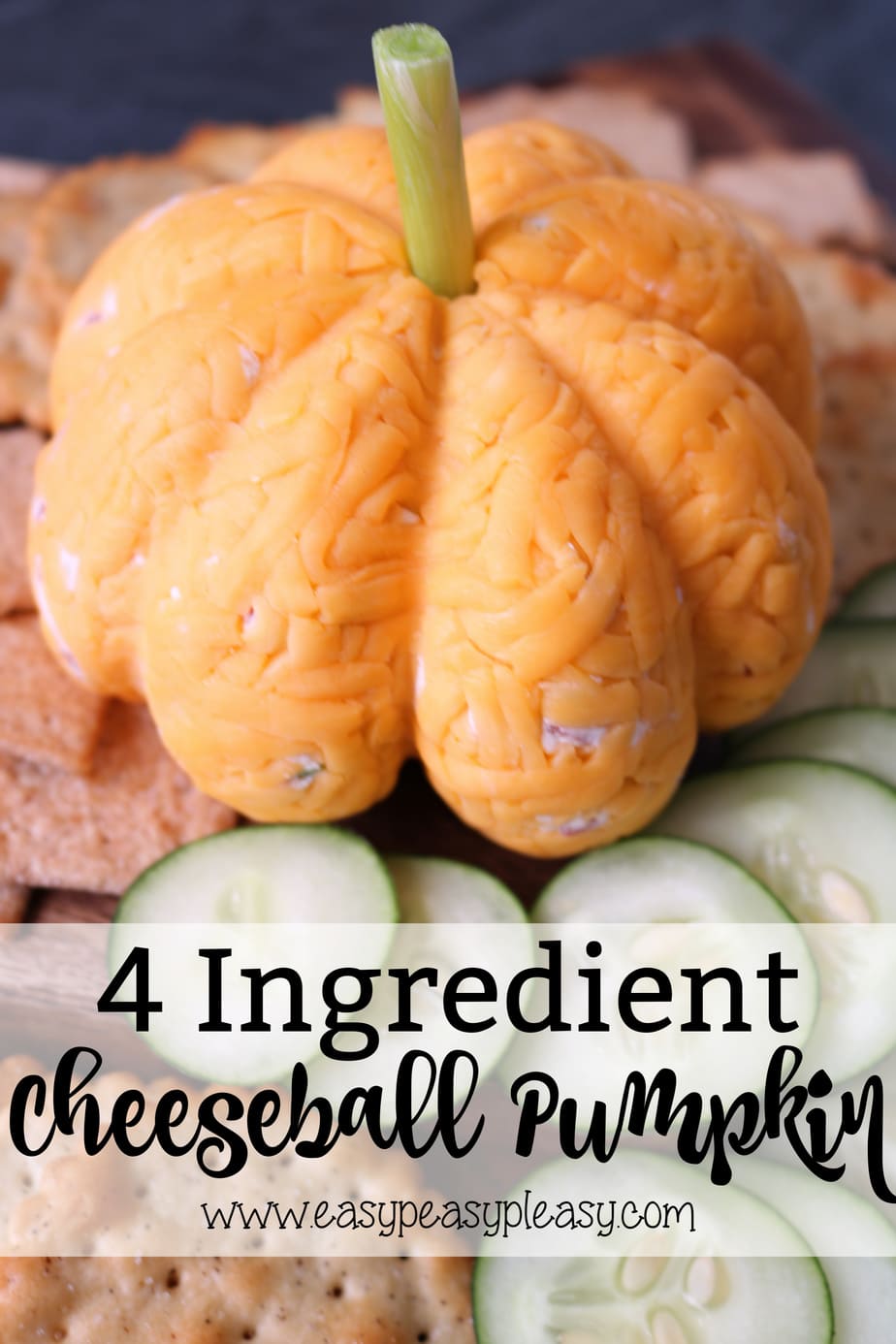 My Classic Cheeseball is one of my most requested foods for any holiday, potluck or gathering. I decided it was high time to make it festive for fall. You need the same 4 ingredients plus a couple supply items to form the pumpkin.
What you need…
Cream cheese
Dried beef
Green onions
Shredded cheddar cheese
Plastic wrap
Rubber bands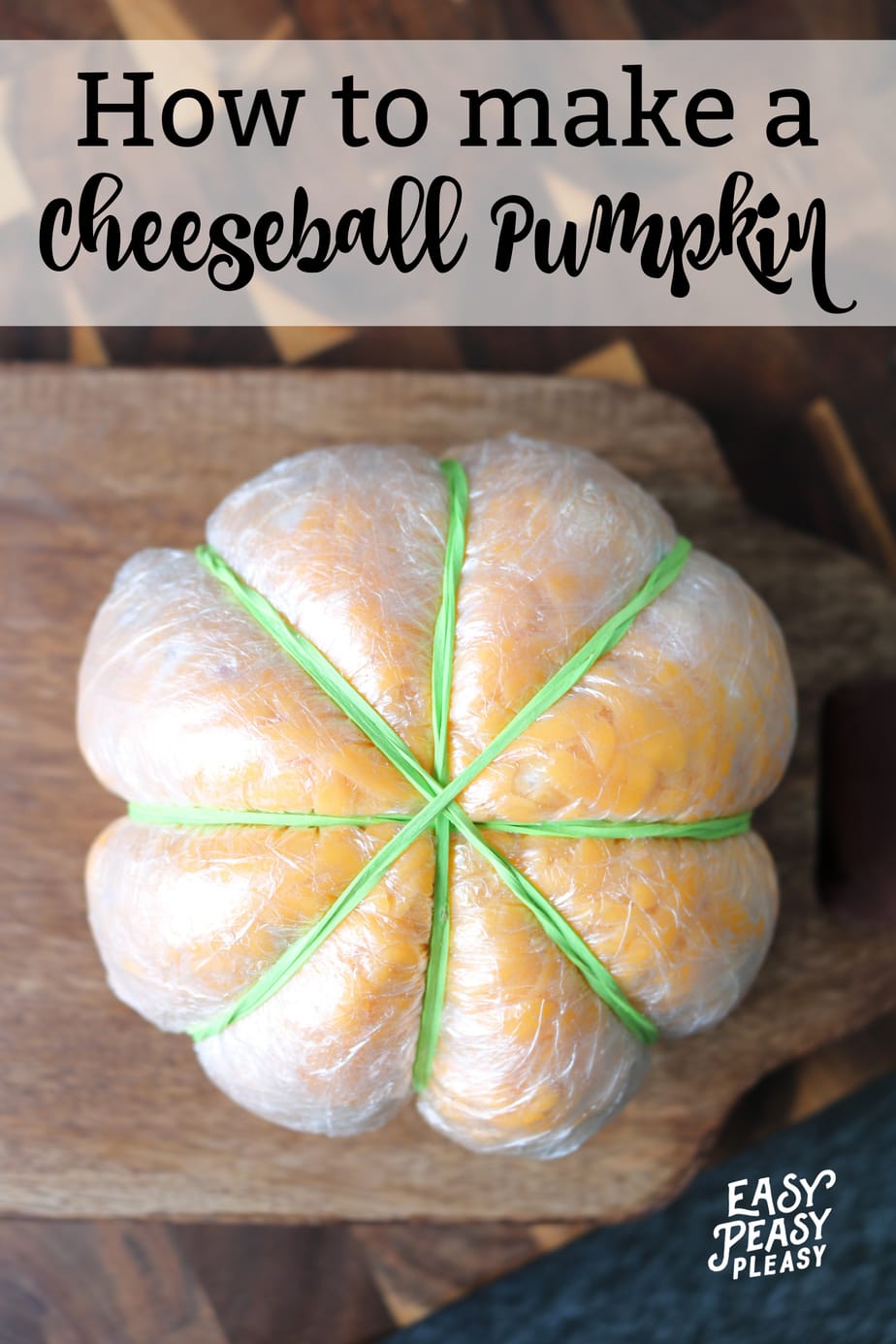 How to make the pumpkin shape…
Mix up cheeseball according to the recipe and form into a ball.
Lay out a large piece of plastic wrap. Place some shredded cheddar in the middle of plastic wrap. Place cheeseball on top of shredded cheese. Use remaining cheese to cover the entire ball, pressing as you go. Tightly wrap up the shredded cheese covered cheeseball with plastic wrap. Once wrapped, apply rubber bands. Double wrap one rubber band in one direction then turn halfway and wrap another rubber band to make a cross. Now wrap the remaining 2 rubber bands diagonally. One to the left and one to the right. Refrigerate for at least an hour or overnight.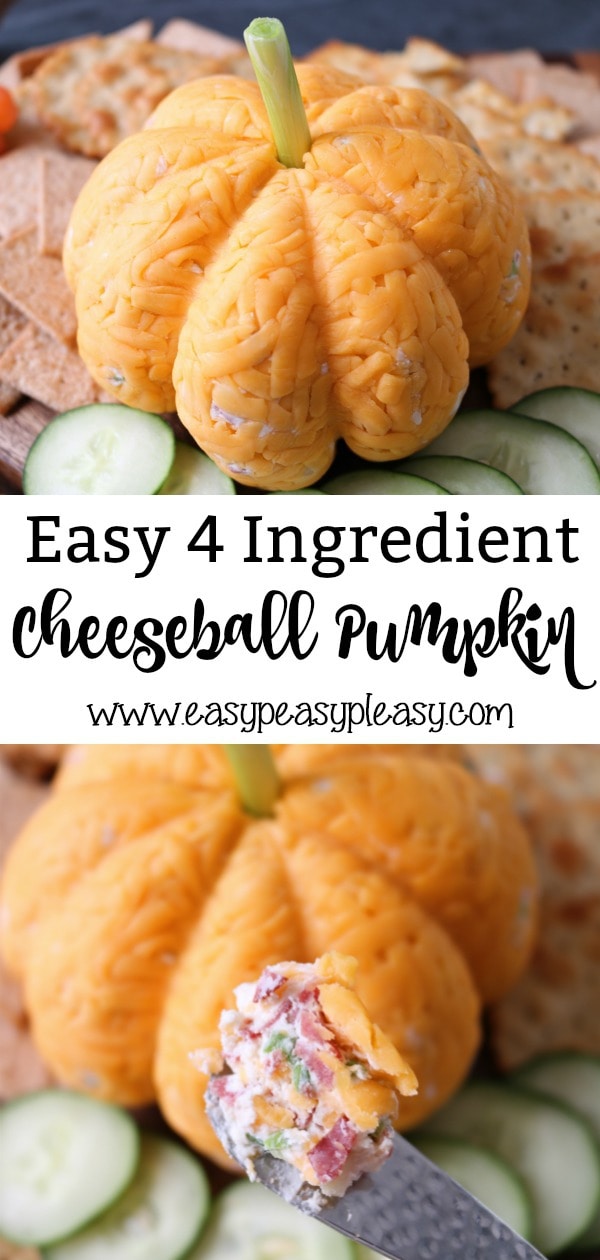 Easy Peasy pleasy tips…
As with most recipes using cream cheese, it needs time to soften. Plan ahead just enough to let the cream cheese come to room temp.
To save on dishes, I usually just mix by hand. But by all means pull out a mixer or throw ingredients in a stand mixer and let the equipment do the work for you
Make sure to save one green onion for the stem.
Large rubber bands need to be double wrapped to make pumpkin indentions.
You can easily double the ingredients to make a bigger cheeseball pumpkin.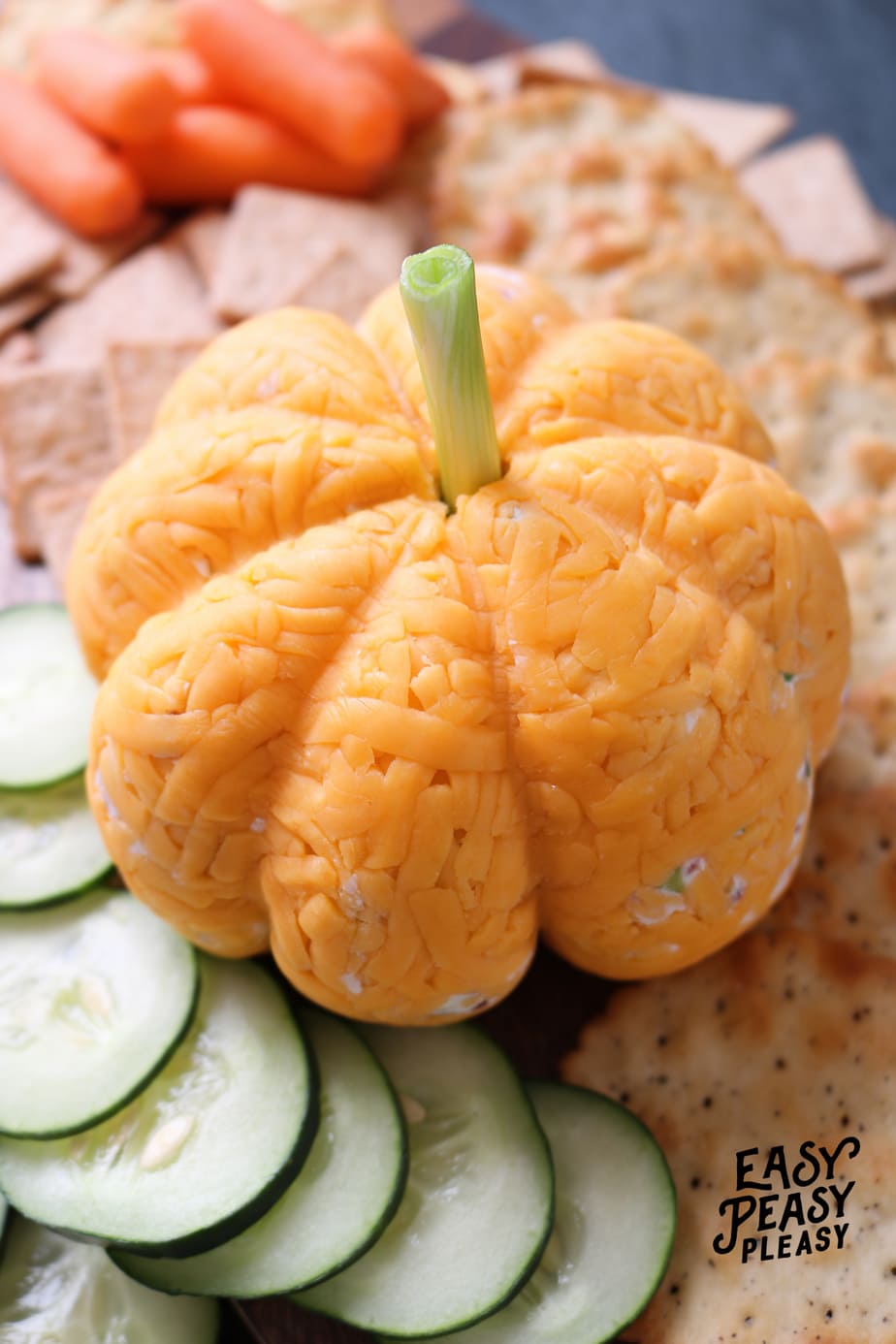 Cheeseball Pumpkin
Ingredients
8 ounces cream cheese
1 2.25 ounce jar dried beef, chopped
1 cup green onions, chopped
2 cups shredded cheddar cheese, divided
1 green onion for stem
Directions
Set cream cheese out to soften. In a large bowl mix dried beef, green onions, and 1 cup of shredded cheese. Add cream cheese and mix until until all ingredients are well combined. Form into a ball.
To make pumpkin
Lay out a large piece of plastic wrap. Sprinkle a handful of remaining cheese on plastic wrap. Place the cheeseball on top of cheese. Use the remaining cheese to cover the outside of the cheeseball, pressing in the cheese as you go. Once cheeseball is completely covered with shredded cheese, wrap up tightly with plastic wrap.
Place 4 rubber bands in alternating positions around the cheeseball. Let cheeseball firm up for at least one hour to overnight. Remove rubber bands and plastic wrap. Cut off root end and part of green top of a green onion, leaving about 3 inches. Stick in top of cheeseball to make the stem. Serve with crackers and veggies. Eat and enjoy!
www.easypeasypleasy.com
Subscribe to Blog via Email