My family loves peanut butter balls and we love us some football. It seems only fitting to combine the two for Super Bowl Sunday. I take my classic peanut butter balls recipe and add 2 simple steps to make the football fan in you cheer. Check it out!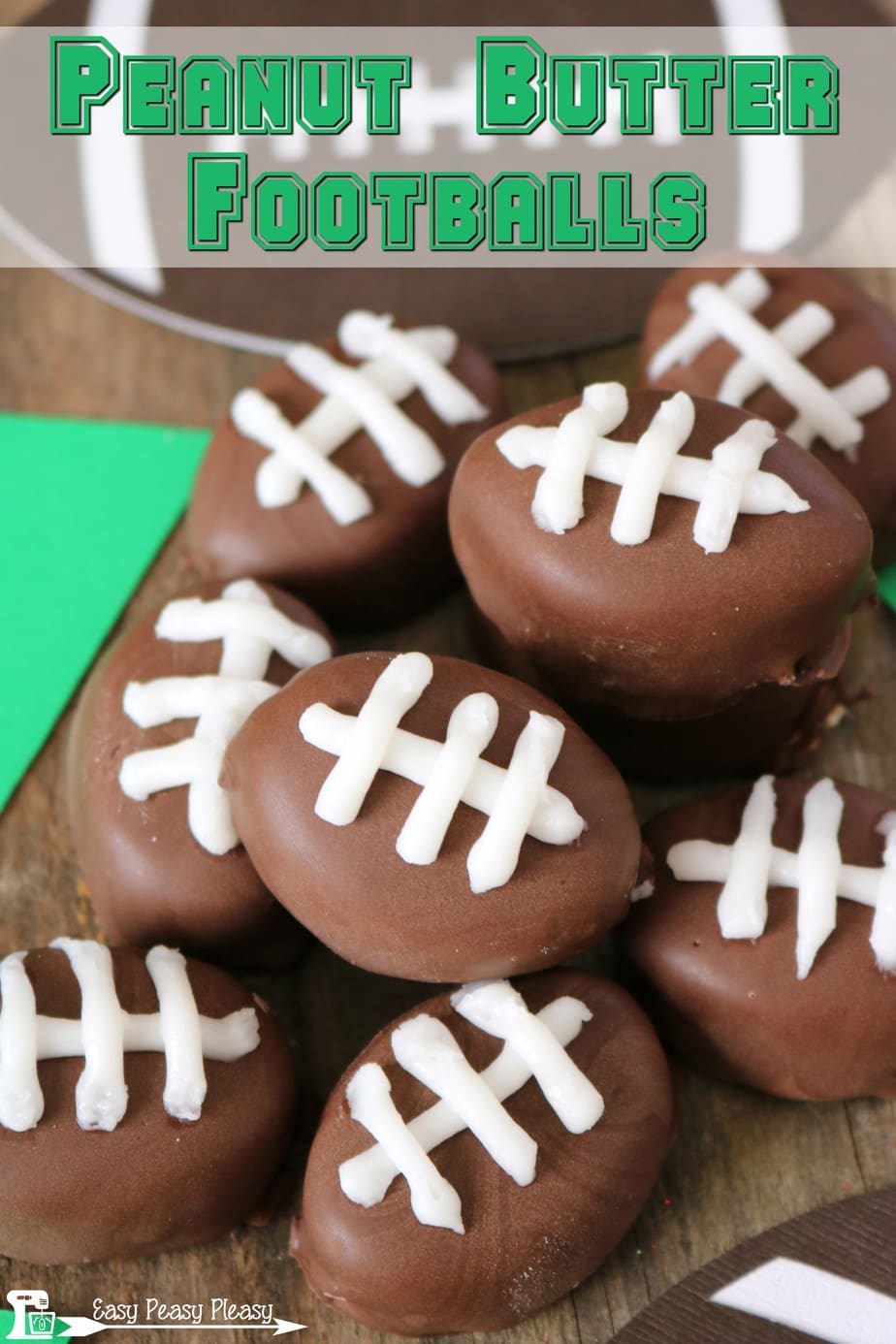 Super Bowl Sunday is less than a week a way and my mind is solely focused on Game Day Food. I just had to take this opportunity to turn one of my family's favorite sweet treats into the perfect football snack.

Lacie's Easy Peasy Pleasy Tips
Your hands are the best tool in your kitchen arsenal. Make use of your hands when mixing the ingredients. Dig in and get the ingredients thoroughly mixed.
Shape your footballs with your hand or use a football candy mold.
Dunk the peanut butter balls in the melted chocolate almond bark, then slide a fork underneath to lift out. Use a toothpick to get rid of excess chocolate before placing on parchment paper.
These peanut butter balls turned peanut butter footballs are a must on my game day food list. What is your favorite game day food? You can find links to some of my favorite recipes below. If the wording is red, click it.
Super Bowl Sunday wouldn't be complete without some amazing sweet treats. Check out my OMG! Way too easy Football Munch.
Check out more great Easy Peasy Pleasy recipes that are perfect appetizers for Super Bowl Sunday like these Sweet Chicken Bacon Wraps…PROMISE these are a huge hit. If you love Jalapeno Poppers you will love this much easier version…Ranch Jalapeno Popper Dip. If you have leftovers of this dip, it's even better and you are lucky. That reminds me, you gotta try these Seven Layer Dip Footballs. They are the perfect small bite for Game Day. If you are looking for a new Velveeta Cheese Dip recipe? Try this one! It's perfect for your crock pot.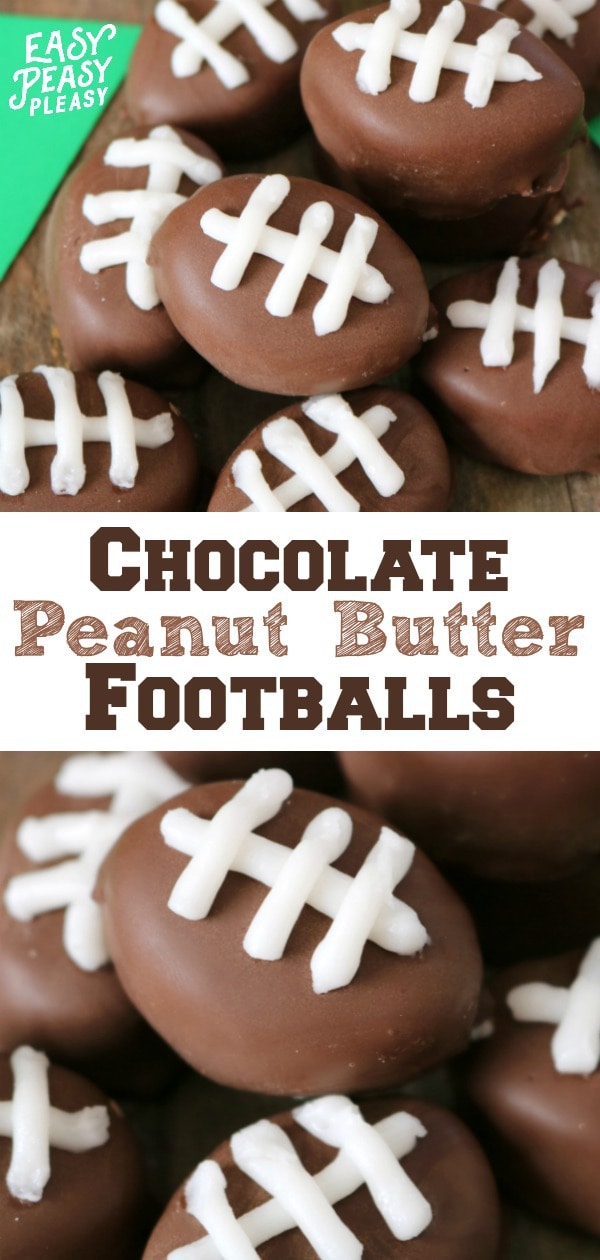 Chocolate Covered Peanut Butter Balls Footballs
Servings: 72
Difficulty: easy
Ingredients
4 cups confectioners' sugar
1 1/3 cups graham cracker crumbs
1 1/2 cups peanut butter
2 sticks/1 cup butter, softened
chocolate almond bark, 24 ounces
*For football stitches- white almond bark or Wilton Cookie Icing
Directions
Mix together confectioners' sugar, graham cracker crumbs, peanut butter, and softened butter in a large bowl until well combined.
Using your hands, shape mixture into small footballs and place on parchment paper.
Melt Chocolate Almond Bark according to package directions.
Dip the peanut butter footballs into the melted chocolate one at a time and place back on paper. Let chocolate harden.
Use Wilton Cookie icing to make lace strips. That's my preferred method or I melt some white almond bark (according to package directions) and pour into a zip top bag. Snip off a tiny corner and pipe the laces onto the footballs.
easypeasypleasy.com
Subscribe to Blog via Email