Are you ready for some football?
Football season is in full swing, which in my house means football parties are happening. If football parties are happening, then food is a must! I'm always trying to come up with new foods and new twists on the classics. When I saw these mini tortilla bowls it was a no-brainer! They kinda have the shape of a football. With a little modification to the seven layer dip, we now have handheld 2 bite seven layer dip footballs. I know they are a little cutesy and themed but who can't live with a little cutesy in their life?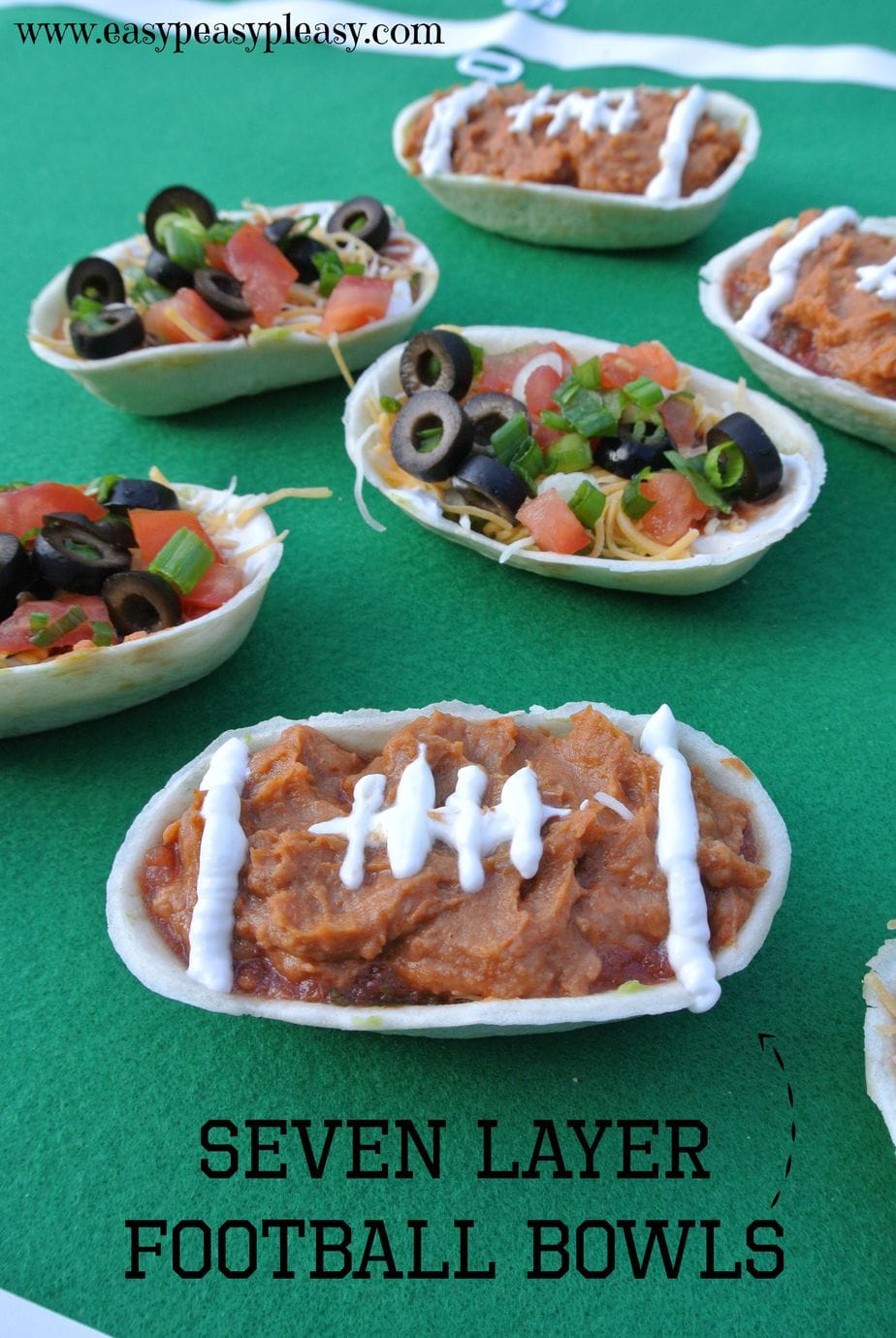 Have you tried those new tortilla bowls yet? My kiddo loves them. (I kinda like them myself!) Once I noticed they started making the mini size, I knew I had to make something clever rather than just taco meat and toppings. Basically, I flipped the ingredients for the seven layer dip.

Seven Layer Dip Football Bowls
1 can re-fried beans
1 pkg taco seasoning
1 jar salsa
1 16 ounce container of sour cream
1 container guacamole
2 cups shredded cheddar cheese
1 can sliced olives
2 tomatoes, diced
4 green onions, chopped
2 pkg mini tortilla bowls
For Football Bowls
Mix re-fried beans with taco seasoning until well combined. Mix olives, tomatoes, and green onions in a bowl and set aside. Sprinkle cheese in bottom of 1 package of tortilla bowls. Spread a layer of guacamole over the cheese. Over the next layer, add a spoonful of salsa. Top salsa with a spoonful of re-fried beans and spread to the edges. Put half of the sour cream in a plastic sandwich bag. Cut the tip off of a bottom corner of the bag. Squirt on sour cream lines to resemble a football. Set out the mixed veggies bowl that can be spooned onto the footballs when time to eat.
For Seven Layer Dip Bowls
Spread a spoonful of the re-fried bean mixture into the bottom of 1 package of tortilla bowls. Spread a spoonful of guacamole over the beans. Next layer with a spoonful of sour cream. Add a spoonful of salsa and top with shredded cheese. Finally, top the bowl with the olive, tomato, and green onion mixture.
Refrigerate until ready to serve.
easypeasypleasy.com
I like making half of this batch look like the footballs and the other half to look like seven layer dip so there is no confusion as to what is about to be eaten. lol! You can also make this recipe using only 1 package of tortilla bowls and make the rest of the seven layer dip in a dish and serve with chips.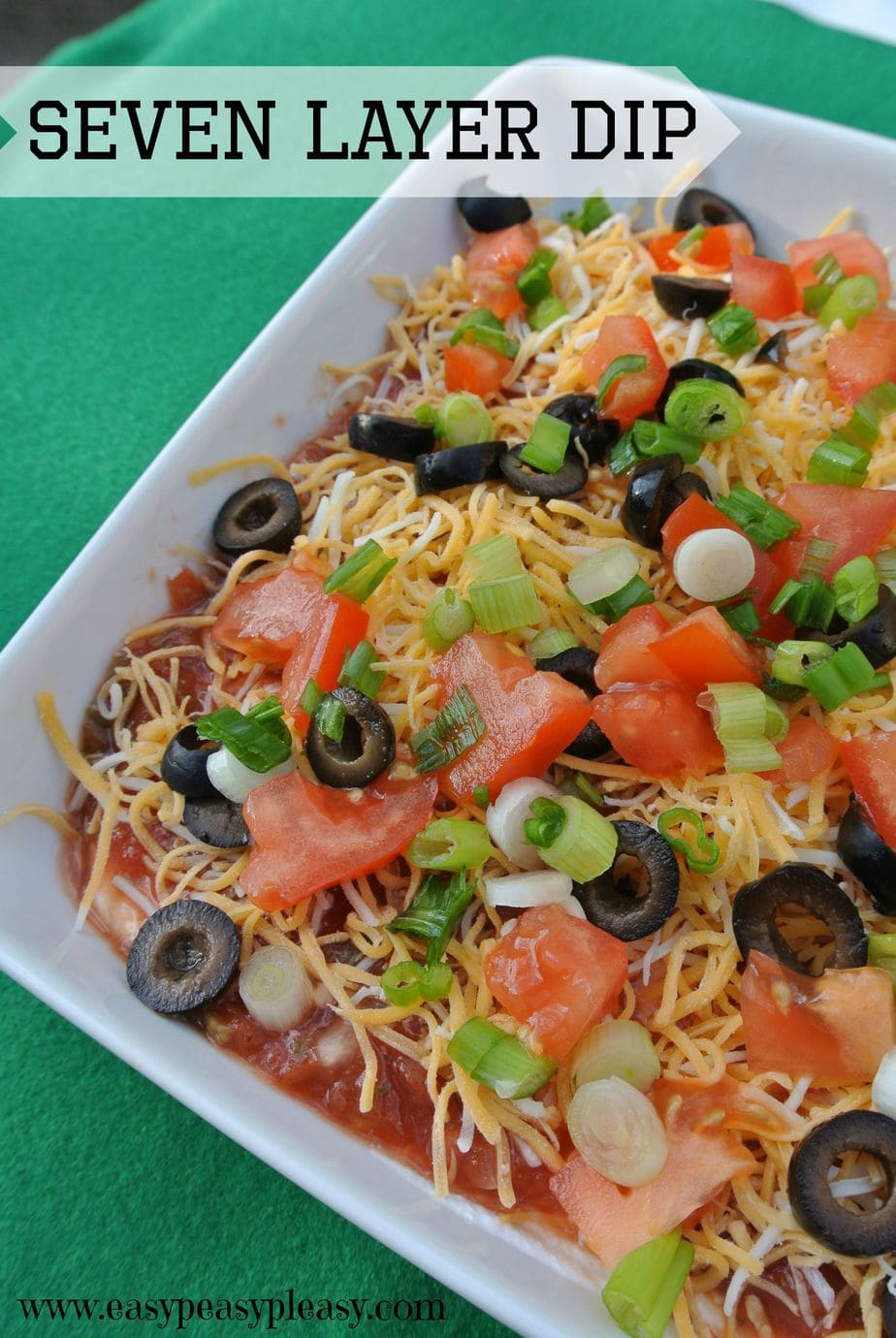 Sometimes I take a shortcut and buy prepackaged guacamole and other times I mix my own. You do what works best for you!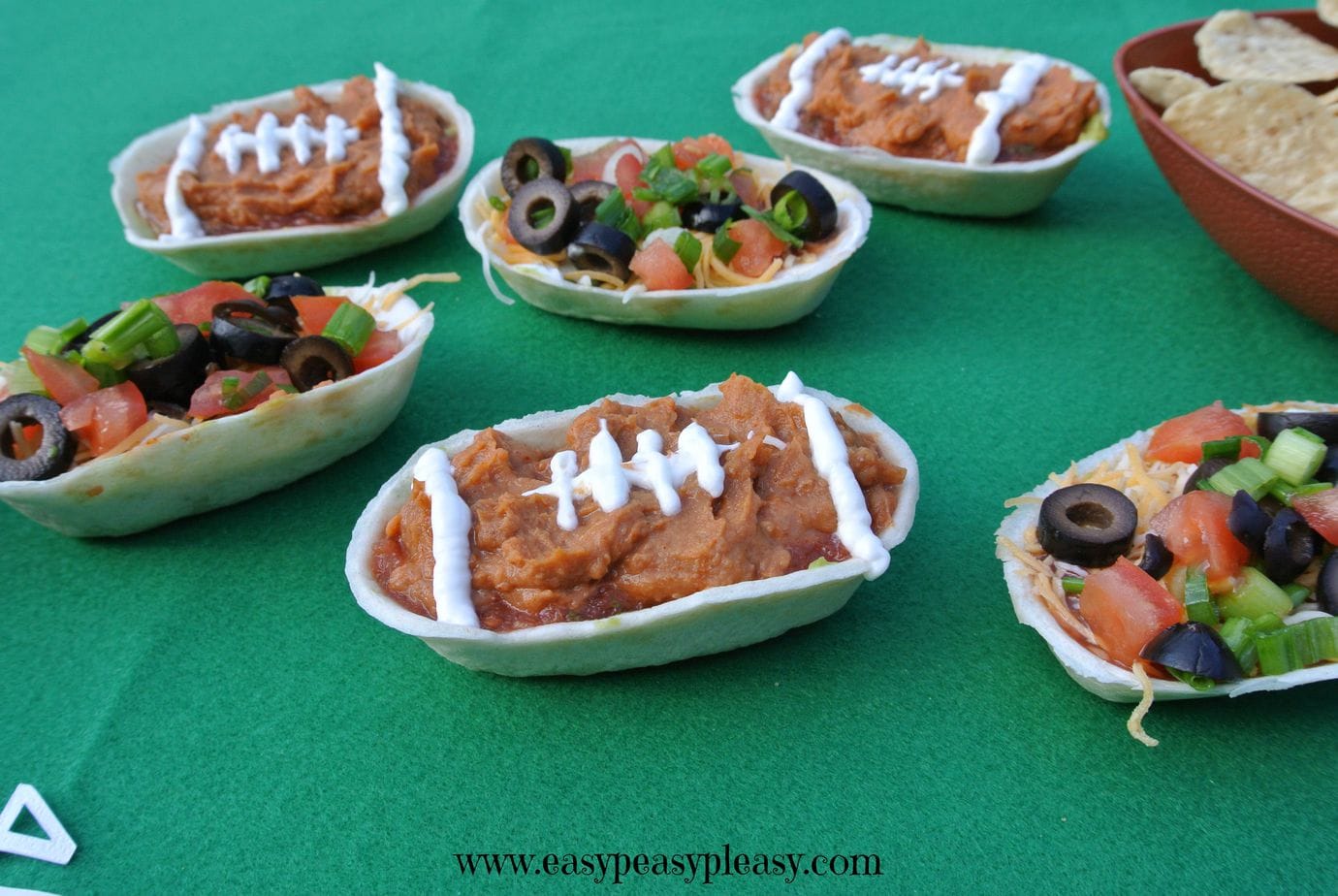 I have another fun way to serve seven layer dip football style here. It looks like a football field and it's super easy!
Hey, why don't you stick around a while…sign up with your email to never miss an Easy Peasy idea. You can also follow me on Instagram, Pinterest, and Facebook.