Christmas is just around the corner so I've created an Easy Shopping for the Foodie Gift Guide. I am in love with everything on this list! These are items I already own or items I've added to my wishlist. I'm hoping the hubby will check out this list when he starts Christmas shopping. *hint hint
This post contains affiliate links. There is no additional cost to you if you click. It just helps me keep new content coming your way.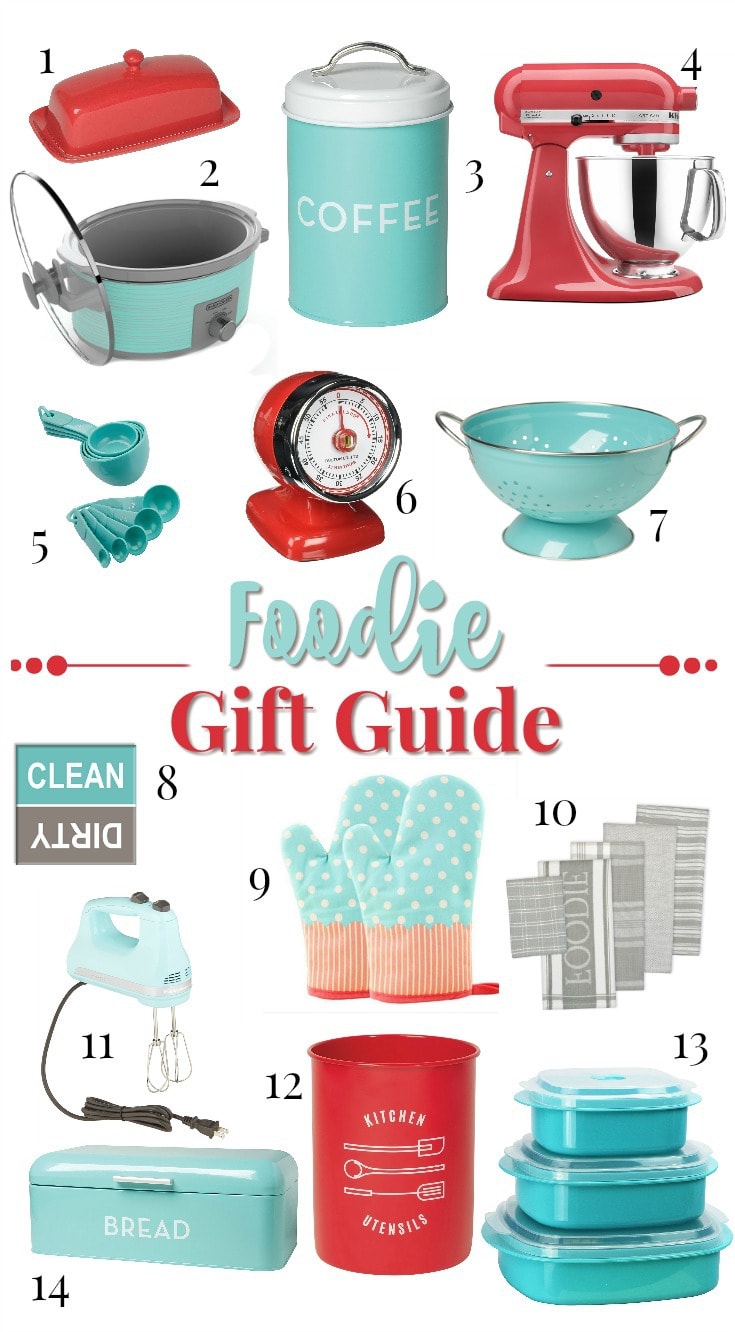 The items on this list are basically the things I use in my everyday life as foodie, mom, wife, short order cook, personal chef, etc. Those are my many titles given to me by my family.
If you are a foodie or have a foodie family member or friend then this list is for you. Pin it so you don't forget it. It's full of stocking stuffers to big ticket items. If you see an item but the color doesn't work, most of them are available in different colors.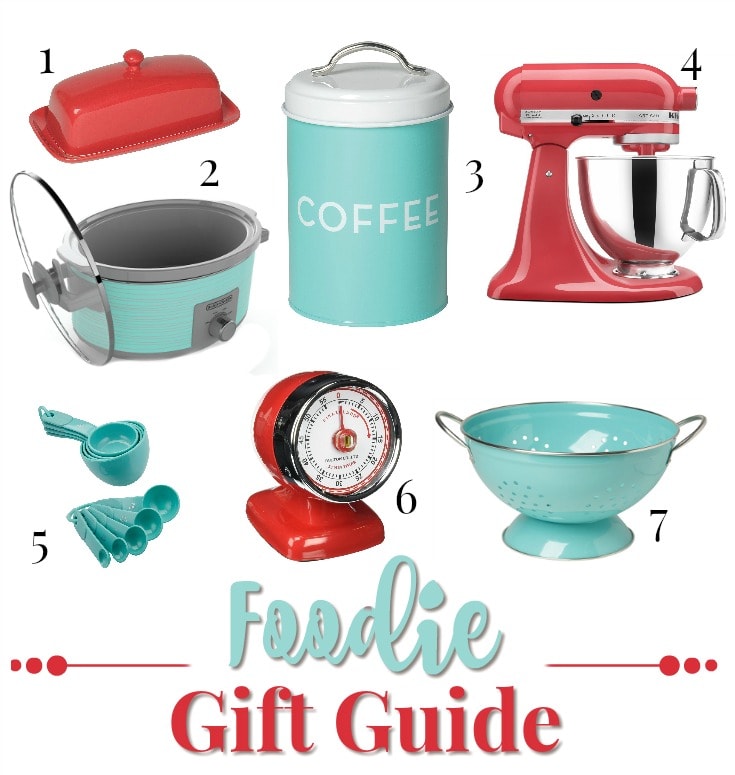 Foodie Gift Guide 1 thru 7.
01 〉 Butter Dish– I love a butter dish. First of all it's just a pretty way to set out butter. Second of all it's an easy way to to bring butter to room temperature for easing spreading.
02 〉 Black+Decker 7 Qt Slow Cooker – I can't live without my slow cooker. The "crockpot" is a staple in my house.
03 〉 Coffee Tin – Coffee…enough said. Plus this container is way to cute. I have it in red.
04 〉 KitchenAid Artisan Series 5-Qt Stand Mixer with Pouring Shield – This is the premier gift of all foodie gifts! Mine never moves from the counter. It's a decoration, a thing of beauty that helps make beautiful food. Now to get me some attachments!
05 〉 Kitchenaid 9 pc Measuring Cup and Spoon set – No foodie is complete without measuring cups and spoons.
06 〉 Kitchen Timer – A timer is essential when baking or using the oven. There is something about turning a dial and hearing it ring when the food is done.
07 〉 Metal Colander – You can't drain without a colander and this one drains with style. Pretty! Pretty please!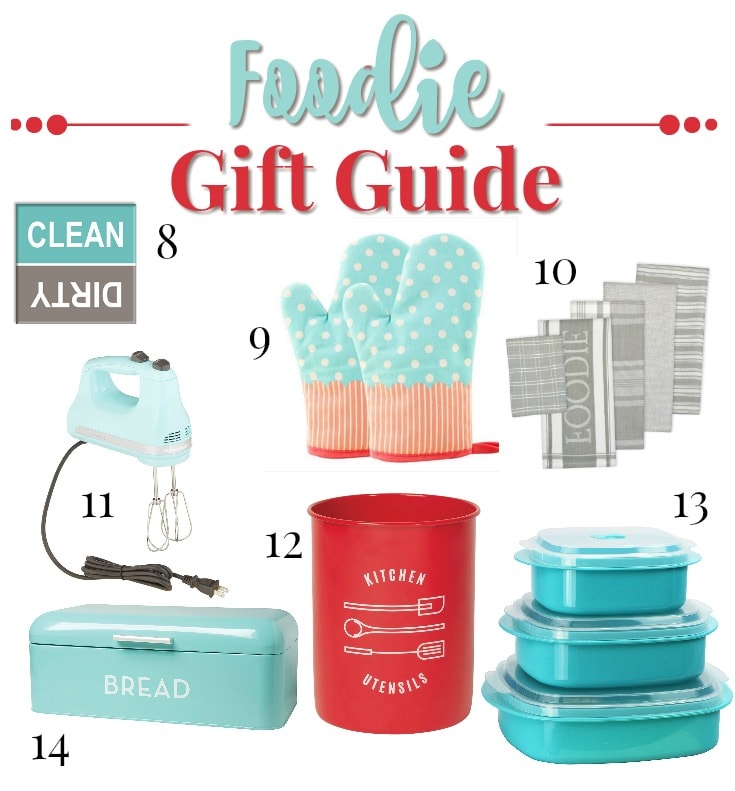 Foodie Gift Guide 8 thru 14.
08 〉 Clean Dirty Dishwasher Sign – Never wonder or better yet, let your family wonder if the dishes are dirty or clean. Let's fight this battle together and get the family to load their dirty dishes.
09 〉 Baking Mitts – Don't grab that hot pan! Better yet, grab that hot pan and look cute doing it.
10 〉 Foodie Kitchen Dish Towels – I'm crazy about dish towels…I mean crazy. I have more than you can count on your fingers and toes. These towels may end up in blog post.
11 〉 Kitchenaid 5-speed Hand Mixer – This hand mixer is a must have. I pull my hand mixer out on a regular basis. It's a definite kitchen staple.
12 〉 Utensil Caddy – I keep my utensil caddy right by the stove. It's stocked with all of my daily use utensils. Gotta have!
13 〉 6 piece Microwave Steamer – Yes, I use my microwave. It's perfect for reheating leftovers and steaming vegetables. These containers make that job easy.
14 〉 Metal Bread Bin – I LOVE a pretty bread bin. I have a few of my own. Besides looking good on my counter, they stow away food perfectly.
Need some Dirty Santa Gift Ideas? Check out this post!
Subscribe to Blog via Email