Y'all are in for a treat today! I'm super excited to introduce you to my very first Guest Blogger and her easy 4 Ingredient Frankenstein Pretzel Nuggets. Say a big hello to Gina from Desperately Seeking Gina. This lady/blogger has become a great friend of mine and she's kind of a big deal! You can see her on KATV Saturday Daybreak with the easiest crafts. I absolutely adore her Fall Scarecrow Buckets! Gina makes crafts look so easy on TV and she's made this Halloween treat just as easy.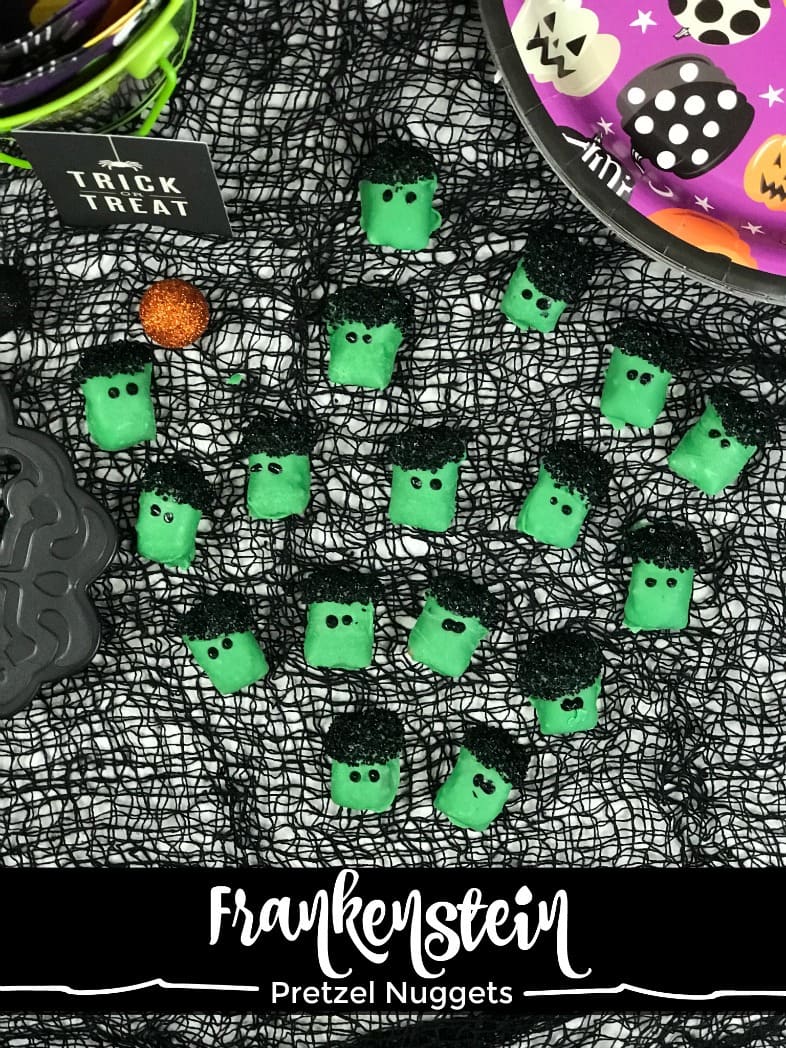 Hey, new friends! I'm SO EXCITED to be here in Lacie's space, especially since she is one of my favorite food bloggers. I've been following her blog since she appeared on the Arkansas blogger scene.
I've always admired Lacie's EASY approach to meal planning and preparing, especially with holiday treats because they are SO FUN to make. The inspiration for these Frankenstein Pretzel Nuggets comes from Lacie herself; I love her Trick or Treat Mummy Nuggets and the Easy Rudolph Peanut Butter Pretzel Nuggets.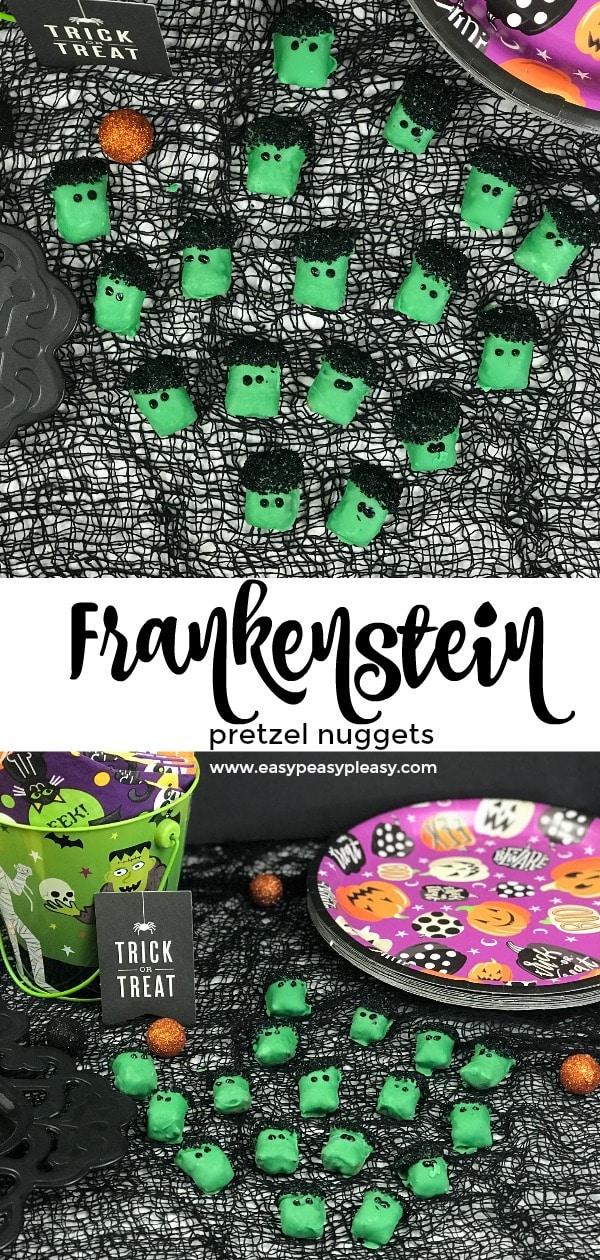 With just 4 ingredients, these Halloween themed Frankenstein Pretzel Nuggets are so easy to make. They're perfect for Halloween party platters and fun to give to neighbors, too. Pair them with Lacie's 
Halloween treat bag toppers
.
A note about the Frankenstein Pretzel Nuggets faces:
The shimmery gel is something I had on hand. The gel doesn't harden completely so the faces got all mauled when I threw them in a bag for storage. You could certainly use a royal icing that hardens as it dries so this doesn't happen to you. Get creative with the faces if you have the time. Add a mouth and/or stitches to your Frankies.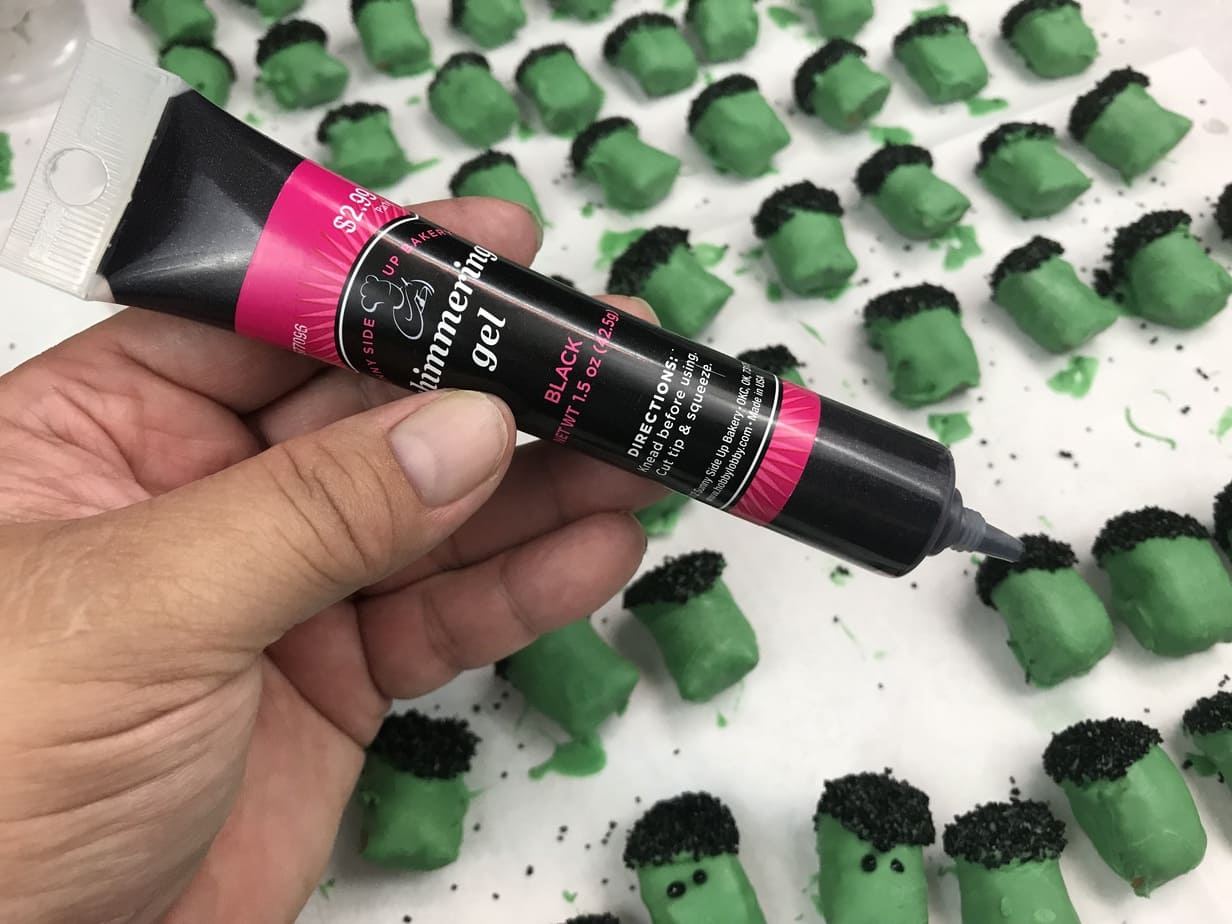 If you can't find black sanding sugar, you can make your own with sugar and black food coloring; add sugar to a lidded bowl or baggie. Add a couple of drops of black food coloring and shake to mix. Dump the black sugar out onto a plate and allow to dry completely.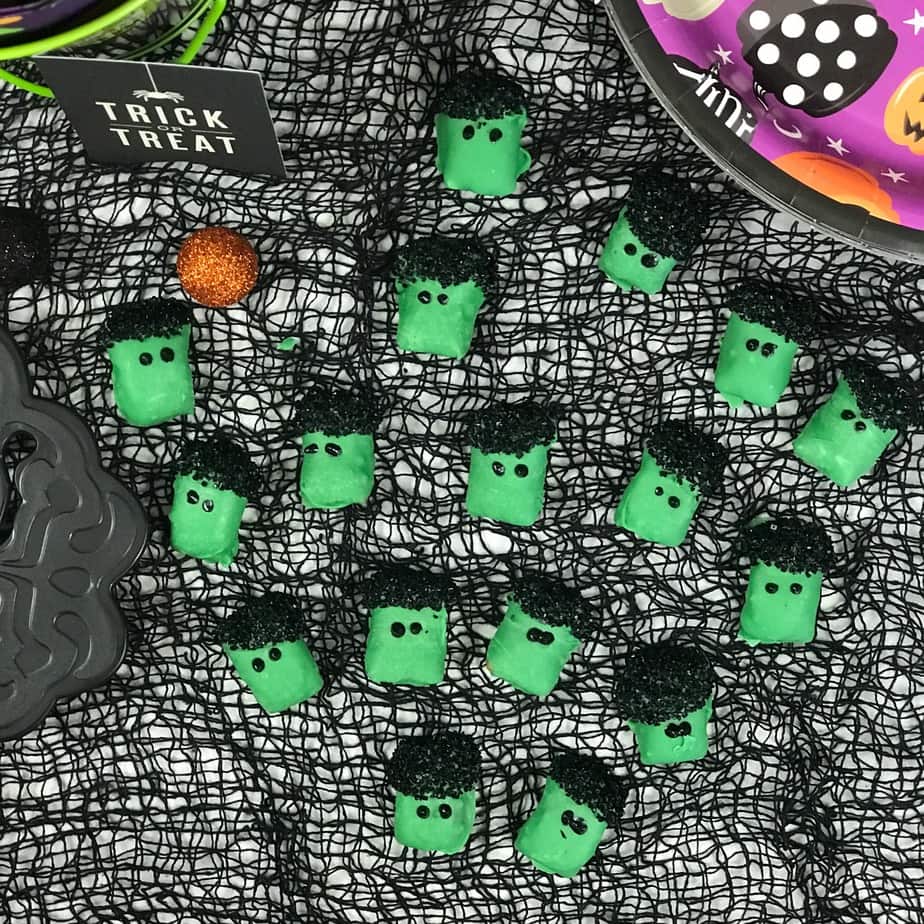 4 Ingredient Frankenstein Pretzel Nuggets
Ingredients
Pretzel Nuggets
Green Candy Coating
Edible Shimmery Gel
Black Sugar
Directions
Lay out a sheet of wax paper or parchment paper. Melt candy coating according to package directions. With a fork, dip pretzel nuggets into the candy coating, swirling until pretzel is fully coated. Shake off excess candy coating by tapping the fork gently. Place covered pretzel on the wax paper and repeat the process until all but 1/4th of the coating is used (about 40-45 pretzels).
When the candy coating has hardened, re dip the tops of the pretzels into the candy coating again and then dip into the black sanding sugar. This will create Frankenstein's "hair."
To finish up, add a face to the Frankenstein Pretzel Nuggets using the shimmery gel tube.
Thanks for stopping by today! I hope you'll check out my blog 
Desperately Seeking Gina
 where I blog about crafting, what my fiancé made for dinner last night, and what our cat is up to! And, if you need more Halloween party food inspiration, check out my latestest posts:
Subscribe to Blog via Email