Coleslaw is a summer staple in my book. It only takes a few simple fresh ingredients to whip up this easy side dish. This traditional coleslaw is the perfect addition to any cookout, BBQ, or potluck.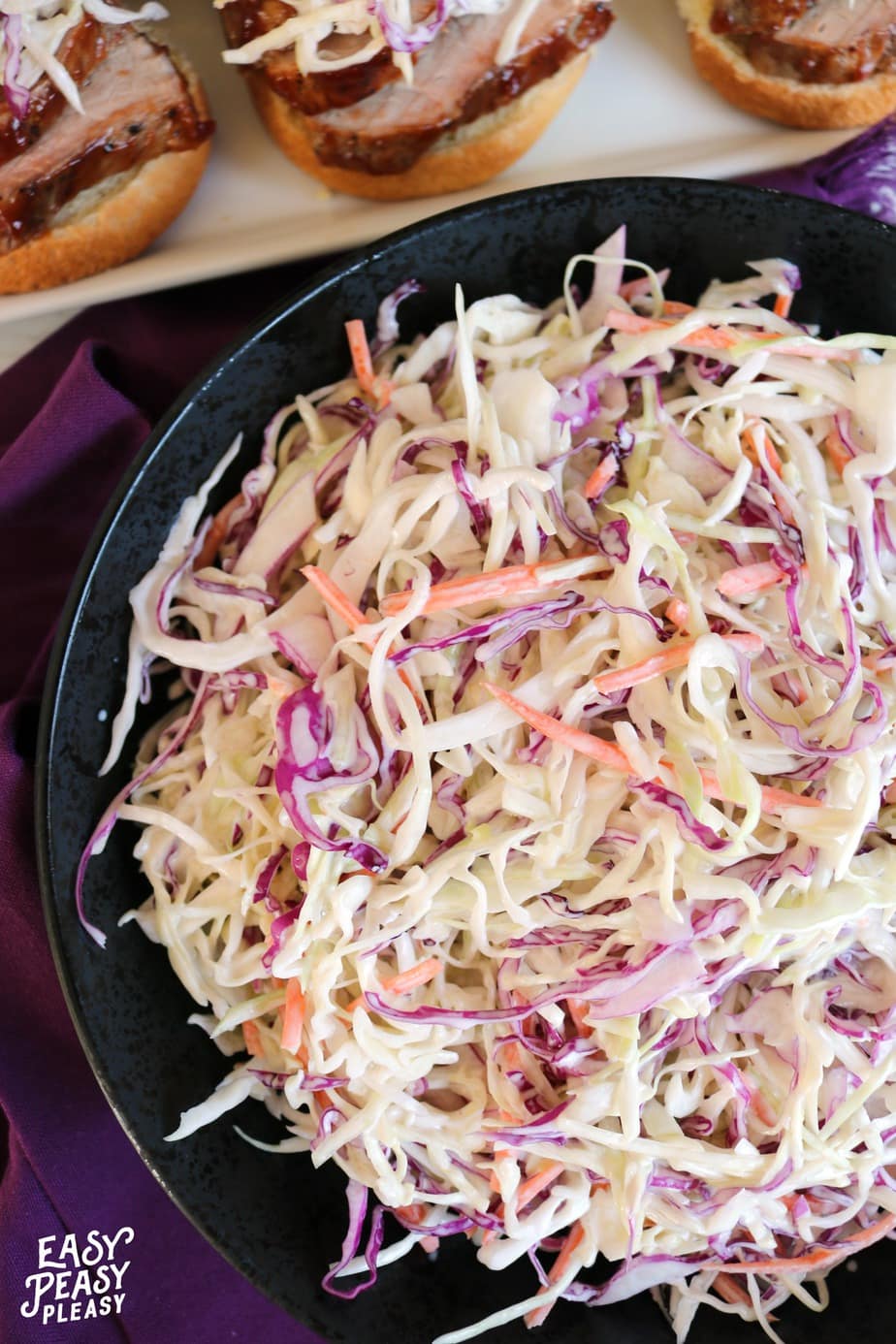 When the grills fire up and the smokers start smoking meat you know it's summertime. That means it's time to bring out the slaw. You can't have a good BBQ without some good old fashioned coleslaw. Am I right?
Y'all my family and friends grill and smoke meat on the regular. The meat is the star but you always need a side. This slaw recipe is the go to side dish. It's quick and easy and great for last minute. But let me ask you a question…are you team coleslaw on a BBQ sandwich or do you like it without? Which team are you on?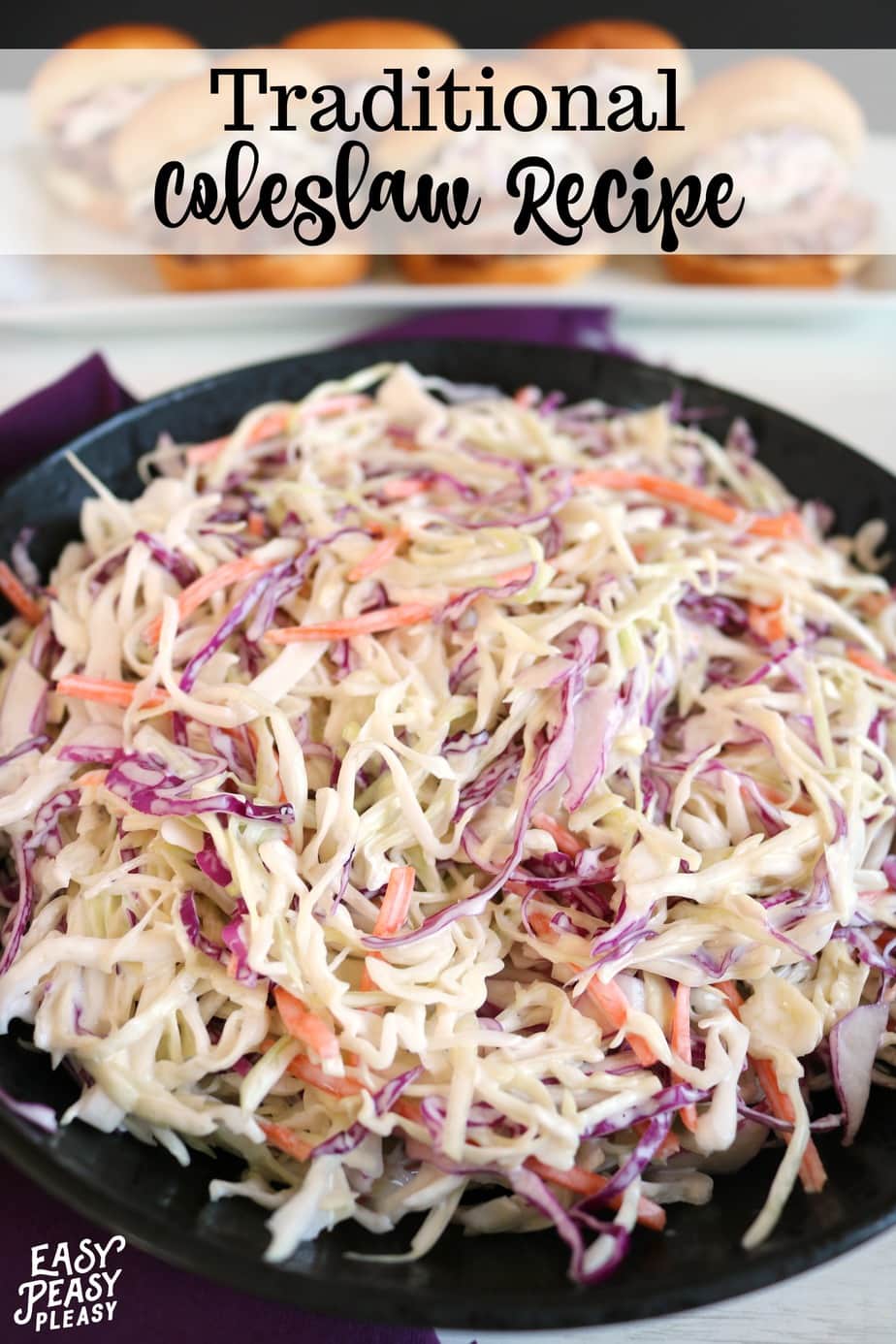 I am on team coleslaw! I have to have coleslaw with anything BBQ, it just isn't right without it. I love it as a side but I especially love it on a BBQ pork sandwich.
Easy Peasy Pleasy Tips
I love to use fresh cabbage in my coleslaw but when I'm short on time, I mix this up supper easy with pre-shredded cabbage and match stick carrots you find as convenience items in the produce section.
This recipe is super easy. But I do recommend mixing your dressing together in a separate bowl then dressing the cabbage.
By doing this, you won't over dress your cabbage. You may like your slaw barely dressed or really dressed. This way you can add the perfect of amount of dressing to your liking.
When I'm at home, I use a mandolin to shred my cabbage. But if you don't have access to a mandolin, no worries. Use a knife and make thin cuts. Sometimes I'm away from the house and have to use the tools that are available.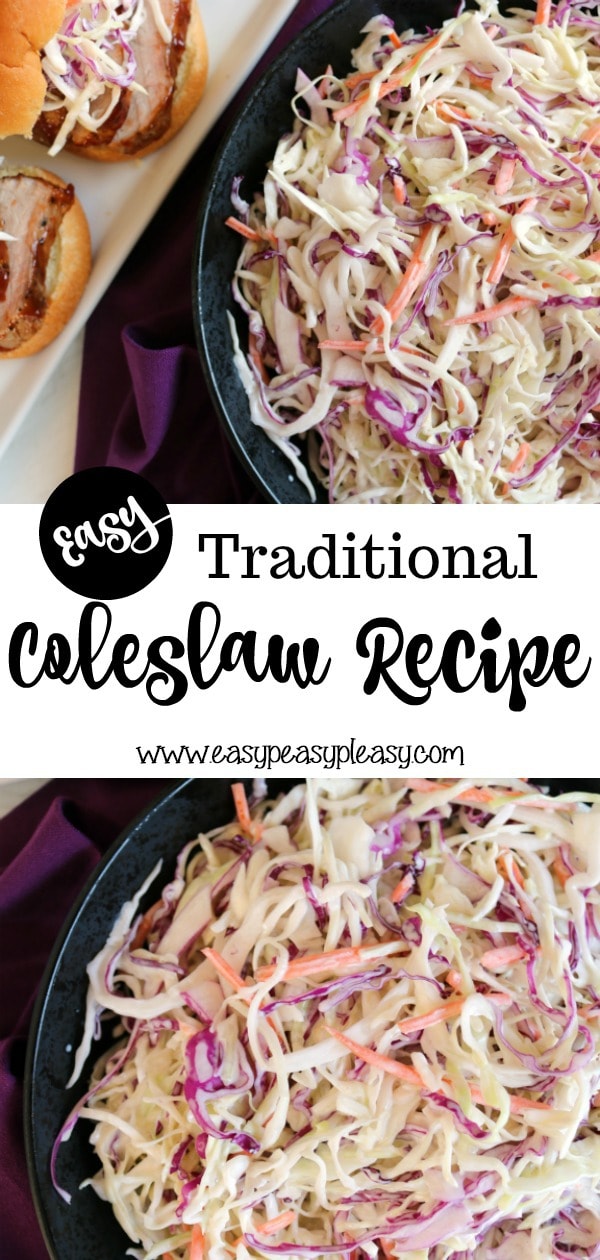 Traditional Coleslaw
Ingredients
Dressing
1/2 cup mayonnaise
1/2 cup sour cream
3 tablespoons vinegar
1/3 cup sugar
1 teaspoon salt
Coleslaw
1 head green cabbage, shredded
1/2 head purple cabbage, shredded
1/2 cup carrots, shredded
Directions
Mix all dressing ingredients in a small bowl until well combine. In a large bowl mix cabbage and carrots. Combine desired amount of dressing and cabbage mixture. Eat and enjoy!
www.easypeasypleasy.com
Subscribe to Blog via Email