Hands down my kiddos most requested meal is Chicken Parmesan. I'm not joking when I say, he literally, asks me to make it every week. The kid is obsessed. Hey I'm not complaining. It's pretty easy and the whole family devours this dish.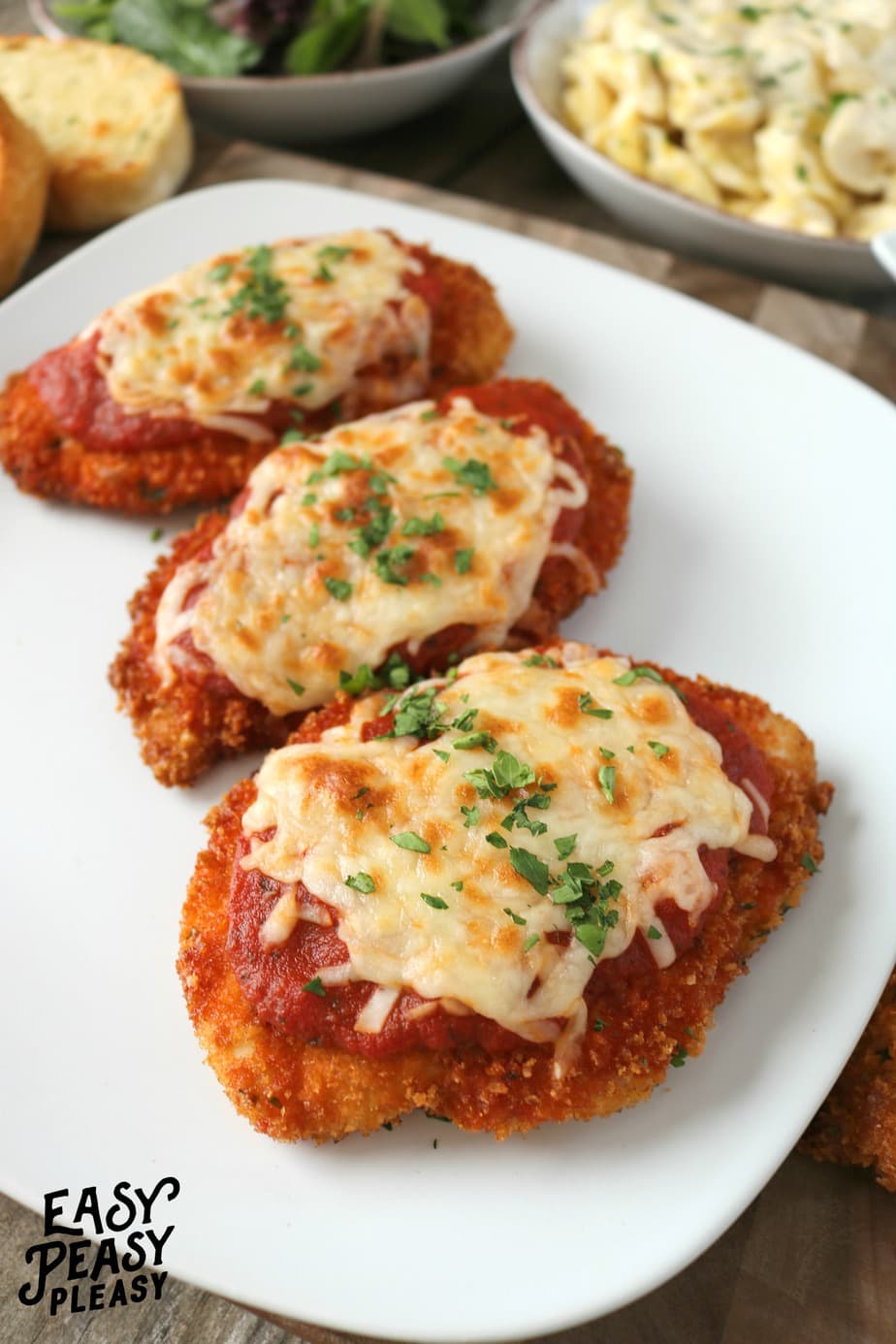 When I ask the kiddo what he wants for dinner and he says Chicken Parmesan every week, I know I have a winner. It's Undeniably a favorite.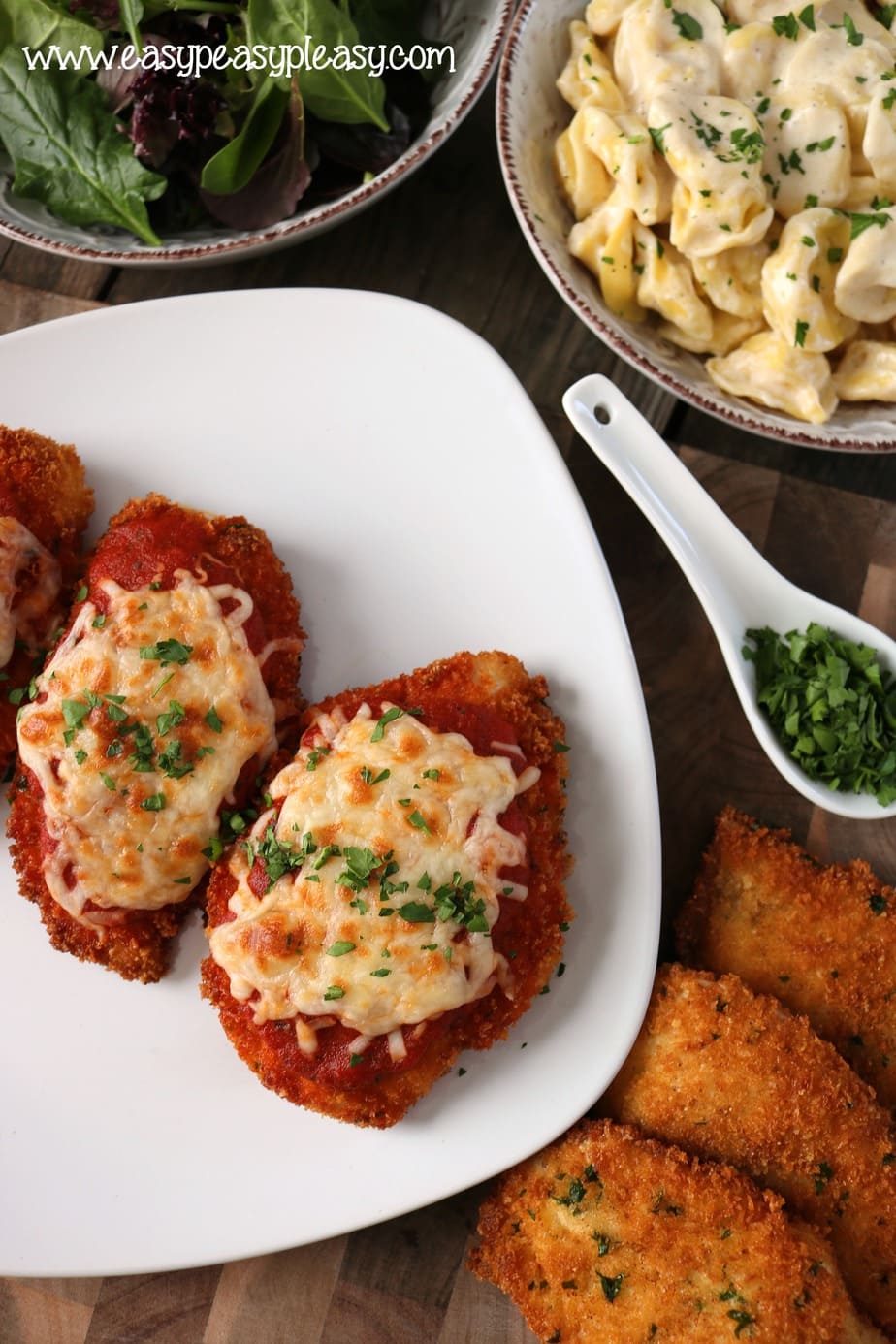 This week while I was prepping to cook up the kiddos most requested meal…
He said "Mom even when I don't live at home anymore, you can call and tell me you are making Chicken Parm and I'll come home." He acted out like he had a fishing pole and was reeling me in. Oh my goodness…talk about melting my heart! Plus, he literally just told me how to get him home.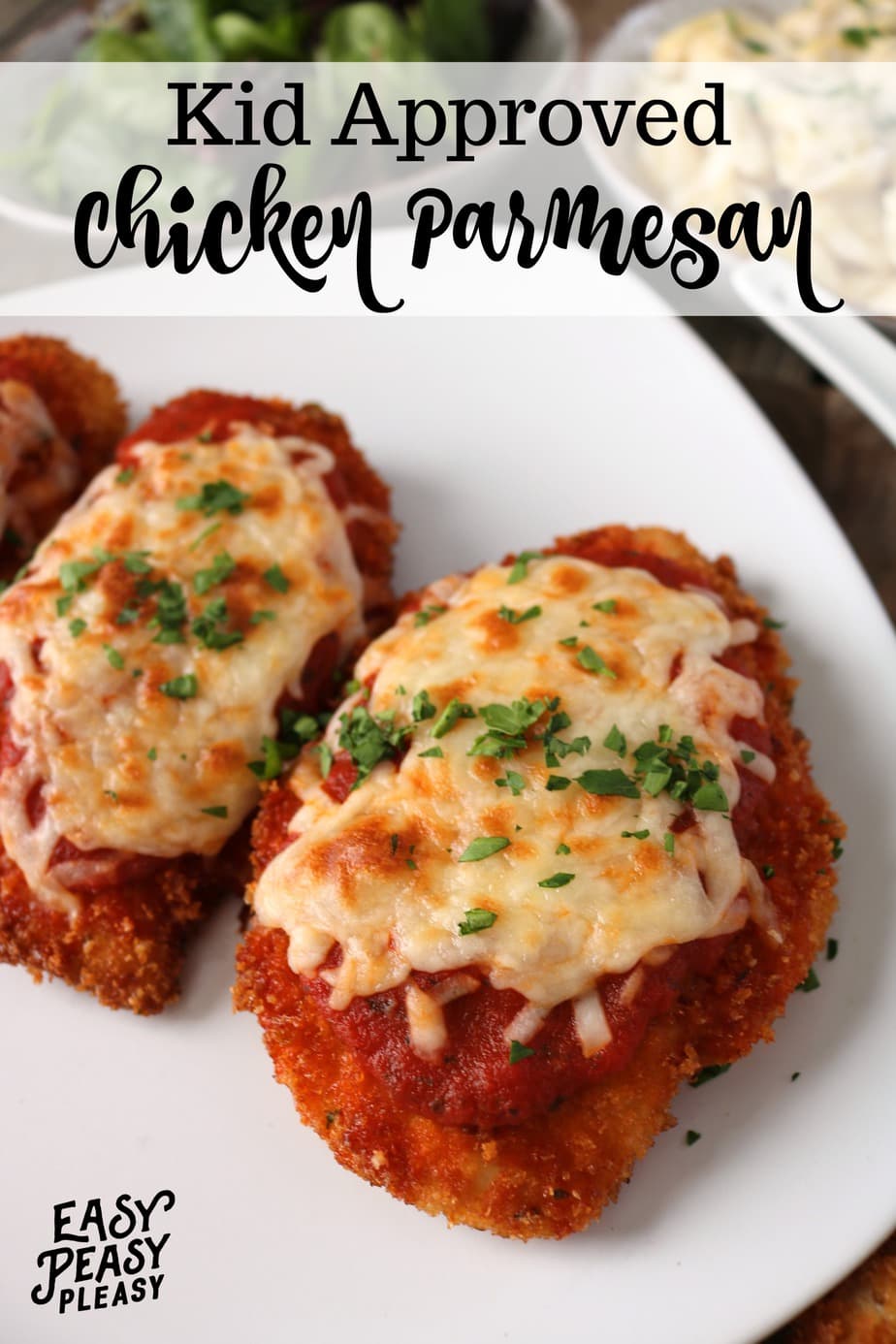 Thank goodness that's still years away but I'm glad to know I have a way to get the kiddo to always come home.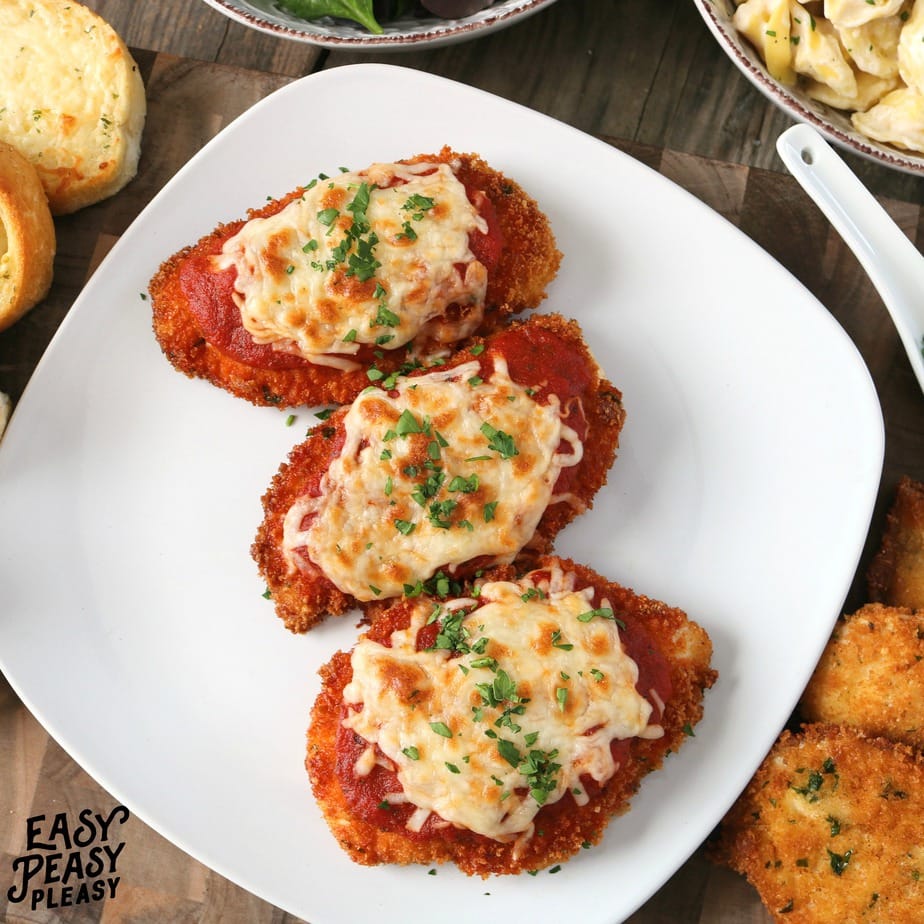 I serve the chicken parmigiana with Alfredo cheese tortellini. I keep the pasta simple by using fresh or frozen tortellini and a jar of Alfredo sauce. All my efforts are going towards the chicken with this meal.
My kiddo might be the only kid ever who doesn't like ranch dressing so I make a Caesar salad or steam some broccoli to round out his favorite meal.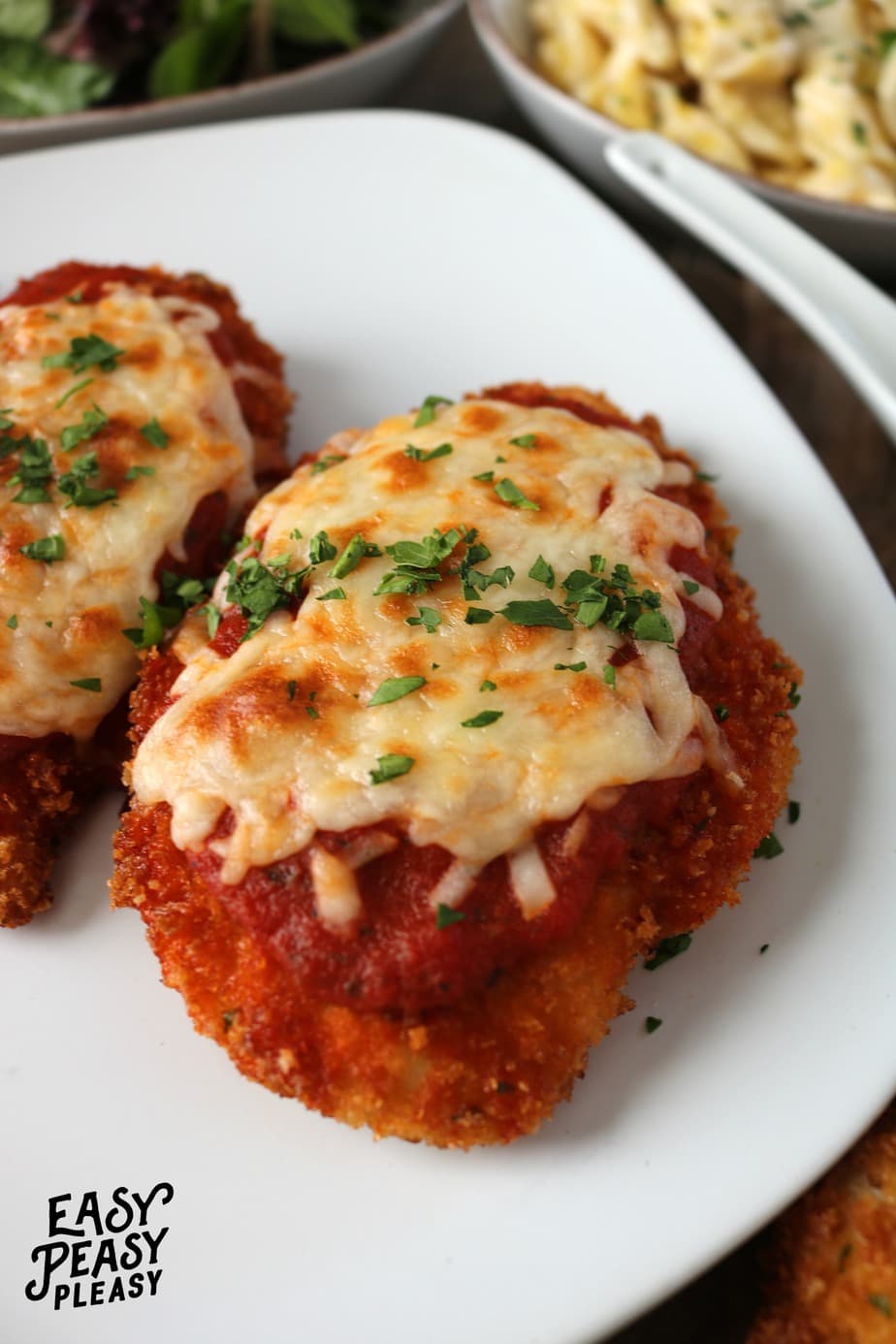 Easy Peasy Pleasy Tips
Pound the chicken breasts to between 1/4 to 1/2 inch thick. They tend to plump up during cooking.
A lot of recipes call for flour. Skip the flour step. Dip the chicken in egg, then press it into the panko mixture. As long as you have the oil level right and the temp correct, there's no need for the flour.
Sprinkle some Panko in the heated oil. If it sizzles, your oil is ready. If it goes crazy then the oil is to hot.
Depending on thickness, cook for 3 to 5 minutes on each side.
If the breading is browning to fast, turn down the heat.
Use a wire rack on your baking sheet when broiling. This will keep the chicken crispy.
Chicken Parmesan
Ingredients
3 to 4 boneless chicken breasts, pounded to 1/2 inch thickness
salt and pepper
2 eggs, beaten
2 cups Panko bread crumbs
1/2 cup Parmesan cheese
1/2 cup vegetable oil, more as needed
1/2 jar pasta sauce
1 cup shredded mozzarella cheese
2 tablespoons chopped fresh parsley
Directions
Preheat oil in a large skillet over medium heat. Salt and pepper pounded chicken on both sides. Dip chicken in beaten egg. Mix panko and Parmesan in shallow dish. Coat chicken in panko mixture making sure to press panko into chicken on all sides. Cook chicken for about 5 minutes on each side until golden. Remove to wire rack on baking sheet. Spoon sauce over chicken and sprinkle mozzarella cheese over the top. Broil on low on upper rack watching carefully until cheese is bubbly and golden. Remove and let rest. Sprinkle fresh parsley on Chicken Parmesan. Eat and enjoy!
Subscribe to Blog via Email