I love pork and I especially love pork tenderloin because it's so inexpensive. This juicy roasted pork tenderloin recipe is easy and takes about 30 minutes.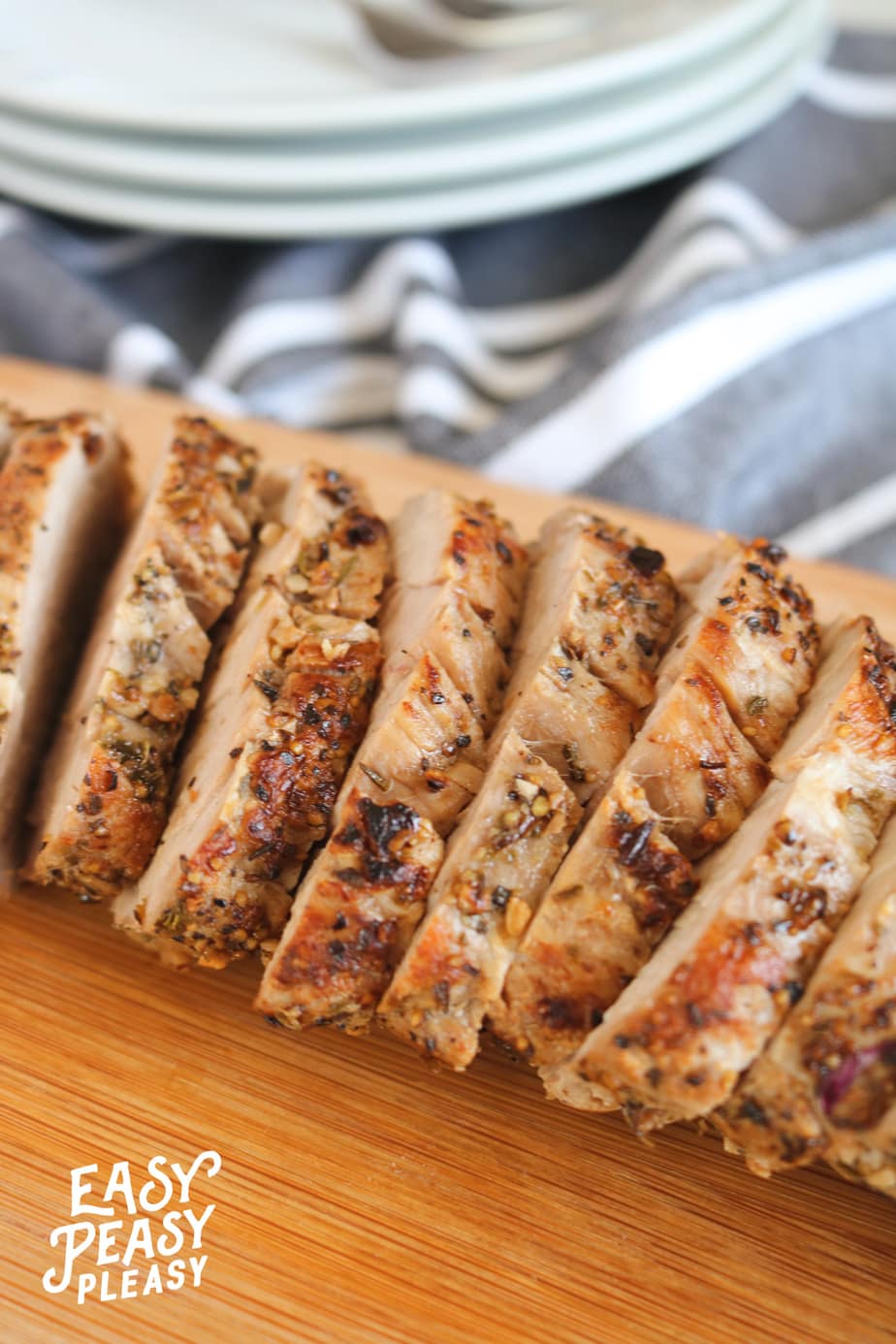 If you love pork then you should give this recipe a try. The seasonings make me think steak but the pork tenderloin is much cheaper. You can grab a package of pork tenderloin (2 in package) that's up to 2 pounds for usually no more than $10. That's a steal in my book. Plus with "tenderloin" in the name, it always seems more decadent.
Here's what you'll need for this juicy roasted pork tenderloin…only 8 ingredients including the salt and pepper…
Pork tenderloin
Olive oil
Salt
Pepper
Oregano
Garlic
Soy sauce
Honey
Salt and pepper is a given to any meat dish (pantry staple) so you really only need 6 ingredients.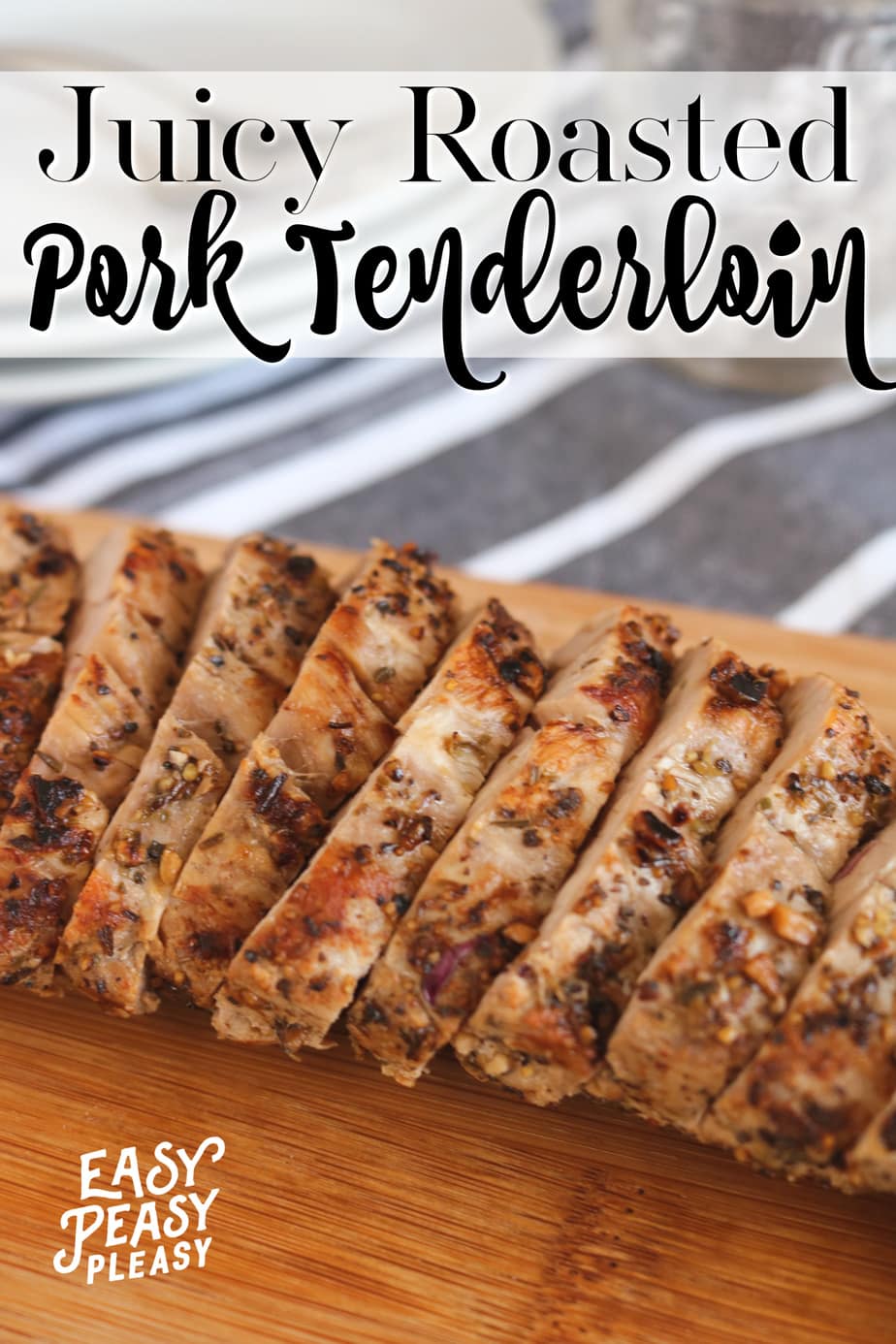 My family of 3 loves this juicy roasted pork tenderloin. Even after they've eaten all their belly's will allow, we still have leftovers for the next night. You could easily feed a 6 person family healthy portions with 2 pounds of pork tenderloin.
If you have a smaller family like mine, you can use the leftovers to make pork sliders or even pork fried rice later in the week. You can also just use 1 of the tenderloins tonight and freeze the other for a later date.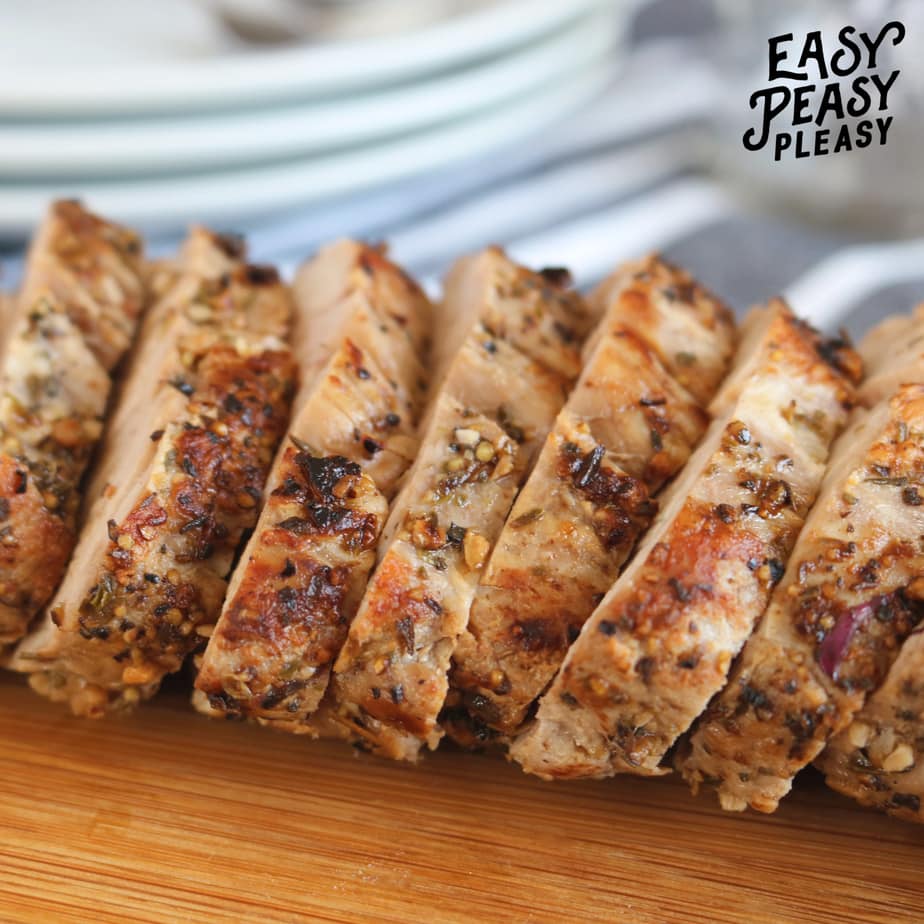 Easy Peasy Pleasy Tips
Start reducing the soy sauce and honey first. This way you can stir and have it reduced by the time you have the pork ready for the oven.
Sprinkle the seasoning all over the pork and use the back of a spoon to really rub the mixture into the pork.
Make sure your skillet is sizzling hot when searing the pork tenderloin on all sides. You don't want to burn the meat but you you do want a good sear on all sides before baking to retain the juices.
Medium rare is 145 degrees and well done is 160 degrees. Keep in mind the pork will continue to cook while it rests. Pork loin is ok to have a little pink in the middle…but the desired doneness is up to you.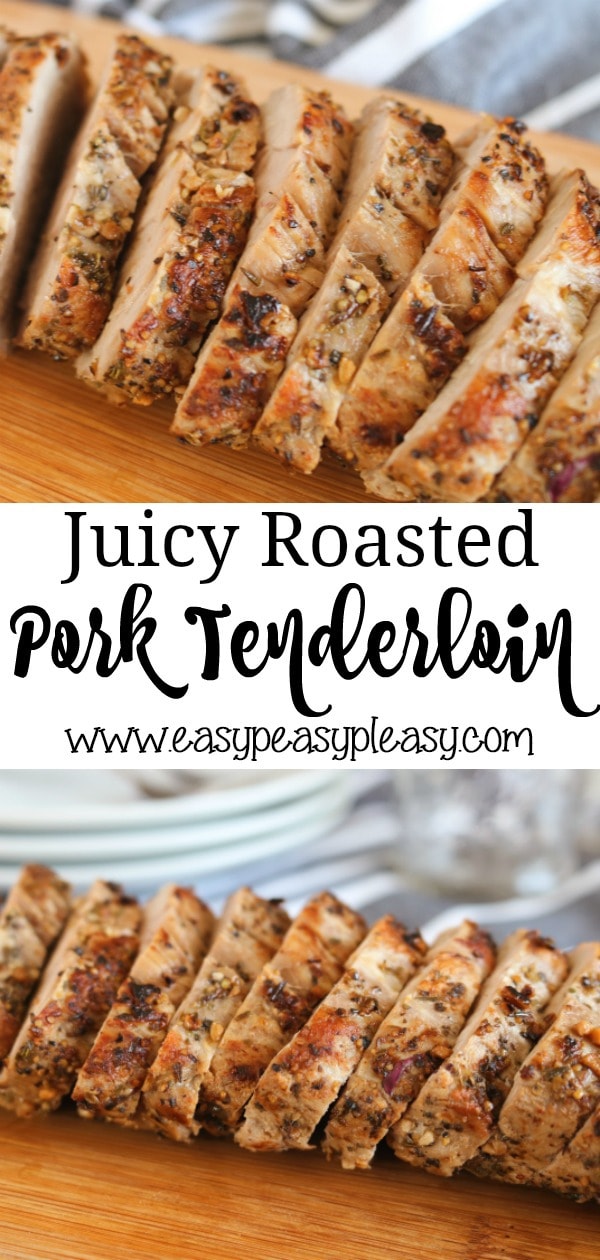 Juicy Roasted Pork Tenderloin
Ingredients
2 pork tenderloins, 2 pounds total
1 tablespoon olive oil
1 teaspoon salt
1 teaspoon pepper
1 teaspoon dried oregano
1 tablespoon garlic, minced
1/4 cup soy sauce
1/4 cup honey
Directions
Heat oven to 350 degrees. Cover large baking sheet with foil and spray with non stick cooking spray.
Combine soy sauce and honey in a small pot and heat over medium, about 3 mins, stirring frequently until reduced in half.
Mix salt, pepper, oregano, and garlic in a small bowl until well combined. Rub all over tenderloins. Heat olive oil in a large skillet over medium heat. Sear pork tenderloin in skillet on each side about 2 mins. Place on baking sheet and baste with soy mixture.
Bake for 20 minutes, baste and check temp with a meat thermometer. Continue cooking and basting until internal temperature reaches at least 145 degrees. Baste again then let rest for 5 minutes. Cut into slices. Eat and enjoy!
Subscribe to Blog via Email