Y'all I'm all about some red velvet recipes right now and these easy Red Velvet Cake Mix Cookies using only 4 ingredients are hitting the spot. My hubby loves all things red velvet and I aim to please but I have to keep it easy because I'm a tiny bit busy…as usual.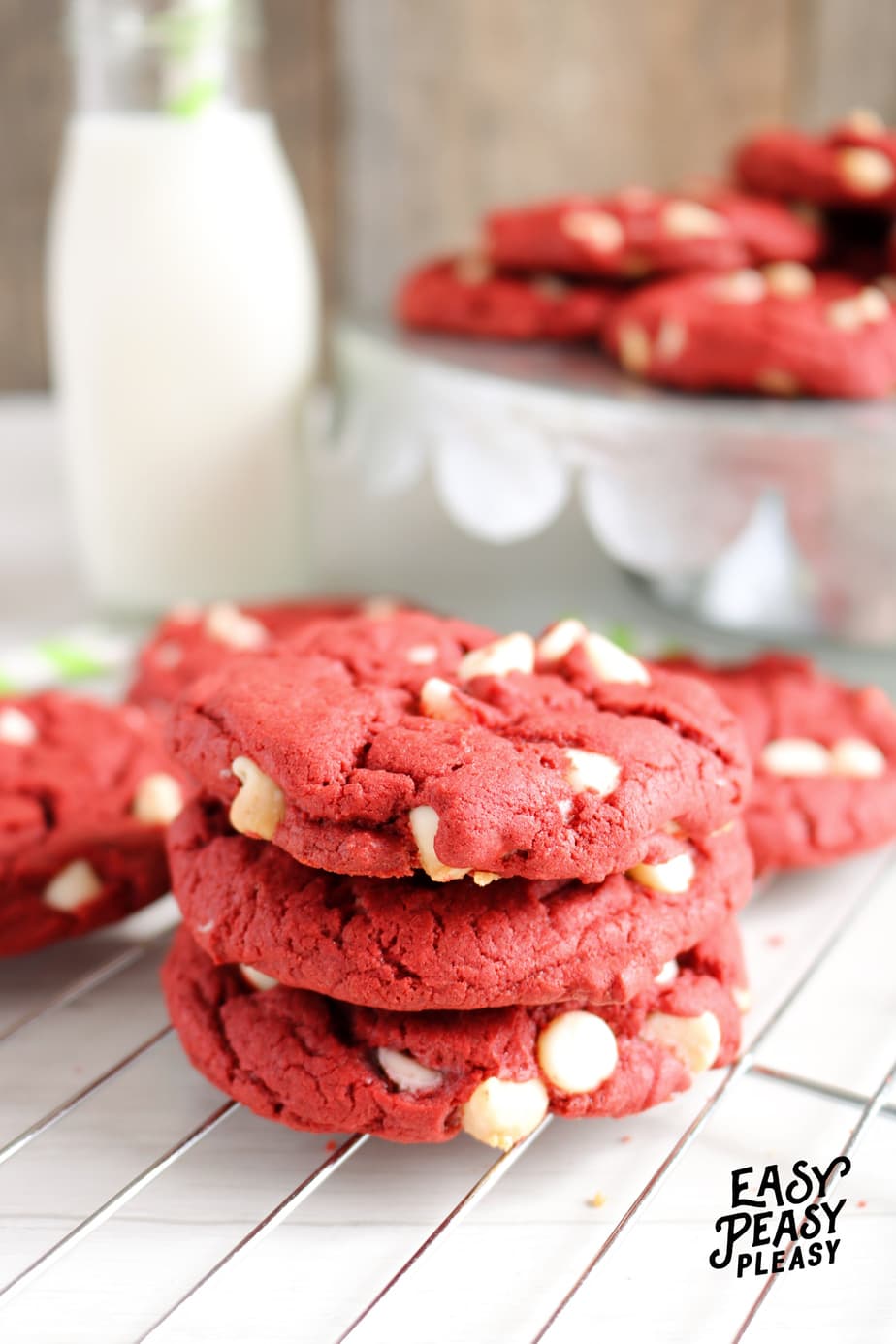 I can't live life without an easy cake mix cookie recipe so red velvet cake mix cookies with white chocolate chips are a must have to make for the hubby and share for the holidays. Besides being delicious and super easy, the colors work perfectly for Christmas and Valentine's Day. You'll want to pin on Pinterest for both.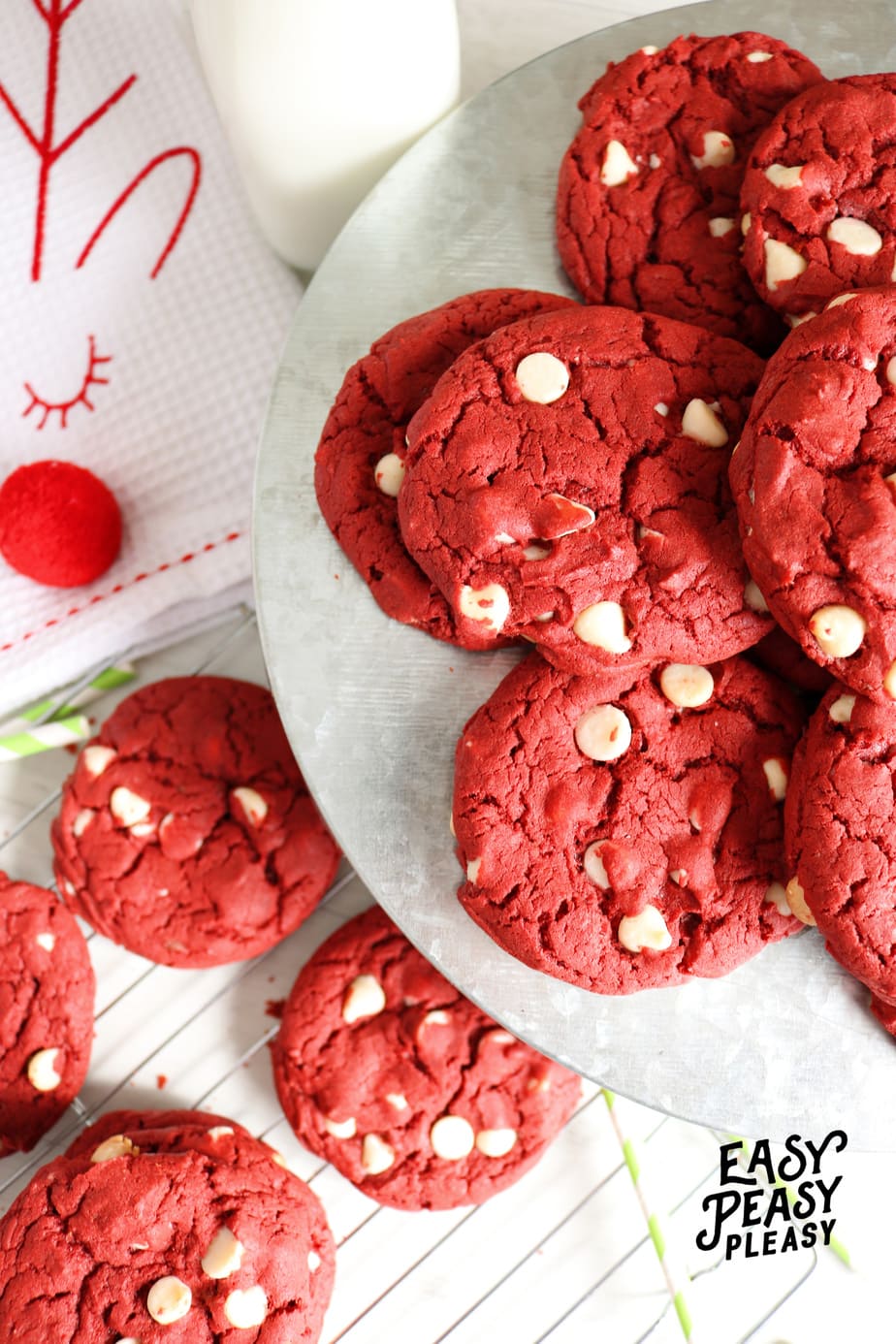 If you are looking for cookies for Santa then you've come to the right place. These cookies are super easy to make. It's just 4 simple ingredients and you'll want to let the kiddos get in on this action. It's so easy that The Elf On The Shelf can make these cookies or play some kind of prank.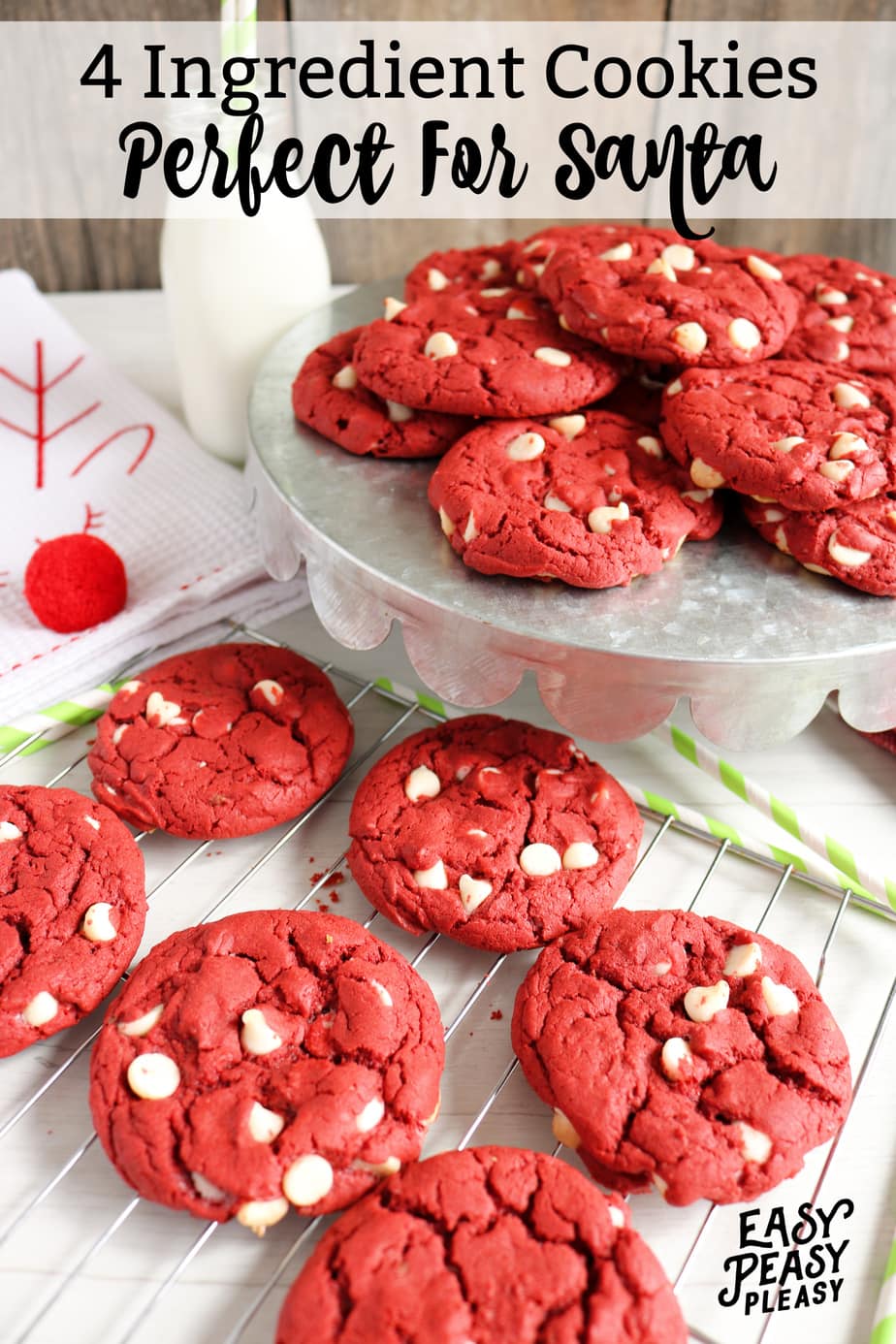 These cookies may have an identity crisis. They can work great for Christmas and Valentine's Day!
If you are looking for cookies for Valentine's Day. You are in the right spot. You can make Valentines Day extra sweet with a batch of these Red Velvet Cake mix cookies and a batch of my Strawberry White Chocolate Chip cake mix cookies. Perfectly pink and red on the day of love.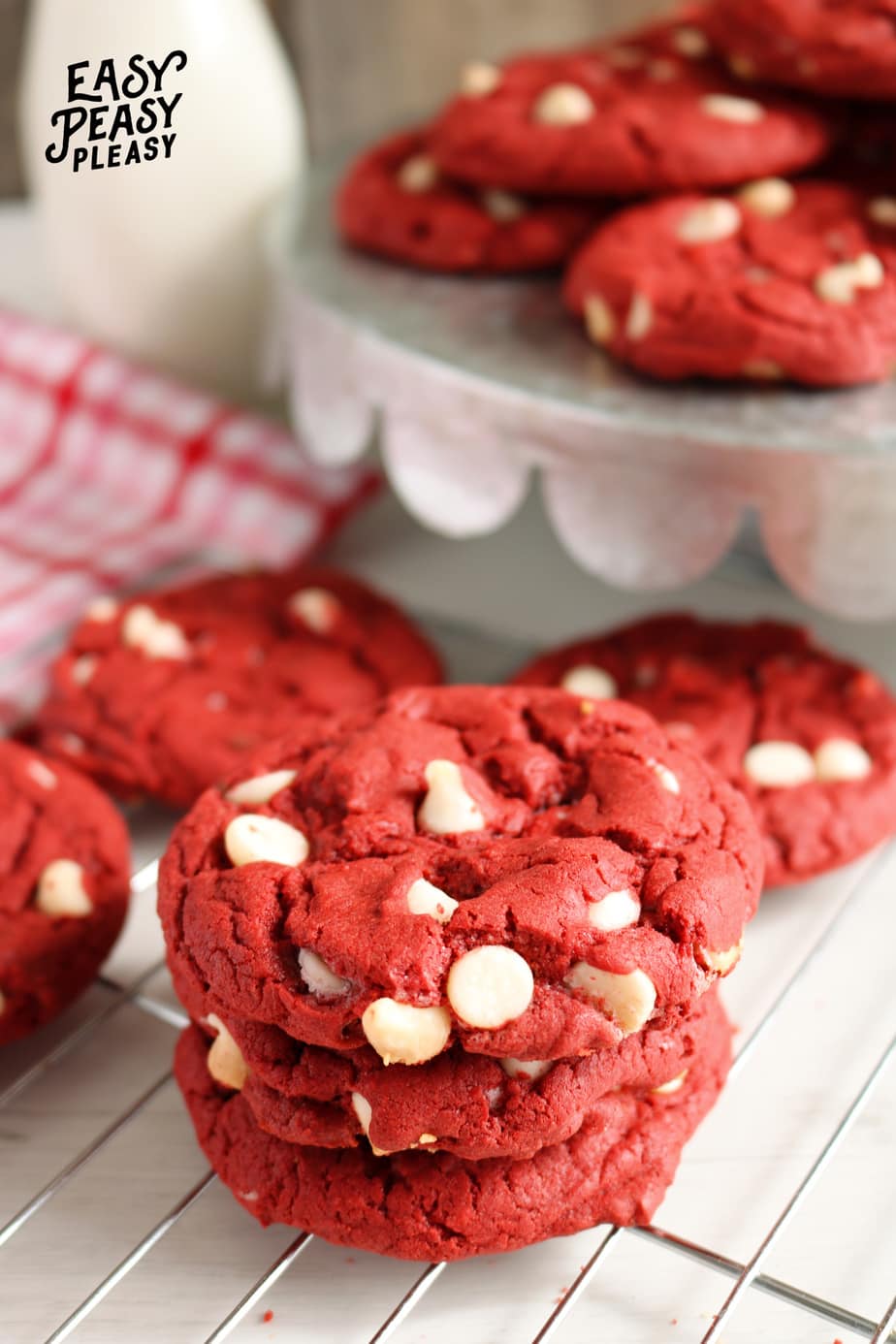 Pin to your Valentine's Recipe Boards.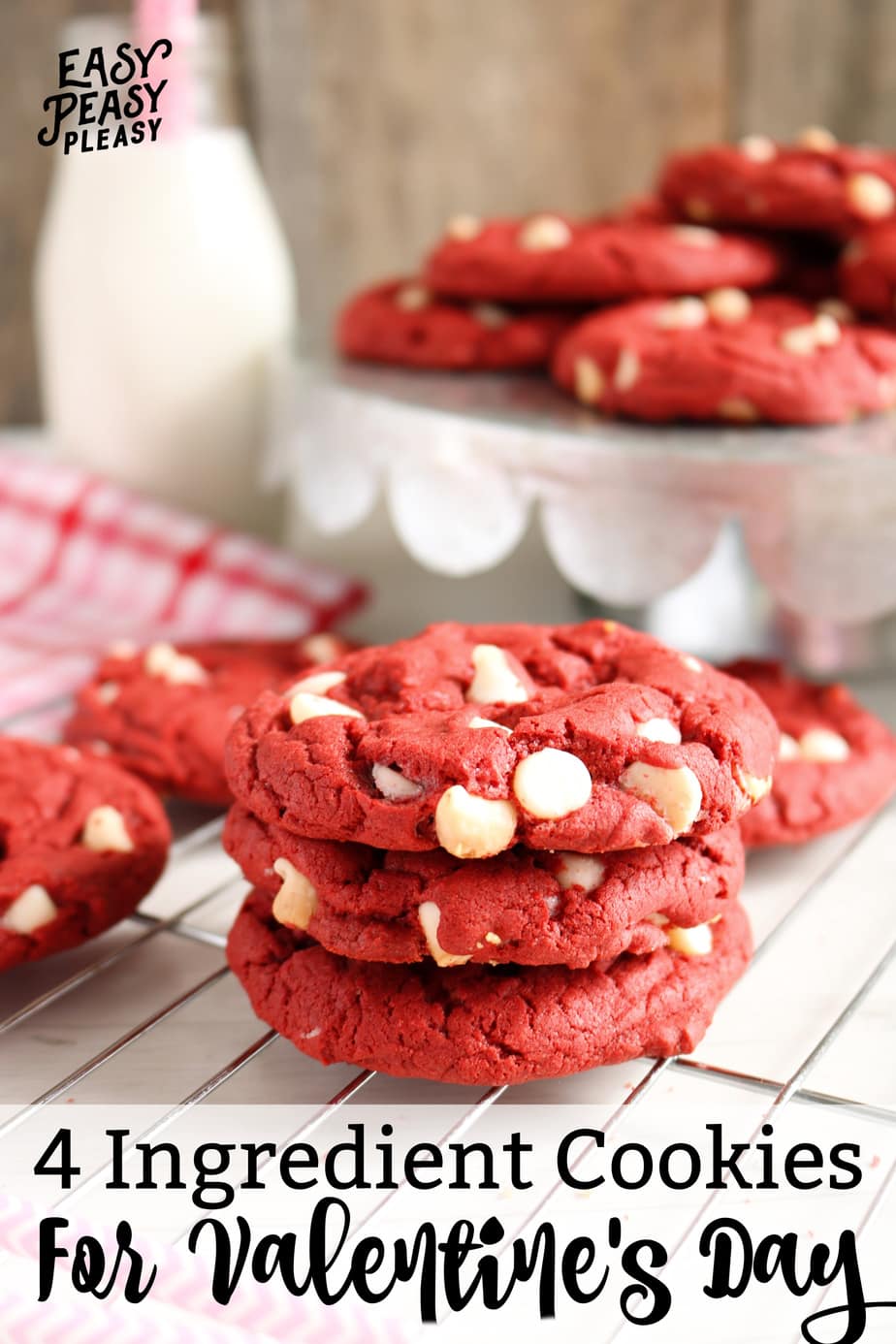 Super easy and perfect for Santa Cookies and Valentine's Day Cookies.
What you'll need…
Ingredients
Red velvet cake mix
Eggs
Vegetable oil
White chocolate chips
Extras…
Medium bowl
Mixer
Measuring cups (dry and wet)
Cookie scoop
2 Large cookie sheets (or use 1 but let the cookie sheet cool before baking 2nd batch)
Wire cooling rack (optional)
Easy Peasy Pleasy Tips
Use a medium cookie scoop for perfectly uniformed cookies.
You do not need these ingredients plus the cake mix ingredients. You only need the ingredients I've listed.
Store in airtight container.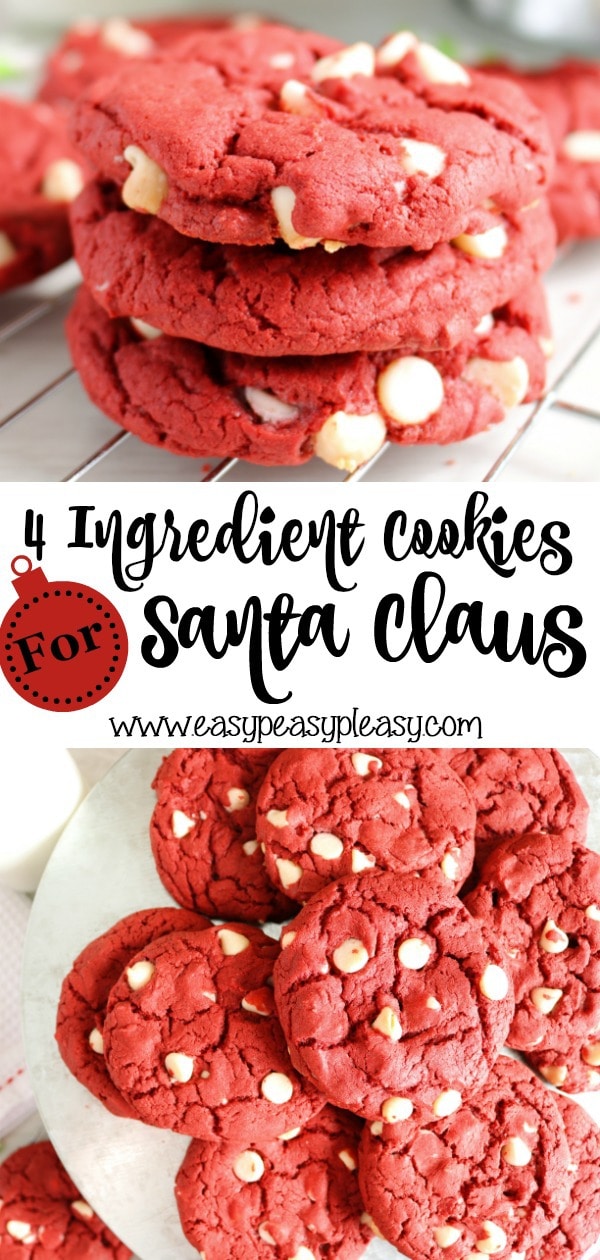 Red Velvet Cake Mix Cookies
Ingredients
1 -15.25 ounce box Red Velvet Cake Mix
1/2 cup vegetable oil
2 eggs
2 cups white chocolate chips
Directions
Preheat oven to 350 degrees. Using a large spoon mix together cake mix, vegetable oil, and eggs in a large bowl until well combined. Stir in white chocolate chips until evenly distributed. Place medium cookie scoops onto an un-greased cookie sheet. Bake for 14 minutes or until set in the center. Let rest on pan for 2 minutes then move to a wire rack for cooling. Eat and enjoy!
EasyPeasyPleasy.com
Subscribe to Blog via Email