It's definitely pumpkin spice season. You can find it everywhere and in everything…including my kitchen. Do you love the flavors of Pumpkin Spice? If so, this Pumpkin Spice Cheese Ball recipe using only 4 Ingredients is the perfect appetizer for you this holiday season.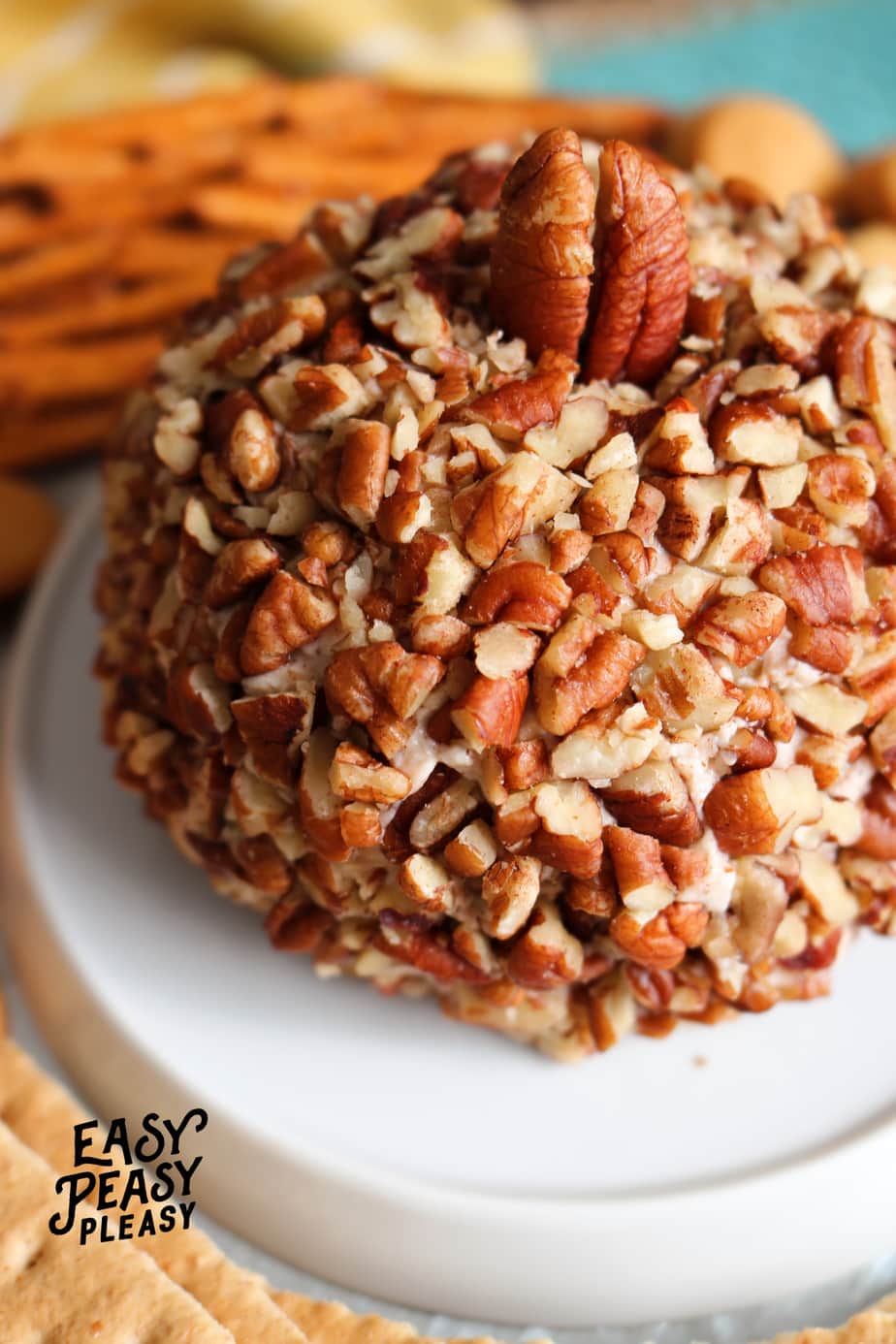 I love the flavors of pumpkin spice and I love the flavor of sweetened cream cheese. When I put them together, I'm in heaven because it's a perfect combination. I will say my hubby isn't a fan of pumpkin pie but he does like the flavors of pumpkin spice. This recipe is my way of making something pumpkin spice flavor and still be able to omit the pumpkin.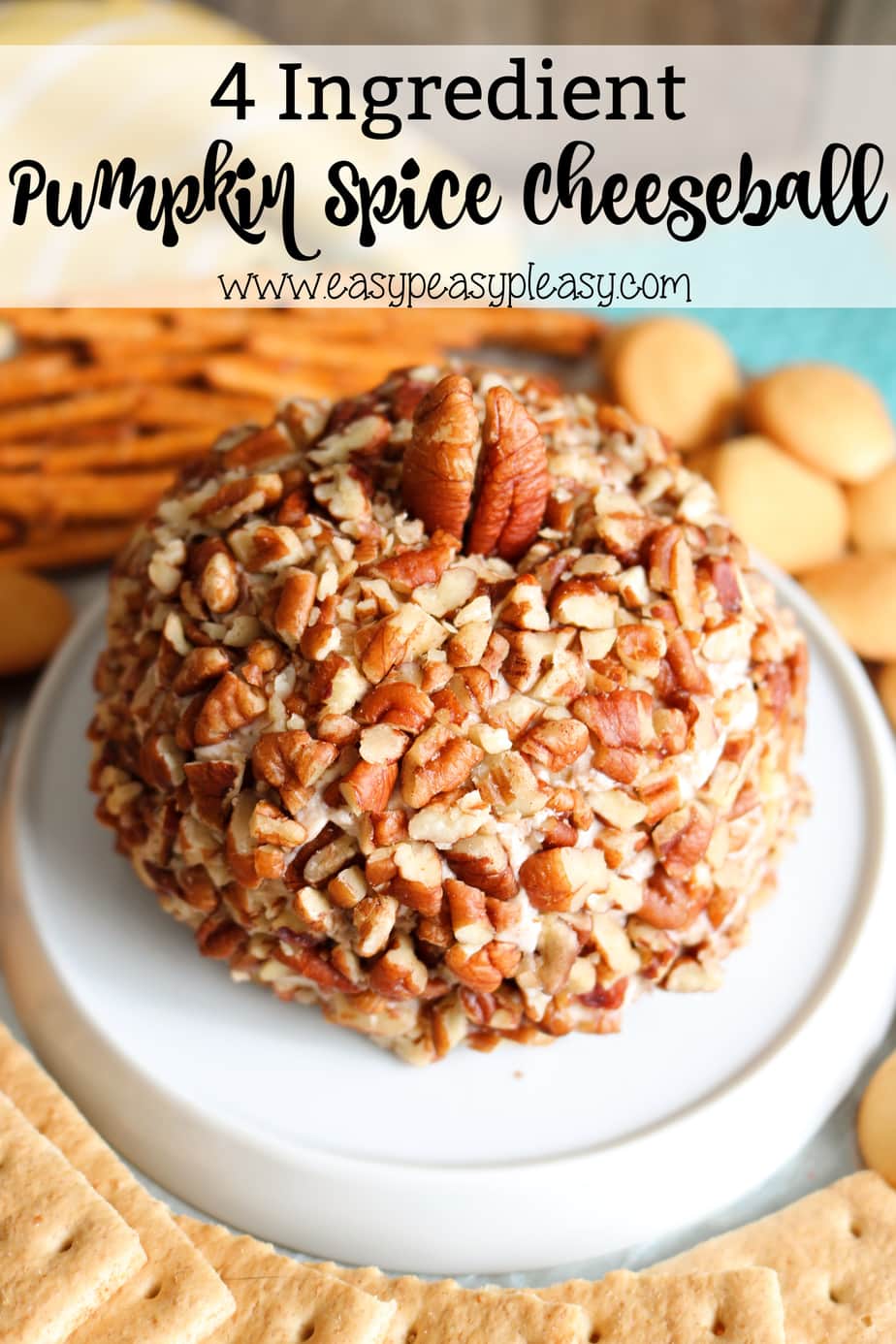 This Pumpkin Spice Cheese Ball recipe can have you planning ahead or making on the fly. It's also a freezer friendly recipe and you can easily double the ingredients for a larger appetizer. Follow all the tips and recipe for the perfect make ahead holiday appetizer, then store in the freezer until the day you want to serve. Make a few and freeze to have on hand throughout the holiday season.
No time to make ahead? No problem. Mix this recipe up as a dip. All you need is time to let the cream cheese soften and less than 5 minutes to mix. Pour in a pretty bowl and top with some chopped pecans.
What you'll need…
Ingredients
Cream Cheese
Powdered Sugar
Pumpkin Spice
Pecans
Extras…
Medium bowl
Mixer
Measuring Spoons
Plastic Wrap

Easy Peasy Pleasy Tips
I use 3 teaspoons of pumpkin spice in my recipe. You can use less or more pumpkin spice depending on your taste. Just add a teaspoon of spice at a time and taste.
Powdered sugar added to this recipe makes the cheese ball a little less firm. Place the mixture in the center of a sheet of plastic wrap and cover. Shape into a ball and place in freezer for 2 to 3 hours. Then cover with chopped pecans.
I use chopped pecans but still chop them into smaller pieces.
Recipe can be easily doubled.
Make a couple and store in freezer until the day of.
You can mix the first 3 ingredients together for a dip and top with chopped pecans when you can't plan ahead.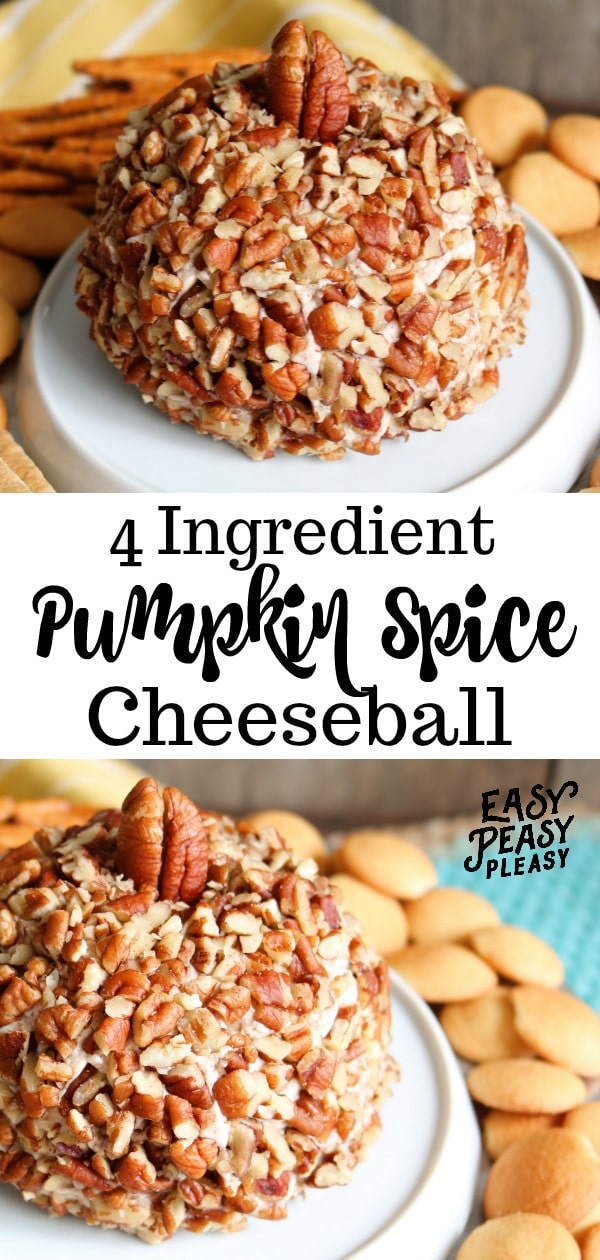 Pumpkin Spice Cheese Ball
Ingredients
1 – 8 ounce package cream cheese, softened
1 cup powdered sugar
3 teaspoons pumpkin spice
3/4 cups chopped pecans
Directions
Using a mixer, mix cream cheese and powdered sugar until well incorporated. Mix in pumpkin spice until evenly distributed. Place cream cheese mixture, in a ball form, in the center of plastic wrap. Cover with plastic wrap and gently mold into a pumpkin shape or ball. Place in freezer for about 2 hours just to firm up. Remove from freezer. Cover with chopped pecans until well coated. Keep refrigerated until ready to serve. Serve with vanilla wafers, graham crackers, and pretzel sticks. Eat and enjoy!
Subscribe to Blog via Email