I don't know about y'all but I love a good cheeseball recipe. My Carrot Shaped Cheeseball uses the same 4 ingredients as my original recipe with a few tweaks to make it cute and fun for Easter. Served with an assortment of crackers and veggies, this dip is always a hit with my immediate family and my extended family over the holidays.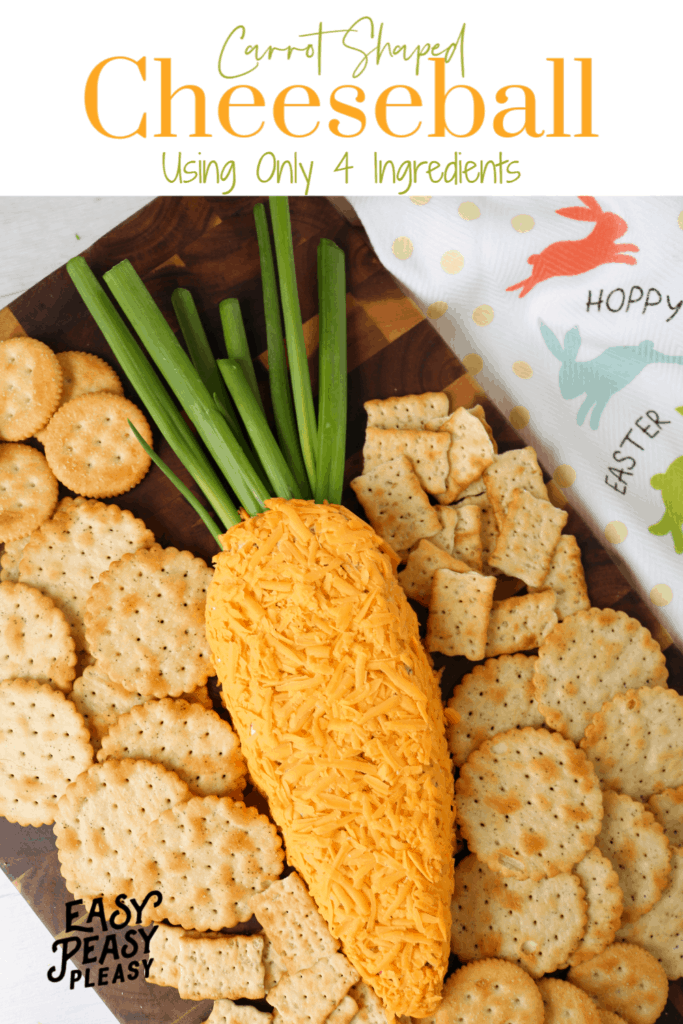 This take on my Classic Cheeseball Recipe adds a festive touch to one of my most requested appetizers. It takes the same 4 ingredients to turn this savory appetizer into a carrot shape.
The Carrot Shaped Cheeseball for Easter can easily be made in one bowl. Just add the ingredients according to the recipe and mix with a sturdy spoon; I like a solid wooden spoon for this. The key is to have your cream cheese at room temperature so that it is soft enough to mix easily.
Alternatively, use your stand mixer to make quick work of mixing the ingredients until well combined.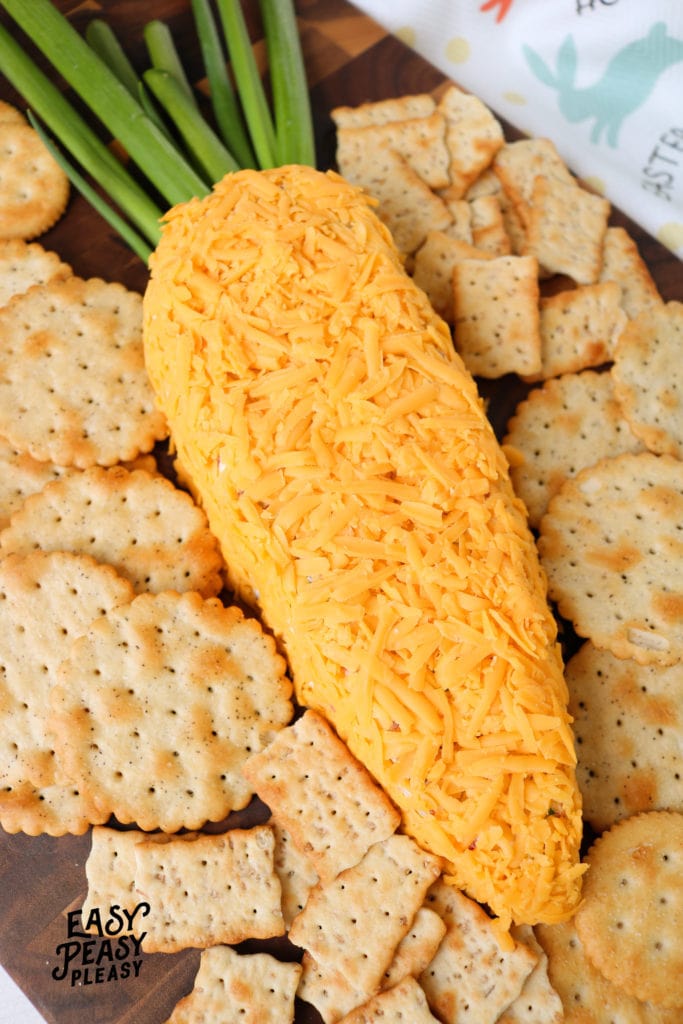 When you are ready to shape the dip into a carrot shape, dump the mixture on the plastic wrap. Honestly, I like to use my hands to mold the dip into an elongated shape to aid in forming the carrot shape.
To make shaping the classic cheeseball recipe you can use disposable food safe gloves. If you don't have any on hand, you can use plastic wrap to cover the dip and mold it into the carrot shape. Simply cover it with a length of plastic wrap and press the dip into carrot form as big and wide as you like.
Once I have the carrot shape, I just use the same plastic wrap to cover tightly and refrigerate.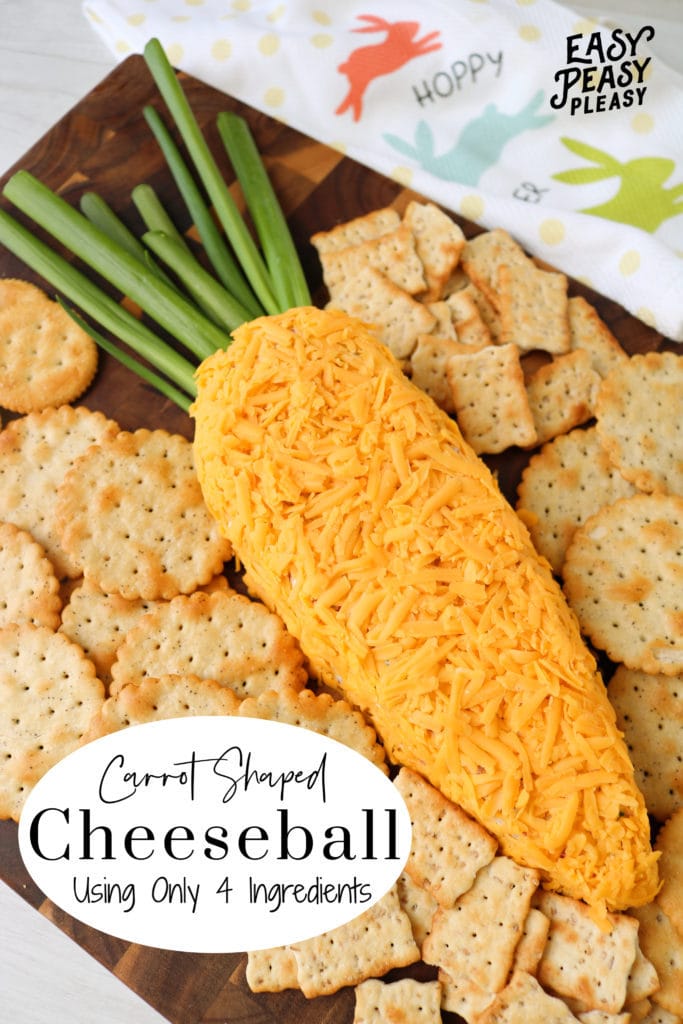 Before I'm ready to serve, I press the reserved shredded cheddar cheese over the cheeseball carrot. Once the cheeseball is completely covered with cheddar cheese, I place on my serving dish. (I like to use my cutting board as a serving dish.)
When ready to serve, place a handful of green onion shoots at the top of the carrot to resemble carrot tops. Add an assortment of crackers and/or veggies for dipping.
The Carrot Shaped Cheeseball for Easter is also a lovely addition to spring garden parties or even just a little something extra to make your holiday at home a little more special and festive. Check out how to turn this same cheeseball into a pumpkin here.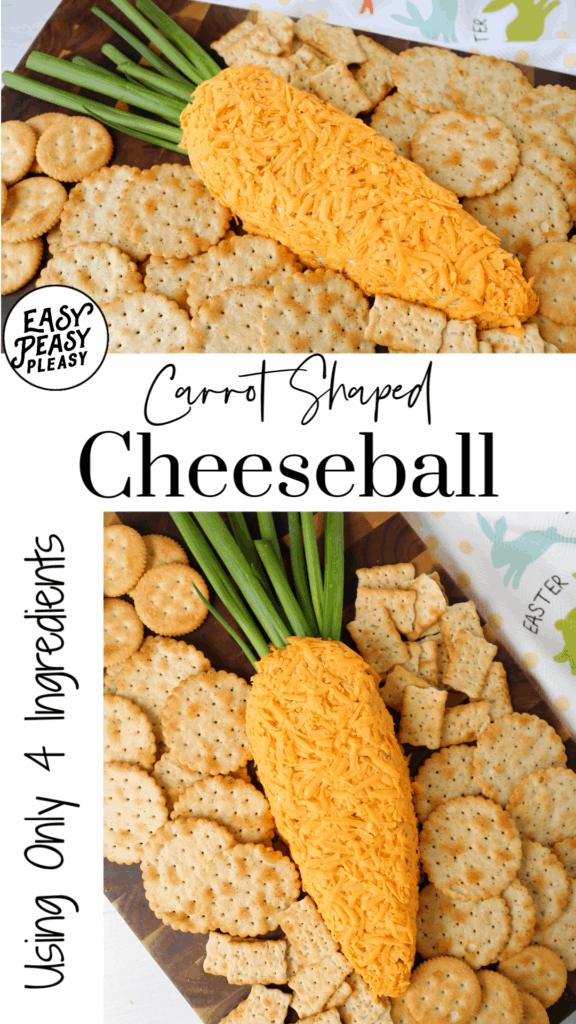 Tips To Make The Carrot Shaped Cheeseball Easy Peasy Pleasy
Make sure your cream cheese is at room temperature for easy mixing.
This recipe can easily be doubled.
When you chop the green onion be sure to save some of the green shoots for the top of the carrot for presentation.
Shred your own cheddar cheese from the block. There are no anti-caking agents in block cheese, so it sticks together better when covering your cheeseball.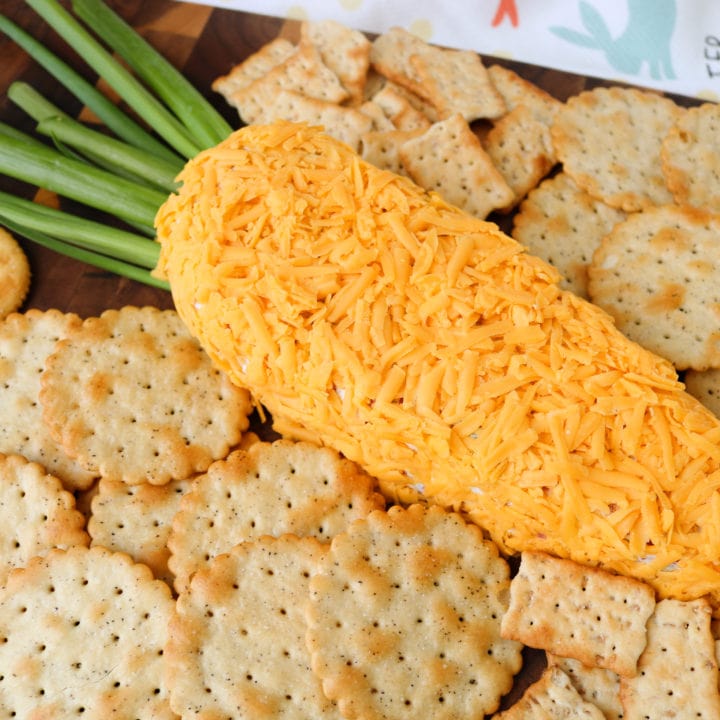 Carrot Shaped Cheeseball
Additional Time:
5 minutes
This 4 Ingredient Carrot Shaped Cheesball is a cute way to transform my classic cheesball.
Ingredients
8 ounces cream cheese, softened
1 - 2.25 ounce jar dried beef, chopped
1 cup green onions, chopped
2 cups shredded cheddar cheese, divided
green onion shoots for stem
Instructions
In a large bowl combine chopped dried beef, chopped green onions, and 1 cup of shredded cheese. Add softened cream cheese and mix well until all ingredients are well combined. Place on plastic wrap and form into the shape of a carrot. Wrap and refrigerate until ready to serve. When ready, press the remaining 1 cup of shredded cheese into the cheeseball. Place on serving dish and add green onion shoots to make the stem. Serve with crackers or veggies. Eat and Enjoy!
Subscribe to Blog via Email