Succulent pork is on the menu tonight! Y'all these BBQ Pork Tenderloin Sliders are a must try. I'm a fan of all things pork and this recipe doesn't disappoint.
Have you ever really looked at the price of pork? With the exception of bacon and ham, most pork cuts are reasonably priced. Pork tenderloin is a cut of meat that suits my budget and my taste buds. Serve up some baked beans and potatoes and you've got a great meal!
I always get 2 pork tenderloins in one package and it doesn't usually exceed $4 a pound. More often than not, it falls in the $3.50 ish range. That is totally in my price range.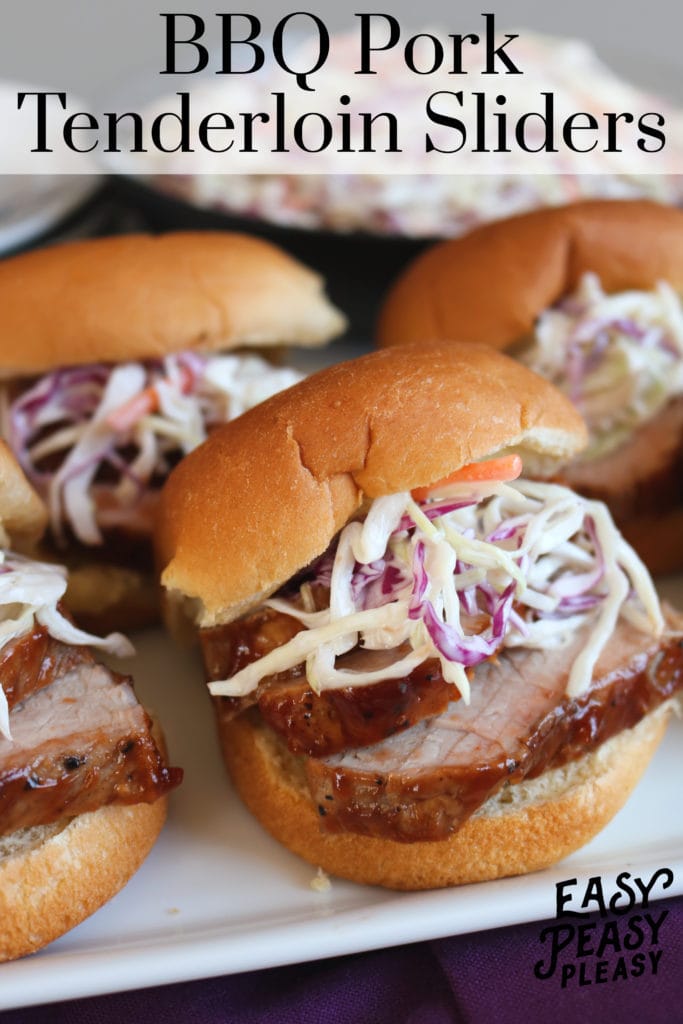 The best part about a pork tenderloin is they cook exceptionally well in an oven, on a grill, and even in a crock-pot. With this recipe, I did a quick pan sear then popped it in the oven so I could walk away and do other things. The tenderloin cooks up quick and you can have an easy weeknight dinner on the table in no time.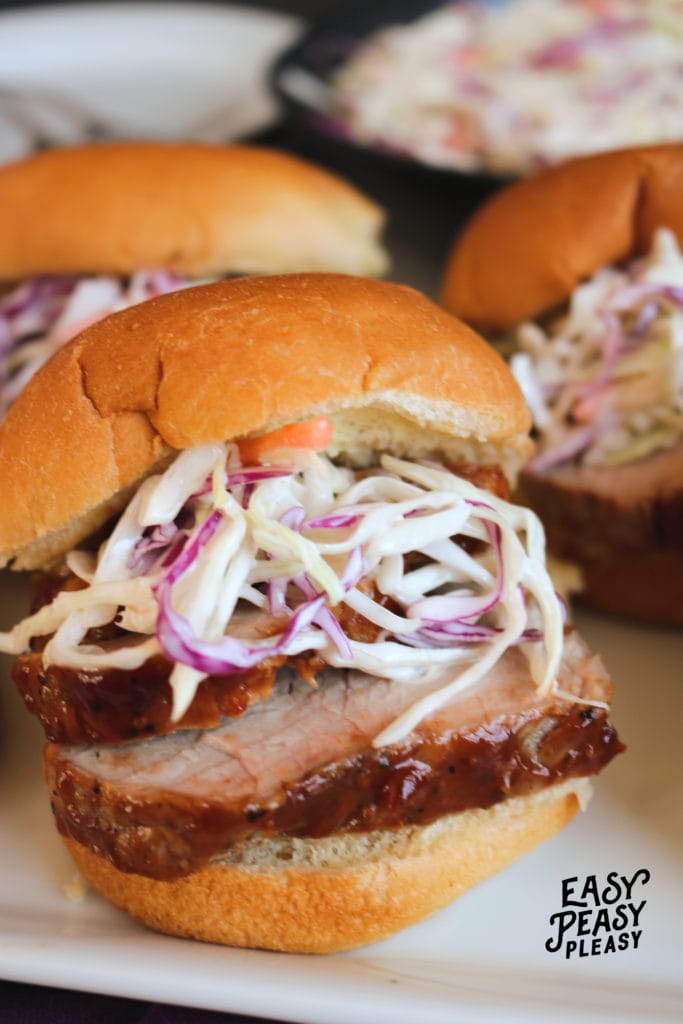 What You'll Need For This Easy Peasy Pleasy Recipe
Pork tenderloin
Oil
Salt
Pepper
BBQ sauce
Slider buns
Coleslaw
My family loves pork tenderloin so a lot of times, I use my Juicy Roasted Pork Tenderloin recipe you can find here for one of the tenderloins. I'm all about the easy and I save the second tenderloin just for these BBQ Pork Tenderloin Sliders. You know me…cook once eat twice.
Also, I top these sliders with this coleslaw recipe. BBQ + Coleslaw = WIN!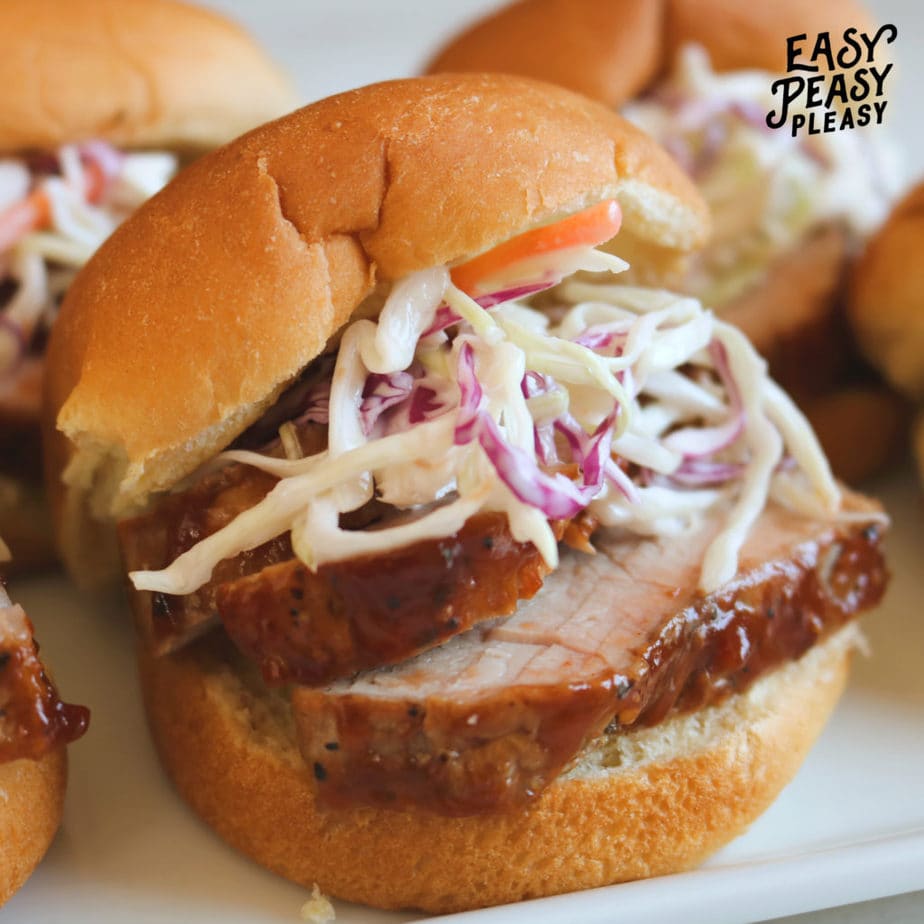 While 1 pound of pork tenderloin works great for my small family and I can get 2 different recipes out of the same package of meat it might not be enough for a large family. If you have a large family follow the instructions in the recipe for 2 lbs of tenderloin. If you have a small family like mine, split the recipe in half and make up both recipes.
Tips To Make Your Process Easy Peasy Pleasy.
Sear the tenderloin in a cast iron pan or skillet before putting in the oven. This will help seal in the juices.
Let the pork tenderloin rest for at least 5 minutes before slicing. I promise it's easier to make perfect thin slices after you've let the meat rest.
Use your favorite BBQ sauce to make these sliders the way you like.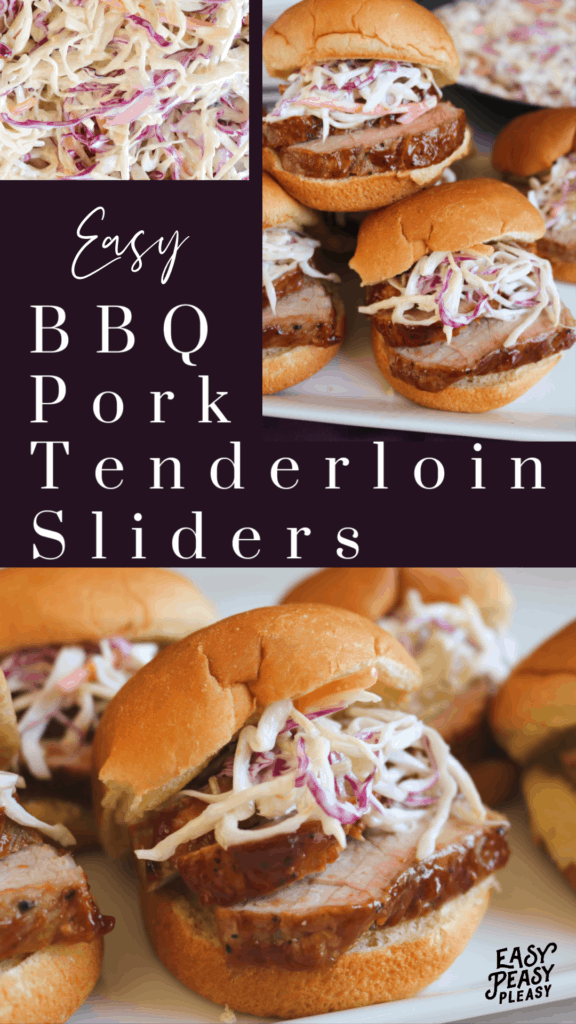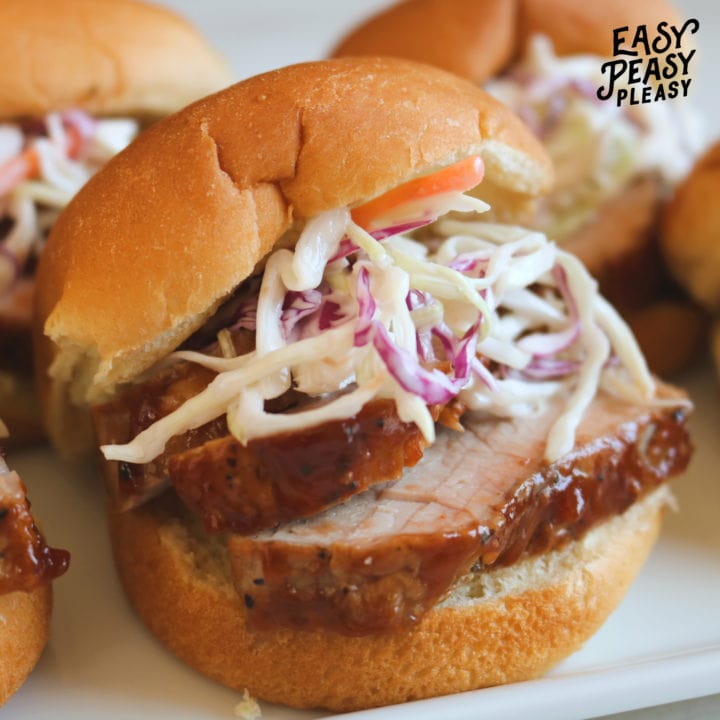 BBQ Pork Tenderloin Sliders
Easy BBQ Pork Tenderloin Sliders using only a few ingredients that are inexpensive. The perfect recipe for lunch or dinner.
Ingredients
2 pork tenderloins, 2lbs total
1 tablespoon oil
1 teaspoon salt
1/2 teaspoon pepper
1/2 cup BBQ for basting
Slider buns
Coleslaw, optional
Instructions
Heat oven to 350 degrees. Cover large sheet pan with foil and spray with non-stick cooking spray. Heat oil in skillet over medium heat. Sprinkle salt and pepper over pork tenderloins and sear in skillet for 2 minutes on each side. Place on sheet pan and baste with BBQ sauce. Bake for 20 minutes. Baste with BBQ sauce and bake an additional 5 minutes or until internal temperature reaches 145 degrees when checked with a meat thermometer. Let pork tenderloin rest for at least 5 minutes. Slice and serve on buns. Eat and Enjoy!
Subscribe to Blog via Email