Y'all, I am all about this Lazy Lasagna Ravioli! Now, don't get me wrong, I love a full-on homemade lasagna when there's time to make a sauce, boil the noodles, and layer all that tomato-y goodness. But on any given day this recipe comes together in a snap using only 5 ingredients.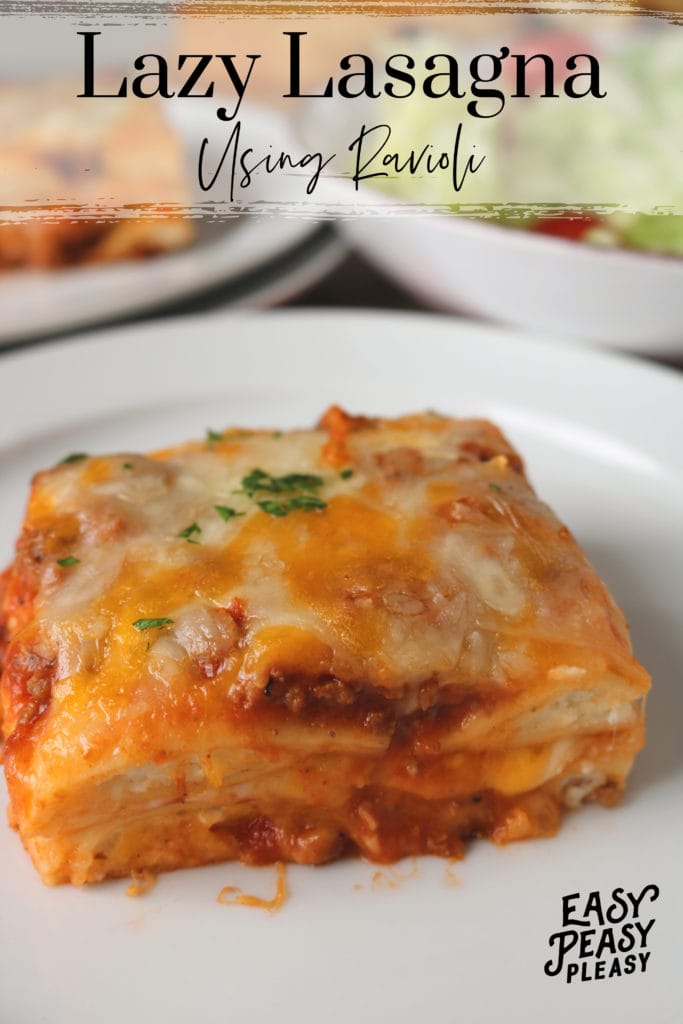 When I discovered this dump and bake lazy lasagna hack, I was hooked. My love for pasta is rivaled only by my love for bacon. LOL! We love Italian food and this American Italian version is just as delicious. Lazy Lasagna Ravioli is an easy way to enjoy an Italian classic dish any day of the week.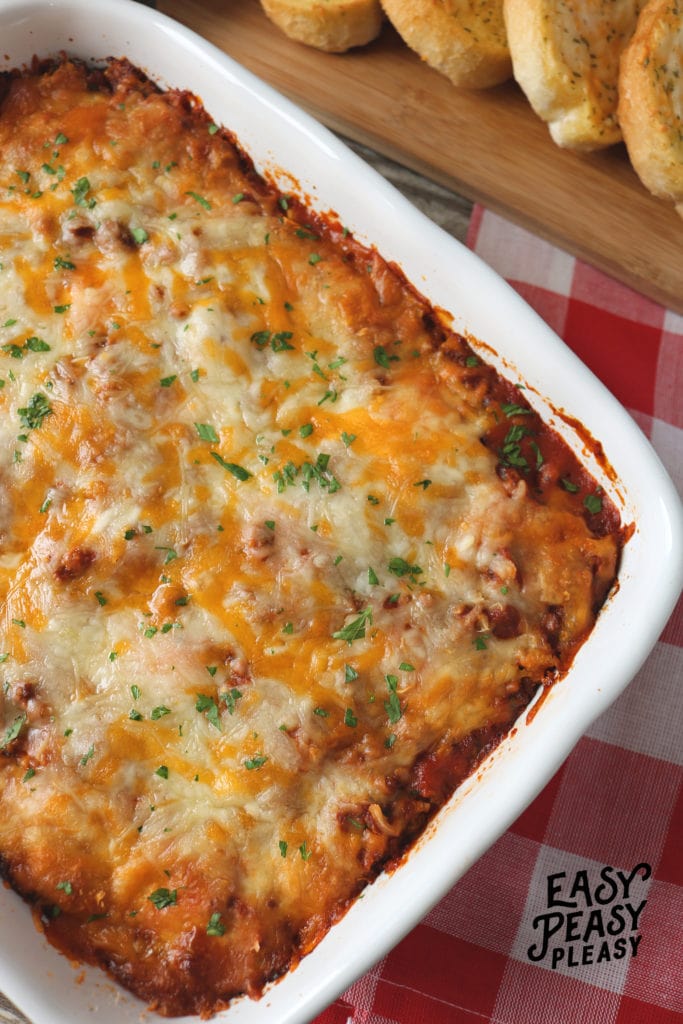 Making a delicious pan of homemade lasagna has always been in my dinner-making wheelhouse but y'all, I'm excited for this lazy lasagna. It means we can enjoy a hot almost- homemade Italian meal any day of the week. While the kiddo request's my Chicken Parmesan every week, he does love this lasagna.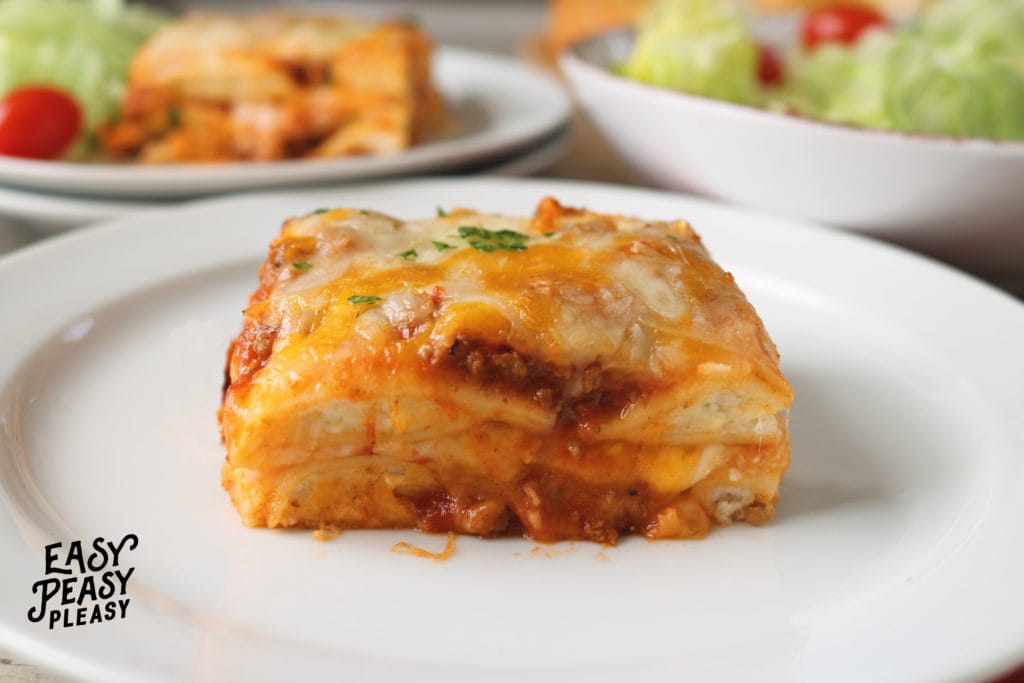 Make an easy lasagna by using ground beef, your favorite jarred pasta sauce or marinara and frozen ravioli. Plus, the ravioli gives you an added ingredient. Easy Peasy!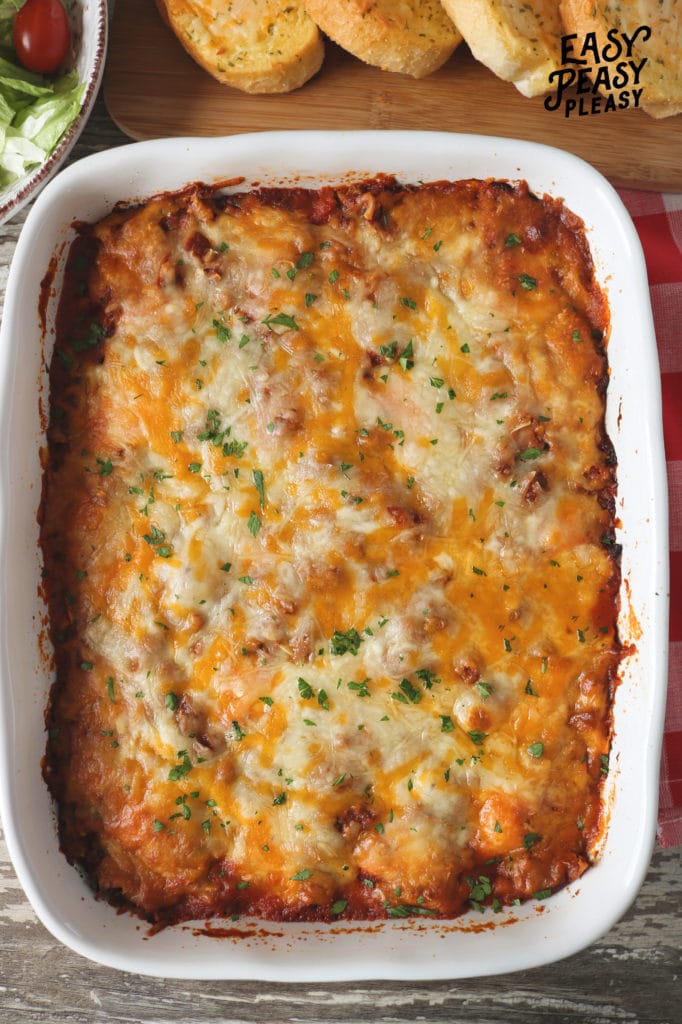 Have Picky Eaters?
Do you have picky eaters? Lazy Lasagna Ravioli can be easily modified to accommodate all types of eaters. Omit the ground beef and choose cheese ravioli and a marinara for a tasty meatless option. Add mushrooms or use spinach and ricotta ravioli for veggie lovers. The variations are endless for this easy semi-homemade lasagna.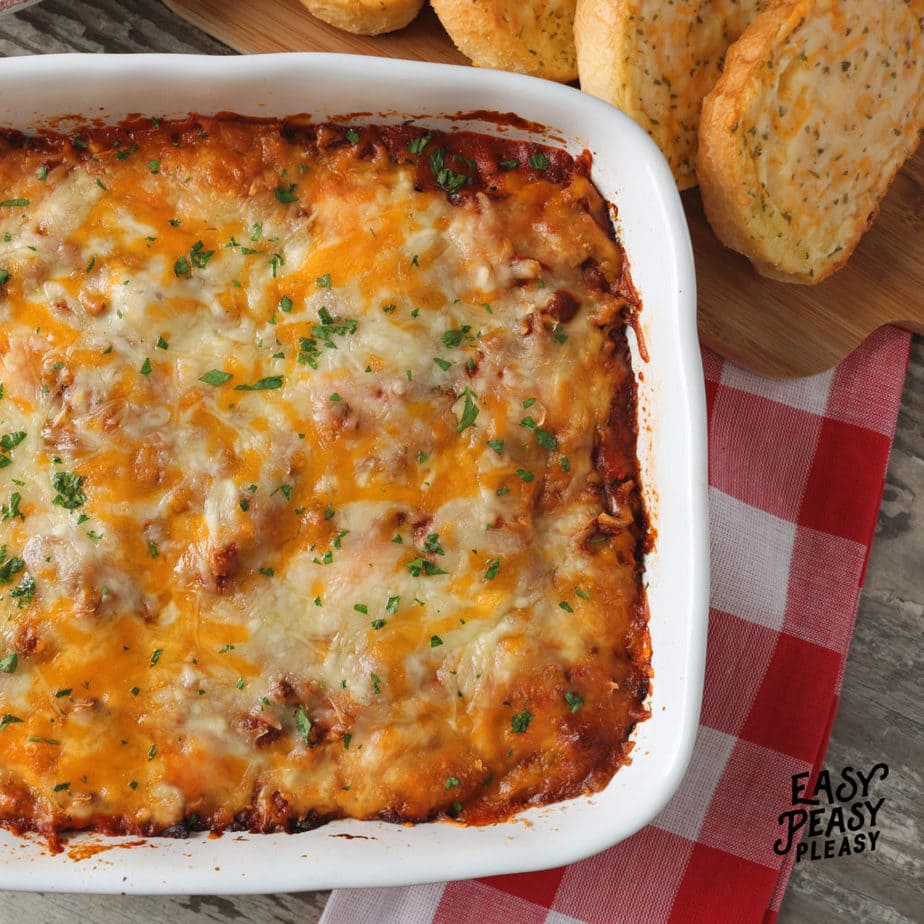 Skip the meat sauce and choose beef ravioli, shredded cheese and jarred marinara. Don't have ravioli on hand? Substitute frozen tortellini instead.  See how many ways you can change up this Lazy Lasagna?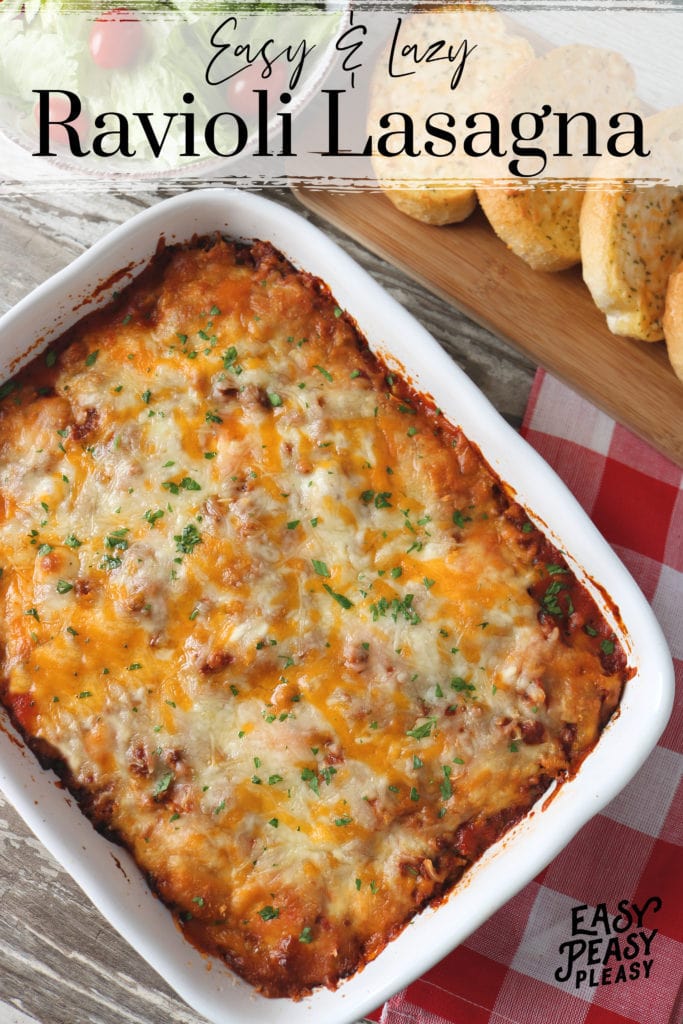 Lazy Lasagna Ravioli is so easy to make. Add a side salad and a loaf of garlic bread and you have an entire almost homemade meal without the fuss of simmering sauce for hours or boiling noodles.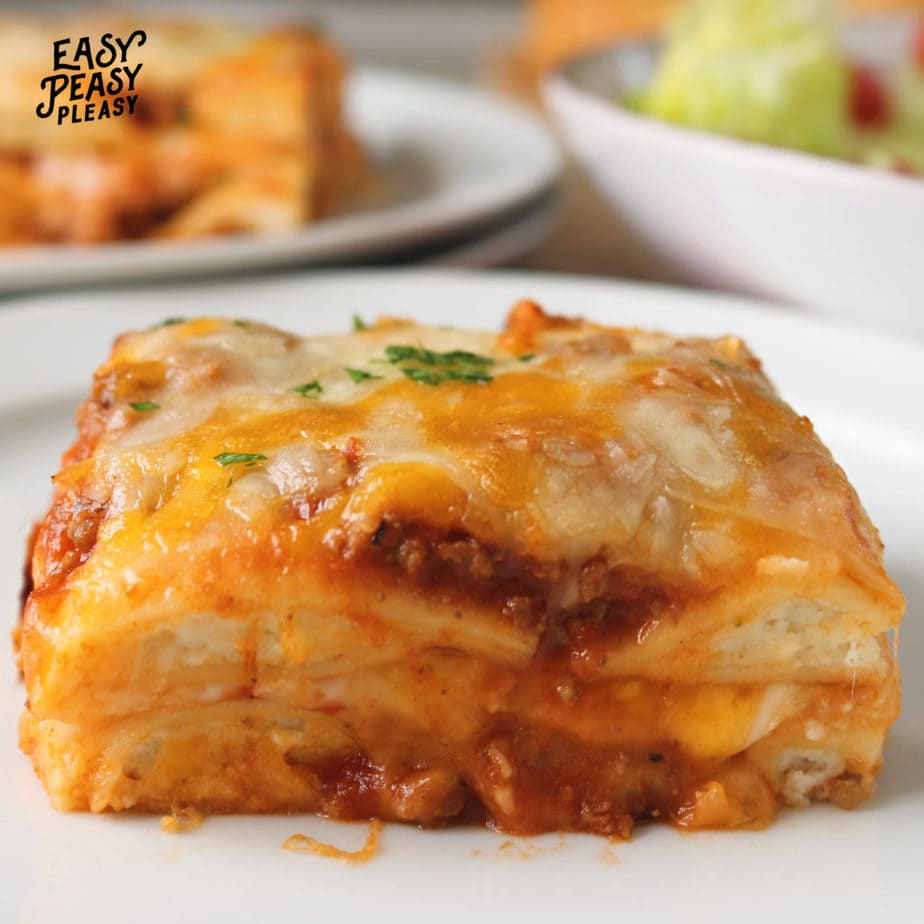 What You'll Need For This Easy Peasy Pleasy Recipe
ground beef
jarred spaghetti sauce
frozen ravioli
shredded cheese
parsley
Tips to make your process Easy Peasy Pleasy
If you are cooking ground beef for another recipe earlier in the week, cook up an extra pound in the same pan. Reserve 1 pound of cooked meat in a ziptop bag. Store in fridge for later in the week or in the freezer to use a few weeks later. You can assemble this lasagna in less than 10 minutes when you cook the ground beef ahead of time.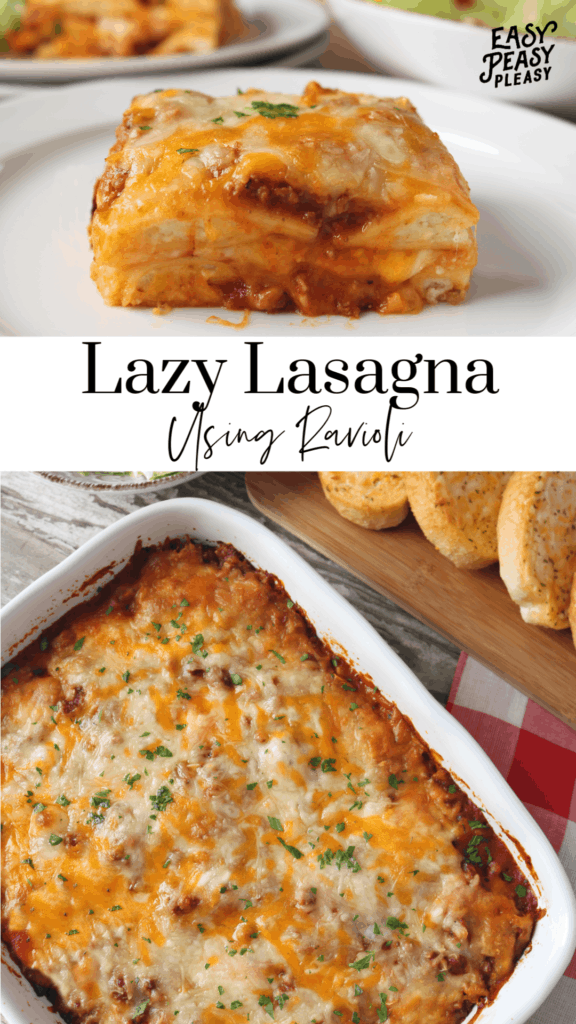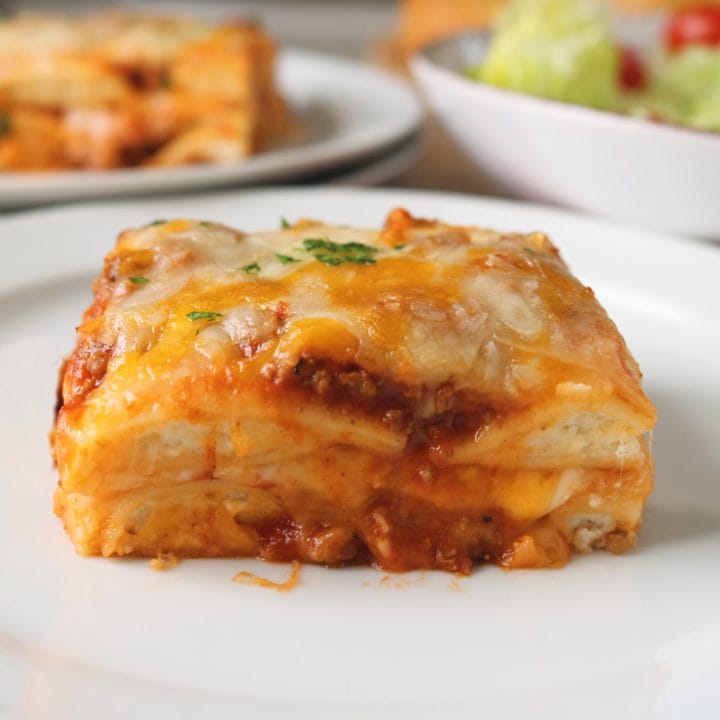 Lazy Lasagna Ravioli
Easy Lazy Lasagna Ravioli using only 5 Ingredients.
Ingredients
1 lb ground beef
1 - 24 ounce jar spaghetti sauce
1 bag frozen cheese ravioli, 1lb 9 oz bag
1 cup shredded mozzarella cheese or cheese blend
1 tablespoon chopped fresh parsley, optional
Instructions
Preheat oven to 350 degrees. Break up and cook ground meat for about 5 mins in a medium skillet over medium high heat until no longer pink. Drain fat if using high fat ground beef. Add spaghetti sauce to cooked ground beef and mix until well combined. Spread a 1/4 cup of meat sauce onto bottom of a 11x8.5 casserole dish. Arrange one layer of cheese ravioli in dish. Top ravioli with half of the meat sauce and 1/2 cup of cheese. Repeat ravioli layer, the rest of the meat sauce and cheese. Bake for 30 to 40 minutes or until cheese is melted. Let rest. Top with chopped fresh parsley. Eat and enjoy!
Notes
Check www.easypeasypleasy.com for tips.
Subscribe to Blog via Email