Oatmeal raisin cookies are a family favorite and the perfect cookie to use up your pantry staples. They are soft, chewy and will be devoured in no time.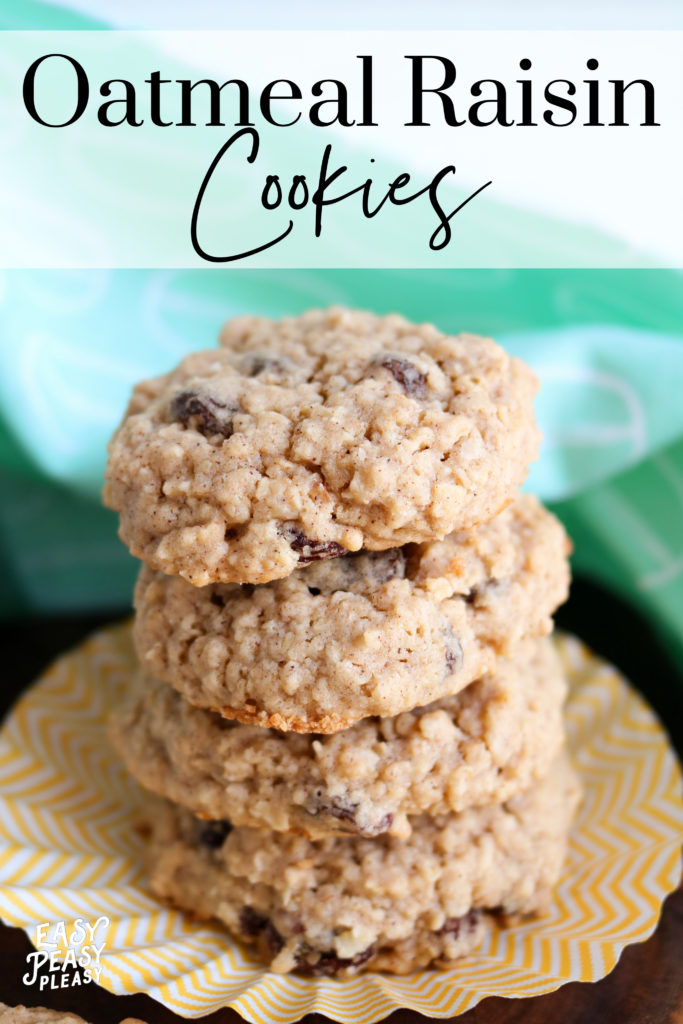 My love of anything oatmeal starts with my granny. When I was a kid, I would spend summers and holiday breaks with my granny. She taught me how to do everything from cooking to gardening to sewing. She even taught me how to run a yard sale.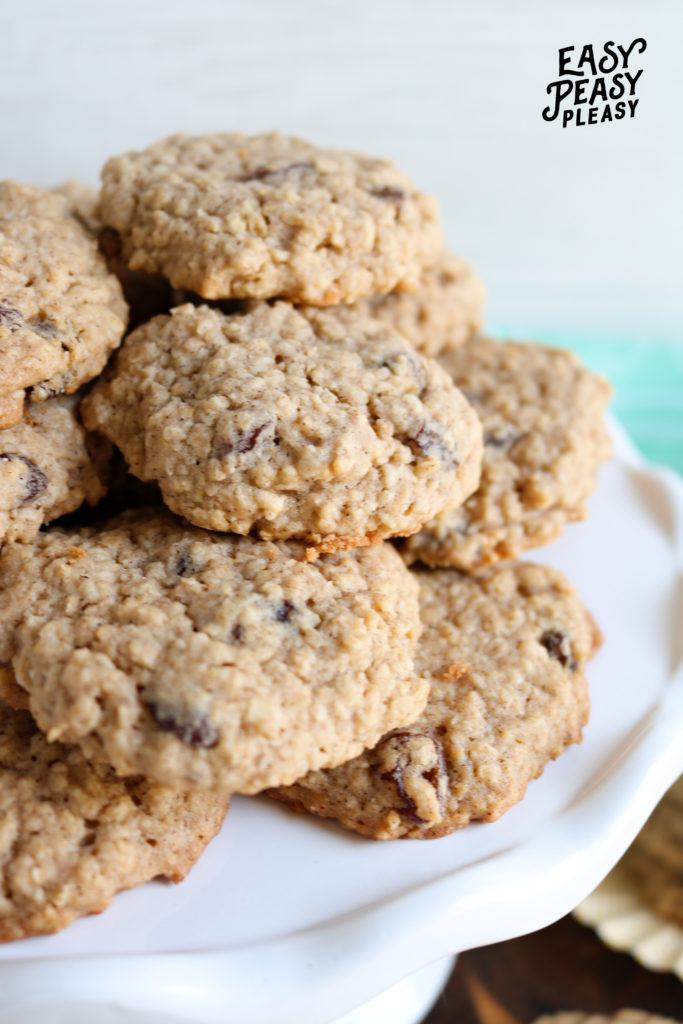 But my most favorite memory was her cooking. Oh boy did I love to eat her food! She made the best oatmeal. It was not fancy and did not require many ingredients, but it is a comfort food I still make to this day.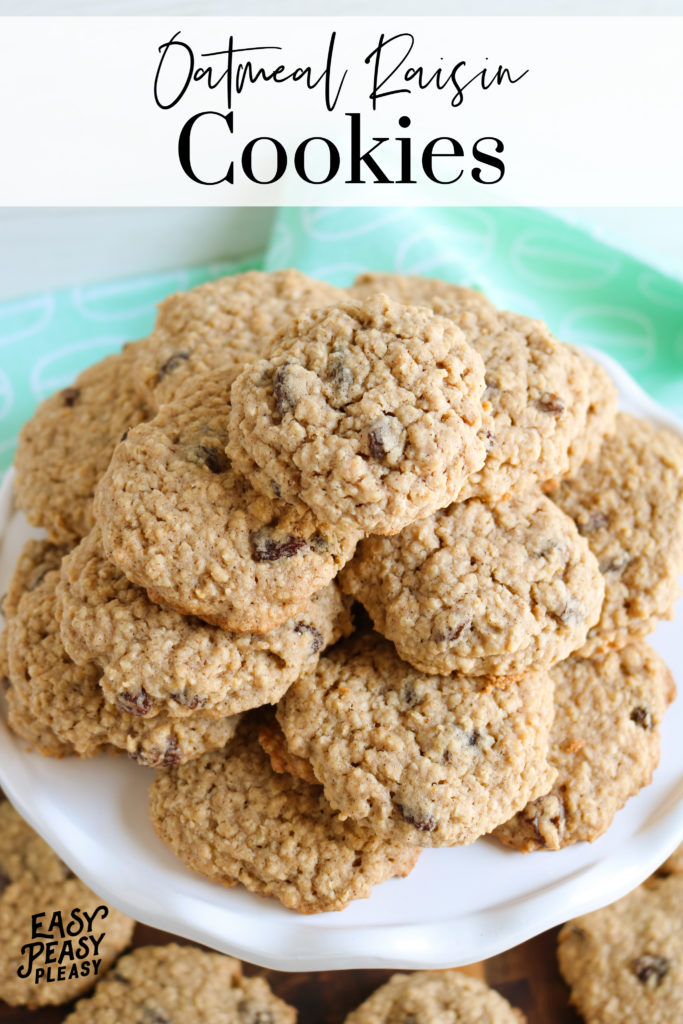 While she used old fashioned oats, I have come to love the ease of quick 1-minute oats. The 1-minute oats are great to use when making my No Bake Cookies too.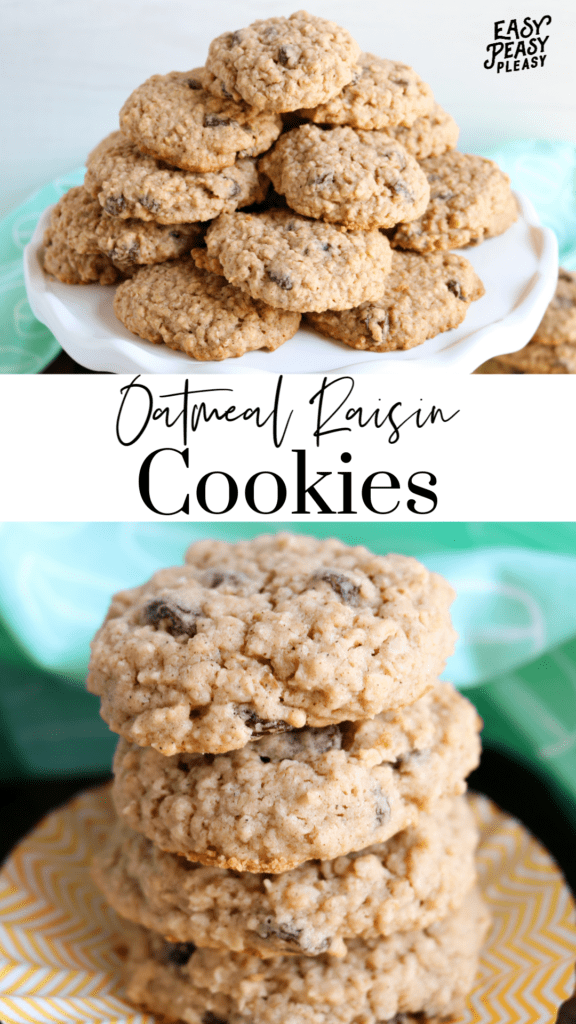 Since my granny instilled the love of oatmeal in me, I always have oatmeal in my pantry. It has been a pantry staple for me since I was a kid. So, when it comes to whipping up a batch of soft and chewy Oatmeal Raisin Cookies, I usually have everything on hand.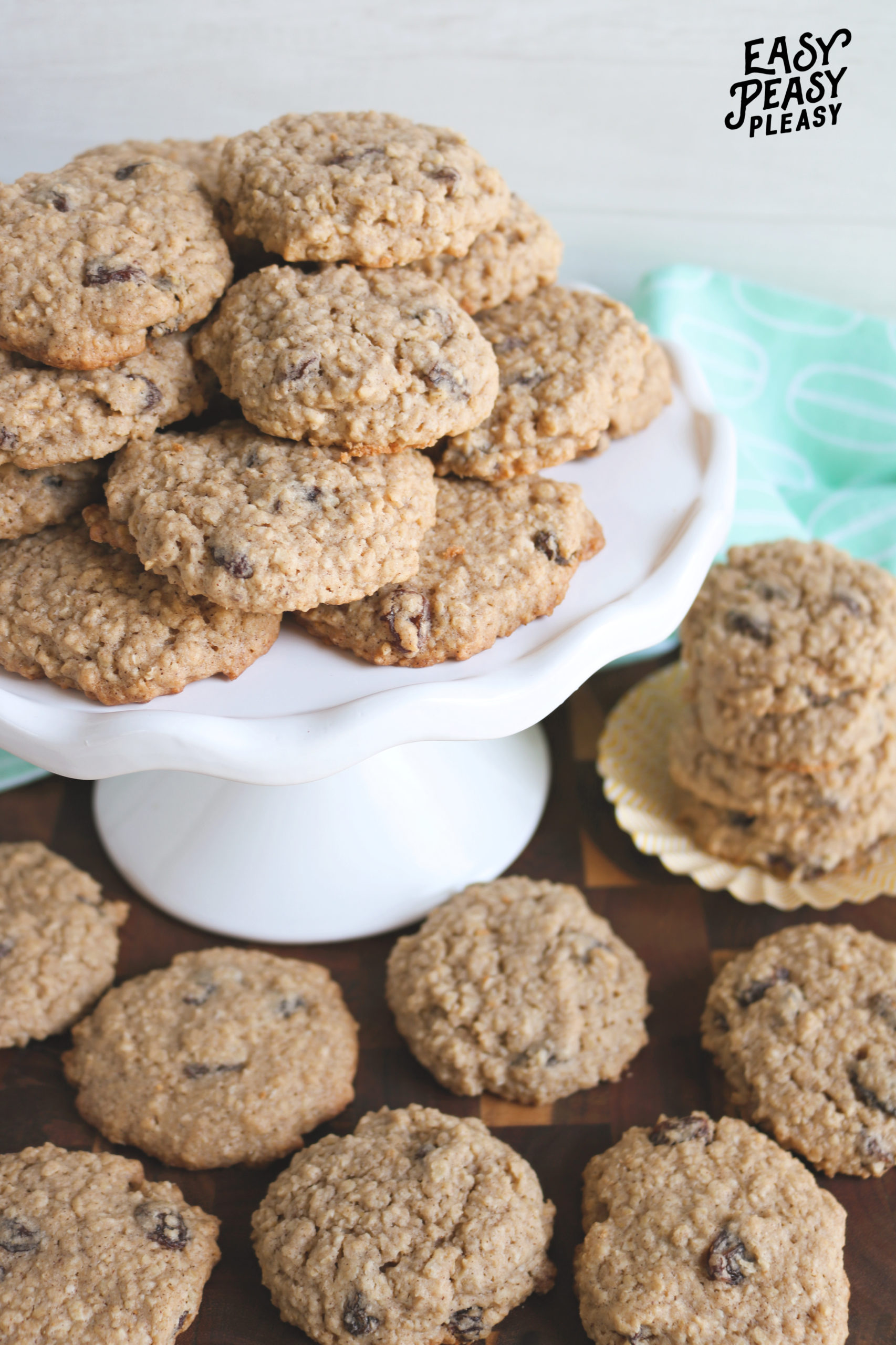 What You'll Need For Oatmeal Raisin Cookies…
butter
brown sugar
eggs
vanilla
all purpose flour
baking soda
salt
cinnamon
quick cooking oats
raisins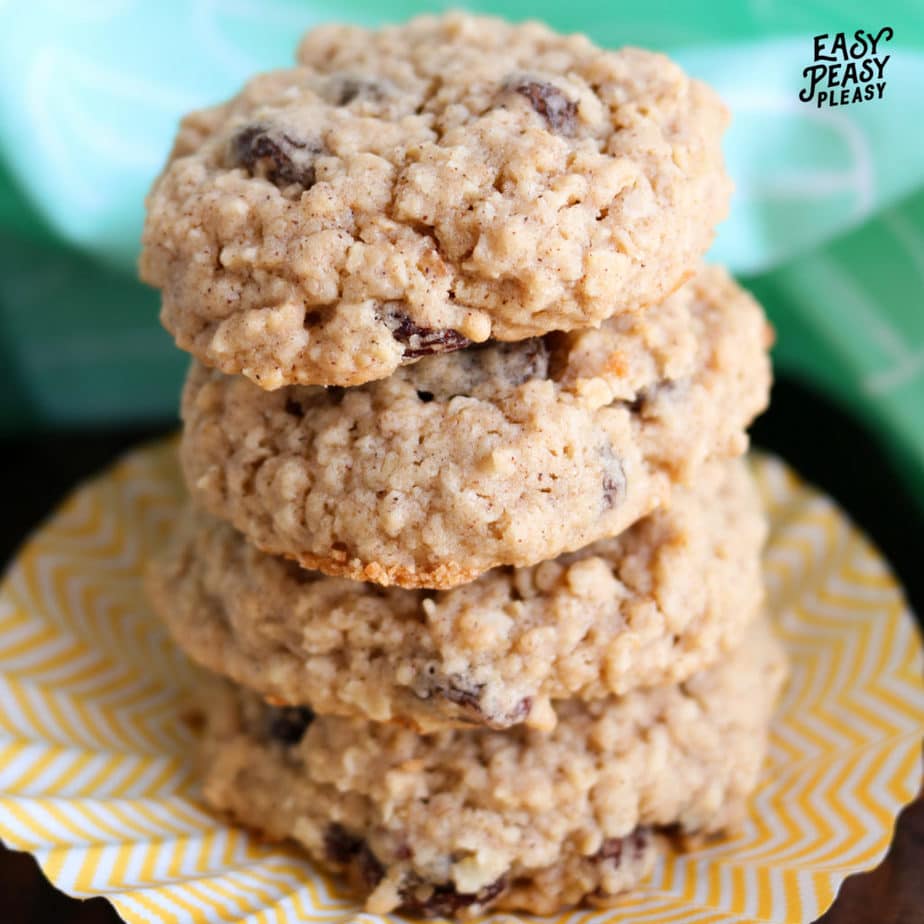 Tips To Make Your Process Easy Peasy Pleasy….
Let your butter come to room temperature.
I like to use my kitchen aid stand mixer with the flat beater attachment. It mixes the ingredients together like a breeze.
No stand mixer? No problem. Use your hand mixer to make quick work of this Oatmeal Raisin cookie dough.
Make sure and mix your flour, baking soda, and salt until well combined.
Light or dark brown sugar both work equally great in this recipe. Use what you have.
Use a large cookie scoop to measure the perfect portions for each cookie.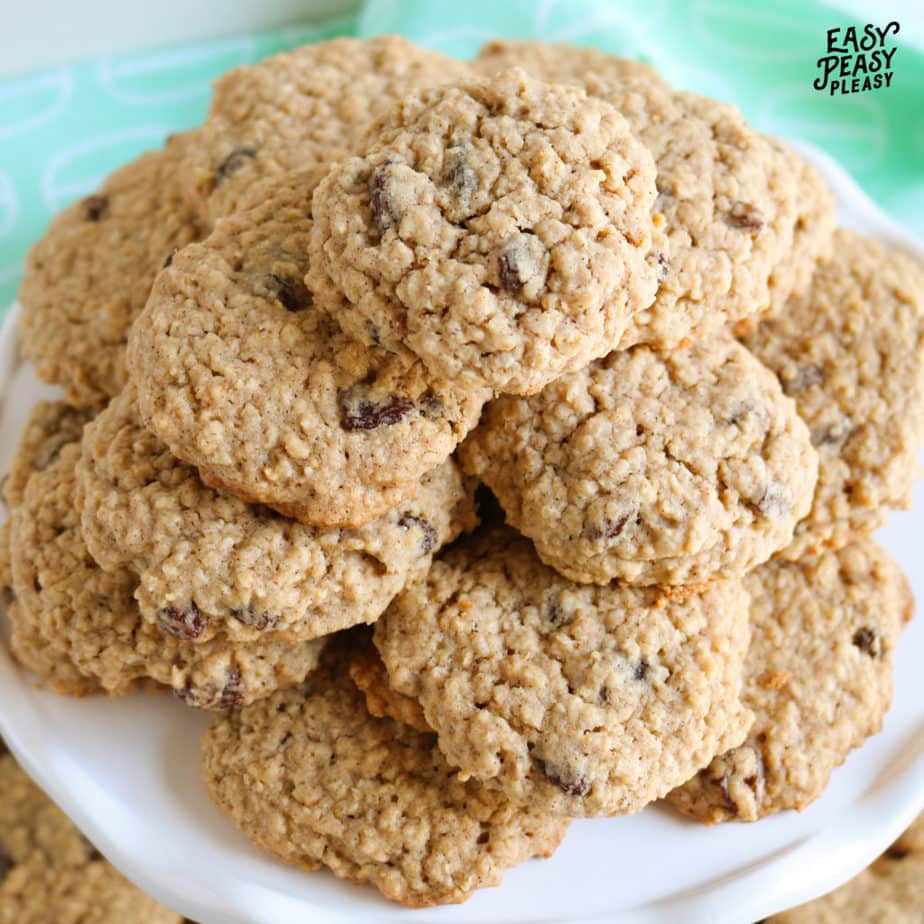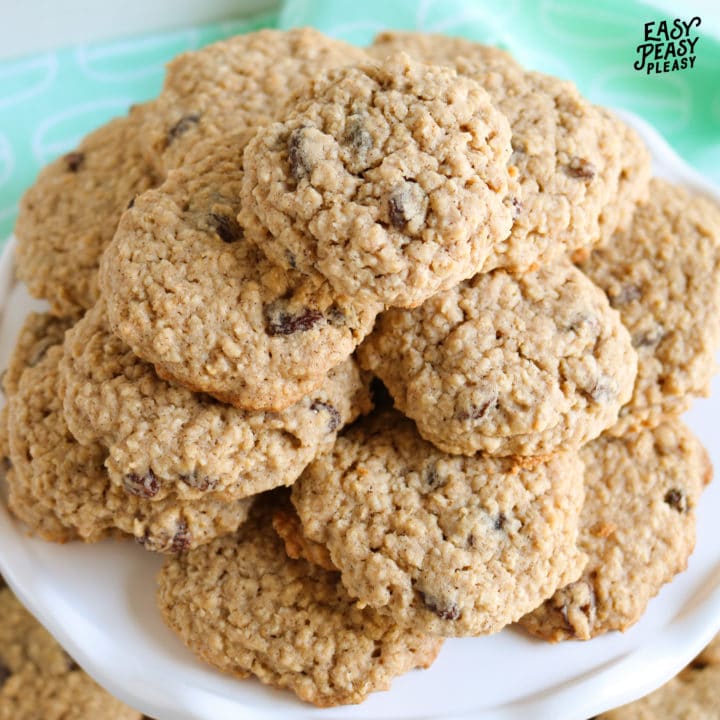 Oatmeal Raisin Cookies
Soft and Chewy Oatmeal Raisin Cookies your family will devour!
Ingredients
2 sticks butter, softened
1 cup firmly packed brown sugar
1/4 cup sugar
2 eggs
1 1/2 teaspoons vanilla
1 1/2 cups all purpose flour
1 teaspoon baking soda
1/4 teaspoon salt
1 1/2 teaspoon cinnamon
3 cups quick oats
1 cup raisins
Instructions
Heat oven to 350 degrees. In a large mixing bowl, beat butter. Add sugars and beat until sugar and butter are well combined and creamy. Add eggs one at a time and beat. Mix in vanilla. Combine flour, baking soda, salt and cinnamon in a medium bowl until well combined. Mix dry ingredients into butter. Once dry ingredients are well incorporated with wet ingredients, mix in oats and raisins. Using a large cookie scoop (or tablespoon) drop cookie dough onto ungreased cookie sheets. Bake 10 to 12 minutes or until lightly golden brown. Cool 2 minutes on cookie sheet then remove to wire rack. Once cookies have cooled completely, store in air tight container. Eat and Enjoy!
Subscribe to Blog via Email