It's Fall Y'all! These 3 Ingredient Peanut Butter Pumpkins are the perfect treat for fall. The weather may still be warm in my neck of the woods but I know it's Fall just by looking at my yard…It's covered with leaves.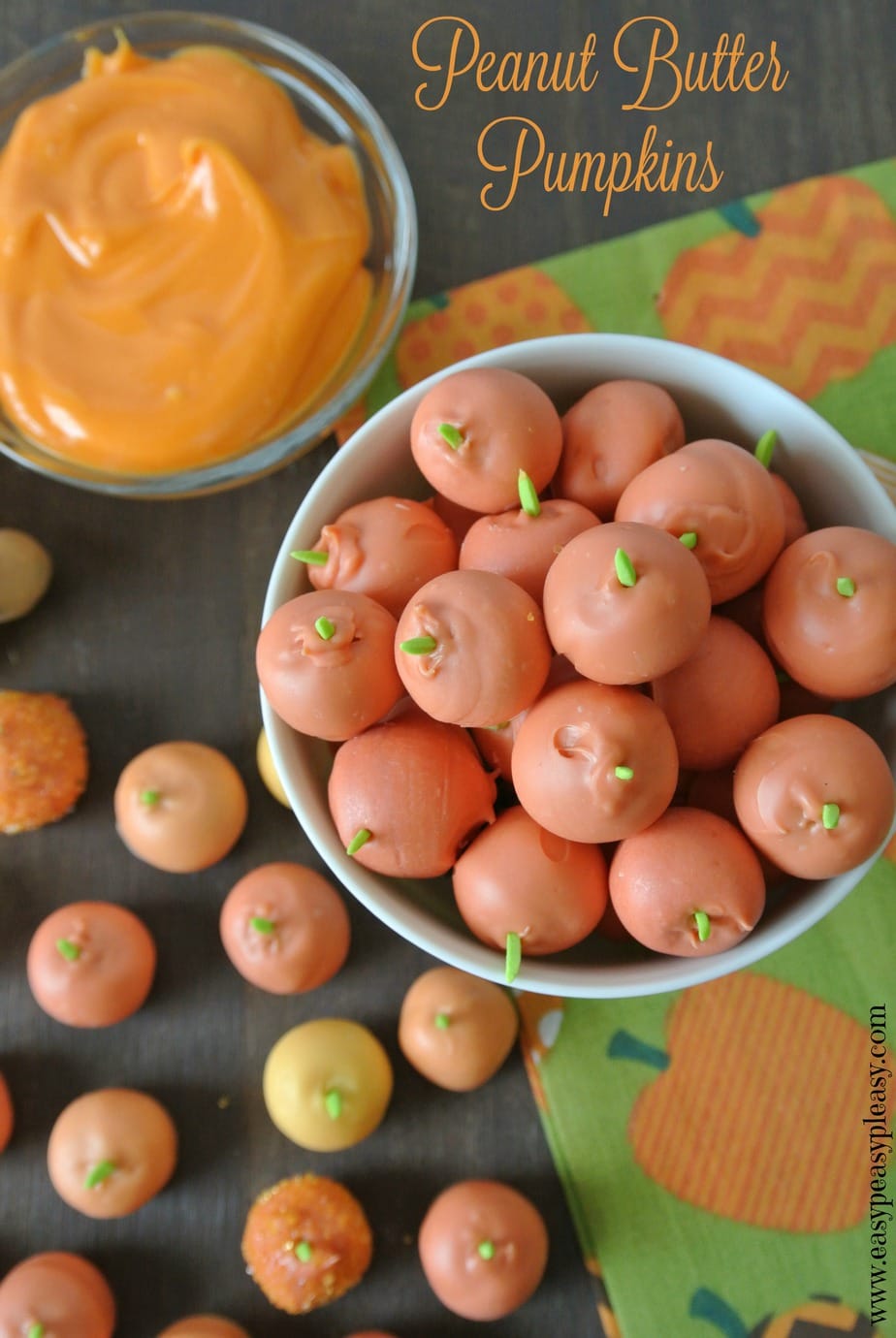 I don't know about y'all but in Arkansas it cools down for a couple days then heats right back up. Have you ever heard the expression "If you don't like the weather, just wait a few minutes"? I believe that quote comes from Mark Twain and he was speaking of Arkansas. LOL! Ok, so maybe he wasn't speaking of Arkansas but the saying definitely works for any of us in the southern states! Being that is officially fall, I am working on all kinds of Fall treats. One of those treats is these cute little peanut butter pumpkins.
I first started out writing blog posts as a way to share my DIY projects and recipes with friends and family. Now, I look for more inspiration in everyday life to create brand new things and share them with you. I walk through a flea market, yard sale, or store thinking what would make a cute prop in a picture. I walk through a grocery store looking around at food for inspiration. It's amazing, if you stop and look around, what will basically throw itself off of the shelf and land in your cart.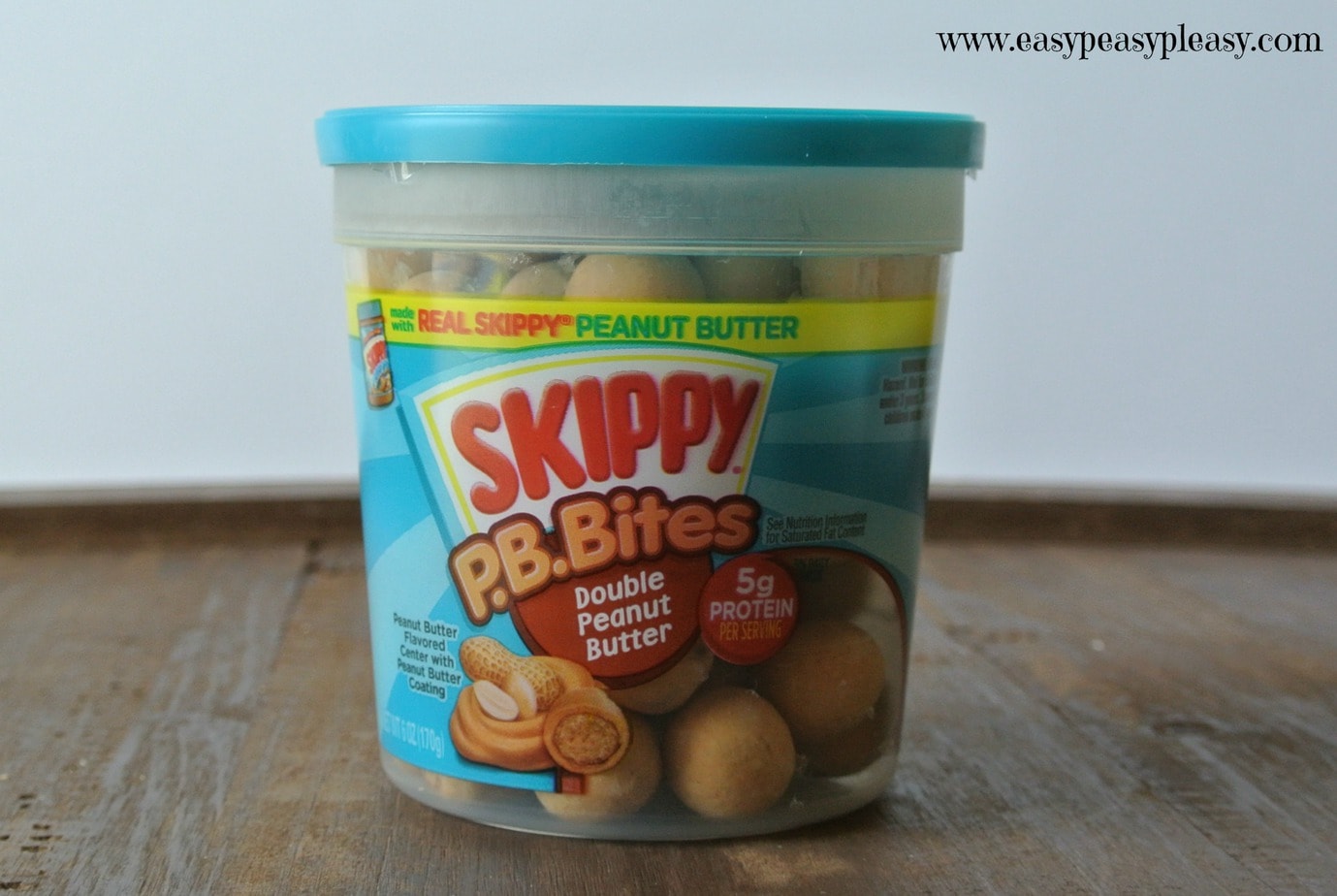 I found these Skippy Peanut Butter bites one day while shopping and thought…hmm…I know I can make something with these and who doesn't like peanut butter? Taking the round shape in to consideration and the fact that Halloween and Thanksgiving are approaching…PUMPKINS! I'm telling you right now that it can't get much easier…melt, dip, and a sprinkle.

You can buy all kinds of candy melt colors at Wal-Mart, Hobby Lobby, or your local party store. You can also mix different candy melt colors together to achieve different colors. Word of warning…do not use food coloring in your candy melts or almond bark. I've tried it and it does not work for dipping. It gets way to thick. I've also tried adding a little shortening to thin it out. Yep that doesn't work either. If you happen to know a way to color almond bark…I'm all ears.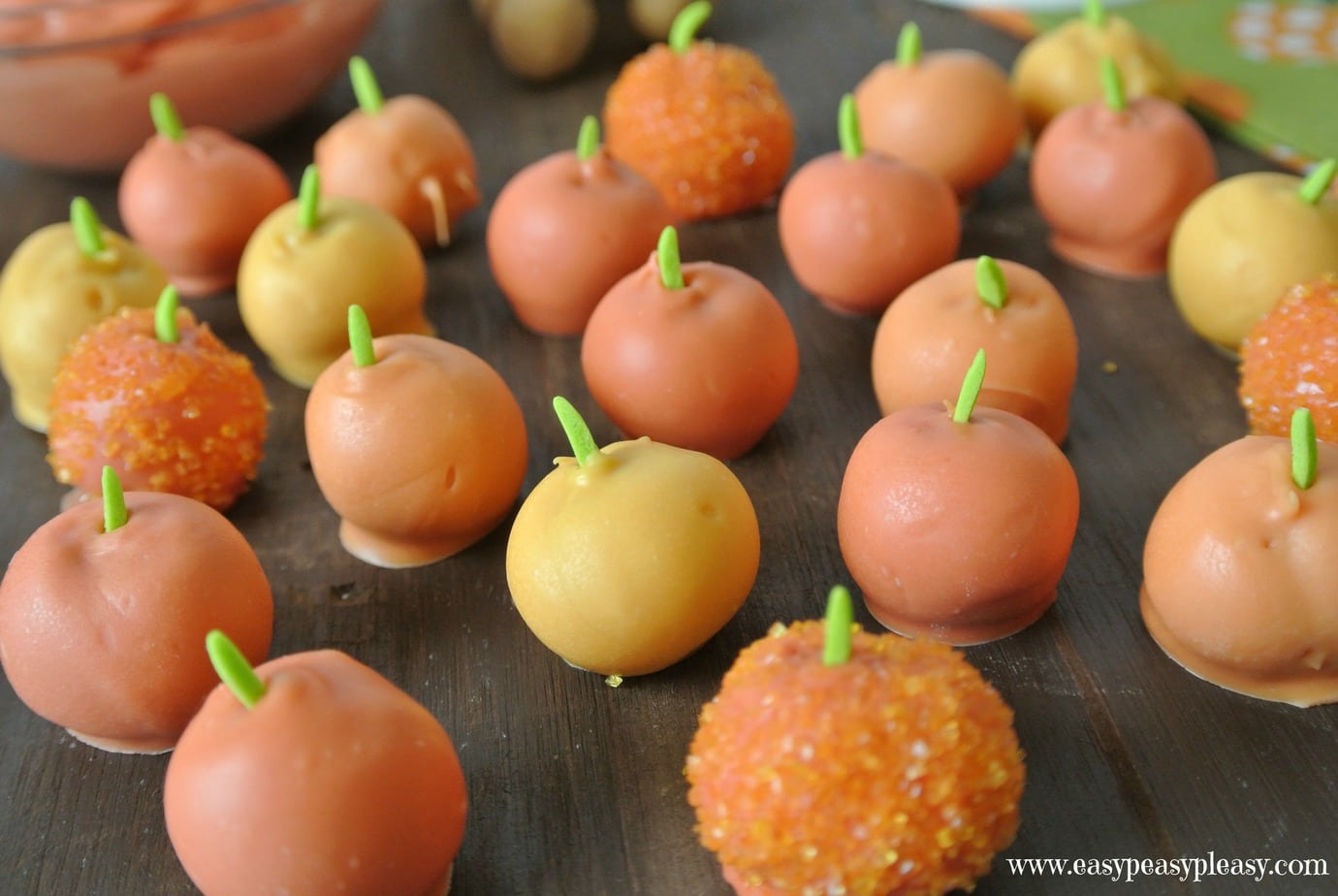 You can always use your favorite peanut butter ball recipe to make these cute little pumpkins too. You know me, I'm always trying to make life a little easier. I hope you give these little pumpkins a try. If you are looking for more Halloween treats you can check out my Mummy Nuggets here. You may be looking for a fun fall snack mix. If so click here. It taste like a Baby Ruth. I also have a cute printable for Halloween treat bags here.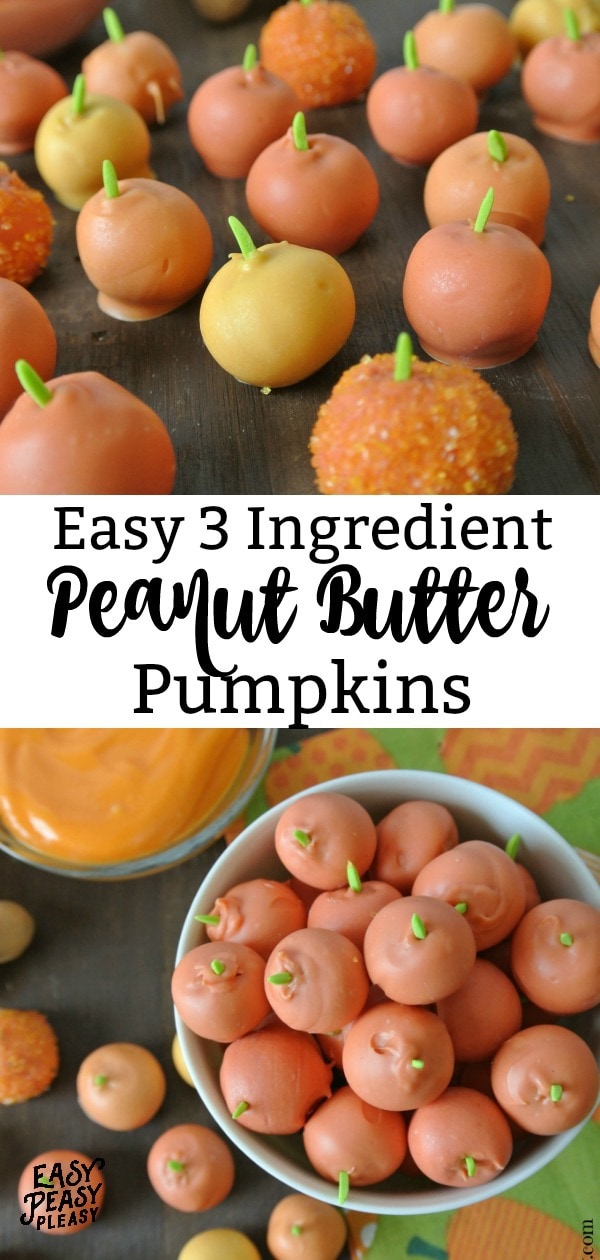 Peanut Butter Pumpkins
Ingredients
Skippy Peanut Butter Bites
Vanilla candy melts, varying colors
Green Sprinkles
Directions
Melt your candy melts according to package directions. Using a toothpick, insert into a peanut butter bite and dip into melted vanilla candy. Swirl around until completely coated. Tap off excess. Place on parchment or wax paper to harden. Remove the toothpick and stick a green sprinkle in the top to form a stem.
easypeasypleasy.com
You might want to stick around because I took pictures yesterday of 2 more fun Halloween treat ideas and some more treat bag toppers. They will be on the blog soon. You can sign up with your email to get these ideas sent right to your inbox or you can follow along on my favorite social media by clicking the icons below.
Subscribe to Blog via Email