Y'all, my momma makes the best One Pan Breakfast Skillet ever! It's the kind of meal that will have you eating straight out of the skillet. This dish is an all-in-one breakfast meal that covers all the basic food groups. A breakfast hash that is good for you, too? Yep! The only thing missing is the dairy, but I have a solution for that; throw in some cheese. You could, also, just drink a glass of milk with your hash but cheese is so much…cheesier. Ha! Enough said, right?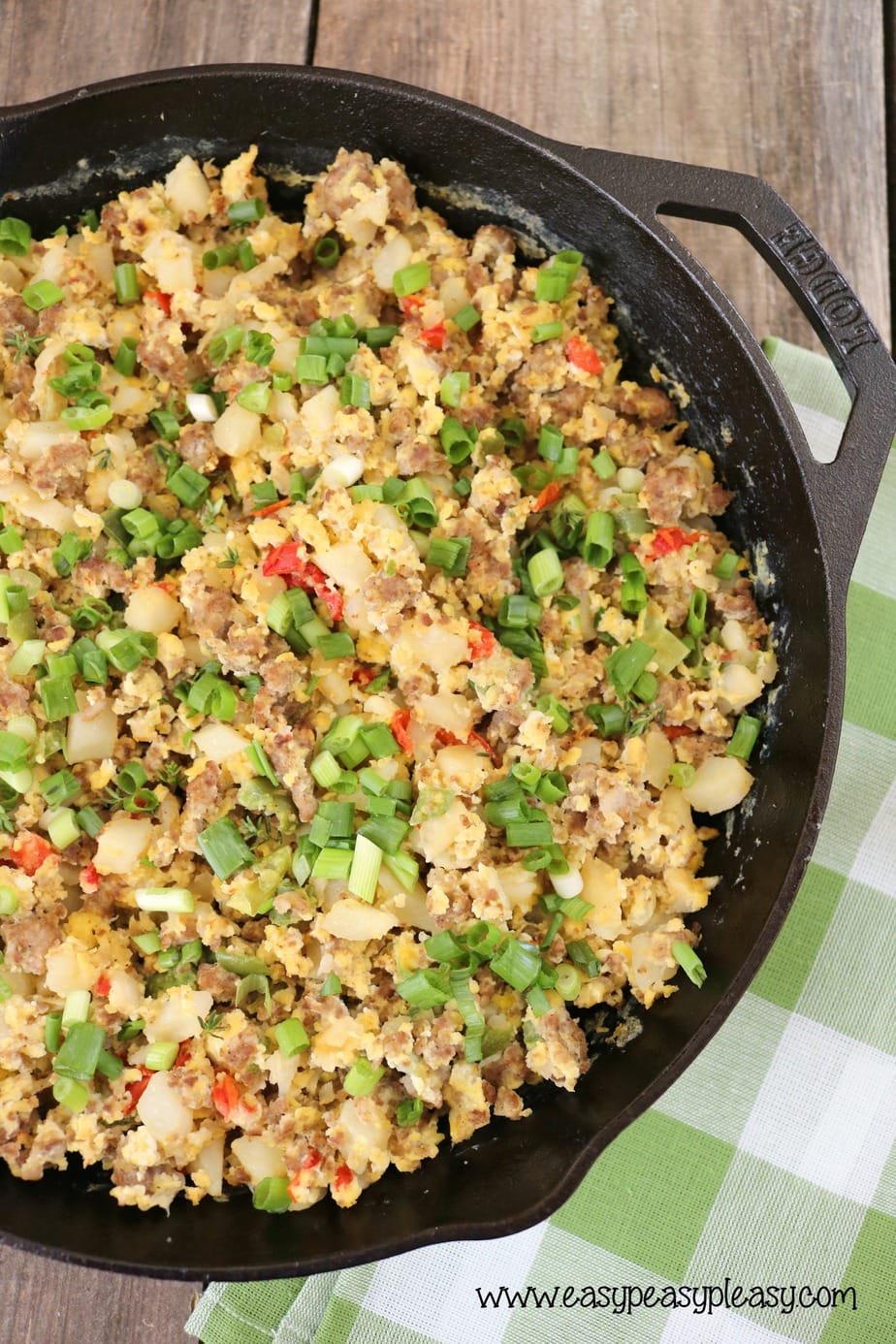 If you're wondering what I'd choose, I always choose cheese. I should put that on a shirt!
I hosted a brunch not so long ago and the most raved about dish was my momma's one-skillet breakfast hash. This easy breakfast recipe was handed down to my mom from her mom, my grandma. Grandma would peel and boil the potatoes and throw them in to stretch a buck and to feed mouths.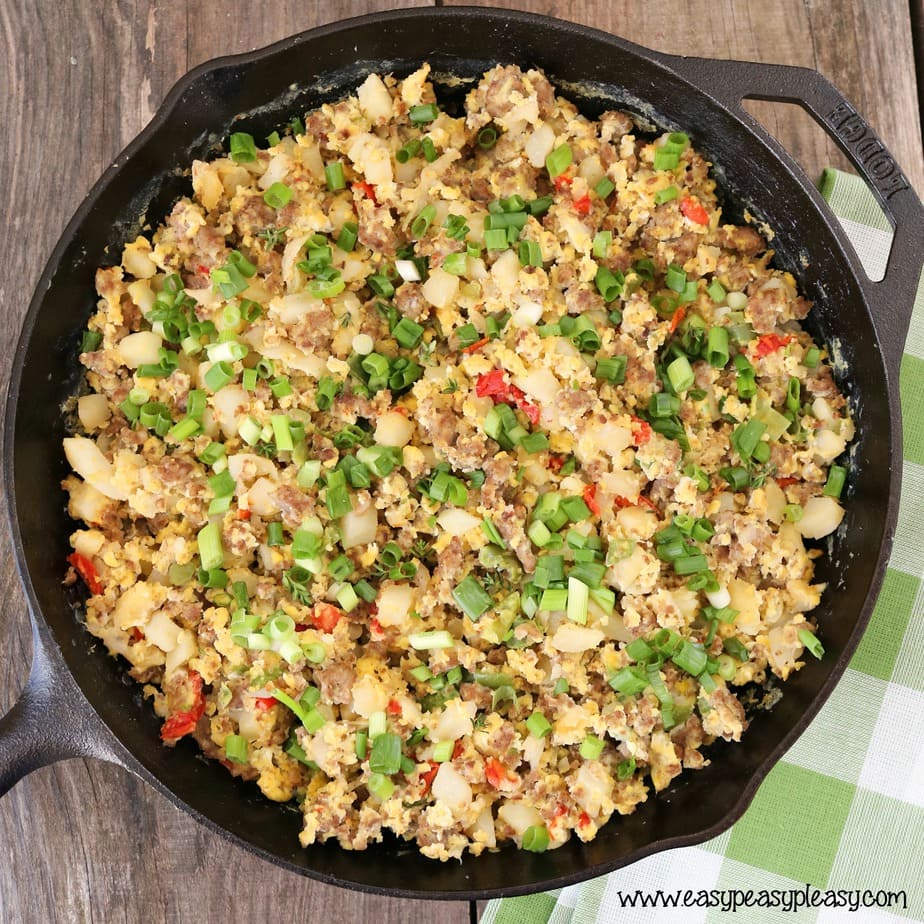 The deliciousness was a bonus!
Over the years, my mom came up with an easier solution because, let's face it, peeling potatoes on a busy night (if you're making this for brinner, which I highly recommend-see my notes) can be time-consuming. Or, if you're prepping this for breakfast, my mom's method will get you out the door and on with your day much quicker. Her secret? Frozen potatoes!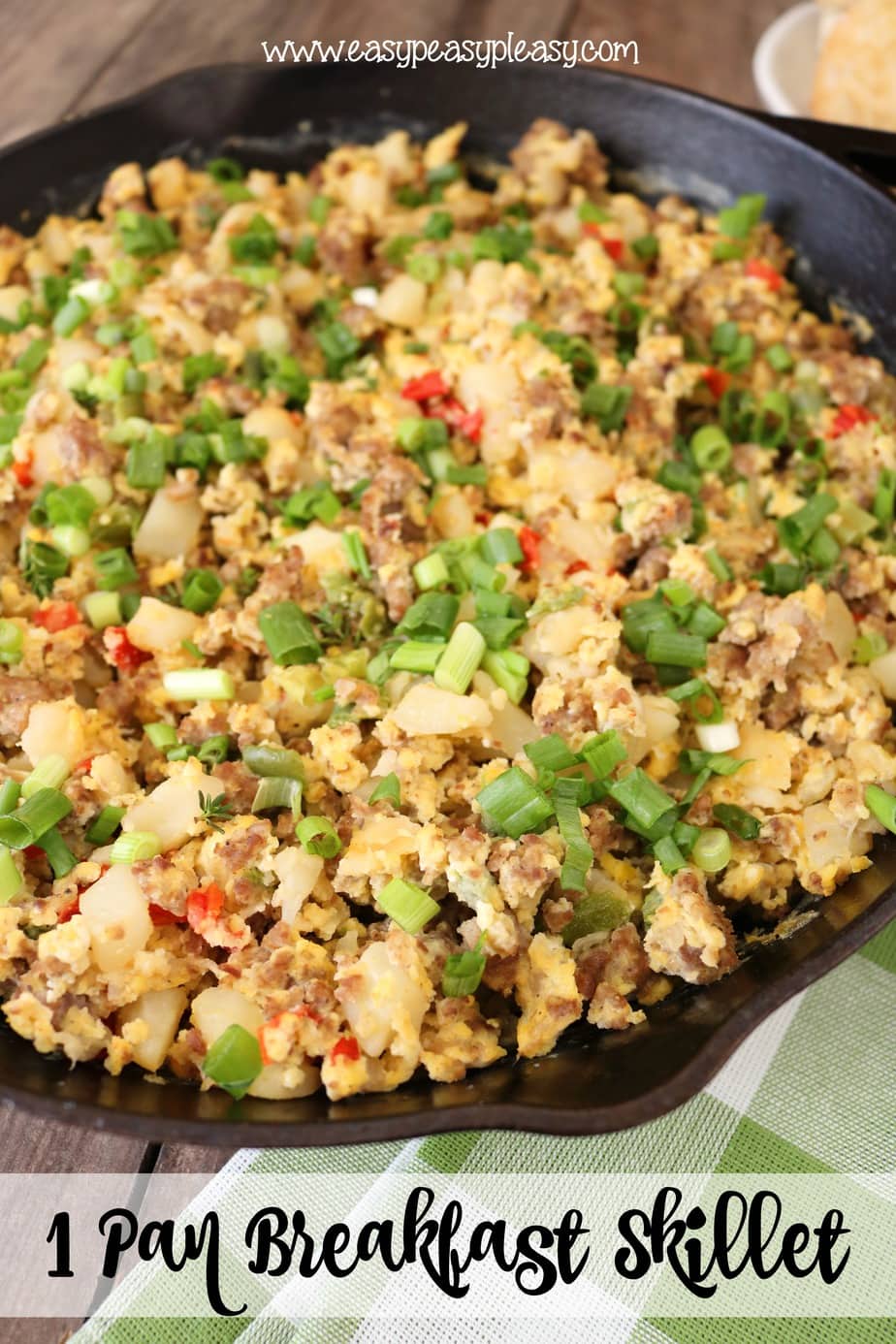 Lacie's Easy Peasy Pleasy Tips
Use a nonstick pan for cooking. If you want a pretty presentation, transfer the breakfast hash to a cast iron skillet before serving.
Don't drain the grease after frying the sausage, you'll need it for frying those potatoes.
Serve a breakfast hash for dinner! You could easily throw in some roasted asparagus spears, serve with toast and fancy non-alcoholic mimosas!
Add a dollop of sour cream and some hot sauce for a little indulgence and heat. Go ahead! We won't tell.
Before you grab this recipe, you might want to check out some of my other favorite breakfast or brunch recipes like this Easy Overnight Breakfast Casserole,  Easy 2 Ingredient Cinnamon Roll Donuts, Homemade Biscuits Using only 4 Ingredients, or even this delicious 3 Ingredient Strawberry Freezer Jam. If strawberries are your thing….check out this Strawberry French Toast Casserole.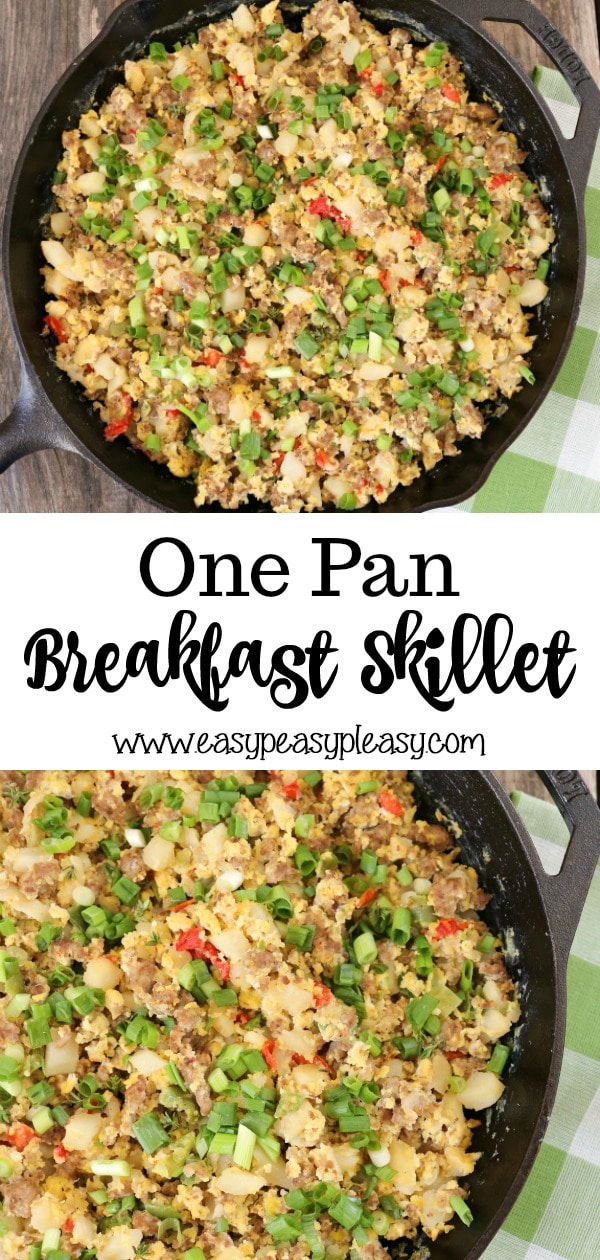 One Pan Breakfast Skillet
Ingredients
2 tablespoons olive oil
¼ package frozen onions & bell peppers
½ package frozen diced potatoes
1 pound bulk pork breakfast sausage
8 eggs
3 green onions
Several sprigs of fresh Thyme
Salt  & Pepper
Directions
Place 2 tablespoons of olive oil in a skillet. Add onions and bell peppers to sauté for 5 mins. Add sausage and fry until almost done. Add frozen potatoes, continue cooking, flipping occasionally as needed. Add Thyme and salt & pepper. Once potatoes are soft and begin browning, prepare your eggs.  Crack your eggs into a small bowl and whisk until combined.  Pour eggs into skillet. Stir until eggs have scrambled with other ingredients, approximately three minutes. Add salt and pepper to taste. Top with green onions. Eat and enjoy!
www.easypeasypleasy.com
It really couldn't be any easier. Just 6 ingredients, fresh thyme, and salt & pepper for a delicious One Pan Breakfast Skillet your family will love.
Subscribe to Blog via Email