Cinco De Mayo is just around the corner and my easy Steak Tacos are on the menu. They will have your mouth watering and you'll be diving in for another round.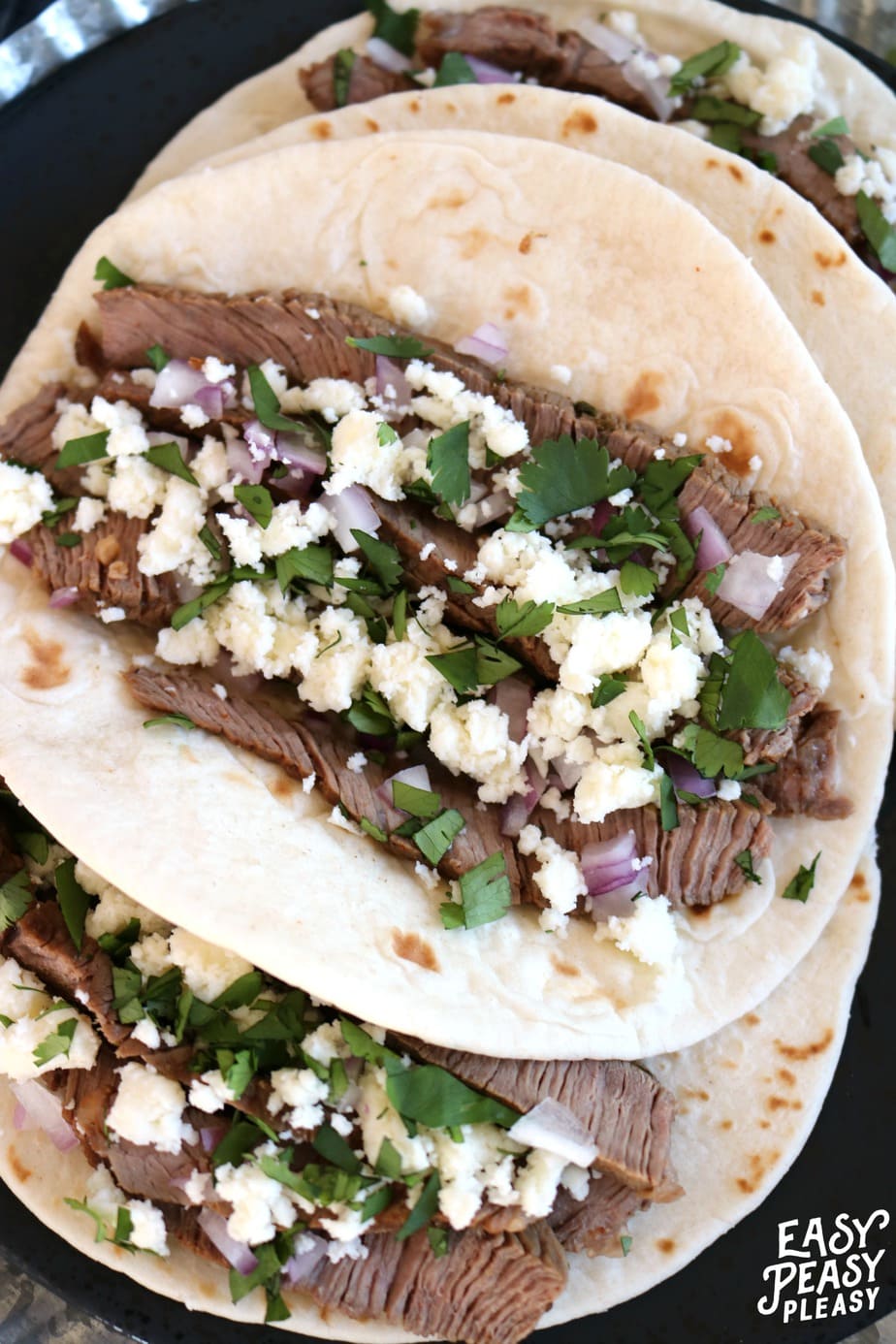 Let's face it, I'm a huge fan of Mexican cuisine! So whether it's Cinco De Mayo, Taco Tuesday or any day of the week, I'm all in for the Mexican food. Add steak to the mix and it's a home run!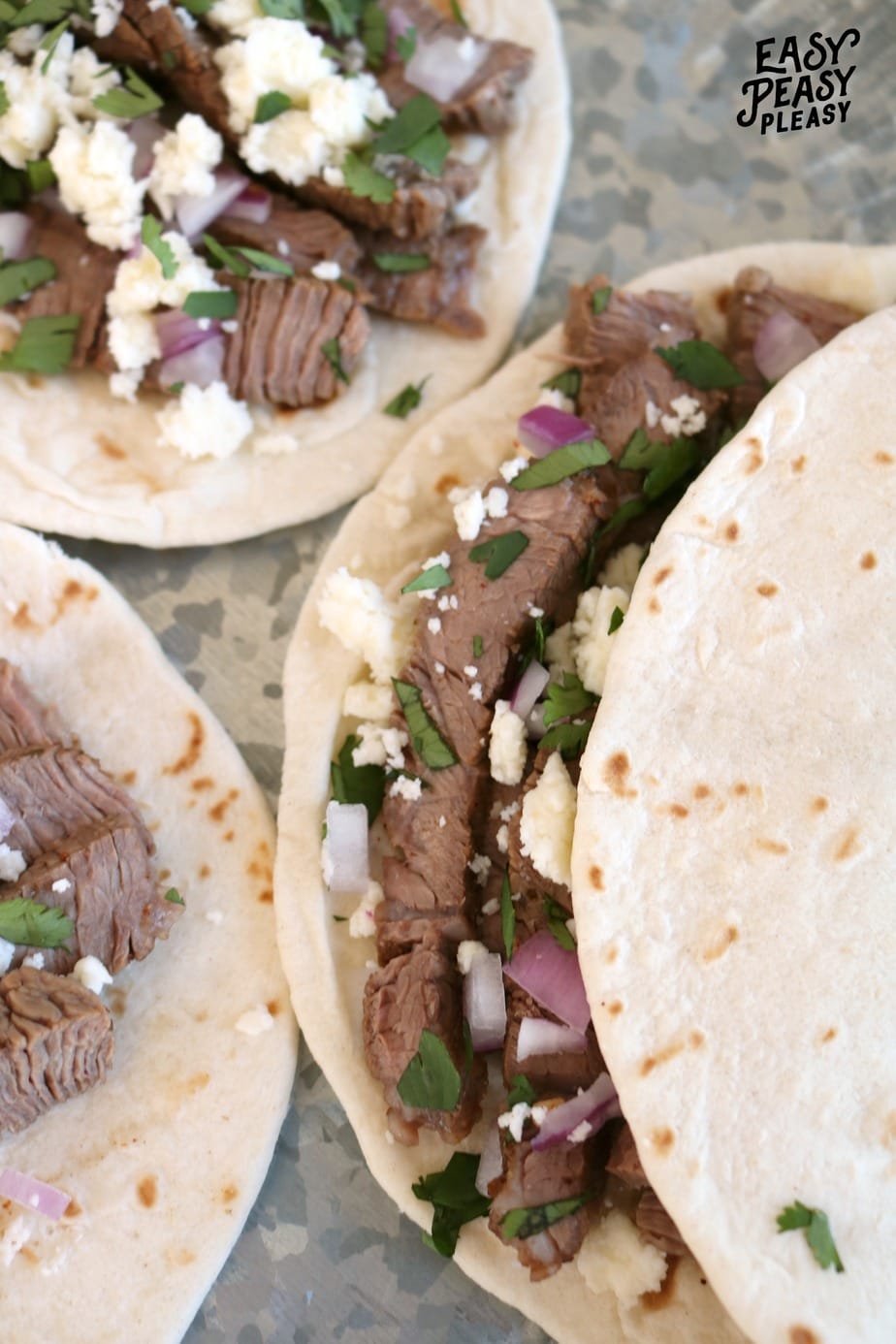 We love some steak in this house! Any way I can come up with to cook it, we will eat it.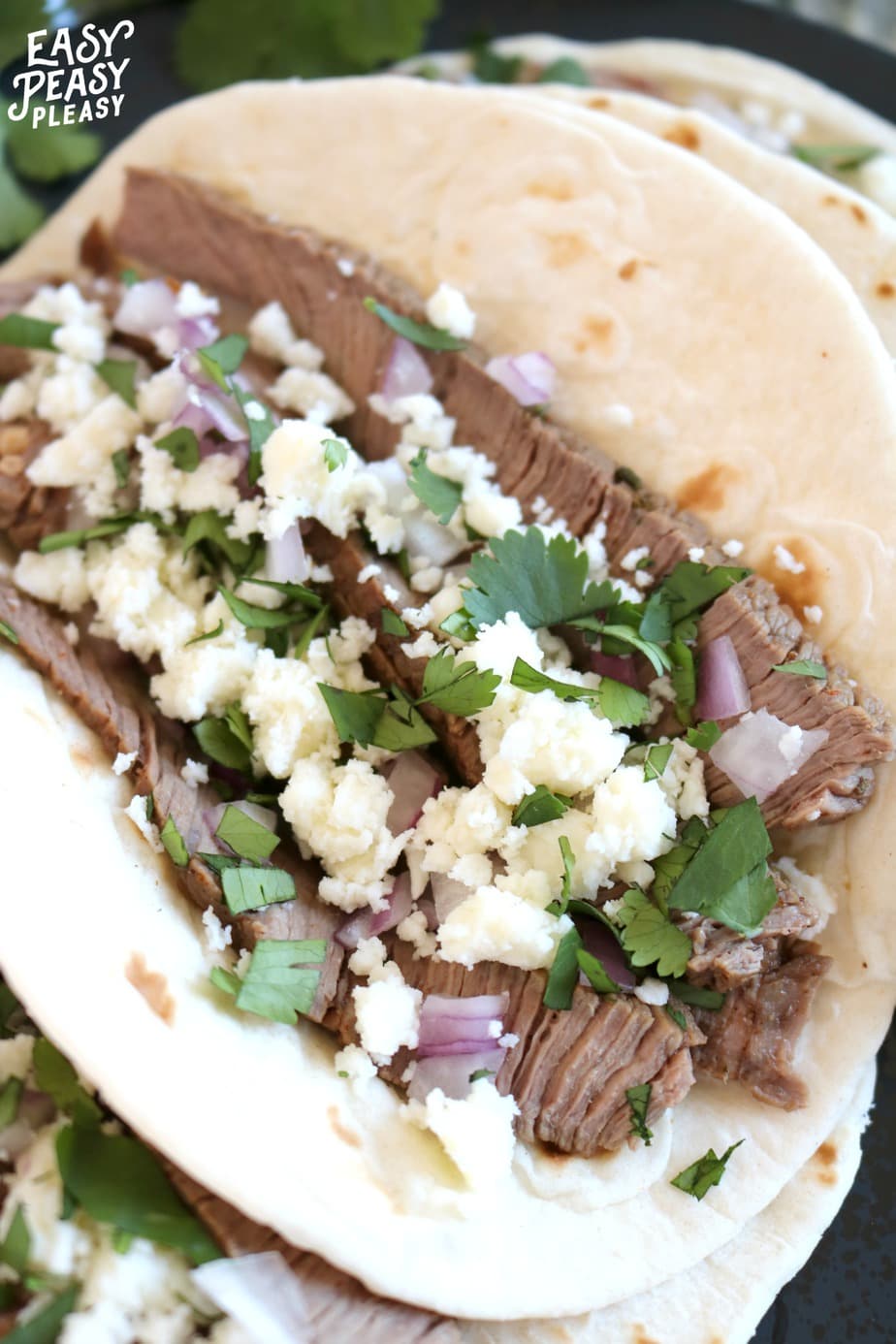 Sirloin steak is an easy to come by piece of meat. Anytime I head to my neighborhood market, I can always find a sirloin steak. The cut is usually 1 to 1 1/2 pounds which works great for my family of 3 and usually gives us some leftovers. It's probably the perfect amount for a family of 4.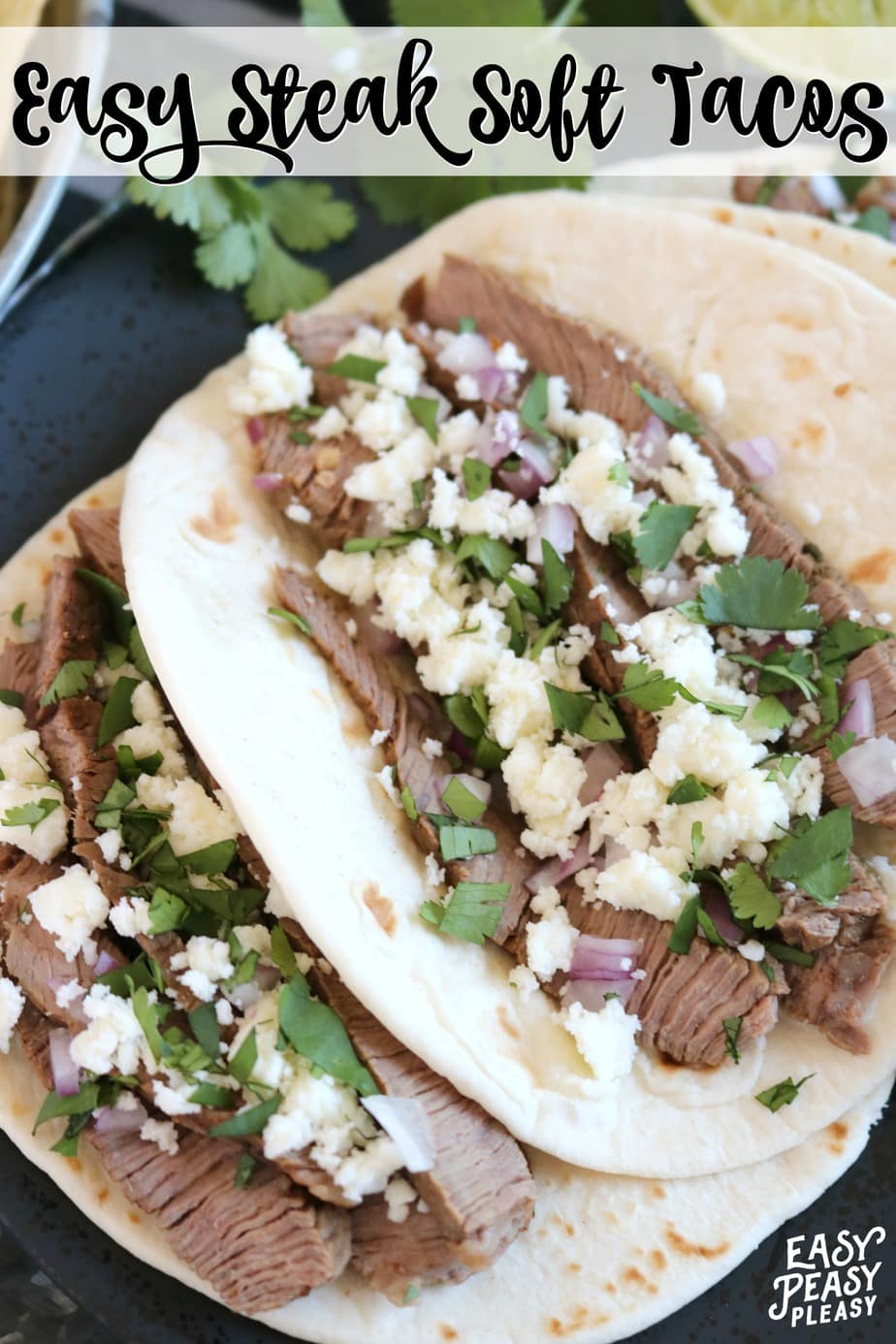 Bang for your buck
Steak can be extremely expensive but top sirloin is a good alternative. It's no where near as expensive as premium cuts of meat like a rib eye or tenderloin. You can usually get a sirloin steak for under $12 depending on weight. 1 to 1 1/2 lbs is all you need to feed a family of 4.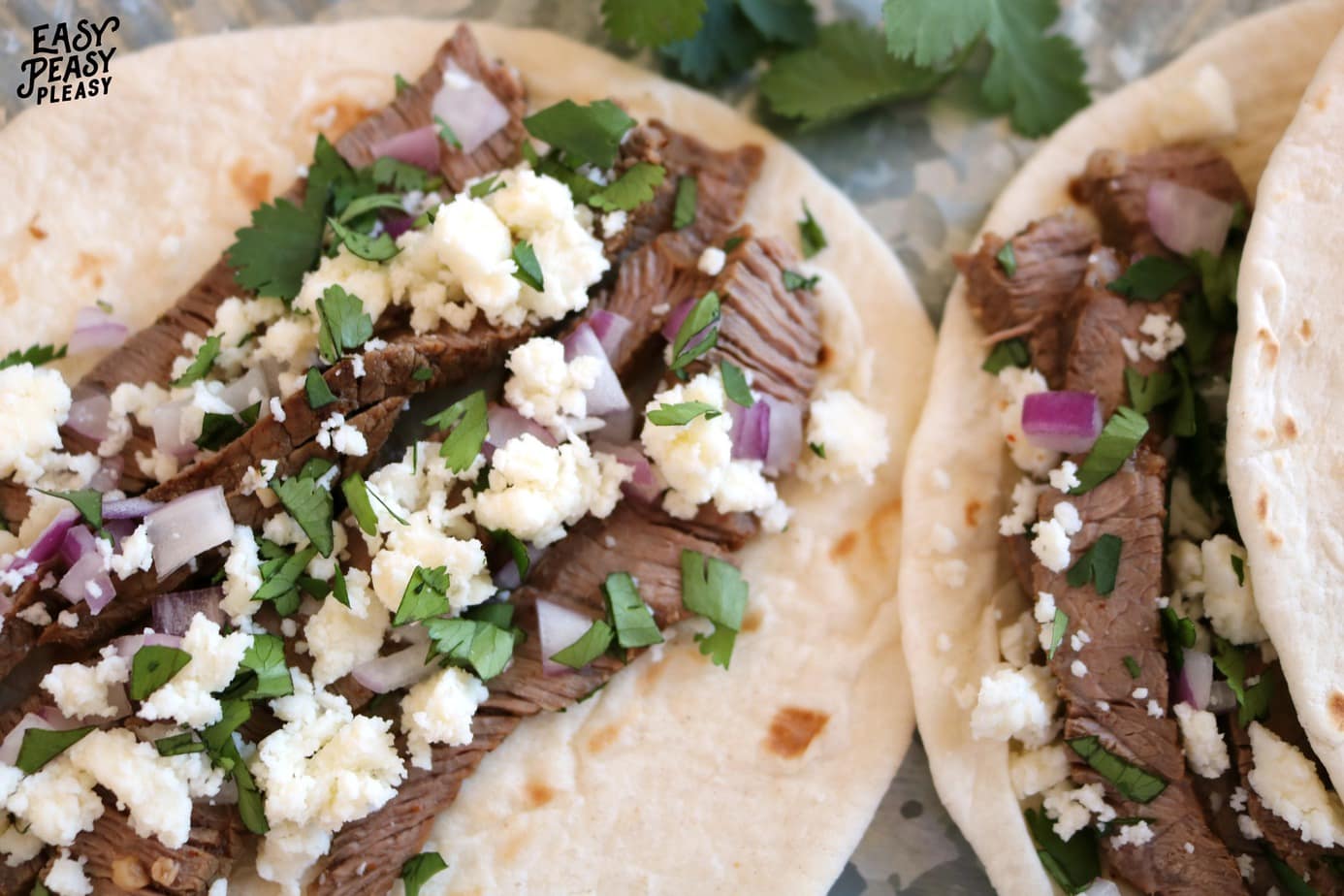 You can totally put it in perspective if you think about a quarter pound hamburger. It is enough to feed 1 person. These Steak Tacos are less than $3.00 per person for the steak. That's a win win in my book. Much cheaper than than purchasing 4 steaks and just as satisfying.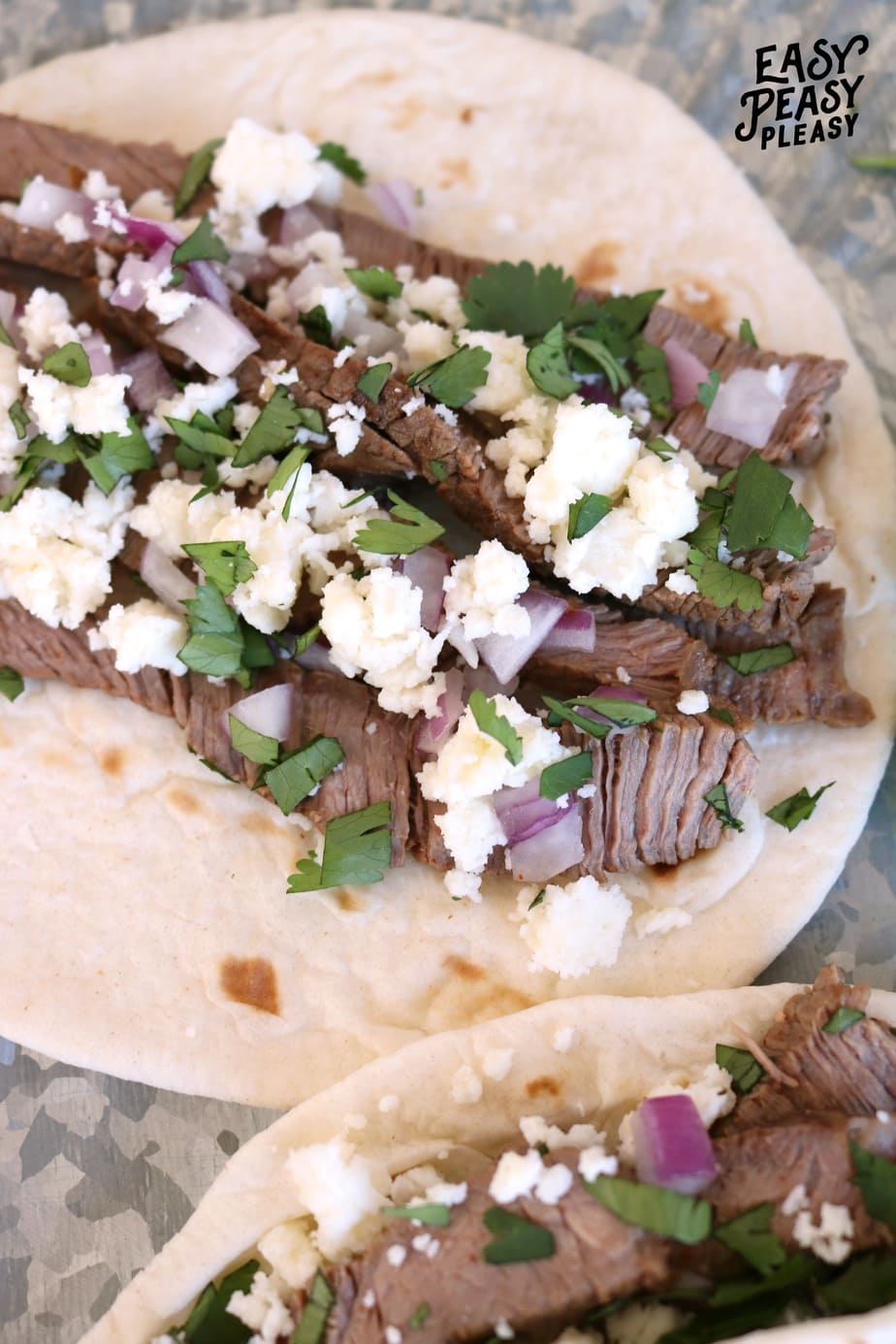 So with the love of steak and the love of Mexican food comes my favorite Steak Soft Tacos.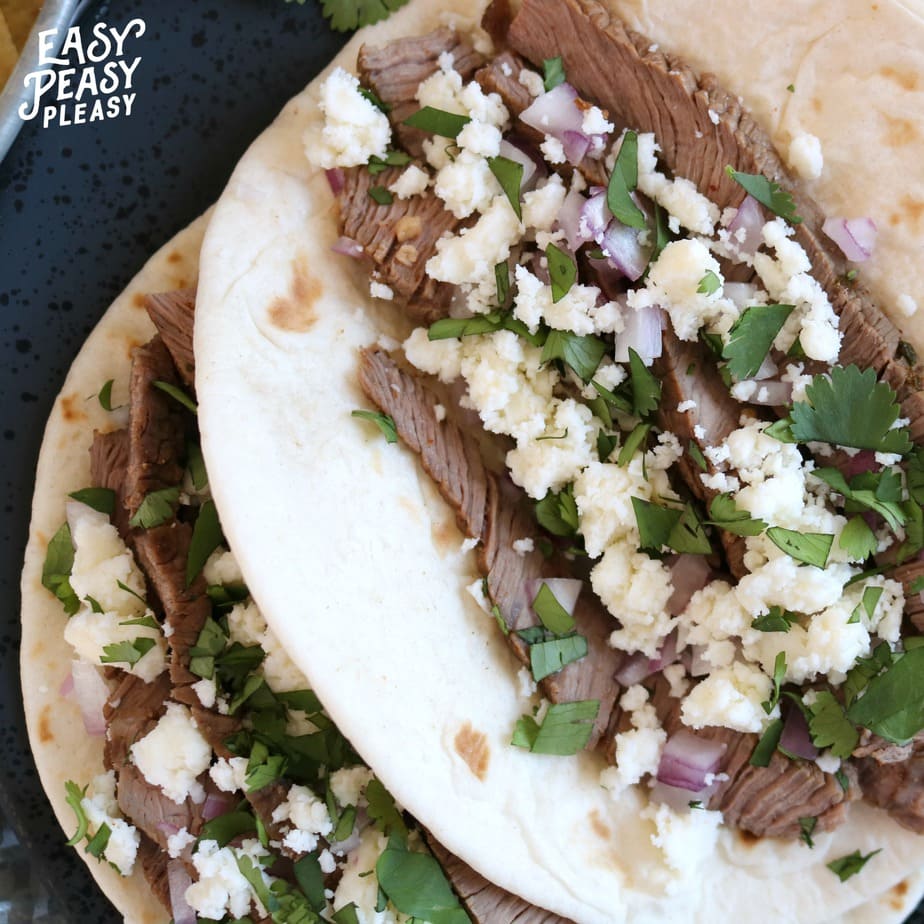 Make your Cinco De Mayo party, Taco Tuesday, or any day of the week even better with this Kicked Up Cheese Dip and these Green Chili Chicken Enchiladas or The Ultimate Sheet Pan Taco Pizza. Trying to eat healthier? Try this Mexican Brown Rice Cantina Bowl.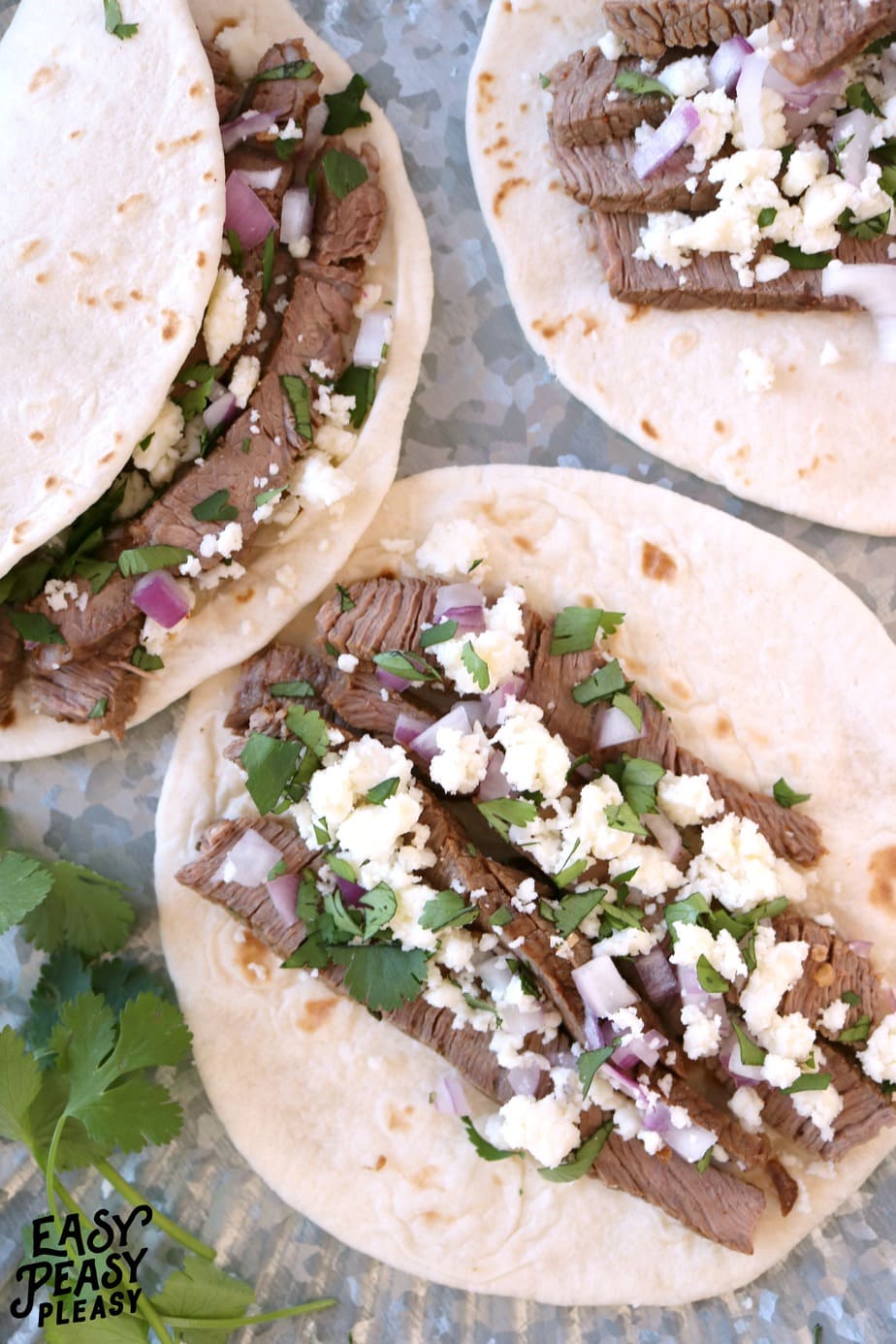 Easy Peasy Pleasy Tips
Sprinkle rub on the steak then use the back of a spoon to press the rub into the meat.
Cutting is key. Make sure you cut against the grain for the most tender bite of steak. If you cut with the grain the steak will be tough.
Kiddos not a fan of cilantro? No worries. Use the steak and cheese to make quesadillas.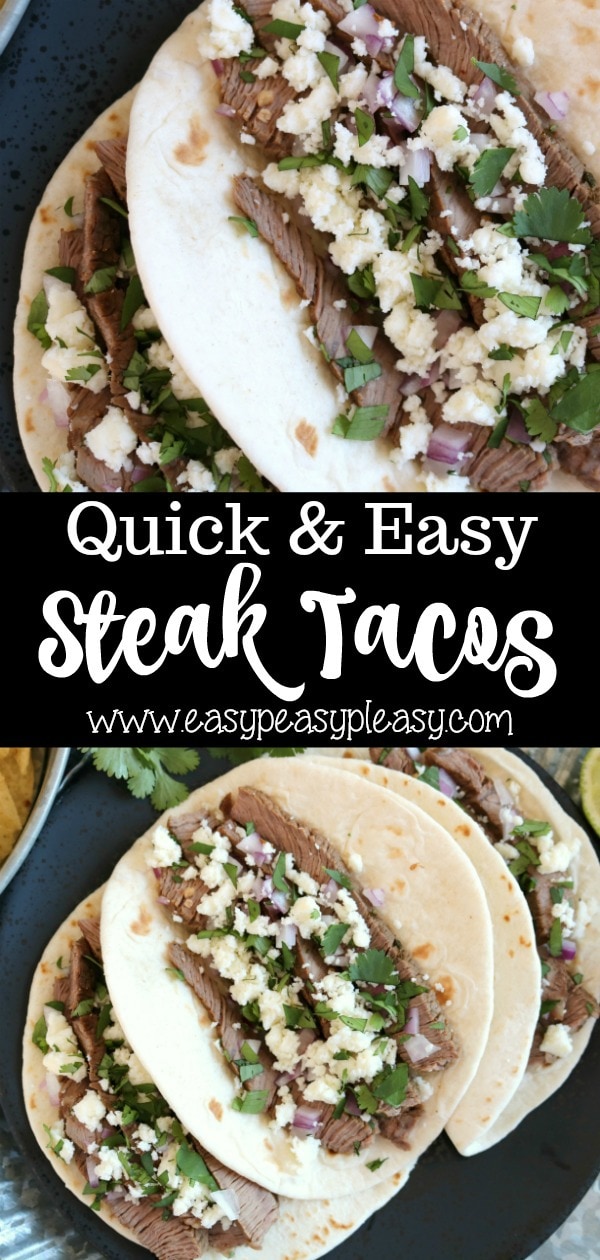 Easy Steak Tacos
Ingredients
Rub
1 teaspoon cumin
1/2 teaspoon chili powder
1/2 teaspoon smoked paprika
1/2 teaspoon oregano
1/2 teaspoon salt
1/4 teaspoon pepper
Tacos
1-1 to 1 1/2 pounds sirloin steak
1 tablespoon oil
1/2 cup crumbled Queso Fresco cheese
1/3 cup red onion, chopped
2 tablespoons fresh cilantro, chopped
limes to juice over cooked steak
Flour tortillas for soft tacos
Directions
Preheat oil in skillet over medium high heat. Mix cumin, chili powder, paprika, oregano, salt, and pepper in a small bowl. Rub seasoning mixture on both sides of steak. Sear and cook steak for about 5 minutes or more on each side depending on how well you like your steak cooked. Remove from pan and let rest for 5 to 10 minutes. Using a sharp knife, cut steak in thin strips against the grain. Top tortillas with steak, cheese, onion, and cilantro. Squeeze fresh lime over top. Eat and Enjoy!
www.easypeasypleasy.com
Subscribe to Blog via Email