Trick or treat smell my feet I want Donut Hole Mummy Pops to eat! Only 4 ingredients, some paper straws, and a zip top bag will get you mummified this Halloween. So easy, so fun, and oh so cute!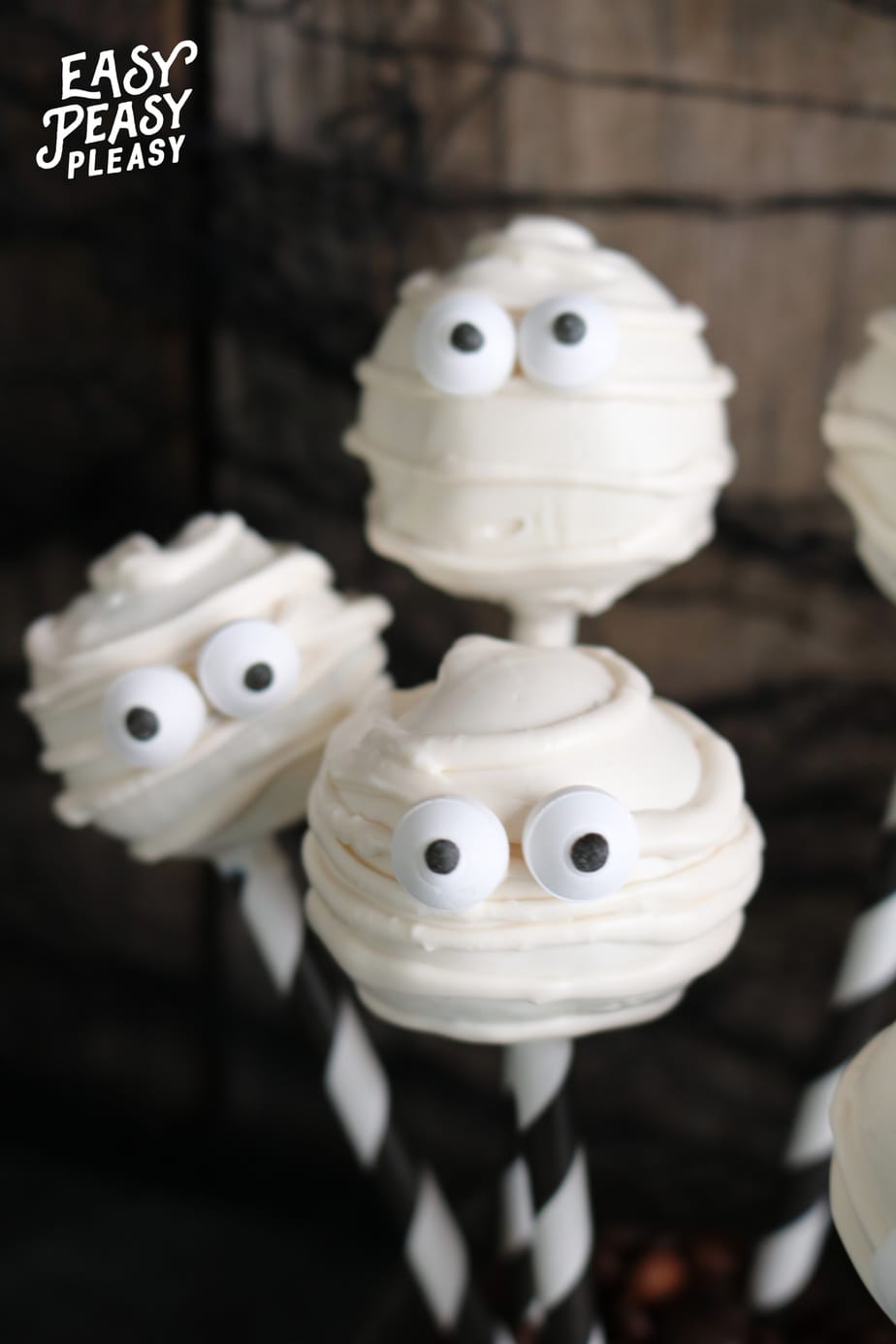 These 4 ingredient donut hole mummy pops are the perfect Halloween recipe for your favorite trick or treaters.
There is something about Halloween and mummies that I love…no matter what the recipe, it never has to be perfect to make most anything look like a mummy. Mummy recipes are super forgiving in the look because the design can be so haphazard like my easy Peanut Butter Pretzel Mummy Nuggets. Mummies are one of the easiest treats to pull off. There is no need to be intimidated making a mummy for Halloween.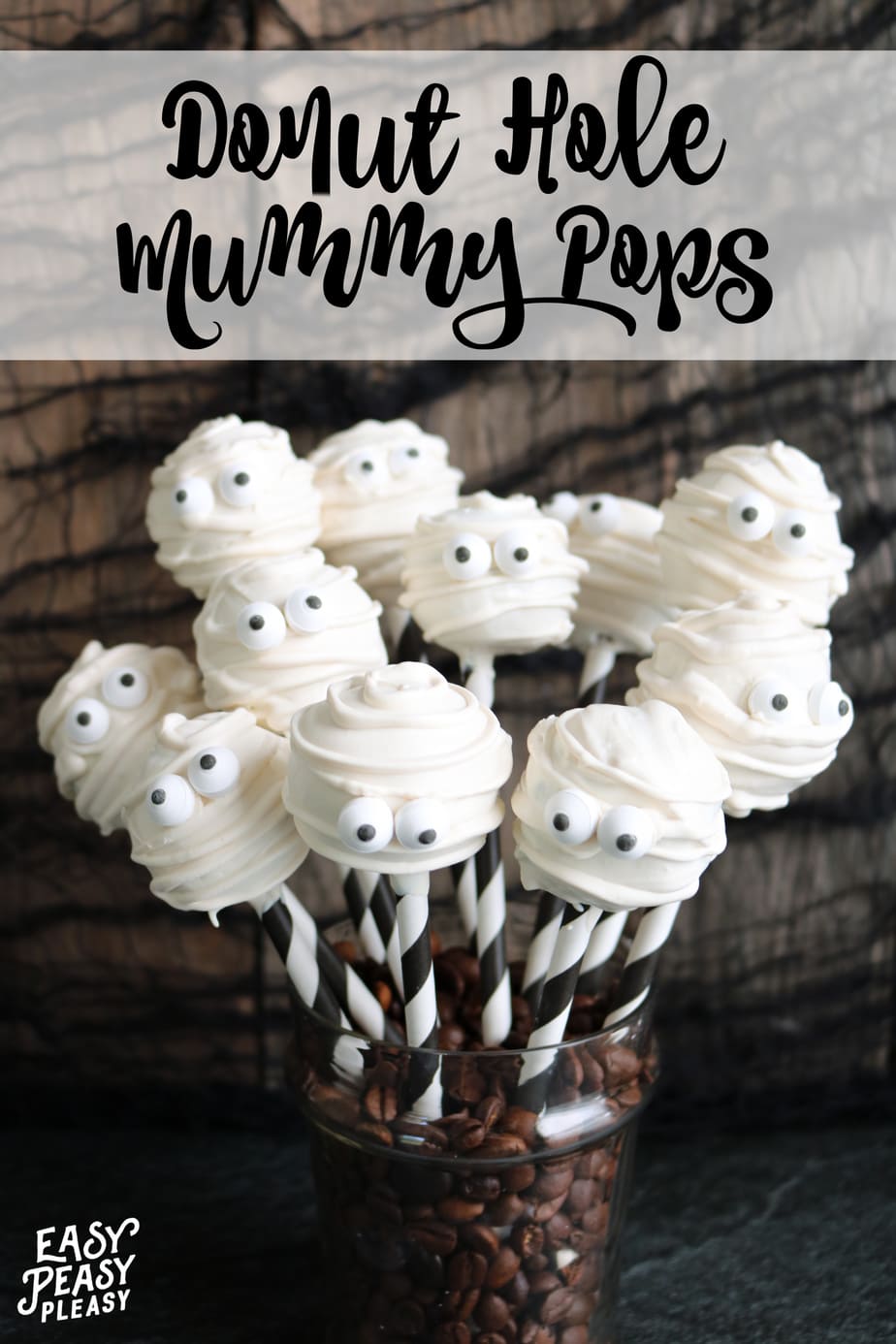 As you know I'm all about making an easy recipe and these donut hole mummy pops are super easy. Piping on the mummy strips are super easy and I use a zip top bag. No fancy equipment needed.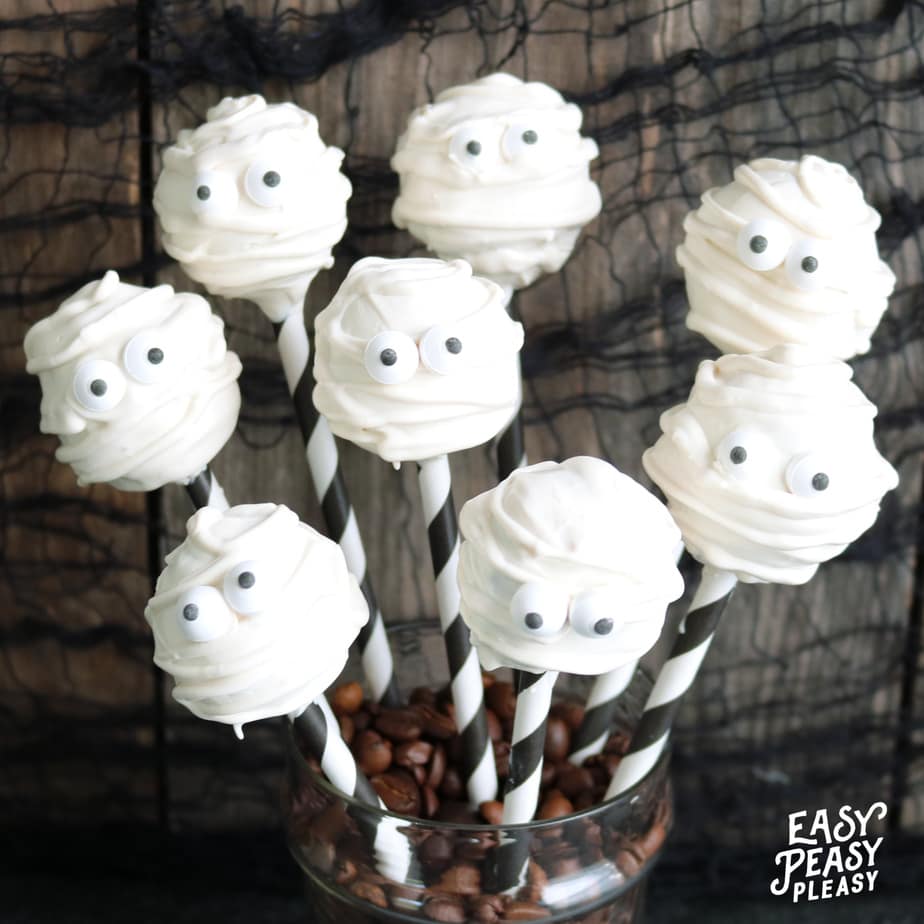 What you need…
donut holes
vibrant white candy melts or almond bark (both work great)
shortening (or coconut oil or Wilton EZ Thin) I used shortening
candy eyes
straws or candy sticks (paper straws are so cute)
zip top bag for piping
Easy Peasy Pleasy Tips…
As you're working, if melted candy starts to harden, reheat in 30 second increments and stir until thin. Straws must be inserted at least halfway or farther. If not the donut holes will fall off the straw when coating with melted candy.
Pour left over melted candy into a zip top bag and push to one of the bottom corners. Twist the bag just above the melted candy. Cut off a tiny piece of the bottom corner. (You can always cut off more if the opening is not big enough but you can't put any back.) Pipe strips on pops while spinning.
You can attach the eyes when you want as long as you attach to melted candy. Either after you have coated the donut hole or after you made the mummy stripes. It just depends on the look you are going for. You can even attach the attach the eyes after all is done. Just pipe a small dot of melted candy where you want to attach. It's like glue.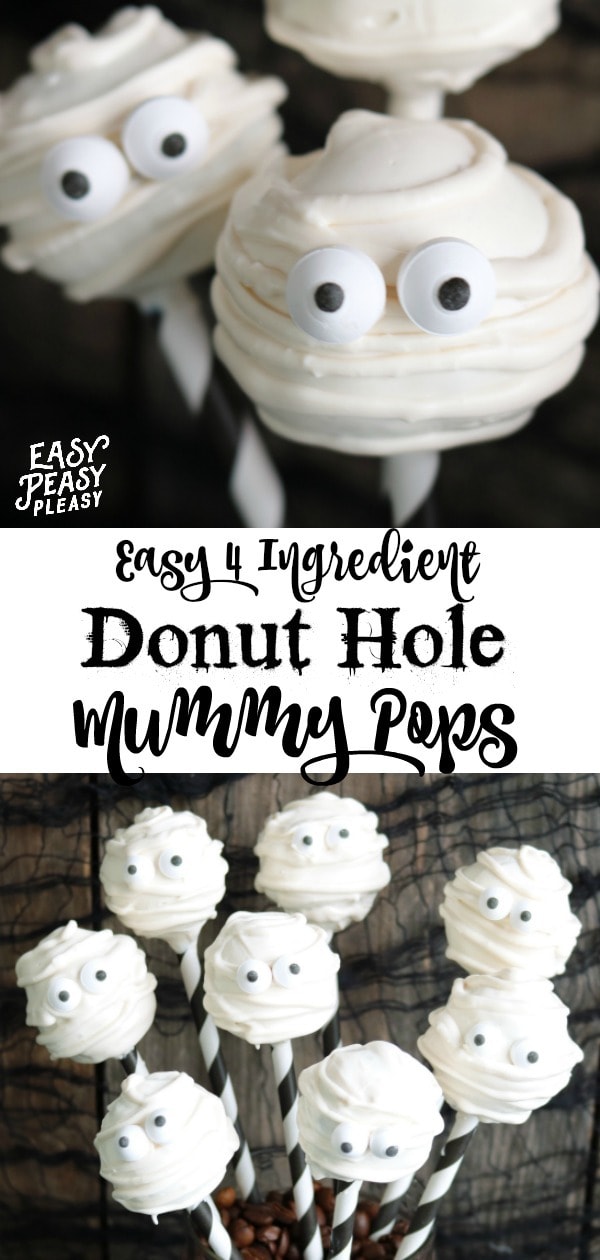 Donut Hole Mummy Pops
Ingredients
24 donut holes
12 ounces white candy melts
2 teaspoons shortening
48 candy eyes
24 paper straws or candy sticks
Directions
Melt candy melts according to package directions. Add shortening and stir until melted and well incorporated. Dip the tip of a straw into melted candy, then insert into the donut hole to the middle. Rest in a styrofoam block or cake pop holder. Repeat with the rest of the donut holes.
Dip donut hole in melted candy and rotate until completely covered. Gently tap and rotate to remove excess melted candy. Place back into styrofoam block.
Pour remaining melted candy into a zip top bag, pushing all melted candy into one bottom corner. Twist the bag just above the melted candy. Snip off a tiny piece of the bottom corner. Pipe melted candy on donut hole mummy while spinning the donut hole.
Place 2 eyes on melted piping. Place back into styrofoam and repeat for each donut hole.
Eat and enjoy!
www.easypeasypleasy.com
Looking for a treat that looks like a pumpkin? Check out my 3 Ingredient Peanut Butter Pumpkins. If your looking for something that taste like pumpkin, check out these easy glazed 4 Ingredient Pumpkin Cookies.
Subscribe to Blog via Email