If you are reading this post then I bet you are a football fan. Right now, we eat, breath, and sleep football. The kiddo has football practice twice a week, plays football on Saturday, we watch our favorite college team on Saturday, then Sunday, Monday, and Thursday are all about football. Don't even think about forgetting peewee playoffs, college bowl games, or the Super Bowl. Like I said, we are all about football. You just can't watch all of this football without thinking about snacks right? It's time to bring on one of my favorite tried and true easy snacks transformed football style. This Easy 3 Ingredient Football Munch will blow your helmet off with taste and how easy it is to prepare. Look close…cause it's not popcorn.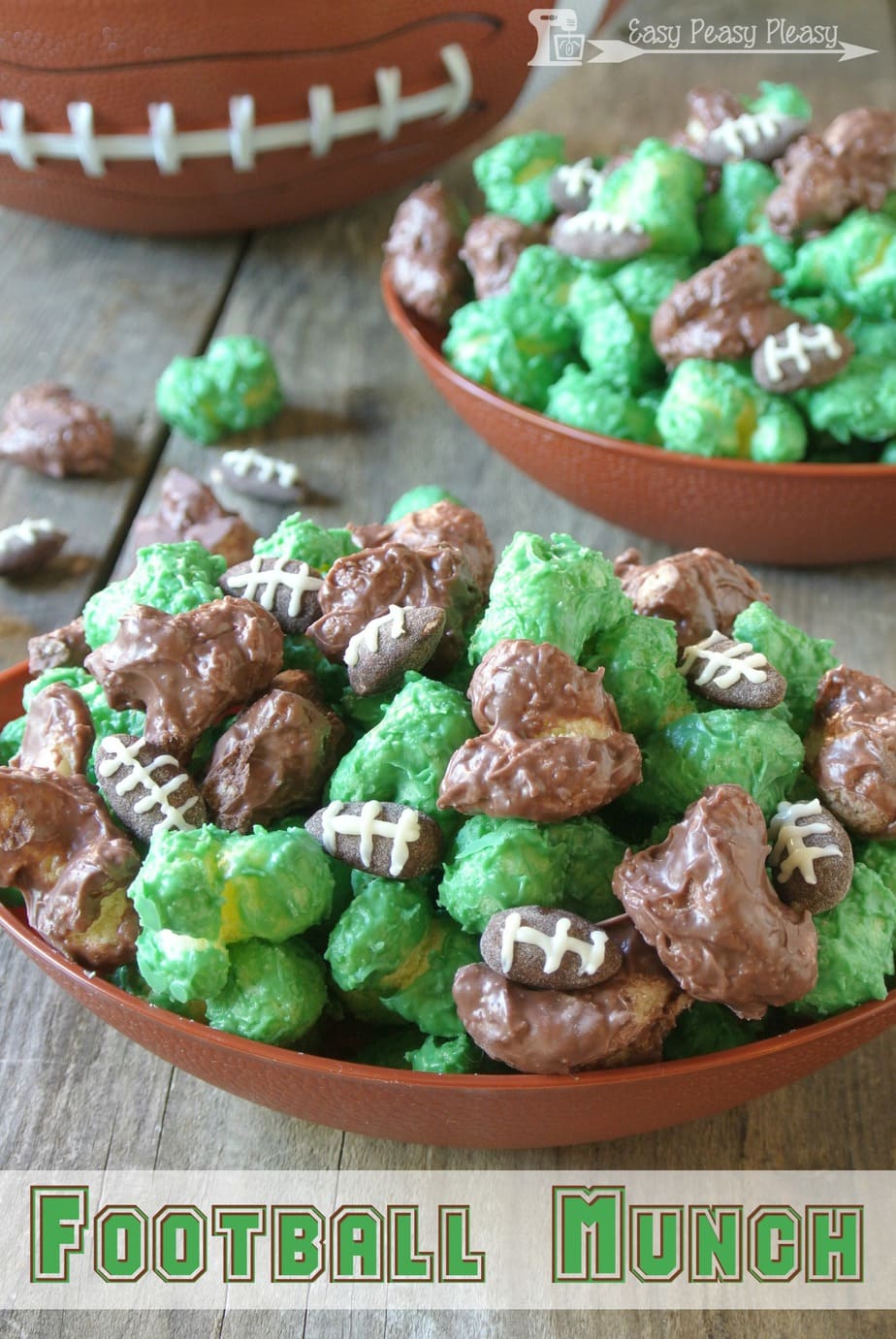 Ya'll, this recipe could easily be transformed into your favorite team colors. The sky is the limit.

Easy 3 Ingredient Football Munch
Time: 15 mins
Difficulty: easy
Ingredients
2 bags Puffcorn, divided
2 bags of green candy melts, divided
1 bag red candy melts
Almonds
almond bark or white candy melts for footballs (optional)
Directions
Melt 1 bag of green candy melts in microwave according to package directions. Mix melted green candy melts with one bag of Puffcorn in a large bowl until well combined. Spread out on wax paper to set. Mix 1 bag of red candy melts with 1 bag of green candy melts and microwave according to package directions. Stir until the color brown is acheived. Once you reach the brown color needed, mix the melted brown candy melts with the 2nd bag of Puffcorn until well combined. Spread out on wax paper to set.
Optional…melt a small portion of almond bark or white candy melts in microwave for 45 seconds. Place in the lower corner of a ziplock bag. Cut a tiny slit in the corner of bag. Place almonds on the wax paper and pipe laces onto each almond. Let the laces harden.
Mix all together for a football treat. Immediately store in an air tight container.
www.easypeasypleasy.com
Lacie's Easy Peasy Pleasy Tips…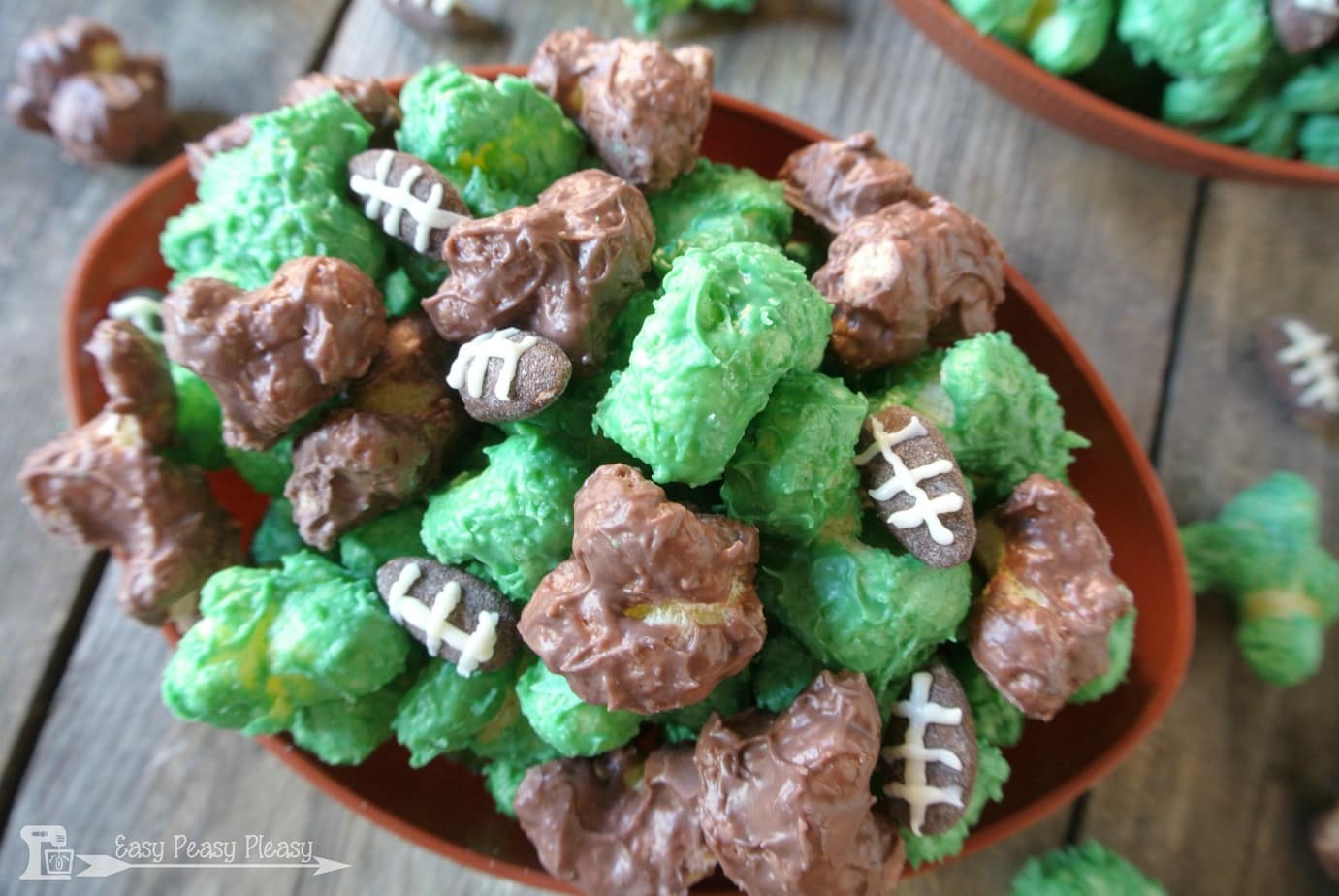 Chocolate candy melts do not work in this recipe. I've tried it in the past and the taste doesn't work. I googled what colors make brown.
Almond Bark is a staple in my house. You can melt a square of almond bark to pipe the laces on the almond footballs.
Use your favorite team colors to mix up this easy 3 Ingredient football munch with candy melts that match your team.
Candy melts and almond bark harden up in minutes, making this a fast treat you can whip up in minutes.
I've learned this one from experience. Make sure you store in an airtight container and only pull out what's needed. It always gets eaten pretty fast though.
I have made this recipe so many ways. Monster Munch, Candy Corn Munch, Elf Munch, and many more. Click those titles above or search munch in the search box.
Need an appetizer? Check out my insanely delicious Jalapeno Popper Dip, The Last Cheese Ball You Will Ever Make, and my Kicked Up Crock pot Velveeta Cheese Dip. These recipes are sure fire crowd pleasers!
Thanks so much for hanging with me! If you love this Easy 3 Ingredient Football Munch or any other recipes, make sure and follow along on Pinterest and Instagram.
Subscribe to Blog via Email