Most of you know that I have been spending a ton of time helping my mom with her new house. During this process she has been feeding me on the regular. I told mom, that I was gonna have to go home just to cook or I'm not gonna have anything to post on my blog AND my boys are going to starve…hehe! Well, instead of skipping out on my daughterly duties, I decided I would gather up some food to take and make for my mom. You know…kill 3 birds with one stone. Help my mom, make some food (cause we gotta eat), take pictures and write up a blog post!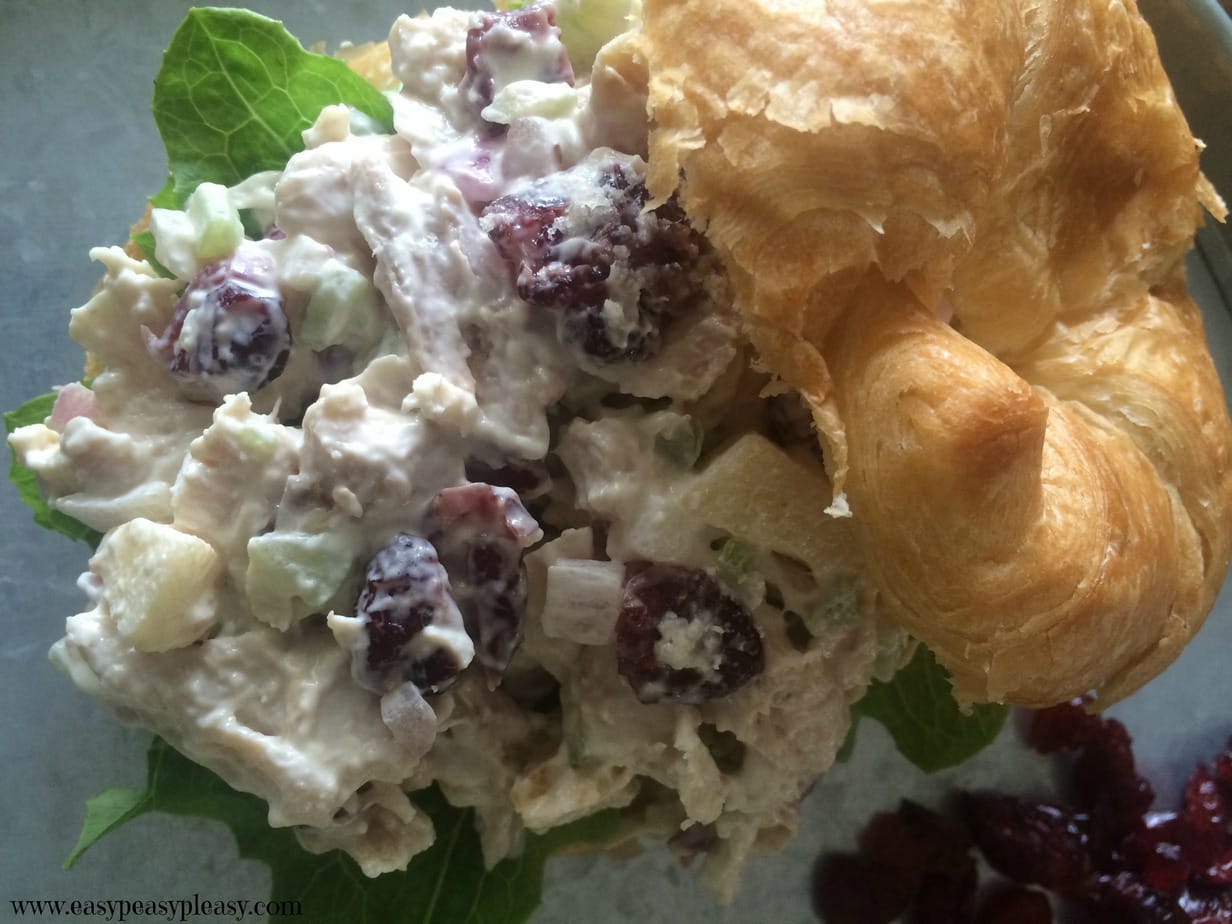 My mom and I both share a deep love of chicken salad! She has been making chicken salad sandwiches for me all of my life. I have had chicken salad a thousand different ways but this is my most favorite way. My mom seems to love this variation too!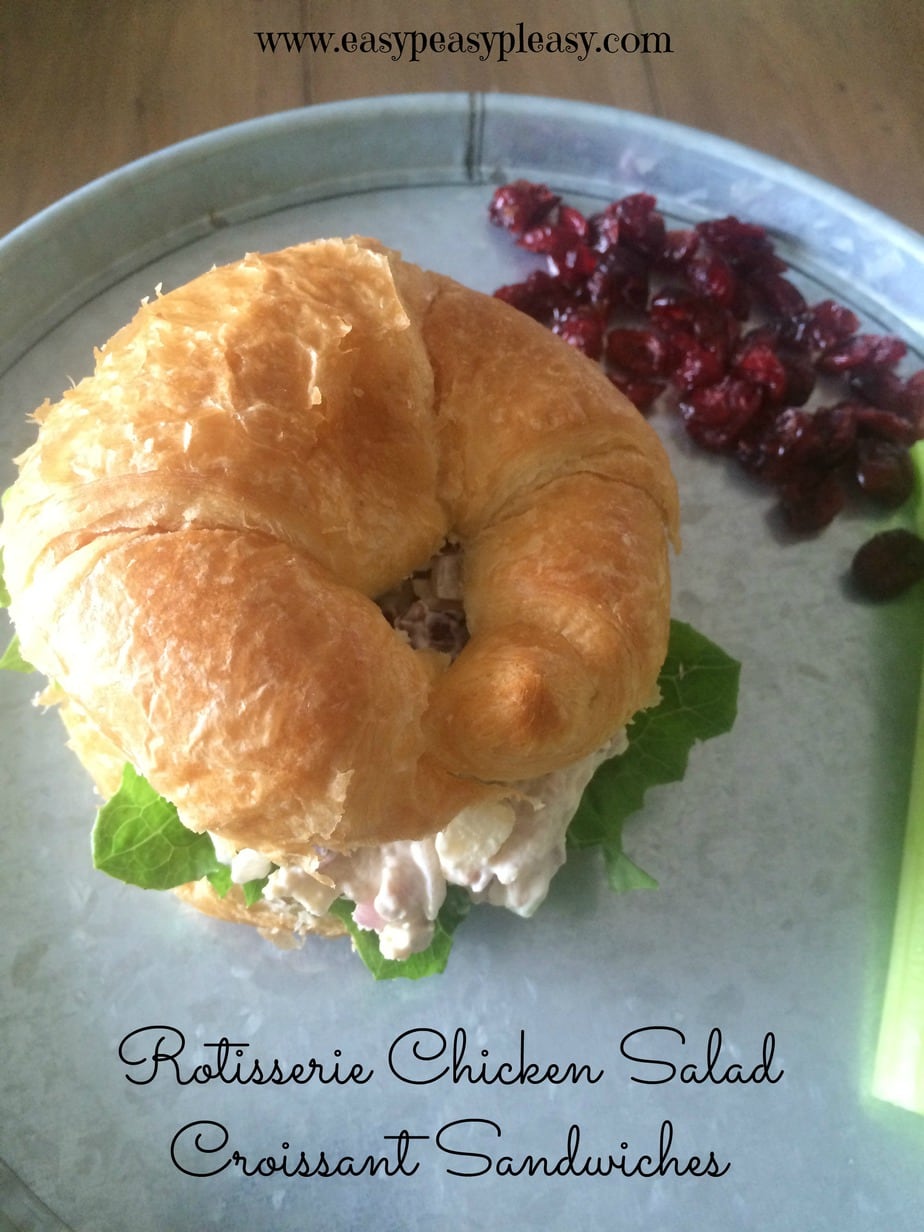 I make this chicken salad for everyday lunch, parties, baby showers, wedding showers…you name it! It can be served on bread for the everyday lunch but the croissant adds a buttery sweetness that can't be beat!

These Chicken Salad Croissant Sandwiches are a breeze to make when you use a store bought rotisserie chicken! The chicken is around $6 and is already cooked. What a time saver and cheaper than boneless chicken breasts that would still need to be cooked.
Rotisserie Chicken Salad Croissant Sandwiches
Servings: 8-10
Difficulty: easy
Ingredients
1 whole rotisserie chicken, shredded
1 cup finely diced celery
1/2 cup chopped red onion
1 medium apple (Red Delicious), peeled and chopped
1 cup dried cranberries
1 cup mayonnaise
green leaf lettuce
croissants
Directions
Mix the first 6 ingredients until well combined. Chill until ready to serve. Halve the croissants and top with green leaf lettuce and two heaping tablespoons of the chicken mixture. Serve immediately. Refrigerate any leftover chicken salad.
easypeasypleasy.com
This Rotisserie Chicken Salad recipe can easily be doubled or halved. If you want a little crunch, add some chopped walnuts or pecans.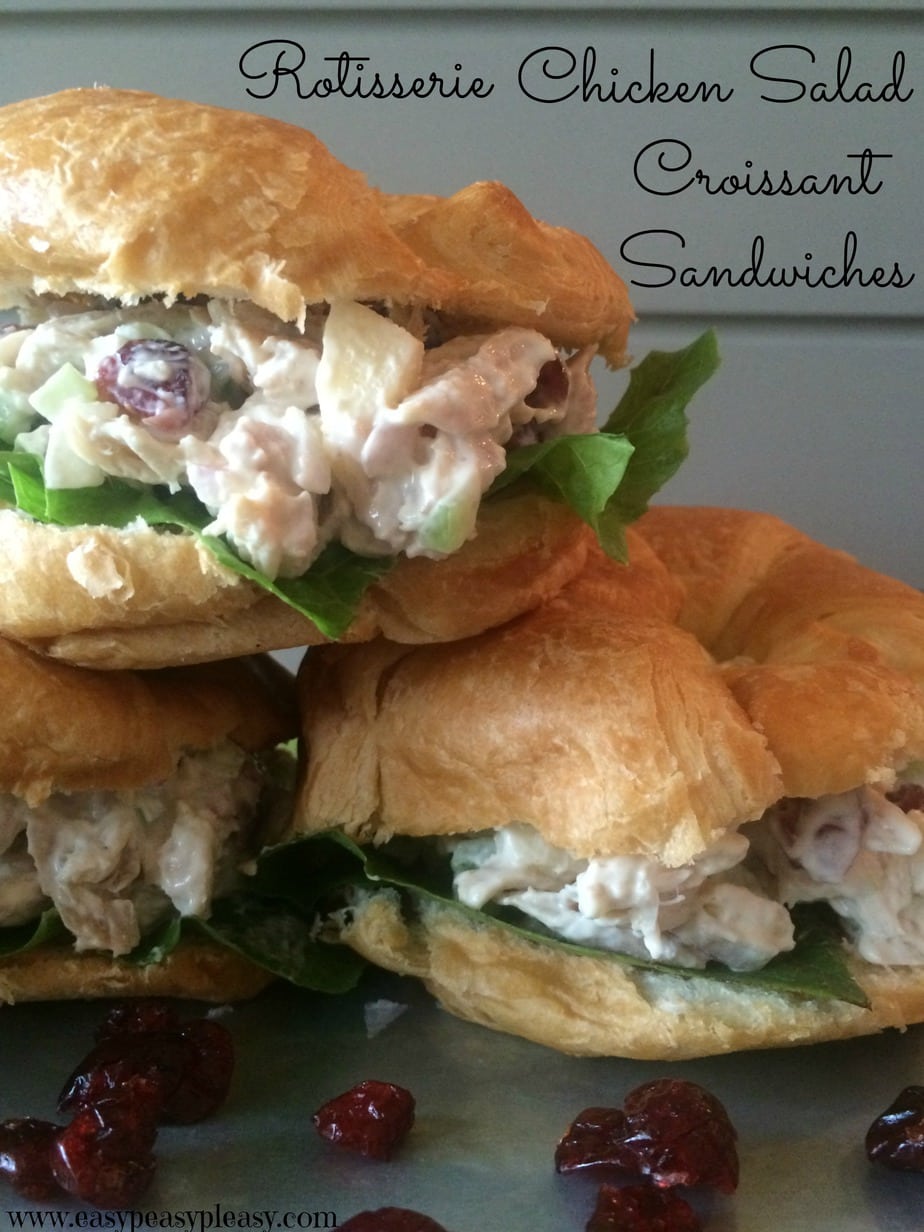 I hope you enjoy these sandwiches as much as my family does. I'm telling you they are the bomb! I can't wait for you to try this recipe! Let me know what you think, when you give them a go!
If you want to see these Rotisserie Chicken Salad Sandwiches in action, check out this Mickey Mouse Inspired Baby Shower.
Sign up with your email to never miss an Easy Peasy post. You can also follow along on your favorite social media by clicking the icons below.





Subscribe to Blog via Email